Abstract
Purpose
This project describes a morphology-based subaxial cervical spine traumatic injury classification system. Using the same approach as the thoracolumbar system, the goal was to develop a comprehensive yet simple classification system with high intra- and interobserver reliability to be used for clinical and research purposes.
Methods
A subaxial cervical spine injury classification system was developed using a consensus process among clinical experts. All investigators were required to successfully grade 10 cases to demonstrate comprehension of the system before grading 30 additional cases on two occasions, 1 month apart. Kappa coefficients (κ) were calculated for intraobserver and interobserver reliability.
Results
The classification system is based on three injury morphology types similar to the TL system: compression injuries (A), tension band injuries (B), and translational injuries (C), with additional descriptions for facet injuries, as well as patient-specific modifiers and neurologic status. Intraobserver and interobserver reliability was substantial for all injury subtypes (κ = 0.75 and 0.64, respectively).
Conclusions
The AOSpine subaxial cervical spine injury classification system demonstrated substantial reliability in this initial assessment, and could be a valuable tool for communication, patient care and for research purposes.
Access options
Buy single article
Instant access to the full article PDF.
US$ 39.95
Tax calculation will be finalised during checkout.
Subscribe to journal
Immediate online access to all issues from 2019. Subscription will auto renew annually.
US$ 119
Tax calculation will be finalised during checkout.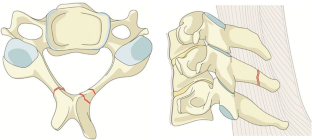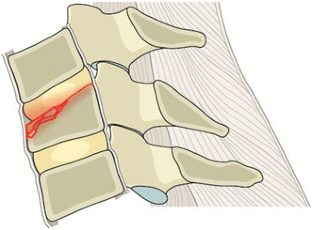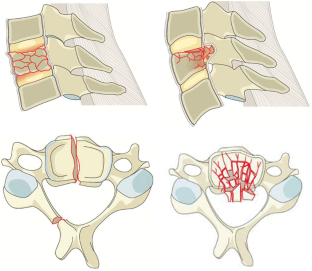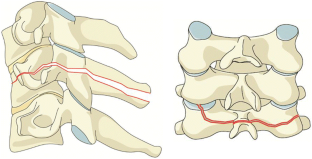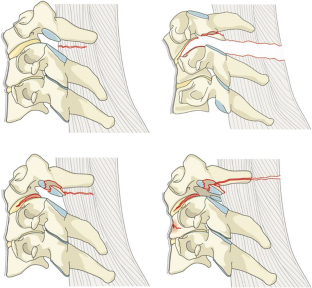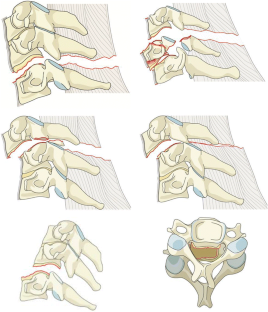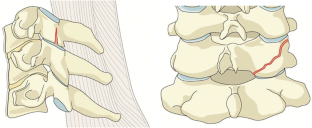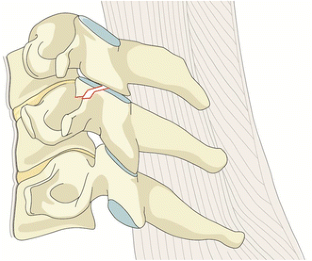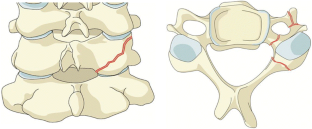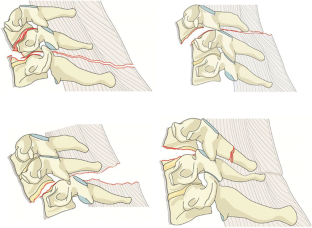 References
1.

Allen BL Jr, Ferguson RL, Lehmann TR, O'Brien RP (1982) A mechanistic classification of closed, indirect fractures and dislocations of the lower cervical spine. Spine 7:1–27

2.

Harris JH Jr, Edeiken-Monroe B, Kopaniky DR (1986) A practical classification of acute cervical spine injuries. Orthop Clin North Am 17:15–30

3.

Holdsworth F (1970) Fractures, dislocations, and fracture-dislocations of the spine. J Bone Joint Surg Am 52:1534–1551

4.

Aebi M, Nazarian S (1987) Classification of injuries of the cervical spine. Der Orthopade 16:27–36

5.

Blauth MKA, Mair G, Schmid R, Reinhold M, Rieger M (2007) Classification of injuries of the subaxial cervical spine. In: Aebi MAV, Webb JK (eds) AO spine manual: clinical applications. Thieme, Stuttgart, pp 21–38

6.

Bohler L (1951) Die Technik der Knochenbruchbehandlung. Maudrich, Wien

7.

van Middendorp JJ, Audige L, Hanson B, Chapman JR, Hosman AJ (2010) What should an ideal spinal injury classification system consist of? A methodological review and conceptual proposal for future classifications. Euro Spine J Off Publ Eur Spine Soc Euro Spinal Deformity Soc Euro Sect Cerv Spine Res Soc 19:1238–1249. doi:10.1007/s00586-010-1415-9

8.

Vaccaro AR, Hulbert RJ, Patel AA, Fisher C, Dvorak M, Lehman RA, Anderson P, Harrop J, Oner FC, Arnold P, Fehlings M, Hedlund R, Madrazo I, Rechtine G, Aarabi B, Shainline M, Spine Trauma Study G (2007) The subaxial cervical spine injury classification system: a novel approach to recognize the importance of morphology, neurology, and integrity of the disco-ligamentous complex. Spine 32:2365–2374. doi:10.1097/BRS.0b013e3181557b92

9.

Stone AT, Bransford RJ, Lee MJ, Vilela MD, Bellabarba C, Anderson PA, Agel J (2010) Reliability of classification systems for subaxial cervical injuries. Evidence-Based Spine-Care J 1:19–26. doi:10.1055/s-0030-1267064

10.

van Middendorp JJ, Audige L, Bartels RH, Bolger C, Deverall H, Dhoke P, Diekerhof CH, Govaert GA, Guimera V, Koller H, Morris SA, Setiobudi T, Hosman AJ (2013) The Subaxial Cervical Spine Injury Classification System: an external agreement validation study. Spine J Off J North Am Spine Soc. doi:10.1016/j.spinee.2013.02.040

11.

Vaccaro AR, Oner C, Kepler CK, Dvorak M, Schnake K, Bellabarba C, Reinhold M, Aarabi B, Kandziora F, Chapman J, Shanmuganathan R, Fehlings M, Vialle L, Injury AOSC, Trauma Knowledge F (2013) AOSpine thoracolumbar spine injury classification system: fracture description, neurological status, and key modifiers. Spine 38:2028–2037. doi:10.1097/BRS.0b013e3182a8a381

12.

Audige L, Bhandari M, Hanson B, Kellam J (2005) A concept for the validation of fracture classifications. J Orthop Trauma 19:401–406

13.

Landis JR, Koch GG (1977) The measurement of observer agreement for categorical data. Biometrics 33:159–174

14.

Spector LR, Kim DH, Affonso J, Albert TJ, Hilibrand AS, Vaccaro AR (2006) Use of computed tomography to predict failure of nonoperative treatment of unilateral facet fractures of the cervical spine. Spine 31:2827–2835. doi:10.1097/01.brs.0000245864.72372.8f

15.

Vaccaro AR, Falatyn SP, Flanders AE, Balderston RA, Northrup BE, Cotler JM (1999) Magnetic resonance evaluation of the intervertebral disc, spinal ligaments, and spinal cord before and after closed traction reduction of cervical spine dislocations. Spine 24:1210–1217

16.

Slongo T, Audige L, Clavert JM, Lutz N, Frick S, Hunter J (2007) The AO comprehensive classification of pediatric long-bone fractures: a web-based multicenter agreement study. J Pediatr Orthop 27:171–180. doi:10.1097/01.bpb.0000248569.43251.f9

17.

Slongo T, Audige L, Schlickewei W, Clavert JM, Hunter J, International Association for Pediatric T (2006) Development and validation of the AO pediatric comprehensive classification of long bone fractures by the Pediatric Expert Group of the AO Foundation in collaboration with AO Clinical Investigation and Documentation and the International Association for Pediatric Traumatology. J Pediatr Orthop 26:43–49. doi:10.1097/01.bpo.0000187989.64021.ml

18.

Bailitz J, Starr F, Beecroft M, Bankoff J, Roberts R, Bokhari F, Joseph K, Wiley D, Dennis A, Gilkey S, Erickson P, Raksin P, Nagy K (2009) CT should replace three-view radiographs as the initial screening test in patients at high, moderate, and low risk for blunt cervical spine injury: a prospective comparison. J Trauma 66:1605–1609. doi:10.1097/TA.0b013e3181a5b0cc

19.

LeBlang SD, Nunez DB, Jr. (1999) Helical CT of cervical spine and soft tissue injuries of the neck. Radiologic clinics of North America 37:515-532, v-vi

20.

Vaccaro AR, Rihn JA, Saravanja D, Anderson DG, Hilibrand AS, Albert TJ, Fehlings MG, Morrison W, Flanders AE, France JC, Arnold P, Anderson PA, Friel B, Malfair D, Street J, Kwon B, Paquette S, Boyd M, Dvorak MF, Fisher C (2009) Injury of the posterior ligamentous complex of the thoracolumbar spine: a prospective evaluation of the diagnostic accuracy of magnetic resonance imaging. Spine 34:E841–E847. doi:10.1097/BRS.0b013e3181bd11be

21.

Oner FC, Wood KB, Smith JS, Shaffrey CI (2010) Therapeutic decision making in thoracolumbar spine trauma. Spine 35:S235–S244. doi:10.1097/BRS.0b013e3181f32734

22.

Nadeau M, McLachlin SD, Bailey SI, Gurr KR, Dunning CE, Bailey CS (2012) A biomechanical assessment of soft-tissue damage in the cervical spine following a unilateral facet injury. J Bone Joint Surg Am 94:e156. doi:10.2106/JBJS.K.00694

23.

Rasoulinejad P, McLachlin SD, Bailey SI, Gurr KR, Bailey CS, Dunning CE (2012) The importance of the posterior osteoligamentous complex to subaxial cervical spine stability in relation to a unilateral facet injury. Spine J Off J North Am Spine Soc 12:590–595. doi:10.1016/j.spinee.2012.07.003

24.

Ivancic PC, Pearson AM, Tominaga Y, Simpson AK, Yue JJ, Panjabi MM (2007) Mechanism of cervical spinal cord injury during bilateral facet dislocation. Spine 32:2467–2473. doi:10.1097/BRS.0b013e3181573b67

25.

Wilson JR, Vaccaro A, Harrop JS, Aarabi B, Shaffrey C, Dvorak M, Fisher C, Arnold P, Massicotte EM, Lewis S, Rampersaud R, Okonkwo DO, Fehlings MG (2013) The impact of facet dislocation on clinical outcomes after cervical spinal cord injury: results of a multicenter North American prospective cohort study. Spine 38:97–103. doi:10.1097/BRS.0b013e31826e2b91
Acknowledgments
AOSpine is a clinical division of the AO Foundation—an independent medically guided not for profit organization. The AO has a strong financial independence thanks to the foundations endowment. The annual operating activities are financed through three pillars: Collaboration and support agreements with DePuy Synthes and other industrial partners, return on own financial assets and other third party income (e.g., participant fees, R&D projects, memberships). The AOSpine Knowledge Forums are pathology focused working groups acting on behalf of AOSpine in their domain of scientific expertise. Each forum consists of a steering committee of up to 10 international spine experts who meet biannually to discuss research, assess the best evidence for current practices, and formulate clinical trials to advance their field of spine expertise. Authors are compensated for their travel and accommodation costs. Study support is provided directly through AOSpine's Research department and AO's Clinical Investigation and Documentation unit. There are no other institutional subsidies, corporate affiliations or funding sources supporting this work unless clearly documented and disclosed.
Conflict of interest
None.
About this article
Cite this article
Vaccaro, A.R., Koerner, J.D., Radcliff, K.E. et al. AOSpine subaxial cervical spine injury classification system. Eur Spine J 25, 2173–2184 (2016). https://doi.org/10.1007/s00586-015-3831-3
Received:

Revised:

Accepted:

Published:

Issue Date:
Keywords
AOSpine

Subaxial

Cervical

Spine

Trauma

Injury

Classification