Abstract
Purpose
Pregabalin and opioids are used to treat chronic low back pain (LBP). No previous investigations have compared the efficacy of pregabalin and that of opioids for chronic LBP.
Methods
We performed a randomized controlled trial of pregabalin and opioids in 65 consecutive patients aged 65 years or older who had chronic LBP. Each agent was administered randomly in different phases. Pain and activities of daily living (ADL) were evaluated after 4 weeks of treatment using the visual analog scale, Japanese Orthopaedic Association score, Roland Morris Disability Questionnaire, short-form McGill Pain Questionnaire, EuroQol quality-of-life scale, and geriatric depression scale. Neuropathic pain was evaluated using a neuropathic pain screening questionnaire.
Results
The effectiveness rate was 73.3 % for pregabalin and 83.3 % for opioid, showing no significant difference. The mean durations until the onset of effect were 10.2 and 6.1 days, respectively, albeit without significant difference. Pregabalin was effective for LBP with neuropathic pain, whereas opioids were effective for non-neuropathic pain. The improvement of ADL was greater with opioids than with pregabalin. Pregabalin was effective for LBP in patients with lower limb symptoms, whereas opioids were effective for those without lower limb symptoms.
Conclusions
Aside from screening tests, consideration of neuropathic pain and lower extremity symptoms may be an integral component in the selection of the appropriate medication for chronic LBP. Moreover, the therapeutic objectives, including pain relief and/or improvement of ADL, should be specified.
Access options
Buy single article
Instant access to the full article PDF.
USD 39.95
Price excludes VAT (USA)
Tax calculation will be finalised during checkout.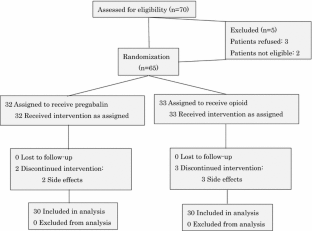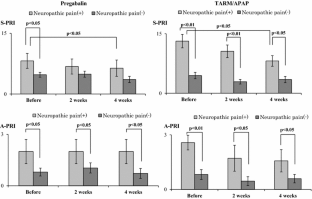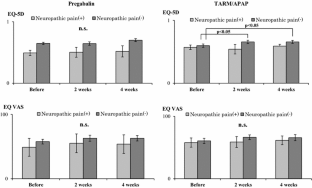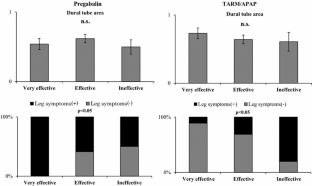 References
Rudy TE, Weiner DK, Lieber SJ, Slaboda J, Boston JR (2007) The impact of chronic low back pain on older adults: a comparative study of patients and controls. Pain 131:293–301

Romanò CL, Romanò D, Bonora C, Mineo G (2009) Pregabalin, celecoxib, and their combination for treatment of chronic low back pain. J Orthopaed Traumatol 10:185–191

Ruoff GE, Rosenthal N, Jordan D, Karim R, Kamin M (2003) Protocol CAPSS-112 Study Groups. Tramadol/acetaminophen combination tablets for the treatment of chronic low back pain: a multicenter, randomized, double-blind, placebo-controlled outpatient study. Clin Ther 25:1123–1141

Peloso PM, Fortin L, Beailieu A, Kamin M, Rosenthal N (2004) Protocol TRP-CAN-1 Study Group. Analgesic efficacy and safety of tramadol/acetaminophen combination tablets (Ultracet) in treatment of chronic low back pain: a multicenter, outpatient, randomized, double-blind, placebo controlled trial. J Rheumatol 31:2454–2463

Woolf CJ, Bennett GJ, Doherty M, Dubner R, Kidd B, Koltzenburg M, Lipton R, Loeser JD, Payne R, Torebjork E (1998) Towards a mechanism-based classification of pain? Pain 77:227–229

Kaki AM, El-Yaski AZ, Youseif E (2005) Identifying neuropathic pain among patients with chronic low-back pain: use of the Leeds assessment of neuropathic symptoms and signs pain scale. Reg Anesth Pain Med 30:422–429

Freynhagen R, Baron R, Tölle T, Stemmler E, Gockel U, Stevens M, Majer C (2006) Screening of neuropathic pain components in patients with chronic low back pain associated with nerve root compression: a prospective observational pilot study (MIPORT). Curr Med Res Opin 22:529–537

Hassan AE, Saleh HA, Baroudy YM, Abdul-Rahman KI, Najiar MW, Kazi MS, El-Gazar MA, Hafez MA, Abdullah MA, Abdul-Rahman YA, Youseif EA (2005) Prevalence of neuropathic pain among patients suffering from chronic low back pain in Saudi Arabia. Neurosciences 10:51–55

Martell BA, O'Connor PG, Kerns RD, Becker WC, Morales KH, Kosten TR, Fiellin DA (2007) Systematic review: opioid treatment for chronic low back pain: prevalence, efficacy, and association with addiction. Ann Intern Med 146:116–127

Schofferman J, Mazanec D (2008) Evidence-informed management of chronic low back pain with opioid analgesics. Spine J 8:185–194

Ogawa S (2010) Development of new screening questionnaire to identify neuropathic components in Japanese patients with chronic pain. [In Japanese]. Pain Clinic 31:1187–1194

Arendt-Nielsen L, Graven-Nielsen T (2003) Central sensitization in fibromyalgia and other musculoskeletal disorders. Curr Pain Headache Rep 7:355–361

Rasmussen PV, Sindrup SH, Jensen TS, Bach FW (2004) Symptoms and signs in patients with suspected neuropathic pain. Pain 110:461–469

Luo X, Pietrobon R, Hey L (2004) Patterns and trends in opioid use among individuals with back pain in the United States. Spine 29:884–891

Chung JWY, Zeng Y, Wong TKS (2013) Drug therapy for the treatment of chronic nonspecific low back pain: systematic review and meta-analysis. Pain Physician 16:E685–E704

Vorsanger GJ, Xiang J, Gana TJ, Pascual ML, Fleming RR (2008) Extended-release tramadol (tramadol ER) in the treatment of chronic low back pain. J Opioid Manag 4:87–97

Chaparro LE, Furlan AD, Deshpande A, Mailis-Gagnon A, Atlas S, Turk DC (2014) Opioids compared with placebo or other treatments for chronic low back pain: an update of the Cochrane Review. Spine 39:556–563

Lee JH, Lee CS, the Ultracet ER Study Group (2013) A randomized, double-blind, placebo-controlled, parallel-group study to evaluate the efficacy and safety of the extended-release tramadol hydrochloride/acetaminophen fixed-dose combination tablet for the treatment of chronic low back pain. Clin Ther 35:1830–1840

Schphoest Preuper HR, Geertzen JHB, van Wijhe M, Boonstra AM, Molmans BHW, Dijkstra PU, Reneman MF (2014) Do analgesics improve functioning in patients with chronic low back pain? An explorative triple-blinded RCT. Eur Spine J 23:800–806

Weiner DK, Perera S, Rudy TE, Glick RM, Shenoy S, Delitto A (2008) Efficacy of percutaneous electrical nerve stimulation and therapeutic exercise for older adults with chronic low back pain: a randomized controlled trial. Pain 140:344–357

Furlan AD, Sandoval JA, Mailis-Gagnon A, Tunks E (2006) Opioids for chronic noncancer pain: a meta-analysis of effectiveness and side effects. CMAJ 174:1589–1594

Alvarez JA, Hardy RH Jr (1998) Lumbar spinal stenosis: a common cause of back pain and leg pain. Am Fam Physician 57:1825–1834

Semel D, Murphy TK, Zlateva G, Cheung R, Emir B (2010) Evaluation of the safety and efficacy of pregabalin in older patients with neuropathic pain: results from a pooled analysis of 11 clinical studies. BMC Fam Pract 11:85

Choi CB, Song JS, Kang YM, Suh CH, Lee J, Choe JY, Lee CK, Shim SC, Chung WT, Song GG, Kim HA, Ji JD, Nam EJ, Park SH, Hong YH, Sheen DH, Lim MK, Seo YI, Sung YK, Kim TH, Lee JT, Bae SC (2007) A 2-week, multicenter, randomized, double-blind, double-dummy, add-on study of the effects of titration on tolerability of tramadol/acetaminophen combination tablet in Korean adults with knee osteoarthritis pain. Clin Ther 29:1381–1389
Acknowledgments
The authors gratefully acknowledge the contributions of the clinical investigators and staff who were involved in the enrollment and conduct of this study. We thank Norio Sugimoto for his management of this clinical trial as a data analyst.
Conflict of interest
The authors declare that they have no conflict of interest including pharmaceutical company involvement. No funds were received in support of this work. No benefits in any form have been or will be received from a commercial party related directly or indirectly to the subject of this manuscript.
Ethical standard
Ethical approval was given by the National Center for Geriatrics and Gerontology Ethics Committee.
Additional information
The device(s)/drug(s) is/are FDA approved or approved by the corresponding national agency for this indication.
About this article
Cite this article
Sakai, Y., Ito, K., Hida, T. et al. Pharmacological management of chronic low back pain in older patients: a randomized controlled trial of the effect of pregabalin and opioid administration. Eur Spine J 24, 1309–1317 (2015). https://doi.org/10.1007/s00586-015-3812-6
Received:

Revised:

Accepted:

Published:

Issue Date:

DOI: https://doi.org/10.1007/s00586-015-3812-6
Keywords