Abstract
Purpose
To describe female lumbar spine motion and posture characteristics during coitus and compare these characteristics across five common coital positions. Exacerbation of low back pain during coital movements and positions is a prevalent issue reported by female low back pain (LBP) patients. To address this problem, the first study to examine lumbar spine biomechanics during coitus was conducted.
Methods
Ten healthy males and females performed coitus in the following pre-selected positions and variations: QUADRUPED (fQUAD1 and fQUAD2 where the female is supporting her upper body with her elbows and hands, respectively), MISSIONARY (fMISS1 and fMISS2 where the female is minimally and more flexed at the hips and knees, respectively), and SIDELYING. An electromagnetic motion capture system was used to measure three-dimensional lumbar spine angles that were normalized to maximum active range of motion—a transmitter and receiver were affixed to the skin overlying the lateral aspect of the pelvis and the spinous process of the twelfth thoracic vertebra, respectively. To determine if each coital position had distinct spine kinematic profiles (i.e., amplitude probability distribution function and total range of lumbar spine motion), separate univariate general linear models followed by Tukey's honestly significant difference post hoc analysis were used. The presentation of coital positions was randomized.
Results
Female lumbar spine movement varied depending on the coital position; both variations of QUADRUPED, fQUAD1 and fQUAD2, were found to use a significantly greater range of spine motion than fMISS2 (p = 0.017 and p = 0.042, respectively). With the exception of both variations of MISSIONARY, fMISS1 and fMISS2, the majority of the range of motion used was in extension. These findings are most pertinent to patients with LBP that is exacerbated by motions or postures. Based on the spine kinematic profiles of each position, the least-to-most recommended positions for a female flexion-intolerant patient are: fMISS2, fMISS1, fQUAD1, fSIDE, and fQUAD2. These recommendations would be contraindicated for the extension-intolerant patient.
Conclusions
The findings provided here may guide the clinician's specific recommendations, including alternative coital positions and/or movement patterns or suggesting a lumbar support, depending on the female LBP patient's specific motion and posture intolerances.
Access options
Buy single article
Instant access to the full article PDF.
USD 39.95
Price excludes VAT (USA)
Tax calculation will be finalised during checkout.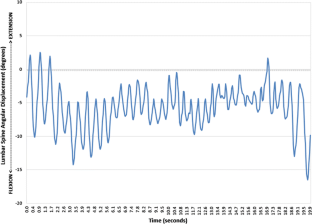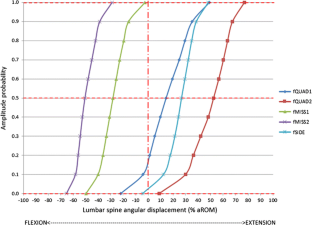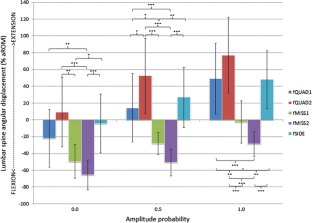 References
International Classification of Functioning, Disability and Health (ICF) (2001) World Health Organization (WHO) web site. http://apps.who.int/classifications/icfbrowser/. Accessed 9 Apr 2011

Stock SR, Cole DC, Tugwell P, Streiner D (1996) Review of applicability of existing functional status measures to the study of workers with musculoskeletal disorders of the neck and upper limb. Am J Ind Med 29(6):679–688

Fairbank JC, Couper J, Davies JB, O'Brien JP (1980) The Oswestry low back pain disability questionnaire. Physiotherapy 66(8):271–273

Sjögren K, Fugl-Meyer AR (1981) Chronic back pain and sexuality. Int Rehab Med 3(1):19–25

Akbaş NB, Dalbayrak S, Külcü DG, Yilmaz M, Yilmaz T, Naderi S (2010) Assessment of sexual dysfunction before and after surgery for lumbar disc herniation. J Neurosurg Spine 13(5):581–586

Maigne J, Chatellier G (2001) Assessment of sexual activity in patients with back pain compared with patients with neck pain. Clin Orthop Relat Res 386:82–87

Rubin D (1970) The no!—or the yes and the how—of sex for patients with neck, back, and radicular pain syndromes. Calif Med 113(6):12–15

Hebert L (1987) Sex and back pain. Educational Opportunities, Minnesota

White AA (1990) Your aching back: a doctor's guide to relief, 2nd edn. Simon and Schuster/Fireside, New York

Pynor R, Weerakoon P, Jones MK (2005) A preliminary investigation of physiotherapy students' attitudes towards issues of sexuality in clinical practice. Physiotherapy 91(1):42–48

Monga TN, Monga U, Tan G et al (1999) Coital positions and sexual functioning in patients with chronic pain. Sex Disabil 17(4):287–297

White AA, Panjabi MM (1990) Clinical biomechanics of the spine, 2nd edn. J.B. Lippincott Company, Pennsylvania

Hagberg M (1979) The amplitude distribution of surface EMG in static and intermittent static muscular performance. Eur J Appl Physiol 40(4):265–272

McGill SM (2007) Low back disorders, 2nd edn. Human Kinetics, Illinois

Ikeda DM, McGill SM (2012) Can altering motions, postures, and loads provide immediate low back pain relief: a study of 4 cases investigating spine load, posture, and stability. Spine 37(23):E1469–E1475

McGill SM, Fenwick CM (2009) Using a pneumatic support to correct sitting posture for prolonged periods: a study using airline seats. Ergon 52(9):1162–1168

Osborne D, Maruta T (1980) Sexual adjustment and chronic back pain. Med Aspect Hum Sex 14:94–113

McGill SM, Cholewicki J, Peach JP (1997) Methodological considerations for using inductive sensors (3SPACE ISOTRAK) to monitor 3-D orthopaedic joint motion. Clin Biomech 12(3):190–194

Adams MA, Dolan P, Marx C, Hutton WC (1986) An electronic inclinometer technique for measuring lumbar curvature. Clin Biomech 1(3):130–134
Acknowledgments
The authors acknowledge the Natural Sciences and Engineering Research Council of Canada (NSERC) for their ongoing laboratory funding, and Dr. Edward Cambridge from the Department of Kinesiology, Faculty of Applied Health Sciences, University of Waterloo for his invaluable assistance.
Conflict of interest
The authors do not have any conflicts of interest to report.
About this article
Cite this article
Sidorkewicz, N., McGill, S.M. Documenting female spine motion during coitus with a commentary on the implications for the low back pain patient. Eur Spine J 24, 513–520 (2015). https://doi.org/10.1007/s00586-014-3626-y
Received:

Revised:

Accepted:

Published:

Issue Date:

DOI: https://doi.org/10.1007/s00586-014-3626-y
Keywords
Lumbar spine

Biomechanics

Coitus

Low back pain

Sexual intercourse