Abstract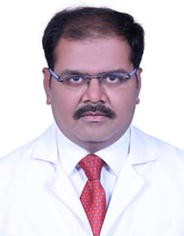 Introduction
Congenital lordoscoliosis is an uncommon pathology and its management poses formidable challenge especially in the presence of type 2 respiratory failure and intraspinal anomalies. In such patients standard management protocols are not applicable and may require multistage procedure to minimize risk and optimize results.
Case description
A 15-year-old girl presented in our hospital emergency services with severe breathing difficulty. She had a severe and rapidly progressing deformity in her back, noted since 6 years of age, associated with severe respiratory distress requiring oxygen and BiPAP support. She was diagnosed to have a severe and rigid congenital right thoracolumbar lordoscoliosis (coronal Cobb's angle: 105° and thoracic lordosis −10°) with type 1 split cord malformation with bony septum extending from T11 to L3. This leads to presentation of restrictive lung disease with type 2 respiratory failure. As her lung condition did not allow for any major procedure, we did a staged procedure rather than executing in a single stage. Controlled axial traction by halogravity was applied initially followed by halo-femoral traction. Four weeks later, this was replaced by halo-pelvic distraction device after a posterior release procedure with asymmetric pedicle substraction osteotomies at T7 and T10. Halo-pelvic distraction continued for 4 more weeks to optimize and correct the deformity. Subsequently definitive posterior stabilization and fusion was done. The detrimental effect of diastematomyelia resection in such cases is clearly evident from literature, so it was left unresected. A good scoliotic correction with improved respiratory function was achieved. Three years follow-up showed no loss of deformity correction, no evidence of pseudarthrosis and a good clinical outcome with reasonably balanced spine.
Conclusion
The management of severe and rigid congenital lordoscoliotic deformities with intraspinal anomalies is challenging. Progressive reduction in respiratory volume in untreated cases can lead to acute respiratory failure. Such patients have a high rate of intraoperative and postoperative morbidity and mortality. Hence a staged procedure is recommended. Initially a less invasive procedure like halo traction helps to improve their respiratory function with simultaneous correction of the deformity, while allowing for monitoring of neurological deficit. Subsequently spinal osteotomies and combined halo traction helps further improve the correction, following which definitive instrumented fusion can be done.
This is a preview of subscription content, log in to check access.
Access options
Buy single article
Instant access to the full article PDF.
US$ 39.95
Price includes VAT for USA
Subscribe to journal
Immediate online access to all issues from 2019. Subscription will auto renew annually.
US$ 199
This is the net price. Taxes to be calculated in checkout.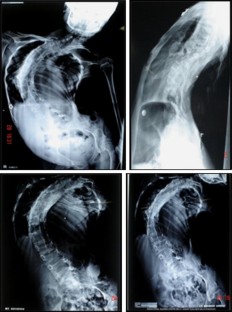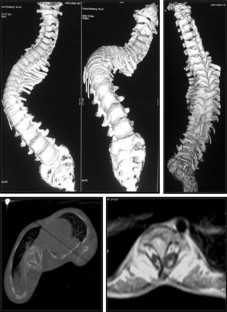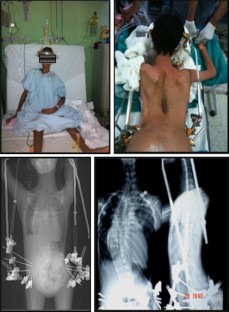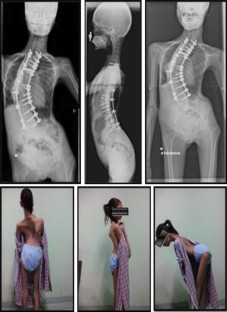 References
1.

Owange-Iraka JW, Harrison A, Warner JO (1984) Lung function in congenital and idiopathic scoliosis. Eur J Pediatr 142(3):198–200

2.

Nash CL, Nevins K (1974) A lateral look at pulmonary function in scoliosis [abstract]. Proceedings of the Scoliosis Research Society. J Bone Joint Surg Am 56:440

3.

Winter RB, Lovell WW, Moe JH (1975) Excessive thoracic lordosis and loss of pulmonary function in patients with idiopathic scoliosis. J Bone Joint Surg Am 57:972–977

4.

Winter RB, Moe JH, Bradford DS (1978) Congenital thoracic lordosis. J Bone Joint Surg (Am) 60:806–810

5.

Bradford DS, Blatt JM, Rasp FL (1983) Surgical management of severe thoracic lordosis. A new technique to restore normal kyphosis. Spine 8:420–428

6.

Winter RB, Leonard AS (1990) Surgical correction of congenital thoracic lordosis. J Pediatr Orthop 10:805–808

7.

Payo J, Perez-Grueso FS, Fernandez-Baillo N, Garcia A (2009) Severe restrictive lung disease and vertebral surgery in a pediatric population. Eur Spine J 18(12):1905–1910

8.

Tsirikos AI, Chang WN, Dabney KW, Miller F (2003) Comparison of one-stage versus tow-stage anteroposterior spinal fusion in pediatric patients with cerebral palsy and neuromuscular scoliosis. Spine 28:1300–1305

9.

Shen J, Qiu G, Wang Y, Zhang Z, Zhao Y (2006) Comparison of 1-stage versus 2-stage anterior and posterior spinal fusion for severe and rigid idiopathic scoliosis—a randomized prospective study. Spine 31:2525–2528

10.

Bridwell KH, Dewald RL (2011) The textbook of spinal surgery, 3rd edn, vol 2, chapter 78–83, pp 778–865

11.

Bridwell KH, Dewald RL (2011) The textbook of spinal surgery, 3rd edn, vol 2, chapter 117, pp 1265–1267

12.

Dutoit M, Rigault P, Pouliquen JC et al (1985) Surgical treatment of scoliosis of 100 degrees and greater in children and adolescent (neurological and myopathic scoliosis excluded). Apropos of a series of 66 cases. Rev Chir Orthop Reparatrice Appar Mot 71:549–562

13.

Shi YM, Hou SX, Li L, Wang HD, Gao TJ, Wei X (2007) Prevention and management of the neurological complications during the treatment of severe scoliosis. Zhonghua Wai Ke Za Zhi 45(8):517–519

14.

Zhang YG, Wang Y, Zhang XS (2007) Clinical study on transpedicular spinal osteotomy and vertebrectomy in 125 cases of severe rigid spinal deformity. Zhonghua Wai Ke Za Zhi 45(8):525–528

15.

McMaster MJ, Singh H (2001) The surgical management of congenital kyphosis and kyphoscoliosis. Spine 26(19):2146–2154

16.

Leung YL, Buxton N (2005) Combined diastematomyelia and hemivertebra—a review of the management at a single centre. J Bone Joint Surg [Br] 87-B:1380–1384

17.

Goldberg C, Fenelon G, Blake NS, Dowling F (1984) Diastematomyelia: a critical review of the natural history and treatment. Spine. 9(4):367–372

18.

Wang T, Qiu GX, Shen JX, Zhang JG, Wang YP, Zhao H et al (2005) Evaluation and treatment of congenital scoliosis with split cord malformation. Zhonghua Wai Ke Za Zhi 43(12):770–773

19.

Sink EL, Karol LA, Sanders J, Birch JG, Johnston CE, Herring JA (2001) Efficacy of perioperative halo-gravity traction in the treatment of severe scoliosis in children. J Pediatr Orthop 21:519–524

20.

Rinella A, Lenke L, Whitaker C (2005) Perioperative halo-gravity traction in the treatment of severe scoliosis and kyphosis. Spine 30:475–482

21.

Janus GJ, Finidori G, Engelbert RH, Pouliquen M, Pruijs JE (2000) Operative treatment of severe scoliosis in osteogenesis imperfecta: results of 20 patients after halo traction and posterior spondylodesis with instrumentation. Eur Spine J 9(6):486–491
Conflict of interest
The authors have no financial disclosures.
Additional information
The manuscript submitted does not contain information about medical device(s)/drug(s). No funds were received in support of this work. No benefits in any form have been or will be received from a commercial party related directly or indirectly to the subject of this manuscript.
About this article
Cite this article
Kanagaraju, V., Chhabra, H.S., Srivastava, A. et al. A case of severe and rigid congenital thoracolumbar lordoscoliosis with diastematomyelia presenting with type 2 respiratory failure: managed by staged correction with controlled axial traction. Eur Spine J 25, 3034–3041 (2016). https://doi.org/10.1007/s00586-014-3624-0
Received:

Revised:

Accepted:

Published:

Issue Date:
Keywords
Lordoscoliosis

Diastematomyelia

Split cord malformation

Halo traction

Pseudarthrosis

Controlled axial traction