Abstract
Objective
The intersomatic cage ROI-C one is a new promising system in anterior cervical discectomy with subsequent fusion.
Methods
Patients were studied prospectively. ROI-C cages were used in consecutive 32 patients. Intraoperative parameters, clinical features and dysphagia scores were recorded. Radiographs evaluated the height of intervertebral space, the cervical Cobb angle and implant positioning. Data were collected on the last day of hospital stay, at 6 weeks, at 3, 6, 12 and 24 months.
Results
A total of 32 cages were implanted. One patient had transient dysphagia. The intervertebral height and the cervical Cobb angle were significantly improved at 24 months follow-up (P < 0.05). Compared to pre-operatively, visual analog scale pain score and neck pain and disability scale were reduced at 1-month follow-up without change during subsequent follow-up.
Conclusions
This is the first prospective study on ROI-C cages. Although this is a preliminary assessment, the ROI-C cage may represent an excellent alternative to other devices or simple bone graft.
This is a preview of subscription content,
to check access.
Access this article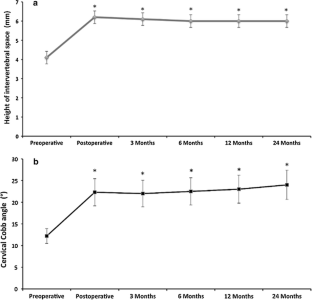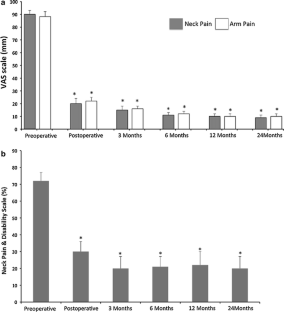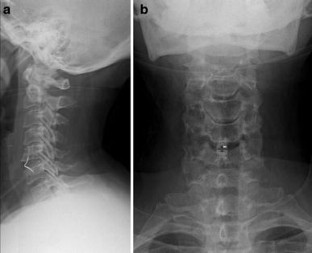 References
Zaveri GR, Ford M (2001) Cervical spondylosis: the role of anterior instrumentation after decompression and fusion. J Spinal Disord 14:10–16

Bijur PE, Silver W, Gallagher EJ (2001) Reliability of the visual analog scale for measurement of acute pain. Acad Emerg Med 8:1153–1157

Carlsson A (1983) Assessment of chronic pain. I. Aspects of the reliability and validity of the visual analogue scale. Pain 16:87–101

Goolkasian P, Wheeler A, Gretz S (2002) The neck pain and disability scale: test-retest reliability and construct validity. Clin J Pain 18:245–250

Scherer M, Blozik E, Himmel W, Laptinskaya D, Kochen MM, Herrmann-Lingen C (2008) Psychometric properties of a German version of the neck pain and disability scale. Eur Spine J 17:922–929

Bazaz R, Lee MJ, Yoo JU (2002) Incidence of dysphagia after anterior cervical spine surgery: a prospective study. Spine 27:2453–2458

Zdeblick TA, Ducker TB (1991) The use of freeze-dried allograft bone for anterior cervical fusions. Spine 16:726–729

Pitzen TR, Chrobok J, Stulik J, Ruffing S, Drumm J, Sova L, Kucera R, Vyskocil T, Steudel WI (2009) Implant complications, fusion, loss of lordosis, and outcome after anterior cervical plating with dynamic or rigid plates: two-year results of a multi-centric, randomized, controlled study. Spine 34:641–646

Arrington ED, Smith WJ, Chambers HG, Bucknell AL, Davino NA (1996) Complications of iliac crest bone graft harvesting. Clin Orthop 329:300–309

Goulet JA, Senunas LE, DeSilva GL, Greenfield ML (1997) Autogenous iliac crest bone graft. Complications and functional assessment. Clin Orthop 339:76–81

Niu CC, Chen LH, Lai PL, Fu TS, Chen WJ (2005) Trapezoidal titanium cage in anterior cervical interbody fusion: a clinical experience. Chang Gung Med J 28:212–221

van der Haven I, van Loon PJ, Bartels RH, van Susante JL (2005) Anterior cervical interbody fusion with radiolucent carbon fiber cages: clinical and radiological results. Acta Orthop Belg 71:604–609

Cho DY, Lee WY, Sheu PC, Chen CC (2005) Cage containing a biphasic calcium phosphate ceramic (Triosite) for the treatment of cervical spondylosis. Surg Neurol 63:497–503 (discussion 503–494)

Nabhan A, Ahlhelm F, Pitzen T, Steudel WI, Jung J, Shariat K, Steimer O, Bachelier F, Pape D (2007) Disc replacement using Pro-disc C versus fusion: a prospective randomised and controlled radiographic and clinical study. Eur Spine J 16:423–430

Sasso RC, Smucker JD, Hacker RJ, Heller JG (2007) Clinical outcomes of BRYAN cervical disc arthroplasty: a prospective, randomized, controlled, multicenter trial with 24-month follow-up. J Spinal Disord Tech 20:481–491

Wang Y, Cai B, Zhang XS, Xiao SH, Wang Z, Lu N, Chai W, Zheng GQ (2008) Clinical outcomes of single level Bryan cervical disc arthroplasty: a prospective controlled study. Zhonghua Wai Ke Za Zhi 46:328–332

Auerbach JD, Jones KJ, Fras CI, Balderston JR, Rushton SA, Chin KR (2008) The prevalence of indications and contraindications to cervical total disc replacement. Spine J 8:711–716

Riley LH 3rd, Skolasky RL, Albert TJ, Vaccaro AR, Heller JG (2005) Dysphagia after anterior cervical decompression and fusion: prevalence and risk factors from a longitudinal cohort study. Spine 30:2564–2569

Yue WM, Brodner W, Highland TR (2005) Persistent swallowing and voice problems after anterior cervical discectomy and fusion with allograft and plating: a 5- to 11-year follow-up study. Eur Spine J 14:677–682

Fountas KN (2005) Anterior cervical fusion using dense cancellous allografts and dynamic plating. Neurosurgery 56:E1166 (author reply E1166)

Lee M, Bazaz R, Furey C, Yoo J (2005) Influence of anterior cervical plate design on dysphagia: a 2-year prospective longitudinal follow-up study. J Spinal Disord Tech 18:406–409

Gore DR (2001) The arthrodesis rate in multilevel anterior cervical fusions using autogenous fibula. Spine 26:1259–1263

Resnick DK, Trost GR (2007) Use of ventral plates for cervical arthrodesis. Neurosurgery 60:S112–S117

Shin DA, Yi S, Yoon do H, Kim KN, Shin HC (2009) Artificial disc replacement combined with fusion versus two-level fusion in cervical two-level disc disease. Spine 34:1153–1159 (discussion 1160-1151)

Hilibrand AS, Carlson GD, Palumbo MA, Jones PK, Bohlman HH (1999) Radiculopathy and myelopathy at segments adjacent to the site of a previous anterior cervical arthrodesis. J Bone Jt Surg 81:519–528

Kim SJ, Kim SD (2014) Anterior cervical discectomy and fusion using a double cylindrical cage versus an anterior cervical plating system with Iliac crest autografts for the treatment of cervical degenerative disc disease. J Korean Neurosurg Soc 55:12–17. doi:10.3340/jkns.2014.55.1.12
Acknowledgments
The study, in part, has been supported by the Academic funds (ex 60 % of the first author).
Conflict of interest
The authors report no declarations of interest.
About this article
Cite this article
Grasso, G., Giambartino, F., Tomasello, G. et al. Anterior cervical discectomy and fusion with ROI-C peek cage: cervical alignment and patient outcomes. Eur Spine J 23 (Suppl 6), 650–657 (2014). https://doi.org/10.1007/s00586-014-3553-y
Received:

Revised:

Accepted:

Published:

Issue Date:

DOI: https://doi.org/10.1007/s00586-014-3553-y
Keywords