Abstract
Purpose
Few complications have been reported for lumbar total disc replacement (TDR) and hybrid TDR fixations. This study evaluated retrieved implants and periprosthetic tissue reactions for two cases of osteolysis following disc arthroplasty with ProDisc-L prostheses.
Methods
Implants were examined for wear and surface damage, and tissues for inflammation, polyethylene wear debris (polarized light microscopy) and metal debris (energy-dispersive X-ray spectroscopy).
Results
Despite initial good surgical outcomes, osteolytic cysts were noted in both patients at vertebrae adjacent to the implants. For the hybrid TDR case, heterotopic ossification and tissue necrosis due to wear-induced inflammation were observed. In contrast, the non-hybrid implant showed signs of abrasion and impingement, and inflammation was observed in tissue regions with metal and polyethylene wear debris.
Conclusions
In both cases, wear debris and inflammation may have contributed to osteolysis. Surgeons using ProDisc prostheses should be aware of these rare complications.
Access options
Buy single article
Instant access to the full article PDF.
USD 39.95
Price excludes VAT (USA)
Tax calculation will be finalised during checkout.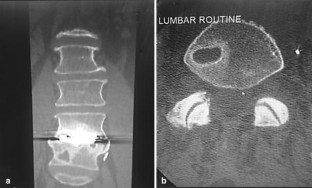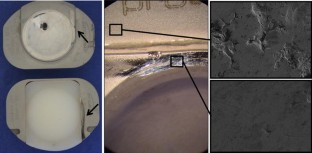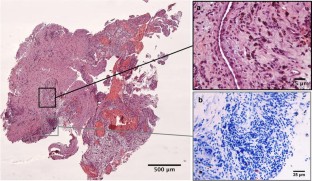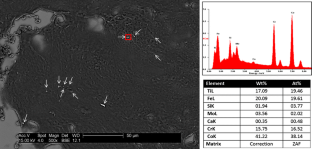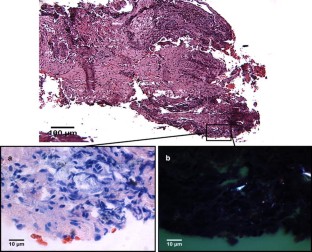 References
Aunoble S, Meyrat R, Al Sawad Y, Tournier C, Leijssen P, Le Huec JC (2010) Hybrid construct for two levels disc disease in lumbar spine. Eur Spine J 19:290–296. doi:10.1007/s00586-009-1182-7

van Ooij A, Kurtz SM, Stessels F, Noten H, van Rhijn L (2007) Polyethylene wear debris and long-term clinical failure of the charite disc prosthesis: a study of 4 patients. Spine(Phila Pa 1976) 32:223–229. doi:10.1097/01.brs.0000251370.56327.c6

Kurtz SM, van Ooij A, Ross R, de Malefijt Waal J, Peloza J, Ciccarelli L, Villarraga ML (2007) Polyethylene wear and rim fracture in total disc arthroplasty. Spine J 7:12–21. doi:10.1016/j.spinee.2006.05.012

Campbell P, Ma S, Yeom B, McKellop H, Schmalzried TP, Amstutz HC (1995) Isolation of predominantly submicron-sized UHMWPE wear particles from periprosthetic tissues. J Biomed Mater Res 29:127–131. doi:10.1002/jbm.820290118

McKay B, Sandhu HS (2002) Use of recombinant human bone morphogenetic protein-2 in spinal fusion applications. Spine 27:S66–S85. doi:10.1097/01.Brs.0000020738.16636.B3

Choudhry OJ, Christiano LD, Singh R, Golden BM, Liu JK (2012) Bone morphogenetic protein-induced inflammatory cyst formation after lumbar fusion causing nerve root compression case report. J Neurosurg Spine 16:296–301. doi:10.3171/2011.11.Spine11629

Kurtz SM, Villarraga ML, Ianuzzi A (2009) The clinical performance of UHMWPE in the spine. In: UHMWPE Biomaterials Handbook. Academic Press, Burlington, pp 180

Anderson CL, Whitaker MC (2012) Heterotopic ossification associated with recombinant human bone morphogenetic protein-2 (infuse) in posterolateral lumbar spine fusion. Spine 37:E502–E506

Mannion RJ, Nowitzke AM, Wood MJ (2011) Promoting fusion in minimally invasive lumbar interbody stabilization with low-dose bone morphogenic protein-2–but what is the cost? Spine J off J North Am Spine Soc 11:527–533

Chrastil J, Patel AA (2012) Complications associated with posterior and transforaminal lumbar interbody fusion. J Am Acad Orthop Surg 20:283–291

Lewandrowski KU, Nanson C, Calderon R (2007) Vertebral osteolysis after posterior interbody lumbar fusion with recombinant human bone morphogenetic protein 2: a report of five cases. Spine J off J North Am Spine Soc 7:609–614. doi:10.1016/j.spinee.2007.01.011

McClellan JW, Mulconrey DS, Forbes RJ, Fullmer N (2006) Vertebral bone resorption after transforaminal lumbar interbody fusion with bone morphogenetic protein (rhBMP-2). J Spinal Disord Tech 19:483–486. doi:10.1097/01.bsd.0000211231.83716.4b

Vaidya R, Sethi A, Bartol S, Jacobson M, Coe C, Craig JG (2008) Complications in the use of rhBMP-2 in PEEK cages for interbody spinal fusions. J Spinal Disord Tech 21:557–562. doi:10.1097/Bsd.0b013e31815ea897

Glassman SD, Howard JM, Sweet A, Carreon LY (2010) Complications and concerns with osteobiologics for spine fusion in clinical practice. Spine 35:1621–1628. doi:10.1097/Brs.0b013e3181ce11cc

Benglis D, Wang MY, Levi AD (2008) A comprehensive review of the safety profile of bone morphogenetic protein in spine surgery. Neurosurgery 62:423–431. doi:10.1227/01.neu.0000326030.24220.d8

Kurtz SM, MacDonald D, Ianuzzi A, van Ooij A, Isaza J, Ross ER, Regan J (2009) The natural history of polyethylene oxidation in total disc replacement. Spine 34:2369–2377. doi:10.1097/Brs.0b013e3181b20230

Choma TJ, Miranda J, Siskey R, Baxter R, Steinbeck MJ, Kurtz SM (2009) Retrieval Analysis of a ProDisc-L Total Disc Replacement. J Spinal Disord Tech 22:290–296. doi:10.1097/Bsd.0b013e31816dd2b6

Tumialan LM, Gluf WM (2011) Progressive vertebral body osteolysis after cervical disc arthroplasty. Spine 36:E973–E978. doi:10.1097/Brs.0b013e3181fd863b

Purdue PE, Koulouvaris P, Nestor BJ, Sculco TP (2006) The central role of wear debris in periprosthetic osteolysis. HSS J Musculoskelet J Hosp Spec Surg 2:102–113. doi:10.1007/s11420-006-9003-6

Campbell P, Ebramzadeh E, Nelson S, Takamura K, De Smet K, Amstutz HC (2010) Histological features of pseudotumor-like tissues from metal-on-metal hips. Clin Orthop Relat Res 468:2321–2327. doi:10.1007/s11999-010-1372-y
Acknowledgments
We thank Eual Phillips for his help in performing the image analysis for this study.
Conflict of interest
This study was supported by a grant from the NIAMS (NIH R01 AR56264). Institutional support was received from Medtronic and DePuy Synthes for research unrelated to this work (SMK). For THL, he is a consultant and receives royalties from Medtronic.
Electronic supplementary material
Below is the link to the electronic supplementary material.
About this article
Cite this article
Veruva, S.Y., Lanman, T.H., Hanzlik, J.A. et al. Rare complications of osteolysis and periprosthetic tissue reactions after hybrid and non-hybrid total disc replacement. Eur Spine J 24 (Suppl 4), 494–501 (2015). https://doi.org/10.1007/s00586-014-3535-0
Received:

Revised:

Accepted:

Published:

Issue Date:

DOI: https://doi.org/10.1007/s00586-014-3535-0
Keywords
Chronic inflammation

Hybrid fixation

Metal wear debris

Osteolysis

Polyethylene wear debris

Total disc replacement