Abstract
Purpose
To clarify the priorities of the walking test and the treadmill test for intermittent claudication of lumbar canal stenosis.
Methods
The study population comprised 45 subjects, with a mean age of 72.6 years. An investigator walked with the subjects during the walking test or watched the subjects walking on the treadmill machine in the treadmill test.
Results
The pain scales became significantly worse after the walking test. Ten patients who were diagnosed as root symptom type or cauda equine symptoms were subsequently diagnosed as mixed type by the walking test. The numbers of patients who experienced muscle weakness that was not revealed at rest were eight with the walking test and seven with the treadmill test. The numbers of patients who experienced sensory disturbance that was not observed at rest were seven with the walking test and two with the treadmill test.
Conclusions
The walking test detected significantly more symptoms that were not detected at rest than the treadmill test.
This is a preview of subscription content,
to check access.
Access this article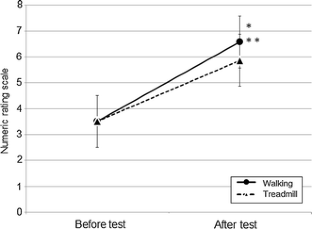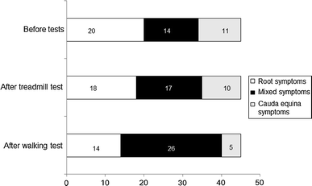 References
Porter RW (1996) Spinal stenosis and neurogenic claudication. Spine 21:2046–2052

Epstein JA, Epstein BS, Lavine LS, Carras R, Rosenthal AD, Sumner P (1973) Lumbar nerve root compression at the intervertebral foramina caused by arthritis of the posterior facets. J Neurosurg 39:362–369

Boden SD, Davis DO, Dina TS, Patronas NJ, Wiesel SW (1990) Abnormal magnetic-resonance scans of the lumbar spine in asymptomatic subjects. A prospective investigation. J Bone Joint Surg Am 72:403–408

Konno S, Kikuchi S (2000) Prospective study of surgical treatment of degenerative spondylolisthesis: comparison between decompression alone and decompression with graf system stabilization. Spine 25:1533–1537

Sato K, Kikuchi S (1997) Clinical analysis of two-level compression of the cauda equina and the nerve roots in lumbar spinal canal stenosis. Spine 22:1898–1904

Deen HG, Zimmerman RS, Lynos MK, McPhee MC, Verheijde JL, Lemens SM (1998) Use of the exercise treadmill to measure baseline functional status and surgical outcome in patients with severe lumbar spinal stenosis. Spine 23:244–248

Dong G, Porter RW (1989) Walking and cycling tests in neurogenic and intermittent claudication. Spine 14:965–969

Dyck P, Doyle JB Jr (1977) "Bicycle test" of van Gelderen in diagnosis of intermittent cauda equina compression syndrome. Case report. J Neurosurg 46:667–670

Dyck P (1979) The stoop-test in lumbar entrapment radiculopathy. Spine 4:89–92

Padmanabhan G, Sambasivan A, Desai MJ (2011) Three-step treadmill test and McKenzie mechanical diagnosis and therapy to establish directional preference in a patient with lumbar spinal stenosis: a case report. J Man Manip Ther 19:35–41

Kim YS, Park SJ, Oh IS, Kwan JY (2009) The clinical effect of gait load test in two level lumbar spinal stenosis. Asian Spine J 3:96–100

Rainville J, Childs LA, Peña EB, Suri P, Limke JC, Jouve C, Hunter DJ (2012) Quantification of walking ability in subjects with neurogenic claudication from lumbar spinal stenosis—a comparative study. Spine J 12:101–109

Tomkins CC, Battié MC, Hu R (2007) Construct validity of the physical function scale of the Swiss Spinal Stenosis Questionnaire for the measurement of walking capacity. Spine 32:1896–1901

Kikuchi S, Hasue M (1985) Clinical analyses of neurogenic intermittent claudication in lumbar spine disease. Orthop Trans 9:514

Ciricillo SF, Weinstein PR (1993) Lumbar spinal stenosis. West J Med 158:171–177

Takahashi K, Kagechika K, Takino T, Matsui T, Miyazaki T, Shima I (1995) Changes in epidural pressure during walking in patients with lumbar spinal stenosis. Spine 20:2746–2749

Amundsen T, Weber H, Lilleås F, Nordal HJ, Abdelnoor M, Magnaes B (1995) Lumbar spinal stenosis. Clinical and radiologic features. Spine 20:1178–1186

Porter RW, Ward D (1992) Cauda equina dysfunction The significance of two-level pathology. Spine 17:9–15

Blau JN, Logue V (1978) The natural history of intermittent claudication of the cauda equine. A long term follow-up study. Brain 101:211–222

Jellinger K, Neumayer E (1972) Claudication of the spinal cord and cauda equina. In: Vinken PJ, Bruyn GW (eds) Handbook of clinical neurology. North-Holland, Amsterdam, pp 507–547

Wilson CB (1969) Significance of the small lumbar spinal canal: cauda equina compression syndrome due to spondylosis. 3: intermittent claudication. J Neurosurg 31:499–506

Stolze H, Kuhtz-Buschbeck JP, Mondwurf C, Boczek-Funcke A, Jöhnk K, Deuschl G, Illert M (1997) Gait analysis during treadmill and overground locomotion in children and adults. Electroencephalogr Clin Neurophysiol 105:490–497

White SC, Yack HJ, Tucker CA, Lin HY (1998) Comparison of vertical ground reaction forces during overground and treadmill walking. Med Sci Sports Exerc 30:1537–1542

Nelson RC, Dillman CJ, Lagasse P, Bickett P (1972) Biomechanics of overground versus treadmill running. Med Sci Sports 4:233–240
Acknowledgments
We are grateful to members of rehabilitation medicine Misasa Onsen Hospital for helpful suggestions.
Conflict of interest
Each author certifies that he has no commercial associations (e.g., consultancies, stock ownership, equity interest, patent/licensing arrangements, etc.) that might pose a conflict of interest in connection with the submitted article. Each author certifies that Misasa Onsen Hospital has approved the reporting of this manuscript report, that all investigations were conducted in conformity with ethical principles of research, and that informed consent for participation in the study was obtained. This work was performed at Misasa Onsen Hospital.
About this article
Cite this article
Tanishima, S., Fukada, S., Ishii, H. et al. Comparison between walking test and treadmill test for intermittent claudication associated with lumbar spinal canal stenosis. Eur Spine J 24, 327–332 (2015). https://doi.org/10.1007/s00586-014-3511-8
Received:

Revised:

Accepted:

Published:

Issue Date:

DOI: https://doi.org/10.1007/s00586-014-3511-8
Keywords