Abstract
Purpose
The objective of this study was to investigate the outcome of a case series of patients with dysphagia resulting from diffuse idiopathic skeletal hyperostosis (DISH) of the cervical spine who were treated surgically with resection and fusion.
Methods
A retrospective study was performed on all patients who presented (2005−2013) with complaints of dysphagia or respiratory compromise and who underwent anterior cervical osteophyte resection with fusion (polyether ether ketone cage and/or plate system) using an anterior approach. All patients were diagnosed with DISH and underwent preoperative esophageal and laryngoscopic examinations and a fluoroscopic swallowing study. Initial non-operative strategies were performed, including diet, change in head position during swallowing, non-steroidal anti-inflammatory drugs and pantoprazole.
Results
A total of six patients with DISH were included. The mean age was 67 ± 5 years. All patients were male and had symptoms of dysphagia and neck pain, one had simultaneous airway complaints, and another had regurgitation with a sleep disorder. All patients had significant improvements in dysphagia, respiratory complaints and regurgitation 6 weeks after surgery. The postoperative radiographs showed complete removal of the compressive structures. There were no postoperative complications. At the final follow-up (23 ± 8 months), the radiographic examinations showed no pathological regrowth, and the patients reported no recurrence of dysphagia.
Conclusion
Diffuse idiopathic skeletal hyperostosis may lead to osteophyte-associated pathologies of the aerodigestive tract. Preoperative investigations with esophageal and laryngoscopic examinations combined with fluoroscopic swallowing tests are essential. Surgical decompression through osteophytectomy and fusion is an effective management strategy in selected patients and should be considered when non-operative strategies have failed.
Access options
Buy single article
Instant access to the full article PDF.
USD 39.95
Price excludes VAT (USA)
Tax calculation will be finalised during checkout.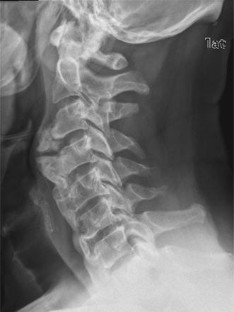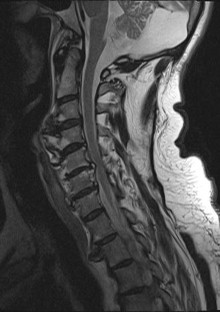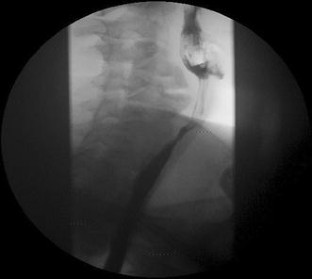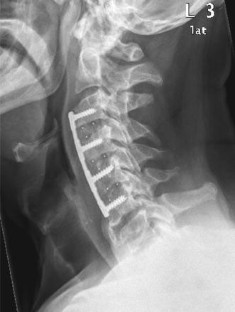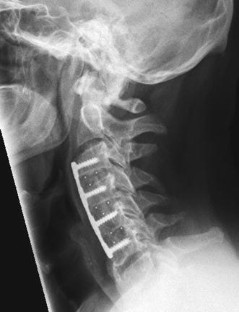 References
McCafferty RR, Harrison MJ, Tamas LB et al (1995) Ossification of the anterior longitudinal ligament and Forestier's disease: an analysis of seven cases. J Neurosurg 83:13–17

Rotés-Querol J (1996) Clinical manifestations of diffuse idiopathic skeletal hyperostosis (DISH). Br J Rheumatol 35:1193–1194

Weinfeld RM, Olson PN, Maki DD et al (1997) The prevalence of diffuse idiopathic skeletal hyperostosis (DISH) in two large American Midwest metropolitan hospital populations. Skeletal Radiol 26:222–225

Kiss C, Szilágyi M, Paksy A et al (2002) Risk factors for diffuse idiopathic skeletal hyperostosis: a case-control study. Rheumatology 41:27–30

Aydin E, Akdogan V, Akkuzu B et al (2006) Six cases of Forestier syndrome, a rare cause of dysphagia. Acta Otolaryngol 126:775–778

Kmucha ST, Cravens RB Jr (1994) DISH syndrome and its role in dysphagia. Otolaryngol Head Neck Surg 110:431–436

Verlaan J-J, Boswijk PFE, de Ru JA et al (2011) Diffuse idiopathic skeletal hyperostosis of the cervical spine: an underestimated cause of dysphagia and airway obstruction. Spine J 11:1058–1067

Lecerf P, Malard O (2010) How to diagnose and treat symptomatic anterior cervical osteophytes? Eur Ann Otorhinolaryngol Head Neck Dis 127:111–116

Marks B, Schober E, Swoboda H (1998) Diffuse idiopathic skeletal hyperostosis causing obstructing laryngeal edema. Eur Arch Otorhinolaryngol 255:256–258

Mazières B (2013) Diffuse idiopathic skeletal hyperostosis (Forestier-Rotes-Querol disease): what's new? Joint Bone Spine 80:466–470

Humphreys SC, Hodges SD, Eck JC, Griffin J (2002) Dysphagia caused by anterior cervical osteophytes: a case report. Am J Orthop 31:417–419

Goel R, Sampath P, Mikaelian DO (1999) Dysphagia caused by cervical osteophytes: three cases treated successfully by surgery. Otolaryngol Head Neck Surg 120:92–96

Yee C, Wong HY, Fewer HD et al (1985) Two cases of dysphagia due to cervical spine osteophytes successfully treated surgically. Can Med Assoc J 132:810–812

Giger R, Dulguerov P, Payer M (2006) Anterior cervical osteophytes causing dysphagia and dyspnea: an uncommon entity revisited. Dysphagia 21:259–263

Resnick D, Shapiro RF, Wiesner KB et al (1978) Diffuse idiopathic skeletal hyperostosis (DISH) [ankylosing hyperostosis of Forestier and Rotes-Querol]. Semin Arthritis Rheum 7:153–187

Urrutia J, Bono CM (2009) Long-term results of surgical treatment of dysphagia secondary to cervical diffuse idiopathic skeletal hyperostosis. Spine J 9:e13–e17

Carlson ML, Archibald DJ, Graner DE et al (2011) Surgical management of dysphagia and airway obstruction in patients with prominent ventral cervical osteophytes. Dysphagia 26:34–40

Vengust R, Mihalic R, Turel M (2010) Two different causes of acute respiratory failure in a patient with diffuse idiopathic skeletal hyperostosis and ankylosed cervical spine. Eur Spine J 19(Suppl 2):130–134

Laus M, Malaguti MC, Alfonso C et al (1995) Dysphagia due to cervical osteophytosis. Chir Organi Mov 80:263–271

Strasser G, Schima W, Schober E et al (2000) Cervical osteophytes impinging on the pharynx: importance of size and concurrent disorders for development of aspiration. AJR Am J Roentgenol 174:449–453

Fuerderer S, Eysel-Gosepath K, Schröder U et al (2004) Retro-pharyngeal obstruction in association with osteophytes of the cervical spine. J Bone Joint Surg Br 86:837–840

Akhtar S, O'Flynn PE, Kelly A, Valentine PM (2000) The management of dysphasia in skeletal hyperostosis. J Laryngol Otol 114:154–157

Weinshel SS, Maiman DJ, Mueller WM (1988) Dysphagia associated with cervical spine disorders: pathologic relationship? J Spinal Disord 1:312–316

Miyamoto K, Sugiyama S, Hosoe H et al (2009) Postsurgical recurrence of osteophytes causing dysphagia in patients with diffuse idiopathic skeletal hyperostosis. Eur Spine J 18:1652–1658
Conflict of interest
None of the authors has any potential conflict of interest.
About this article
Cite this article
von der Hoeh, N.H., Voelker, A., Jarvers, J.S. et al. Results after the surgical treatment of anterior cervical hyperostosis causing dysphagia. Eur Spine J 24 (Suppl 4), 489–493 (2015). https://doi.org/10.1007/s00586-014-3507-4
Received:

Revised:

Accepted:

Published:

Issue Date:

DOI: https://doi.org/10.1007/s00586-014-3507-4
Keywords
Dysphagia

Diffuse idiopathic skeletal hyperostosis (DISH)

Surgery

Anterior osteophytes