Abstract
Purpose
Several risk factors and causes of adjacent segment disease have been debated; however, no quantitative relationship to spino-pelvic parameters has been established so far. A retrospective case–control study was carried out to investigate spino-pelvic alignment in patients with adjacent segment disease compared to a control group.
Methods
45 patients (ASDis) were identified that underwent revision surgery for adjacent segment disease after on average 49 months (7–125), 39 patients were selected as control group (CTRL) similar in the distribution of the matching variables, such as age, gender, preoperative degenerative changes, and numbers of segments fused with a mean follow-up of 84 months (61–142) (total n = 84). Several radiographic parameters were measured on pre- and postoperative radiographs, including lumbar lordosis measured (LL), sacral slope, pelvic incidence (PI), and tilt.
Results
Significant differences between ASDis and CTRL groups on preoperative radiographs were seen for PI (60.9 ± 10.0° vs. 51.7 ± 10.4°, p = 0.001) and LL (48.1 ± 12.5° vs. 53.8 ± 10.8°, p = 0.012). Pelvic incidence was put into relation to lumbar lordosis by calculating the difference between pelvic incidence and lumbar lordosis (∆PILL = PI−LL, ASDis 12.5 ± 16.7° vs. CTRL 3.4 ± 12.1°, p = 0.001). A cutoff value of 9.8° was determined by logistic regression and ROC analysis and patients classified into a type A (∆PILL <10°) and a type B (∆PILL ≥10°) alignment according to pelvic incidence-lumbar lordosis mismatch. In type A spino-pelvic alignment, 25.5 % of patients underwent revision surgery for adjacent segment disease, whereas 78.3 % of patients classified as type B alignment had revision surgery. Classification of patients into type A and B alignments yields a sensitivity for predicting adjacent segment disease of 71 %, a specificity of 81 % and an odds ratio of 10.6.
Conclusion
In degenerative disease of the lumbar spine a high pelvic incidence with diminished lumbar lordosis seems to predispose to adjacent segment disease. Patients with such pelvic incidence-lumbar lordosis mismatch exhibit a 10-times higher risk for undergoing revision surgery than controls if sagittal malalignment is maintained after lumbar fusion surgery.
Access options
Buy single article
Instant access to the full article PDF.
USD 39.95
Price excludes VAT (USA)
Tax calculation will be finalised during checkout.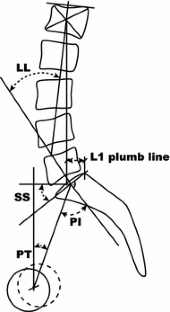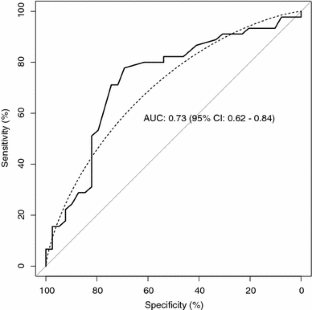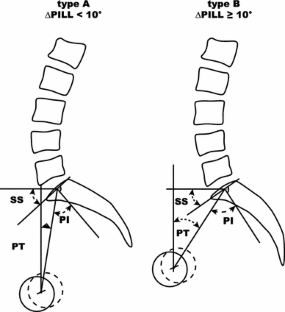 References
Fritzell P, Hagg O, Wessberg P, Nordwall A, Swedish Lumbar Spine Study G (2001) 2001 Volvo Award Winner in Clinical Studies: Lumbar fusion versus nonsurgical treatment for chronic low back pain: a multicenter randomized controlled trial from the Swedish Lumbar Spine Study Group. Spine (Phila Pa 1976) 26:2521–2532 (discussion 2532–2524)

Park P, Garton HJ, Gala VC, Hoff JT, McGillicuddy JE (2004) Adjacent segment disease after lumbar or lumbosacral fusion: review of the literature. Spine 29:1938–1944

Xia XP, Chen HL, Cheng HB (2013) Prevalence of adjacent segment degeneration after spine surgery: a systematic review and meta-analysis. Spine (Phila Pa 1976) 38:597–608

Min J-H, Jang J-S, Bj Jung, Lee HY, Choi W-C, Shim CS, Choi G, Lee S-H (2008) The clinical characteristics and risk factors for the adjacent segment degeneration in instrumented lumbar fusion. J Spinal Disord Tech 21:305–309

Harrop JS, Youssef JA, Maltenfort M, Vorwald P, Jabbour P, Bono CM, Goldfarb N, Vaccaro AR, Hilibrand AS (2008) Lumbar adjacent segment degeneration and disease after arthrodesis and total disc arthroplasty. Spine 33:1701–1707

Cheh G, Bridwell KH, Lenke LG, Buchowski JM, Daubs MD, Kim Y, Baldus C (2007) Adjacent segment disease following lumbar/thoracolumbar fusion with pedicle screw instrumentation: a minimum 5-year follow-up. Spine 32:2253–2257

Lee CS, Hwang CJ, Lee S-W, Ahn Y-J, Kim Y-T, Lee D-H, Lee MY (2009) Risk factors for adjacent segment disease after lumbar fusion. Eur Spine J 18:1637–1643

Anandjiwala J, Seo JY, Ha KY, Oh IS, Shin DC (2011) Adjacent segment degeneration after instrumented posterolateral lumbar fusion: a prospective cohort study with a minimum five-year follow-up. Eur Spine J 20:1951–1960

Aota Y, Kumano K, Hirabayashi S (1995) Postfusion instability at the adjacent segments after rigid pedicle screw fixation for degenerative lumbar spinal disorders. J Spinal Disord 8:464–473

Gillet P (2003) The fate of the adjacent motion segments after lumbar fusion. J Spinal Disord Tech 16:338–345

Kaito T, Hosono N, Mukai Y, Makino T, Fuji T, Yonenobu K (2010) Induction of early degeneration of the adjacent segment after posterior lumbar interbody fusion by excessive distraction of lumbar disc space. J Neurosurg Spine 12:671–679

Kim KH, Lee S-H, Shim CS, Lee DY, Park HS, Pan W-J, Lee HY (2010) Adjacent segment disease after interbody fusion and pedicle screw fixations for isolated l4–l5 spondylolisthesis: a minimum five-year follow-up. Spine 35:625–634

Kumar MN, Baklanov A, Chopin D (2001) Correlation between sagittal plane changes and adjacent segment degeneration following lumbar spine fusion. Eur Spine J 10:314–319

Legaye J, Duval-Beaupere G, Hecquet J, Marty C (1998) Pelvic incidence: a fundamental pelvic parameter for three-dimensional regulation of spinal sagittal curves. Eur Spine J 7:99–103

Duval-Beaupere G, Schmidt C, Cosson P (1992) A Barycentremetric study of the sagittal shape of spine and pelvis: the conditions required for an economic standing position. Ann Biomed Eng 20:451–462

Boulay C, Tardieu C, Hecquet J, Benaim C, Mouilleseaux B, Marty C, Prat-Pradal D, Legaye J, Duval-Beaupere G, Pélissier J (2005) Sagittal alignment of spine and pelvis regulated by pelvic incidence: standard values and prediction of lordosis. Eur Spine J 15:415–422

Roussouly P, Gollogly S, Berthonnaud E, Dimnet J (2005) Classification of the normal variation in the sagittal alignment of the human lumbar spine and pelvis in the standing position. Spine 30:346–353

Schwab F, Patel A, Ungar B, Farcy JP, Lafage V (2010) Adult spinal deformity-postoperative standing imbalance: how much can you tolerate? An overview of key parameters in assessing alignment and planning corrective surgery. Spine 35:2224–2231

Bland JM, Altman DG (1986) Statistical methods for assessing agreement between two methods of clinical measurement. Lancet 1:307–310

Pfirrmann CW, Metzdorf A, Zanetti M, Hodler J, Boos N (2001) Magnetic resonance classification of lumbar intervertebral disc degeneration. Spine 26:1873–1878

Robin X, Turck N, Hainard A, Tiberti N, Lisacek F, Sanchez JC, Muller M (2011) pROC: an open-source package for R and S + to analyze and compare ROC curves. BMC Bioinformatics 12:77

Senteler M, Weisse B, Snedeker JG, Rothenfluh DA (2014) Pelvic incidence-lumbar lordosis mismatch results in increased segmental loads in the unfused and fused lumbar spine. Eur Spine J. doi:10.1007/s00586-013-3132-7

Axelsson P, Johnsson R, Strömqvist B (1997) The spondylolytic vertebra and its adjacent segment. Mobility measured before and after posterolateral fusion. Spine 22:414–417

Bastian L, Lange U, Knop C, Tusch G, Blauth M (2001) Evaluation of the mobility of adjacent segments after posterior thoracolumbar fixation: a biomechanical study. Eur Spine J 10:295–300

Ekman P, Möller H, Shalabi A, Yu YX, Hedlund R (2009) A prospective randomised study on the long-term effect of lumbar fusion on adjacent disc degeneration. Eur Spine J 18:1175–1186

Weinhoffer SL, Guyer RD, Herbert M, Griffith SL (1995) Intradiscal pressure measurements above an instrumented fusion. A cadaveric study. Spine 20:526–531

Ruberté LM, Natarajan RN, Andersson GB (2009) Influence of single-level lumbar degenerative disc disease on the behavior of the adjacent segments–a finite element model study. J Biomech 42:341–348

Chan D, Song Y, Sham P, Cheung KM (2006) Genetics of disc degeneration. Eur Spine J 15(Suppl 3):S317–S325

Barrey C, Roussouly P, Perrin G (2011) Sagittal balance disorders in severe degenerative spine. Can we identify the compensatory mechanisms? Eur Spine J 20(Suppl 5):626–633

Roussouly P, Pinheiro-Franco JL (2011) Biomechanical analysis of the spino-pelvic organization and adaptation in pathology. Eur Spine J 20(Suppl 5):609–618

Barrey C, Jund J, Noseda O, Roussouly P (2007) Sagittal balance of the pelvis-spine complex and lumbar degenerative diseases. A comparative study about 85 cases. Eur Spine J 16:1459–1467

Djurasovic MO, Carreon LY, Glassman SD, Dimar JR, Puno RM, Johnson JR (2008) Sagittal alignment as a risk factor for adjacent level degeneration: a case-control study. Orthopedics 31:546

Schwab FJ, Blondel B, Bess S, Hostin R, Shaffrey CI, Smith JS, Boachie-Adjei O, Burton DC, Akbarnia BA, Mundis GM, Ames CP, Hart RA, Farcy JP, Lafage V, International Spine Study G (2013) Radiographical spinopelvic parameters and disability in the setting of adult spinal deformity: a prospective multicenter analysis. Spine (Phila Pa 1976) 38:E803–E812
Acknowledgments
DAR designed and planned the study, acquired and analyzed all data and wrote the manuscript, all other authors contributed in data acquisition and analysis as well as manuscript preparation.
Conflict of interest
None.
About this article
Cite this article
Rothenfluh, D.A., Mueller, D.A., Rothenfluh, E. et al. Pelvic incidence-lumbar lordosis mismatch predisposes to adjacent segment disease after lumbar spinal fusion. Eur Spine J 24, 1251–1258 (2015). https://doi.org/10.1007/s00586-014-3454-0
Received:

Revised:

Accepted:

Published:

Issue Date:

DOI: https://doi.org/10.1007/s00586-014-3454-0
Keywords