Abstract
Purpose
Evaluation of effectiveness of internal rigid fixation for occipito-cervical fusion with occipital hooks and cervical screws and/or hooks to improve fusion in young or small children with various bone dysplasia or congenital abnormality.
Methods
Fourteen children with mean age of 8.4 years and height and weight below 140 cm and 35 kg, respectively, who underwent occipito-cervical fusion for miscellaneous pathologies reading to stenosis and/or instability were reviewed. The posterior instrumentation consisted of a precontoured titanium plate rod with an occipital fixation by hooks and a vertebral fixation by screws and/or hooks. Eight patients had cervical fixation with C2 pedicle screws. The mean follow-up was 48 months (27–81 months).
Results
Thirteen patients (92.8 %) had a complete fusion and no failure of the fixation was observed. We had two deep wound infections not related to implants.
Conclusion
Instrumentation was technically feasible even in a very young child. Rigid internal fixation in the little children did not increase surgical complications and significantly increased the union rate of occipito-cervical arthrodesis.
Access options
Buy single article
Instant access to the full article PDF.
US$ 39.95
Tax calculation will be finalised during checkout.
Subscribe to journal
Immediate online access to all issues from 2019. Subscription will auto renew annually.
US$ 119
Tax calculation will be finalised during checkout.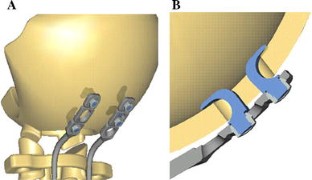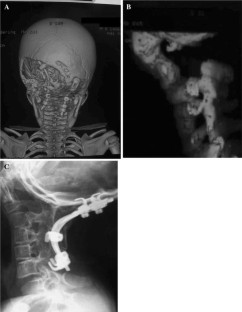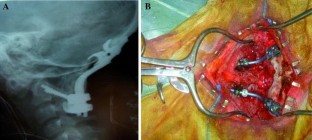 References
1.

Dogan S et al (2006) Pediatric subaxial cervical spine injuries: origins, management, and outcome in 51 patients. Neurosurg Focus 20(2):1–7

2.

Hadley MN et al (1988) Pediatric spinal trauma. Review of 122 cases of spinal cord and vertebral column injuries. J Neurosurg 68(1):18–24

3.

Ahmed R, Traynelis VC, Menezes AH (2008) Fusions at the craniovertebral junction. Childs Nerv Syst 24(10):1209–1224

4.

Abumi K et al (1999) One-stage posterior decompression and reconstruction of the cervical spine by using pedicle screw fixation systems. J Neurosurg 90(1 Suppl):19–26

5.

Adeloye A, Kattan KR, Silverman FN (1975) Thickness of the normal skull in the American Blacks and Whites. Am J Phys Anthropol 43(1):23–30

6.

Fagerstrom T, Hedlund R (2002) Cotrel Dubousset instrumentation in occipito-cervico-thoracic fusion. Eur Spine J 11(4):364–374

7.

Koop SE, Winter RB, Lonstein JE (1984) The surgical treatment of instability of the upperpart of the cervical spine in children and adolescents. J Bone Joint Surg Am 66(3):403–411

8.

Letts M, Slutsky D (1990) Occipitocervical arthrodesis in children. J Bone Joint Surg Am 72(8):1166–1170

9.

Roy L, Gibson DA (1970) Cervical spine fusions in children. Clin Orthop Relat Res 73:146–151

10.

Lee PC, Chun SY, Leong JC (1984) Experience of posterior surgery in atlanto-axial instability. Spine (Phila Pa 1976) 9(3):231–239

11.

Grantham SA et al (1969) Occipitocervical arthrodesis. Indications, technic and results. Clin Orthop Relat Res 65:118–129

12.

Itoh T et al (1988) Occipito-cervical fusion reinforced by Luque's segmental spinal 1 instrumentation for rheumatoid diseases. Spine (Phila Pa 1976) 13(11):1234–1238

13.

Flint GA, Hockley AD (1987) Internal fixation for atlanto-axial instability in children. Childs Nerv Syst 3(6):368–370

14.

Higo M et al (1995) Occipitocervical fusion by Luque loop rod instrumentation in Down syndrome. J Pediatr Orthop 15(4):539–542

15.

Brockmeyer DL, Apfelbaum RI (1999) A new occipitocervical fusion construct in pediatric patients with occipitocervical instability. Technical note. J Neurosurg 90(2 Suppl):271–275

16.

Parisini P et al (2003) C1–C2 posterior fusion in growing patients: long term follow up. Spine (Phila Pa 1976) 28(6):566–572 (discussion 572)

17.

Ebraheim NA et al (1996) An anatomic study of the thickness of the occipital bone. Implications 10 for occipitocervical instrumentation. Spine (Phila Pa 1976) 21(15):1725–1729 (discussion 1729–1730)

18.

Faure A et al (2002) Inverted-hook occipital clamp system in occipitocervical fixation. Technical note. J Neurosurg 97(1 Suppl):135–141

19.

Abumi K et al (2000) Complications of pedicle screw fixation in reconstructive surgery of the cervical spine. Spine (Phila Pa 1976) 25(8):962–969

20.

Jeanneret B, Gebhard JS, Magerl F (1994) Transpedicular screw fixation 1 of articular mass fracture-separation: results of an anatomical study and operative technique. J Spinal Disord 7(3):222–229

21.

Panjabi MM et al (1991) Cervical human vertebrae. Quantitative three-dimensional anatomy of the middle and lower regions. Spine (Phila Pa 1976) 16(8):861–869

22.

Howington JU, Kruse JJ, Awasthi D (2001) Surgical anatomy of the C-2 pedicle. J Neurosurg 95(1 Suppl):88–92

23.

McCullen GM, Garfin SR (2000) Spine update: cervical spine internal fixation using screw and screw-plate constructs. Spine (Phila Pa 1976) 25(5):643–652

24.

Ludwig SC et al (2000) Cervical pedicle screws: comparative accuracy of two insertion techniques. Spine (Phila Pa 1976) 25(20):2675–2681

25.

Geck MJ et al (2014) Feasibility of rigid upper cervical instrumentation in children: tomographic analysis of children aged 2 to 6. J Spinal Disord Tech 27(3):110–117
About this article
Cite this article
Odent, T., Bou Ghosn, R., Dusabe, JP. et al. Internal fixation with occipital hooks construct for occipito-cervical arthrodesis. Results in 14 young or small children. Eur Spine J 24, 94–100 (2015). https://doi.org/10.1007/s00586-014-3436-2
Received:

Revised:

Accepted:

Published:

Issue Date:
Keywords
Occipito-cervical fusion

Occipital hook fixation

Children

C2 pedicle srews

Bone dysplasia