Abstract
Background
Degenerative spondylolisthesis is a well-recognized source of low back pain mainly induced by facet joint pain. Pulsed radiofrequency (PRF) allows heat dissipation, thus producing a temporary injury that affects only type C fibers responsible for pain conduction.
Objectives
We attempted to test whether PRF is a better choice for facet pain due to spondylolisthesis compared to routine steroid injection.
Methods
Patients were randomly assigned to one of two groups: group one received pulsed RF, and group 2 received injection by steroids (triamcinolone) and bupivacaine.
Outcomes assessment
Multiple outcome measures were utilized which included the numeric rating scale (NRS), the Oswestry Disability Index (ODI), satisfaction status, and analgesic intake with assessment at 3, 6, and 12 months post-treatment. Significant pain relief was defined as 50 % or more, whereas significant improvement in disability score was defined as reduction of 40 % or more.
Results
Eighty patients were enrolled in the study and were divided into the two groups of study. PRF significantly reduced NRS at 6-month follow-up compared to steroid + bupivacaine. 75.6 ± 14.3 % at pre-treatment and 19.3 ± 9.5 % at 6 months (p = 0.001) in PRF group. The mean ODI is depicted in two groups of study (Fig. 1). Interestingly, ODI% was significantly lower in PRF group at 12 weeks and 6 months compare to steroid + bupivacaine group (p = 0.022 and 0.03, respectively), but it was not significantly different at 6 weeks (p = 0.31). Proportion of patients who did not require analgesics were significantly higher in PRF group compared to other group (p = 0.001) in Log-rank (Mantel–Cox) test.
Conclusion
Our results demonstrated that the application of PRF might be more effective than steroid and bupivacaine injection in decreasing back pain due to degenerative facet pain and improvement in function of patients.
Access options
Buy single article
Instant access to the full article PDF.
USD 39.95
Price excludes VAT (USA)
Tax calculation will be finalised during checkout.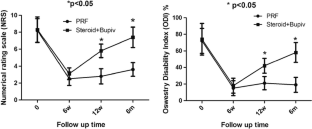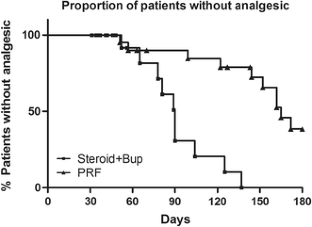 References
Kalichman L, Hunter DJ (2008) Diagnosis and conservative management of degenerative lumbar spondylolisthesis. Eur Spine J 17(3):327–335

Misaggi B, Gallazzi M, Colombo M, Ferraro M (2009) Articular facets syndrome: diagnostic grading and treatment options. Eur Spine J 18 Suppl 1:49–51

Frymoyer JW (1994) Degenerative spondylolisthesis: diagnosis and treatment. J Am Acad Orthop Surg 2:9–15

Vibert BT, Sliva CD, Herkowitz HN (2006) Treatment of instability and spondylolisthesis: surgical versus nonsurgical treatment. Clin Orthop Relat Res 443:222–227

Kalichman L, Hunter DJ (2008) Diagnosis and conservative management of degenerative lumbar spondylolisthesis. Eur Spine J 17:327–335

Manchikanti L, Singh V, Vilims BD, Hansen HC, Schultz DM, Kloth DS (2002) Medial branch neurotomy in management of chronic spinal pain: systematic review of the evidence. Pain Physician 5:405–418

Van Zundert J, Vanelderen P, Kessels A, van Kleef M (2012) Radiofrequency treatment of facet-related pain: evidence and controversies. Curr Pain Headache Rep 16(1):19–25

Jung YJ, Lee DG, Cho YW, Ahn SH (2012) Effect of intradiscal monopolar pulsed radiofrequency on chronic discogenic back pain diagnosed by pressure-controlled provocative discography: a one year prospective study. Ann Rehabil Med 36(5):648–656

Falco FJ, Manchikanti L, Datta S, Sehgal N, Geffert S, Onyewu O, Zhu J, Coubarous S, Hameed M, Ward SP, Sharma M, Hameed H, Singh V, Boswell MV (2012) An update of the effectiveness of therapeutic lumbar facet joint interventions. Pain Physician 15(6):E909–E953

Geurts JW, van Wijk RM, Wynne HJ et al (2003) Radiofrequency lesioning of dorsal root ganglia for chronic lumbosacral radicular pain: a randomised, double-blind, controlled trial. Lancet 361:21–26

Sluijter ME, Cosman E, Rittman I (1998) The effects of pulsed radiofrequency field applied to the dorsal root ganglion—a preliminary report. Pain Clin 11:109–117

Abejón D, Reig E (2003) Is pulsed radiofrequency a neuromodulation technique? Neuromodulation 6:1–3

Hamann W, Abou-Sherif S, Thompson S, Hall S (2006) Pulsed radiofrequency applied to dorsal root ganglia causes a selective increase in ATF3 in small neurons. Eur J Pain 10:171–176

Cahana A, Van Zundert J, Macrea L, van Kleef M, Sluijter M (2006) Pulsed radiofrequency: current clinical and biological literature available. Pain Med 7:411–423

Cohen SP, Rathmell JP (2010) Tackling the technical challenges that hinder the success of facet joint radiofrequency treatment for spinal pain. Reg Anesth Pain Med 35(4):327–328

Ishikawa T, Miyagi M, Ohtori S, Aoki Y, Ozawa T, Doya H, Saito T, Moriya H, Takahashi K (2005) Characteristics of sensory DRG neurons innervating the lumbar facet joints in rats. Eur Spine J 14(6):559–564

Cohen SP, Van Zundert J (2010) Pulsed radiofrequency: rebel without cause. Reg Anesth Pain Med 35(1):8–10

Tekin I, Mirzai H, Ok G, Erbuyun K, Vatansever D (2007) A comparison of conventional and pulsed radiofrequency denervation in the treatment of chronic facet joint pain. Clin J Pain 23(6):524–529

Kalichman L, Hodges P, Li L, Guermazi A, Hunter DJ (2010) Changes in paraspinal muscles and their association with low back pain and spinal degeneration: CT study. Eur Spine J 19(7):1136–1144. doi:10.1007/s00586-009-1257-5

Schuller S, Charles YP, Steib JP (2011) Sagittal spinopelvic alignment and body mass index in patients with degenerative spondylolisthesis. Eur Spine J 20(5):713–719. doi:10.1007/s00586-010-1640-2

Hancock MJ, Maher CG, Latimer J, Spindler MF, McAuley JH, Laslett M, Bogduk N (2007) Systematic review of tests to identify the disc, SIJ or facet joint as the source of low back pain. Eur Spine J 16(10):1539–1550

Cohen SP, Williams KA, Kurihara C et al (2010) Multicenter, randomized, comparative costeffectiveness study comparing 0, 1, and 2 diagnostic medial branch (facet joint nerve) block treatment paradigms before lumbar facet radiofrequency denervation. Anesthesiology 113:395–405

Boxem K, Eerd M, Brinkhuize T et al (2008) Radiofrequency and pulsed radiofrequency treatment of chronic pain syndromes: the available evidence. Pain Pract 8:385–393

Zundert J, Boxem K, Joosten EA, Kessels A (2010) Clinical trials in interventional pain management: optimizing chances for success? Pain 151:571–574

van Kleef M, Barendse GA, Kessels A et al (1999) Randomized trial of radiofrequency lumbar facet denervation for chronic low back pain. Spine 24:1937–1942

Changulani M, Shaju A (2009) Evaluation of responsiveness of Oswestry low back pain disability index. Arch Orthop Trauma Surg 129(5):691–694

Civelek E, Cansever T, Kabatas S, Kircelli A, Yilmaz C, Musluman M, Ofluoglu D, Caner H (2012) Comparison of effectiveness of facet joint injection and radiofrequency denervation in chronic low back pain. Turk Neurosurg 22(2):200–206

Roy C, Chatterjee N, Ganguly S, Sengupta R (2012) Efficacy of combined treatment with medial branch radiofrequency neurotomy and steroid block in lumbar facet joint arthropathy. J Vasc Interv Radiol 23(12):1659–1664
About this article
Cite this article
Hashemi, M., Hashemian, M., Mohajerani, S.A. et al. Effect of pulsed radiofrequency in treatment of facet-joint origin back pain in patients with degenerative spondylolisthesis. Eur Spine J 23, 1927–1932 (2014). https://doi.org/10.1007/s00586-014-3412-x
Received:

Revised:

Accepted:

Published:

Issue Date:

DOI: https://doi.org/10.1007/s00586-014-3412-x
Keywords