Abstract
Purpose
Monopolar electrosurgery is the gold standard for surgical preparation in thoracoscopic spine procedures. However, use of ultrasound scissors could decrease blood loss, accelerate the preparation time and improve patient safety, while minimizing operative costs. This trial compares both preparation techniques for ventral thoracoscopic spondylodesis.
Methods
The study design is an open, prospective, randomized, and double-blinded two-armed clinical trial performed in two centres. Forty-one patients with vertebral body fractures from T10 to L2 were included. Primary endpoint: preparation time. Secondary endpoints: blood loss, organ injuries, duration of hospitalization.
Results
Primary and secondary endpoints did not differ significantly between groups (p level 0.05). Increased blood loss (150 ml or more) was eliminated with ultrasound scissors (p = 0.0014).
Conclusions
Primary and secondary endpoints did not differ significantly between the two preparation techniques. The use of either ultrasound scissors or electric scalpel offers safe and effective preparation for thoracoscopic spine surgery.
This is a preview of subscription content,
to check access.
Access this article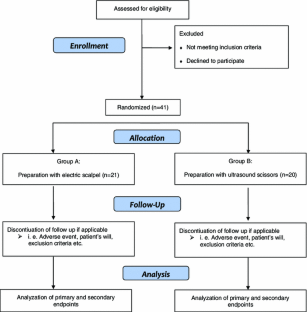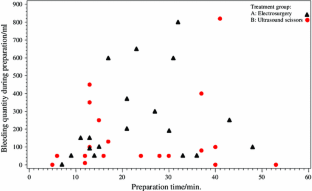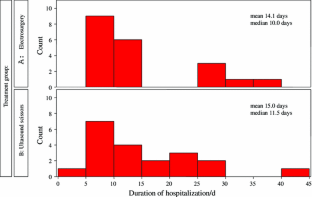 Similar content being viewed by others
References
Grupp TM, Beisse R, Potulski M, Marnay T, Beger J, Blomer W (2002) Mechanical testing of the implant properties of an anterior fixation system for thoracoscopic spondylodesis. Comparison of a corpectomy model according to ISO/DIS 12189-2 and a new synthetic model. Orthopäde 31:406–412

Buhren V, Beisse R, Potulski M (1997) Minimally invasive ventral spondylodesis for injuries of the thoracic and lumbar spine. Chirurg 68:1076–1084

Ohtsuka T, Wolf RK, Hiratzka LF, Wurnig P, Flege JB (1997) Thoracoscopic internal mammary artery harvest for MICABG using the harmonic scalpel. Ann Thorac Surg 63:S107–S109

Lamm P, Juchem G, Weyrich P, Schutz A, Reichart B (2000) The harmonic scalpel: optimizing the quality of mammary artery bypass grafts. Ann Thorac Surg 69:1833–1835

Wright CB, Barner HB, Gao AJ, Obial R, Bandy B, Perry L, Ronan J, Kelly CR (2001) The advantages of the Harmonic Scalpel (R) for the harvesting of radial arteries for coronary artery bypass. Heart Surg Forum 4:226–229

Morino M, Rimonda R, Allaix ME, Giraudo G, Garrone C (2005) Ultrasonic versus standard electric dissection in laparoscopic colorectal surgery: a prospective randomized clinical trial. Ann Surg 242:897–901

Targarona EM, Balague C, Marin J, Neto RB, Martinez C, Garriga J, Trias M (2005) Energy sources for laparoscopic colectomy: a prospective randomized comparison of conventional electrosurgery, bipolar computer-controlled electrosurgery and ultrasonic dissection—operative outcome and costs analysis. Surg Innov 12:339–344

Ferri E, Armato E, Spinato G, Spinato R (2011) Focus harmonic scalpel compared to conventional haemostasis in open total thyroidectomy: a prospective randomized trial. Int J Otolaryngol 2011:357195

Ecker T, Carvalho AL, Choe JH, Walosek G, Preuss KJ (2010) Hemostasis in thyroid surgery: harmonic scalpel versus other techniques-a meta-analysis. Otolaryngol Head Neck Surg 143(1):17–25

Hertlein H, Hartl WH, Dienemann H, Schurmann M, Lob G (1995) Thoracoscopic repair of thoracic spine trauma. Eur Spine J 4:302–307

Buff HU (1997) Thoracoscopic operations of the spine. Ther Umsch 54:529–532

Visocchi M, Masferrer R, Sonntag VKH, Dickman CA (1998) Thoracoscopic approaches to the thoracic spine. Acta Neurochir (Wien) 140:737–744

Cakir B, Ulmar B, Schmidt R, Kelsch G, Geiger P, Mehrkens HH, Puhl W, Richter M (2006) Efficacy and cost effectiveness of harmonic scalpel compared with electrocautery in posterior instrumentation of the spine. Eur Spine J 15:48–54

Jadad AR, Moore RA, Carroll D, Jenkinson C, Reynolds DJ, Gavaghan DJ, McQuay HJ (1996) Assessing the quality of reports of randomized clinical trials: is blinding necessary? Control Clin Trials 17(1):1–12

Otto C, Siewe J, Zarghooni K, Kaulhausen T, Sauerland S, Eysel P, Cornely OA (2010) Clinical research in orthopaedics—creation of a clinical trial unit in orthopaedics/trauma surgery. Z Ortho Unfall 148:145–148

Kemal O (2012) Harmonic scalpel versus bipolar tonsillectomy: a double-blind clinical trial. Eur Arch Otorhinolaryngol 269(5):1533–1536
Acknowledgments
This trial was conducted in compliance with the Declaration of Helsinki (2008) and under approval of the responsible ethics committee. The DIN EN ISO 14155 guidelines, as well as the corresponding laws, were observed. The study complied with the German "Medical Devices Act": the devices are certified and verified (Medical Device Directive 93/42/EEC). All participants received insurance according to § 20 MPG (German Medical Devices Act). Informed consent was obtained from all patients prior to inclusion in the study.
Conflict of interest
The authors, except Gereon Schiffer and Thomas Paffrath, declare that they have no conflicting or competing interests in carrying out this study. Gereon Schiffer and Thomas Paffrath received contributor fees from Ethicon Endo-Surgery (Europe) GmbH. Ethicon Endo-Surgery (Europe) GmbH offered financial support for implementation of the study. Ethicon Endo-Surgery (Europe) GmbH was not involved in the design of the study and was not involved in analysis of the data and/or publication. None of the authors has received or will receive any funding from Ethicon Endo-Surgery (Europe) GmbH.
Additional information
C. Otto and G. Schiffer shared first authorship.
About this article
Cite this article
Otto, C., Schiffer, G., Tjardes, T. et al. Blood loss and operative duration using monopolar electrosurgery versus ultrasound scissors for surgical preparation during thoracoscopic ventral spondylodesis: results of a randomized, blinded, controlled trial. Eur Spine J 23, 1783–1790 (2014). https://doi.org/10.1007/s00586-014-3303-1
Received:

Revised:

Accepted:

Published:

Issue Date:

DOI: https://doi.org/10.1007/s00586-014-3303-1
Keywords