Abstract
Purpose
To evaluate outcome and survival and to identify prognostic variables for patients surgically treated for spinal metastases.
Methods
A retrospective study was performed on 86 patients, surgically treated for spinal metastases. Preoperative analyses of the ASIA and spinal instability neoplastic scores (SINS) were performed. Survival curves of different prognostic variables were made by Kaplan–Meier analysis and the variables entered in a Cox proportional hazards model to determine their significance on survival. The correlation between preoperative radiotherapy and postoperative wound infections was also evaluated.
Results
Survival analysis was performed on 81 patients, 37 women and 44 men. Five patients were excluded due to missing data. Median overall survival was 38 weeks [95 % confidence interval (CI) 27.5–48.5 weeks], with a 3-month survival rate of 81.5 %. Breast tumor had the best median survival of 127 weeks and lung tumor the worst survival of 18 weeks. Univariate analysis showed tumor type, preoperative ASIA score (p = 0.01) and visceral metastases (p = 0.18) were significant prognostic variables for survival. Colon tumors had 5.53 times hazard ratio compared to patients with breast tumor. ASIA-C score had more than 13.03 times the hazard ratio compared to patients with an ASIA-E score. Retrospective analysis of the SINS scores showed 34 patients with a score of 13–18 points, 44 patients with a score of 7–12 points, and 1 patient with a score of 6 points. Preoperative radiotherapy had no influence on the postoperative incidence of deep surgical wound infections (p = 0.37).
Conclusions
Patients with spinal metastases had a median survival of 38 weeks postoperative. The primary tumor type and ASIA score were significant prognostic factors for survival. Preoperative radiotherapy neither had influence on survival nor did it constitute a risk for postoperative surgical wound infections.
Access options
Buy single article
Instant access to the full article PDF.
USD 39.95
Price includes VAT (USA)
Tax calculation will be finalised during checkout.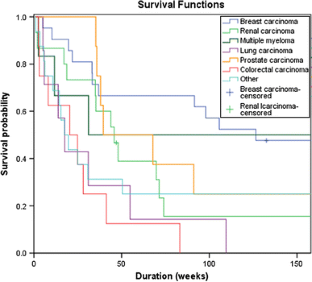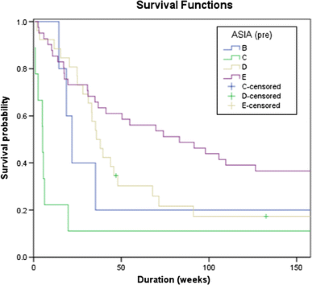 References
1.

Arrigo RT, Kalanithi P, Cheng I, Alamin T, Carragee EJ, Mindea SA et al (2011) Predictors of survival after surgical treatment of spinal metastasis. Neurosurgery 68:674–681

2.

Bauer HC (2005) Controversies in the surgical management of skeletal metastases. J Bone Joint Surg Br 87:608–617

3.

Choi D, Crockard A, Bunger C, Harms J, Kawahara N, Mazel C et al (2010) Review of metastatic spine tumour classification and indications for surgery: the consensus statement of the Global Spine Tumour Study Group. Eur Spine J 19:215–222

4.

Chong S, Shin SH, Yoo H, Lee SH, Kim KJ, Jahng TA et al (2012) Single-stage posterior decompression and stabilization for metastasis of the thoracic spine: prognostic factors for functional outcome and patients' survival. Spine J 12:1083–1092

5.

Dalbayrak S, Onen MR, Yilmaz M, Naderi S (2010) Clinical and radiographic results of balloon kyphoplasty for treatment of vertebral body metastases and multiple myelomas. J Clin Neurosci 17:219–224

6.

Demura S, Kawahara N, Murakami H, Nambu K, Kato S, Yoshioka K et al (2009) Surgical site infection in spinal metastasis: risk factors and countermeasures. Spine (Phila Pa 1976) 34:635–639

7.

Falicov A, Fisher CG, Sparkes J, Boyd MC, Wing PC, Dvorak MF (2006) Impact of surgical intervention on quality of life in patients with spinal metastases. Spine (Phila Pa 1976) 31:2849–2856

8.

Fang A, Hu SS, Endres N, Bradford DS (2005) Risk factors for infection after spinal surgery. Spine (Phila Pa 1976) 30:1460–1465

9.

Fisher CG, Dipaola CP, Ryken TC, Bilsky MH, Shaffrey CI, Berven SH et al (2010) A novel classification system for spinal instability in neoplastic disease: an evidence-based approach and expert consensus from the Spine Oncology Study Group. Spine (Phila Pa 1976) 35:E1221–E1229

10.

Garg AK, Shiu AS, Yang J, Wang XS, Allen P, Brown BW et al (2012) Phase 1/2 trial of single-session stereotactic body radiotherapy for previously unirradiated spinal metastases. Cancer 118:5069–5077

11.

Ghogawala Z, Mansfield FL, Borges LF (2001) Spinal radiation before surgical decompression adversely affects outcomes of surgery for symptomatic metastatic spinal cord compression. Spine (Phila Pa 1976) 26:818–824

12.

Harrington KD (1986) Metastatic disease of the spine. J Bone Joint Surg Am 68:1110–1115

13.

Hirabayashi H, Ebara S, Kinoshita T, Yuzawa Y, Nakamura I, Takahashi J et al (2003) Clinical outcome and survival after palliative surgery for spinal metastases: palliative surgery in spinal metastases. Cancer 97:476–484

14.

Jacobs WB, Perrin RG (2001) Evaluation and treatment of spinal metastases: an overview. Neurosurg Focus 11:e10

15.

Jansson KA, Bauer HC (2006) Survival, complications and outcome in 282 patients operated for neurological deficit due to thoracic or lumbar spinal metastases. Eur Spine J 15:196–202

16.

Kaloostian PE, Zadnik PL, Awad AJ, McCarthy E, Wolinsky JP, Sciubba DM (2013) En bloc resection of a pheochromocytoma metastatic to the spine for local tumor control and for treatment of chronic catecholamine release and related hypertension. J Neurosurg Spine 18:611–616

17.

Kassamali RH, Ganeshan A, Hoey ET, Crowe PM, Douis H, Henderson J (2011) Pain management in spinal metastases: the role of percutaneous vertebral augmentation. Ann Oncol 22:782–786

18.

Lee S, Chun M (2012) Pain relief by Cyberknife radiosurgery for spinal metastasis. Tumori 98:238–242

19.

Leithner A, Radl R, Gruber G, Hochegger M, Leithner K, Welkerling H et al (2008) Predictive value of seven preoperative prognostic scoring systems for spinal metastases. Eur Spine J 17:1488–1495

20.

Matsumoto M, Tsuji T, Iwanami A, Watanabe K, Hosogane N, Ishii K et al (2013) Total en bloc spondylectomy for spinal metastasis of differentiated thyroid cancers: a long-term follow-up. J Spinal Disord Tech 26:E137–E142

21.

Metcalfe S, Gbejuade H, Patel NR (2012) The posterior transpedicular approach for circumferential decompression and instrumented stabilization with titanium cage vertebrectomy reconstruction for spinal tumors: consecutive case series of 50 patients. Spine (Phila Pa 1976) 37:1375–1383

22.

Mobbs RJ, Sivabalan P, Li J (2011) Technique, challenges and indications for percutaneous pedicle screw fixation. J Clin Neurosci 18:741–749

23.

Padalkar P, Tow B (2011) Predictors of survival in surgically treated patients of spinal metastasis. Indian J Orthop 45:307–313

24.

Patchell RA, Tibbs PA, Regine WF, Payne R, Saris S, Kryscio RJ et al (2005) Direct decompressive surgical resection in the treatment of spinal cord compression caused by metastatic cancer: a randomised trial. Lancet 366:643–648

25.

Pointillart V, Vital JM, Salmi R, Diallo A, Quan GM (2011) Survival prognostic factors and clinical outcomes in patients with spinal metastases. J Cancer Res Clin Oncol 137:849–856

26.

Ringel F, Stoffel M, Stuer C, Meyer B (2006) Minimally invasive transmuscular pedicle screw fixation of the thoracic and lumbar spine. Neurosurgery 59:ONS361–ONS366

27.

Sioutos PJ, Arbit E, Meshulam CF, Galicich JH (1995) Spinal metastases from solid tumors. Analysis of factors affecting survival. Cancer 76:1453–1459

28.

Sundaresan N, Rothman A, Manhart K, Kelliher K (2002) Surgery for solitary metastases of the spine: rationale and results of treatment. Spine (Phila Pa 1976) 27:1802–1806

29.

Tokuhashi Y, Matsuzaki H, Oda H, Oshima M, Ryu J (2005) A revised scoring system for preoperative evaluation of metastatic spine tumor prognosis. Spine (Phila Pa 1976) 30:2186–2191

30.

Tokuhashi Y, Matsuzaki H, Toriyama S, Kawano H, Ohsaka S (1990) Scoring system for the preoperative evaluation of metastatic spine tumor prognosis. Spine (Phila Pa 1976) 15:1110–1113

31.

Tomita K, Kawahara N, Kobayashi T, Yoshida A, Murakami H, Akamaru T (2001) Surgical strategy for spinal metastases. Spine (Phila Pa 1976) 26:298–306

32.

van der Linden YM, Dijkstra SP, Vonk EJ, Marijnen CA, Leer JW (2005) Prediction of survival in patients with metastases in the spinal column: results based on a randomized trial of radiotherapy. Cancer 103:320–328

33.

Wang J, Boerma M, Fu Q, Hauer-Jensen M (2006) Radiation responses in skin and connective tissues: effect on wound healing and surgical outcome. Hernia 10:502–506

34.

Wang XS, Rhines LD, Shiu AS, Yang JN, Selek U, Gning I et al (2012) Stereotactic body radiation therapy for management of spinal metastases in patients without spinal cord compression: a phase 1-2 trial. Lancet Oncol 13:395–402

35.

White BD, Stirling AJ, Paterson E, Squith-Coe K, Melder A (2008) Diagnosis and management of patients at risk of or with metastatic spinal cord compression: summary of NICE guidance. BMJ 337:a2538

36.

Yao KC, Boriani S, Gokaslan ZL, Sundaresan N (2003) En bloc spondylectomy for spinal metastases: a review of techniques. Neurosurg Focus 15:E6

37.

Zaikova O, Fossa SD, Bruland OS, Giercksky KE, Sandstad B, Skjeldal S (2011) Radiotherapy or surgery for spine metastases? Acta Orthop 82:365–371

38.

Zairi F, Arikat A, Allaoui M, Marinho P, Assaker R (2012) Minimally invasive decompression and stabilization for the management of thoracolumbar spine metastasis. J Neurosurg Spine 17:19–23

39.

Zairi F, Marinho P, Allaoui M, Assaker R (2013) New advances in the management of thoracolumbar spine metastasis. Bull Cancer 100:435–441

40.

Zairi F, Marinho P, Bouras A, Allaoui M, Assaker R (2013) Recent concepts in the management of thoracolumbar spine metastasis. J Neurosurg Sci 57:45–54
About this article
Cite this article
Nemelc, R.M., Stadhouder, A., van Royen, B.J. et al. The outcome and survival of palliative surgery in thoraco-lumbar spinal metastases: contemporary retrospective cohort study. Eur Spine J 23, 2272–2278 (2014). https://doi.org/10.1007/s00586-014-3268-0
Received:

Revised:

Accepted:

Published:

Issue Date:
Keywords
Spine

Metastasis

Surgical treatment

Prognosis