Abstract
Purpose
Assessing the benefits of surgical treatments for sciatica is critical for clinical and policy decision-making. To compare minimally invasive (MI) and conventional microdiscectomy (MD) for patients with sciatica due to lumbar disc herniation.
Methods
A systematic review and meta-analysis of controlled clinical trials including patients with sciatica due to lumbar disc herniation. Conventional microdiscectomy was compared separately with: (1) Interlaminar MI discectomy (ILMI vs. MD); (2) Transforaminal MI discectomy (TFMI vs. MD). Outcomes: Back pain, leg pain, function, improvement, work status, operative time, blood loss, length of hospital stay, complications, reoperations, analgesics and cost outcomes were extracted and risk of bias assessed. Pooled effect estimates were calculated using random effect meta-analysis.
Results
Twenty-nine studies, 16 RCTs and 13 non-randomised studies (n = 4,472), were included. Clinical outcomes were not different between the surgery types. There is low quality evidence that ILMI takes 11 min longer, results in 52 ml less blood loss and reduces mean length of hospital stay by 1.5 days. There were no differences in complications or reoperations. The main limitations were high risk of bias, low number of studies and small sample sizes comparing TF with MD.
Conclusions
There is moderate to low quality evidence of no differences in clinical outcomes between MI surgery and conventional microdiscectomy for patients with sciatica due to lumbar disc herniation. Studies comparing transforaminal MI with conventional surgery with sufficient sample size and methodological robustness are lacking.
Access options
Buy single article
Instant access to the full article PDF.
USD 39.95
Price excludes VAT (USA)
Tax calculation will be finalised during checkout.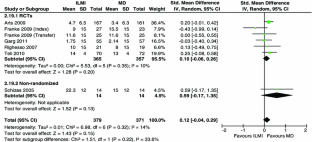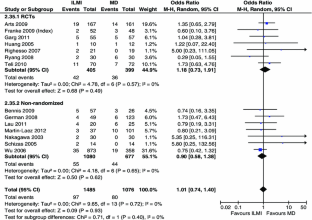 References
Konstantinou K, Dunn KM (2008) Sciatica: review of epidemiological studies and prevalence estimates. Spine 33(22):2464–2472

Health Council of the Netherlands. (1999) Management of the lumbosacral radicular syndrome (sciatica). Health Council of the Netherlands publication no. 1999/18

Gibson J, Waddell G (2007) Surgical interventions for lumbar disc prolapse. Cochrane Database Systematic Reviews 1:CD001350

Higgins JPT, Green S (2011) Cochrane Handbook for Systematic Reviews of Interventions

Guyatt GH, Oxman AD, Vist G, Kunz R, Falck-Ytter Y, Alonso-Coellof P, Schunemann HJ (2008) Rating quality of evidence and strength of recommendations GRADE: an emerging consensus on rating quality of evidence and strength of recommendations. Br Med J 336:924–926

Arts MP, Brand R, Van Den Akker ME, Koes BW, Bartels RHMA, Peul WC (2009) Tubular diskectomy vs conventional microdiskectomy for sciatica: a randomized controlled trial. JAMA 302(2):149–158

Bennis S, Scarone P, Lepeintre JF, Aldea S, Gaillard S (2009) Transtubular versus microsurgical approach for single lumbar disc herniation: a prospective study. Eur J Orthop Surg Traumatol 19(8):535–540

Brock M, Kunkel P, Papavero L (2008) Lumbar microdiscectomy: subperiosteal versus transmuscular approach and influence on the early postoperative analgesic consumption. Eur Spine J 17(4):518–522

Franke J, Greiner-Perth R, Boehm H, Mahlfeld K, Grasshoff H, Allam Y, Awiszus F (2009) Comparison of a minimally invasive procedure versus standard microscopic discotomy: a prospective randomised controlled clinical trial. Eur Spine J 18(7):992–1000

Garg B, Nagraja UB, Jayaswal A (2011) Microendoscopic versus open discectomy for lumbar disc herniation: a prospective randomised study. J Orthop Surg 19:30–34

German JW, Adamo MA, Hoppenot RG, Blossom JH, Nagle HA (2008) Perioperative results following lumbar discectomy: comparison of minimally invasive discectomy and standard microdiscectomy. Neurosurg Focus 25(100896471):E20

Harrington JF, French P (2008) Open versus minimally invasive lumbar microdiscectomy: comparison of operative times, length of hospital stay, narcotic use and complications. Minim Invasive Neurosurg 51(1):30–35

Huang TJ, Hsu RWW, Li YY, Cheng CC (2005) Less systemic cytokine response in patients following microendoscopic versus open lumbar discectomy. J Orthop Res 23(2):406–411

Lau D, Han SJ, Lee JG, Lu DC, Chou D (2011) Minimally invasive compared to open microdiscectomy for lumbar disc herniation. J Clin Neurosci 18(1):81–84

Martin-Laez R, Martinez-Agueros JA, Suarez-Fernandez D, Montiaga-Nunez F, Vazquez-Barquero A (2012) Complications of endoscopic microdiscectomy using the EASYGO! system: is there any difference with conventional discectomy during the learning-curve period? Acta Neurochir Wien 154(6):1023–1032

Muramatsu K, Hachiya Y, Morita C (2001) Postoperative magnetic resonance imaging of lumbar disc herniation: comparison of microendoscopic discectomy and love's method. Spine 26(14):1599–1605

Nakagawa H, Kamimura M, Uchiyama S, Takahara K, Itsubo T, Miyasaka T (2003) Microendoscopic discectomy (MED) for lumbar disc prolapse. J Clin Neurosci 10(2):231–235

Righesso O, Falavigna A, Avanzi O (2007) Comparison of open discectomy with microendoscopic discectomy in lumbar disc herniations: results of a randomized controlled trial. Neurosurgery 61(3):545–549

Ryang YM, Oertel MF, Mayfrank L, Gilsbach JM, Rohde V (2008) Standard open microdiscectomy versus minimal access trocar microdiscectomy: results of a prospective randomized study. Neurosurgery 62(1):174–181

Sasaoka R, Nakamura H, Konishi S, Nagayama R, Suzuki E, Terai H, Takaoka K (2006) Objective assessment of reduced invasiveness in MED: compared with conventional one-level laminotomy. Eur Spine J 15(5):577–582

Schick U, Dohnert J, Richter A, Konig A, Vitzthum H (2002) Microendoscopic lumbar discectomy versus open surgery: an intraoperative EMG study. Eur Spine J 11(1):20–26

Schizas C, Tsiridis E, Saksena J (2005) Microendoscopic discectomy compared with standard microsurgical discectomy for treatment of uncontained or large contained disc herniations. Neurosurgery 57:357–360

Shin D, Kim KN, Shin HC, Yoon DH (2008) The efficacy of microendoscopic discectomy in reducing iatrogenic muscle injury. J Neurosurg Spine 8:39

Teli M, Lovi A, Brayda-Bruno M, Zagra A, Corriero A, Giudici F, Minoia L (2010) Higher risk of dural tears and recurrent herniation with lumbar micro-endoscopic discectomy. Eur Spine J 19(3):443–450

Toyone T, Tanaka T, Kato D, Kaneyama R (2004) Low-back pain following surgery for lumbar disc herniation. A prospective study. J Bone Joint Surg Am 86-A:893–896

Wu X, Zhuang S, Mao Z, Chen H (2006) Microendoscopic discectomy for lumbar disc herniation: surgical technique and outcome in 873 consecutive cases. Spine 31(23):2689–2694

Hermantin FU, Peters T, Quartararo L, Kambin P (1999) A prospective, randomized study comparing the results of open discectomy with those of video-assisted arthroscopic microdiscectomy. J Bone Joint Surg Ser A 81(7):958–965

Kim MJ, Lee SH, Jung ES, Son BG, Choi ES, Shin JH, Sung JK, Chi YC (2007) Targeted percutaneous transforaminal endoscopic diskectomy in 295 patients: comparison with results of microscopic diskectomy. Surg Neurol 68(6):623–631

Krappel FA, Schmitz R, Bauer E, Harland U (2001) Open or endoscopic nucleotomy? Results of a prospective, controlled clinial trial with independent follow-up, MRI and special reference to cost-effectiveness. Orthopadische Prax 37(3):164–169

Lee DY, Shim CS, Ahn Y, Choi YG, Kim HJ, Lee SH (2009) Comparison of percutaneous endoscopic lumbar discectomy and open lumbar microdiscectomy for recurrent disc herniation. J Korean Neurosurg Soc 46(6):515–521

Lee SH, Chung SE, Ahn Y, Kim TH, Park JY, Shin SW (2006) Comparative radiologic evaluation of percutaneous endoscopic lumbar discectomy and open microdiscectomy: a matched cohort analysis. Mt Sinai J Med 73(5):795–801

Mayer HM, Brock M (1993) Percutaneous endoscopic discectomy: surgical technique and preliminary results compared to microsurgical discectomy. J Neurosurg 78(2):216–225

Ruetten S, Komp M, Merk H, Godolias G (2008) Full-endoscopic interlaminar and transforaminal lumbar discectomy versus conventional microsurgical technique: a prospective, randomized, controlled study. Spine 33(9):931–939

Ruetten S, Komp M, Merk H, Godolias G (2009) Recurrent lumbar disc herniation after conventional discectomy: a prospective, randomized study comparing full-endoscopic interlaminar and transforaminal versus microsurgical revision. J Spinal Disord Tech 22(2):122–129

Guyatt GH, Oxman AD, Kunz R, Brozeka J, Alonso-Coellof P, Rind D, Devereaux PJ, Montorih VA, Freyschussi B, Vist G, Jaeschke R, Williams JW, Muradh MH, Sinclair D, Falck-Ytterl Y, Meerpohlm J, Whittington C, Thorlunda K, Andrews J, Schunemann HJ (2011) GRADE guidelines 6. Rating the quality of evidence imprecision. J Clin Epidemiol 64:1283–1293

Nellensteijn J, Ostelo R, Bartels R, Peul W, Van Royen B, van Tulder M (2010) Transforaminal endoscopic surgery for symptomatic lumbar disc herniations: a systematic review of the literature. Eur Spine J 19(2):181–204

Van Den Akker ME, Arts MP, van den Hout WB, Brand R, Koes BW, Peul W (2011) Tubular diskectomy vs conventional microdiskectomy for the treatment of lumbar disk-related sciatica: cost utility analysis alongside a double-blind randomized controlled trial. Neurosurgery 69(4):829–836

Lee DY, Lee S-H (2008) Learning curve for percutaneous endoscopic lumbar discectomy. Neurol Med Chir 48(9):383–389

Gibson JNA, Cowie JG, Iprenburg M (2012) Transforaminal endoscopic spinal surgery: the future 'gold standard' for discectomy? A review. Surgeon 10:290–296

Jacobs WCH, Arts MP, van Tulder MW, Rubinstein SM, van Middelkoop M, Ostelo RW, Verhagen AP, Koes BW, Peul WC (2012) Surgical techniques for sciatica due to herniated disc, a systematic review. Eur Spine J 21:2232–2251

Chatterjee S, Foy PM, Findlay GF (1995) Report of a controlled clinical trial comparing automated percutaneous lumbar discectomy and microdiscectomy in the treatment of contained lumbar disc herniation. Spine 20:734–738

Lemcke J, Al-Zain F, Mutze S, Meier U (2010) Minimally invasive spinal surgery using nucleoplasty and the dekompressor tool: a comparison of two methods in a one year follow-up. Minim Invasive Neurosurg 53(5–6):236–242

Maroon JC, Abla A (1985) Microdiscectomy versus chemonucleolysis. Neurosurgery 16:644–649

Tassi GP (2006) Comparison of results of 500 microdiscectomies and 500 percutaneous laser disc decompression procedures for lumbar disc herniation. Photomed Laser Surg 24(6):694–697

Furlan AD, Pennick V, Bombardier C, van Tulder M (2009) Updated method guidelines for systematic reviews in the cochrane back review group. Spine 34(18):1929–1941
Conflict of interest
Part of this study was funded by the Dutch College for Health Insurance (CVZ), RO has received research funding from AO Spine, Netherlands Organisation for Health Care Research (ZonMW), Netherlands Scientific College for Physiotherapy, WP has received research funding from ZonMW, Medtronic, Braun, Pardigm Spine, MvT has received research funding from ZonMW
About this article
Cite this article
Kamper, S.J., Ostelo, R.W.J.G., Rubinstein, S.M. et al. Minimally invasive surgery for lumbar disc herniation: a systematic review and meta-analysis. Eur Spine J 23, 1021–1043 (2014). https://doi.org/10.1007/s00586-013-3161-2
Received:

Revised:

Accepted:

Published:

Issue Date:

DOI: https://doi.org/10.1007/s00586-013-3161-2
Keywords