Abstract
Purpose
SpineCor is a relatively innovative brace for non-operative treatment of adolescent idiopathic scoliosis (AIS). However, the effectiveness of SpineCor still remains controversial. The objective of the current study was to compare the treatment outcomes of SpineCor brace with that of rigid brace following the standardized Scoliosis Research Society (SRS) criteria on AIS brace study.
Methods
Females subjects with AIS and aged 10–14 were randomly allocated into two groups undergoing treatment of SpineCor (S Group, n = 20) or rigid brace (R Group, n = 18). During SpineCor treatment, patients who had curve progression of >5° would be required to switch to rigid brace treatment. The effectiveness of the two brace treatments was assessed using the SRS standardized criteria.
Results
Before skeletal maturity, 7 (35.0 %) patients in the S Group and 1 (5.6 %) patient in the R Group had curve progression >5° (P = 0.026). At skeletal maturity, 5 of the 7 (71.4 %) patients who failed with SpineCor bracing showed control from further progression by changing to rigid bracing. At the latest follow-up with a mean duration of 45.1 months after skeletally maturity, 29.4 % of patients who were successfully treated by rigid brace showed further curve progression beyond skeletal maturity, versus 38.5 % of patients in the SpineCor group (P > 0.05). For both groups, the primary curves were slightly improved at the time of brace weaning, but additionally increased at the latest follow-up, with a rate of 1.5° per year for post-maturity progression.
Conclusions
Curve progression rate was found to be significantly higher in the SpineCor group when compared with the rigid brace group. Changing to rigid bracing could control further curve progression for majority of patients who previously failed with SpineCor bracing. For both SpineCor and rigid brace treatments, 30–40 % of patients who were originally successfully treated by bracing would exhibit further curve progression beyond skeletal maturity. The post-maturity progression rate was found to be 1.5° per year in the current study, which was relatively greater than those reported before.
Access options
Buy single article
Instant access to the full article PDF.
USD 39.95
Price excludes VAT (USA)
Tax calculation will be finalised during checkout.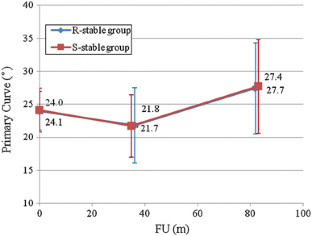 References
Weinstein SL, Dolan LA, Cheng JCY, Danielsson A, Morcuende JA (2008) Adolescent idiopathic scoliosis. Lancet 371:1527–1537

Luk KD, Lee CF, Cheung KM, Cheng JC, Ng BK, Lam TP, Mak KH, Yip PS, Fong DY (2010) Clinical effectiveness of school screening for adolescent idiopathic scoliosis: a large population-based retrospective cohort study. Spine (Phila Pa 1976) 35:1607–1614. doi:10.1097/BRS.0b013e3181c7cb8c

Wiley JW, Thomson JD, Mitchell TM, Smith BG, Banta JV (2000) Effectiveness of the boston brace in treatment of large curves in adolescent idiopathic scoliosis. Spine (Phila Pa 1976) 25:2326–2332

Lenssinck ML, Frijlink AC, Berger MY, Bierman-Zeinstra SM, Verkerk K, Verhagen AP (2005) Effect of bracing and other conservative interventions in the treatment of idiopathic scoliosis in adolescents: a systematic review of clinical trials. Phys Ther 85:1329–1339

Danielsson AJ, Hasserius R, Ohlin A, Nachemson AL (2007) A prospective study of brace treatment versus observation alone in adolescent idiopathic scoliosis: a follow-up mean of 16 years after maturity. Spine (Phila Pa 1976) 32:2198–2207. doi:10.1097/BRS.0b013e31814b851f

Lange JE, Steen H, Brox JI (2009) Long-term results after Boston brace treatment in adolescent idiopathic scoliosis. Scoliosis 4:17. doi:10.1186/1748-7161-4-17

Katz DE, Herring JA, Browne RH, Kelly DM, Birch JG (2010) Brace wear control of curve progression in adolescent idiopathic scoliosis. J Bone Joint Surg Am 92:1343–1352. doi:10.2106/jbjs.i.01142

Wong MS, Evans JH (1998) Biomechanical evaluation of the Milwaukee brace. Prosthet Orthot Int 22:54–67

Wong MS, Mak AF, Luk KD, Evans JH, Brown B (2000) Effectiveness and biomechanics of spinal orthoses in the treatment of adolescent idiopathic scoliosis (AIS). Prosthet Orthot Int 24:148–162

Wong MS, Liu WC (2003) Critical review on non-operative management of adolescent idiopathic scoliosis. Prosthet Orthot Int 27:242–253

Mac-Thiong JM, Petit Y, Aubin CE, Delorme S, Dansereau J, Labelle H (2004) Biomechanical evaluation of the Boston brace system for the treatment of adolescent idiopathic scoliosis: relationship between strap tension and brace interface forces. Spine (Phila Pa 1976) 29:26–32. doi:10.1097/01.brs.0000103943.25412.e9

Climent JM, Sanchez J (1999) Impact of the type of brace on the quality of life of adolescents with spine deformities. Spine (Phila Pa 1976) 24:1903–1908

Ugwonali OF, Lomas G, Choe JC, Hyman JE, Lee FY, Vitale MG, Roye DP Jr (2004) Effect of bracing on the quality of life of adolescents with idiopathic scoliosis. Spine J 4:254–260. doi:10.1016/j.spinee.2003.12.001

Vasiliadis E, Grivas TB, Savvidou O, Triantafyllopoulos G (2006) The influence of brace on quality of life of adolescents with idiopathic scoliosis. Stud Health Technol Inform 123:352–356

Rivett L, Rothberg A, Stewart A, Berkowitz R (2009) The relationship between quality of life and compliance to a brace protocol in adolescents with idiopathic scoliosis: a comparative study. BMC Musculoskelet Disord 10:5. doi:10.1186/1471-2474-10-5

Wong MS, Cheng JC, Lam TP, Ng BK, Sin SW, Lee-Shum SL, Chow DH, Tam SY (2008) The effect of rigid versus flexible spinal orthosis on the clinical efficacy and acceptance of the patients with adolescent idiopathic scoliosis. Spine (Phila Pa 1976) 33:1360–1365. doi:10.1097/BRS.0b013e31817329d9

Schiller JR, Thakur NA, Eberson CP (2010) Brace management in adolescent idiopathic scoliosis. Clin Orthop Relat Res 468:670–678. doi:10.1007/s11999-009-0884-9

Olafsson Y, Saraste H, Ahlgren RM (1999) Does bracing affect self-image? A prospective study on 54 patients with adolescent idiopathic scoliosis. Eur Spine J 8:402–405

Sapountzi-Krepia DS, Valavanis J, Panteleakis GP, Zangana DT, Vlachojiannis PC, Sapkas GS (2001) Perceptions of body image, happiness and satisfaction in adolescents wearing a Boston brace for scoliosis treatment. J Adv Nurs 35:683–690

Reichel D, Schanz J (2003) Developmental psychological aspects of scoliosis treatment. Pediatr Rehabil 6:221–225. doi:10.1080/13638490310001644593

Coillard C, Leroux MA, Zabjek KF, Rivard CH (2003) SpineCor—a non-rigid brace for the treatment of idiopathic scoliosis: post-treatment results. Eur Spine J 12:141–148. doi:10.1007/s00586-002-0467-x

Coillard C, Circo A, Rivard CH (2008) A new concept for the non-invasive treatment of Adolescent Idiopathic Scoliosis: the corrective movement principle integrated in the SpineCor System. Disabil Rehabil Assist Technol 3:112–119. doi:10.1080/17483100801903913

Weiss HR, Weiss GM (2005) Brace treatment during pubertal growth spurt in girls with idiopathic scoliosis (IS): a prospective trial comparing two different concepts. Pediatr Rehabil 8:199–206. doi:10.1080/13638490400022212

Coillard C, Vachon V, Circo AB, Beausejour M, Rivard CH (2007) Effectiveness of the SpineCor brace based on the new standardized criteria proposed by the scoliosis research society for adolescent idiopathic scoliosis. J Pediatr Orthop 27:375–379. doi:10.1097/01.bpb.0000271330.64234.db

Szwed A, Kolban M, Jaloszewski M (2009) Results of SpineCor dynamic bracing for idiopathic scoliosis. Ortop Traumatol Rehabil 11:427–432

Coillard C, Circo AB, Rivard CH (2010) SpineCor treatment for juvenile idiopathic scoliosis: SOSORT award 2010 winner. Scoliosis 5:25. doi:10.1186/1748-7161-5-25

Gammon SR, Mehlman CT, Chan W, Heifetz J, Durrett G, Wall EJ (2010) A comparison of thoracolumbosacral orthoses and SpineCor treatment of adolescent idiopathic scoliosis patients using the Scoliosis Research Society standardized criteria. J Pediatr Orthop 30:531–538. doi:10.1097/BPO.0b013e3181e4f761

Richards BS, Bernstein RM, D'Amato CR, Thompson GH (2005) Standardization of criteria for adolescent idiopathic scoliosis brace studies: SRS Committee on Bracing and Nonoperative Management. Spine (Phila Pa 1976) 30:2068–2075 (discussion 2076-2067)

Wong MS, Cheng JC, Lo KH (2005) A comparison of treatment effectiveness between the CAD/CAM method and the manual method for managing adolescent idiopathic scoliosis. Prosthet Orthot Int 29:105–111

Wong MS, Cheng JC, Wong MW, So SF (2005) A work study of the CAD/CAM method and conventional manual method in the fabrication of spinal orthoses for patients with adolescent idiopathic scoliosis. Prosthet Orthot Int 29:93–104

Coillard C, Circo A, Rivard C (2012) A prospective randomized study of the natural history of idiopathic scoliosis versus treatment with the SpineCor brace. Scoliosis 7:O24. doi:10.1186/1748-7161-7-s1-o24

Coillard C, Circo A, Rivard C (2012) Effectiveness of the SpineCor treatment for large scoliotic curves compared to moderate and small curves. Scoliosis 7:O25. doi:10.1186/1748-7161-7-s1-o25

Herrero C, Herrero E (2012) SpineCor treatment—the Spanish experience. First results. Scoliosis 7:O39. doi:10.1186/1748-7161-7-s1-o39

Plewka B, Sibinski M, Synder M, Witonski D, Kolodziejczyk-Klimek K, Plewka M (2013) Clinical assessment of the efficacy of SpineCor brace in the correction of postural deformities in the course of idiopathic scoliosis. Pol Orthop Traumatol 78:85–89

Maruyama T (2008) Bracing adolescent idiopathic scoliosis: a systematic review of the literature of effective conservative treatment looking for end results 5 years after weaning. Disabil Rehabil 30:786–791. doi:10.1080/09638280801889782

Emans JB, Kaelin A, Bancel P, Hall JE, Miller ME (1986) The Boston bracing system for idiopathic scoliosis. Follow-up results in 295 patients. Spine (Phila Pa 1976) 11:792–801

Katz DE, Durrani AA (2001) Factors that influence outcome in bracing large curves in patients with adolescent idiopathic scoliosis. Spine (Phila Pa 1976) 26:2354–2361

Castro FP Jr (2003) Adolescent idiopathic scoliosis, bracing, and the Hueter–Volkmann principle. Spine J 3:180–185

Clin J, Aubin CE, Sangole A, Labelle H, Parent S (2010) Correlation between immediate in-brace correction and biomechanical effectiveness of brace treatment in adolescent idiopathic scoliosis. Spine (Phila Pa 1976) 35:1706–1713. doi:10.1097/BRS.0b013e3181cb46f6
About this article
Cite this article
Guo, J., Lam, T.P., Wong, M.S. et al. A prospective randomized controlled study on the treatment outcome of SpineCor brace versus rigid brace for adolescent idiopathic scoliosis with follow-up according to the SRS standardized criteria. Eur Spine J 23, 2650–2657 (2014). https://doi.org/10.1007/s00586-013-3146-1
Received:

Revised:

Accepted:

Published:

Issue Date:

DOI: https://doi.org/10.1007/s00586-013-3146-1
Keywords