Abstract
Study design
Imaging study of thoracic spine.
Objective
The purpose of this study was to investigate dynamic alignment and range of motion (ROM) at all segmental levels of thoracic spine.
Summary of background data
Thoracic spine is considered to have restricted ROM because of restriction by the rib cage. However, angular movements of thoracic spine can induce thoracic compressive myelopathy in some patients. Although few previous studies have reported segmental ROM with regard to sagittal plane, these were based on cadaver specimens. No study has reported normal functional ROM of thoracic spine.
Methods
Fifty patients with cervical or lumbar spinal disease but neither thoracic spinal disease nor compression fracture were enrolled prospectively in this study (34 males, 16 females; mean age 55.4 ± 14.7 years; range 27–81 years). After preoperative myelography, multidetector-row computed tomography scanning was performed at passive maximum flexion and extension position. Total and segmental thoracic kyphotic angles were measured and ROM calculated.
Results
Total kyphotic angle (T1/L1) was 40.2° ± 11.4° and 8.5° ± 12.8° in flexion and extension, respectively (P < 0.0001). The apex of the kyphotic angle was at T6/7 in flexion. Total ROM (T1/L1) was 31.7° ± 11.3°. Segmental ROM decreased from T1/2 to T4/5 but increased gradually from T4/5 to T12/L1. Maximum ROM was at T12/L1 (4.2° ± 2.1°) and minimum at T4/5 (0.9° ± 3.0°).
Conclusions
Thoracic spine showed ROM in sagittal plane, despite being considered a stable region. These findings offer useful information in the diagnosis and selection of surgical intervention in thoracic spinal disease.
Access options
Buy single article
Instant access to the full article PDF.
US$ 39.95
Tax calculation will be finalised during checkout.
Subscribe to journal
Immediate online access to all issues from 2019. Subscription will auto renew annually.
US$ 119
Tax calculation will be finalised during checkout.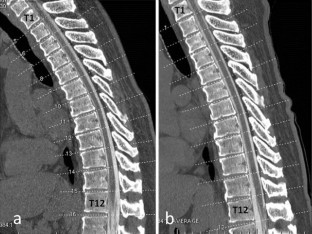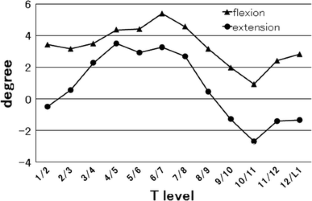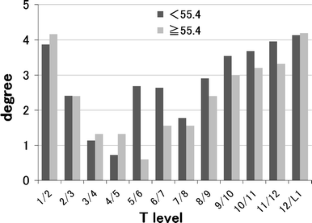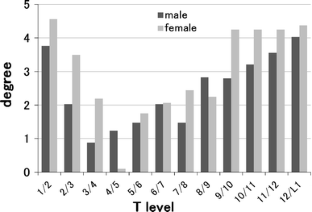 References
1.

White AA et al (1990) Clinical biomechanics of the Spine, 2nd edn. JB Lippincott Company, Philadelphia, pp 103–107

2.

Panjabi MM, Takata K, Goel V et al (1991) Thoracic human vertebrae. Quantitative three-dimensional anatomy. Spine 16:888–901

3.

Panjabi MM, Hausfeld JN, White AA (1981) A biomechanical study of the ligamentous stability of the thoracic spine in man. Acta Orthop Scand 52:315–326

4.

Kothe R, Panjabi MM, Liu W (1997) Multidirectional instability of the thoracic spine due to iatrogenic pedicle injuries during transpedicular fixation. A biomechanical investigation. Spine 22:1836–1842

5.

Nohara Y, Taneichi H, Ueyama K et al (2004) Nationwide survey on complications of spine surgery in Japan. J Orthop Sci 9:424–433

6.

Ohtsuka K, Terayama K, Yanagihara M et al (1987) A radiological population study on the ossification of the posterior longitudinal ligament in the spine. Arch Orthop Trauma Surg 106:89–93

7.

Ito K, Yukawa Y, Nakashima H et al (2009) Three cases of thoracic spinal cord injuries without fracture and dislocation. J Jpn Med Soc Spinal Cord Lesion 22:36–37 (in Japanese)

8.

Bible JE, Biswas D, Miller CP et al (2010) Normal functional range of motion of the cervical spine during 15 activities of daily living. J Spinal Disord Tech 23:15–21

9.

Bible JE, Biswas D, Miller CP et al (2010) Normal functional range of motion of the lumbar spine during 15 activities of daily living. J Spinal Disord Tech 23:106–112

10.

Yukawa Y, Kato F, Suda K et al (2012) Age-related changes in osseous anatomy, alignment, and range of motion of the cervical spine—part I, radiographic data from over 1200 asymptomatic subjects. Eur Spine J 21:1492–1498 (Epub 2012 Feb 4)

11.

Gelb DE, Lenke LG, Bridwell KH et al (1995) An analysis of sagittal spinal alignment in 100 asymptomatic middle and older aged volunteers. Spine 20:1351–1358
Acknowledgments
No funds were received to support this work. No benefits in any form have been or will be received from a commercial party related directly or indirectly to the subject of this manuscript.
Conflict of interest
The authors declare no conflict of interest.
About this article
Cite this article
Morita, D., Yukawa, Y., Nakashima, H. et al. Range of motion of thoracic spine in sagittal plane. Eur Spine J 23, 673–678 (2014). https://doi.org/10.1007/s00586-013-3088-7
Received:

Revised:

Accepted:

Published:

Issue Date:
Keywords
Range of motion

Thoracic spine

Sagittal plane

Multidetector-row CT

Dynamic alignment