Abstract
Introduction
Aging spine is characterized by facet joints arthritis, degenerative disc disease, bone remodeling and atrophy of extensor muscles resulting in a progressive kyphosis of the lumbar spine.
Objective
The aim of this paper is to describe the different compensatory mechanisms for patients with severe degenerative lumbar spine.
Material and methods
According to the severity of the imbalance, three stages are observed: balanced, balanced with compensatory mechanisms and imbalanced. For the two last stages, the compensatory mechanisms permit to limit the consequences of loss of lumbar lordosis on global sagittal alignment and therefore contribute to keep the sagittal balance of the spine.
Results
The basic concept is to extend adjacent segments of the kyphotic spine allowing for compensation of the sagittal unbalance but potentially inducing adverse effects.
Conclusion
Finally, we propose a three-step algorithm to analyze the global balance status and take into consideration the presence of the compensatory mechanisms in the spinal, pelvic and lower limb areas.
This is a preview of subscription content, log in to check access.
Access options
Buy single article
Instant access to the full article PDF.
US$ 39.95
Tax calculation will be finalised during checkout.
Subscribe to journal
Immediate online access to all issues from 2019. Subscription will auto renew annually.
US$ 199
Tax calculation will be finalised during checkout.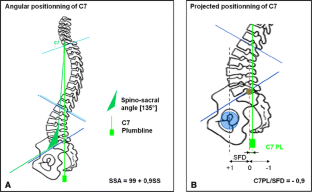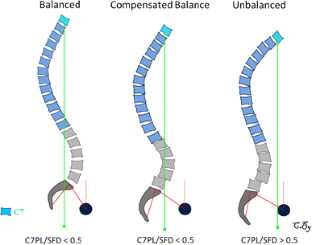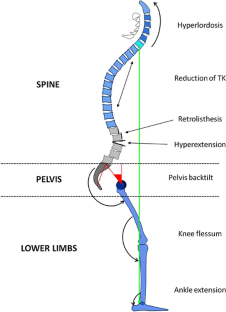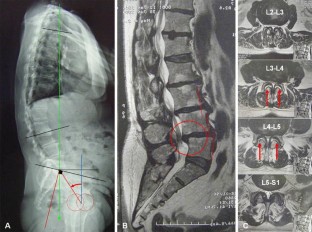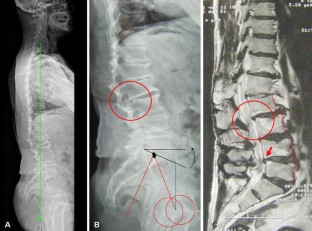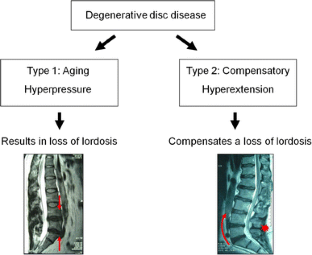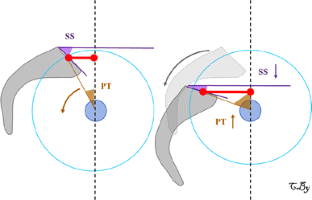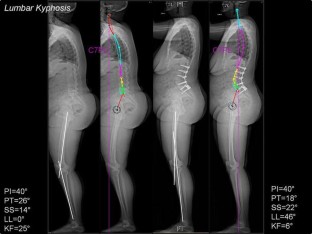 Abbreviations
LL:

Lumbar lordosis

PI:

Pelvic incidence

PT:

Pelvic tilt

SS:

Sacral slope

TK:

Thoracic kyphosis
References
1.

Barrey C (2004) Equilibre sagittal pelvi-rachidien et pathologies lombaires dégénératives. Etude comparative à propos de 100 cas (in French). Thèse de Médecine. Université Claude Bernard, Lyon

2.

Barrey C, Jund J, Noseda O, Roussouly P (2007) Sagittal balance of the pelvis-spine complex and lumbar degenerative diseases: a comparative study about 85 cases. Eur Spine J 16:1459–1467

3.

Berthonnaud E, Dimnet J, Roussouly P, Labelle H (2005) Analysis of the sagittal spine and pelvis using shape and orientation parameters. J Spinal Disord Tech 18:40–47

4.

During J, Goudfrooij H, Keessen W, Beeker TW, Crowe A (1985) Towards standards for posture. Postural characteristics of the lower back system in normal and pathologic conditions. Spine 10:83–87

5.

Duval-Beaupère G, Legaye J (2004) Composante sagittale de la statique rachidienne (in French). Rev Rhum 71:105–119

6.

Gelb DE, Lenke LG, Bridwell KH, Blanke K, MacEnery KW (1995) An analysis of sagittal spinal aligment in 100 asymptomatic middle and older aged volunteers. Spine 20:1351–1358

7.

Izumi Y, Kumano K (2001) Analysis of sagittal lumbar alignment before and after posterior instrumentation: risk factor for adjacent unfused segment. Eur J Orthop Surg Traum 1:9–13

8.

Jackson RP, MacManus AC (1994) Radiographic analysis of sagittal plane alignment and balance in standing volunteers and patients with low back pain matched for age, sex and size. Spine 19:1611–1618

9.

Jackson RP, Kanemura T, Kawakami N, Hales C (2000) Lumbopelvic lordosis and pelvic balance on repeated standing lateral radiographs of adult volunteers and untreated patients with constant low back pain. Spine 25:575–586

10.

Kobayashi T, Atsuta Y, Matsuno T, Takeda N (2004) A longitudinal study of congruent sagittal spinal alignment in an adult cohort. Spine 29:671–676

11.

Korovessis PG, Stamatakis MV, Baikousis AG (1998) Reciprocal angulation of vertebral bodies in the sagittal plane in a asymptomatic greek population. Spine 23:700–704

12.

Korovessis PG, Dimas A, Iliopoulos P, Lambiris E (2002) Correlative analysis of lateral vertebral radiographic variables and medical outcomes study short-form health survey: a comparative study in asymptomatic volunteers versus patients with low back pain. J Spinal Disord Tech 15:384–390

13.

Kumar MN, Baklanov A, Chopin D (2001) Correlation between sagittal plane changes and adjacent segment degeneration following lumbar spine fusion. Eur Spine J 10:314–319

14.

Lafage V, Schwab F, Skalli W, Hawkinson N, Gagey PM, Ondra S, Farcy JP (2008) Standing balance and sagittal plane spinal deformity: analysis of spinopelvic and gravity line parameters. Spine 33:1572–1578

15.

Lamartina C, Berjano P, Petruzzi M, Sinigaglia A, Casero G, Cecchinato R, Damilano M, Bassani R (2012) Criteria to restore the sagittal balance in deformity and degenerative spondylolisthesis. Eur Spine J 21(Suppl):27–31

16.

Lazennec JY, Ramare S, Arafati N, Laudet CG, Gorin M, Roger B, Hansen S, Saillant G, Maurs L, Trabelsi R (2000) Sagittal alignment in lumbosacral fusion: relations between radiological parameters and pain. Eur Spine J 9:47–55

17.

Legaye J, Duval-Beaupère G, Hecquet J, Marty C (1998) Pelvic incidence: a fundamental pelvic parameter for three dimensional regulation of spinal sagittal curves. Eur Spine J 7:99–103

18.

Obeid I, Hauger O, Aunoble S, Bourghli A, Pellet N, Vital JM (2011) Global analysis of sagittal spinal alignment in major deformities: correlation between lack of lumbar lordosis and flexion of the knee. Eur Spine J 20(Suppl 5):681–685

19.

Rajnics P, Templier A, Skalli W, Lavaste F, Illes T (2002) The importance of spinopelvic parameters in patients with lumbar disc lesions. Int Orthop 26:104–108

20.

Roussouly P, Gollogly S, Berthonnaud E, Dimnet J (2005) Classification of the normal variation in the sagittal alignment of the human lumbar spine and pelvis in the standing position. Spine 30:346–353

21.

Roussouly P, Gollogly S, Noseda O, Berthonnaud E, Dimnet J (2006) The vertical projection of the sum of the ground reactive forces of a standing patient is not the same as the C7 plumbline: a radiographic study of the sagittal alignment of 153 asymptomatic volunteers. Spine 31:E320–E325

22.

Schuller S, Charles YP, Steib JP (2011) Sagittal spinopelvic alignment and body mass index in patients with degenerative spondylolisthesis. Eur Spine J 20:713–719

23.

Stagnara P, De Mauroy JC, Dran G, Gonon G, Costanzo G, Dimnet J, Pasquet A (1982) Reciprocal angulation of vertebral bodies in a sagittal plane: approach to references for the evaluation of kyphosis and lordosis. Spine 7:335–342

24.

Takemitsu Y, Harada Y, Iwahara T, Miyamoto M, Miyatake Y (1988) Lumbar degenerative kyphosis: clinical, radiological and epidemiological studies. Spine 13:1317–1326

25.

Vaz G, Roussouly P, Berthonnaud E, Dimnet J (2002) Sagittal morphology and equilibrium of pelvis and spine. Eur Spine J 11:80–87
Acknowledgments
We express our gratitude to Ms Chantal Silarakis, Hôpital Neurologique P. Wertheimer, Hospices Civils de Lyon, France, for her assistance in paper's translation.
Conflict of interest
None.
About this article
Cite this article
Barrey, C., Roussouly, P., Le Huec, JC. et al. Compensatory mechanisms contributing to keep the sagittal balance of the spine. Eur Spine J 22, 834–841 (2013). https://doi.org/10.1007/s00586-013-3030-z
Received:

Revised:

Accepted:

Published:

Issue Date:
Keywords
Sagittal balance

Pelvis

Spinal alignment

Lumbar lordosis

Degenerative disc disease

Lumbar kyphosis