Abstract
Purpose
Due to their properties and characteristics human mesenchymal stem cells (MSCs) appear to have great therapeutic potential. Many different populations of MSCs have been described and to understand whether they have equivalent biological properties is a critical issue for their therapeutic application.
Methods
We proposed to analyze the in vitro growth kinetics of MSCs derived from different body sites (iliac crest bone marrow, vertebrae bone marrow, colon mucosa, dental pulp).
Results
Mesenchymal stem cells derived from vertebrae can be maintained in culture for a greater number of steps and they also generate mature cells of all mesenchymal lineages with greater efficiency, when induced into osteogenic, adipogenic and chondrogenic differentiation.
Conclusions
The ability of vertebrae-derived MSCs in terms of expansion and differentiation is very interesting at the light of a clinical application for bone fusion in spine surgery.
Access options
Buy single article
Instant access to the full article PDF.
US$ 39.95
Tax calculation will be finalised during checkout.
Subscribe to journal
Immediate online access to all issues from 2019. Subscription will auto renew annually.
US$ 119
Tax calculation will be finalised during checkout.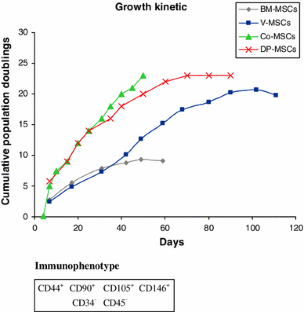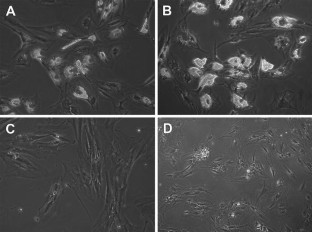 References
1.

Dominici M, Le Blanc K, Mueller I, Slaper-Cortenbach I, Marini F, Krause D, Deans R, Keating A, Prockop Dj, Horwitz E (2006) Minimal criteria for defining multipotent mesenchymal stromal cells. The International Society for Cellular Therapy position statement. Cytotherapy 8(4):315–317

2.

Caplan AI (2007) Adult mesenchymal stem cells for tissue engineering versus regenerative medicine. J Cell Physiol 213(2):341–347

3.

Pittenger MF, Mackay AM, Beck SC, Jaiswal RK, Douglas R, Mosca JD, Moorman MA, Simonetti DW, Craig S, Marshak DR (1999) Multilineage potential of adult human mesenchymal stem cells. Science 284(5411):143–147

4.

Steinert AF, Rackwitz L, Gilbert F, Nöth U, Tuan RS (2012) Concise review: the clinical application of mesenchymal stem cells for musculoskeletal regeneration: current status and perspectives. Stem Cells Transl Med 1(3):237–247

5.

Nöth U, Steinert AF, Tuan RS (2008) Technology insight: adult mesenchymal stem cells for osteoarthritis therapy. Nat Clin Pract Rheumatol 4(7):371–380

6.

Hogan MV, Bagayoko N, James R, Starnes T, Katz A, Chhabra AB (2011) Tissue engineering solutions for tendon repair. J Am Acad Orthop Surg 19(3):134–142

7.

Nöth U, Rackwitz L, Steinert AF, Tuan RS (2010) Cell delivery therapeutics for musculoskeletal regeneration. Adv Drug Deliv Rev 62(7–8):765–783

8.

Kim DH, Rhim R, Li L et al (2009) Prospective study of iliac crest bone graft harvest site pain and morbidity. Spine J 9(11):886–892

9.

Whang PG, Wang JC (2003) Bone graft substitutes for spinal fusion. Spine J 3(2):155–165

10.

Agarwal R, Williams K, Umscheid CA et al (2009) Osteoinductive bone graft substitutes for lumbar fusion: a systematic review. J Neurosurg Spine 11(6):729–740

11.

Abdullah KG, Steinmetz MP, Benzel EC et al (2011) The state of lumbar fusion extenders. Spine (Phila Pa 1976) 36(20):E1328–E1334

12.

Barbanti Brodano G, Mazzoni E, Tognon M, Griffoni C, Manfrini M (2012) Human mesenchymal stem cells and biomaterials interaction: a promising synergy to improve spine fusion. Eur Spine J 21(Suppl 1):S3–S9

13.

Manfrini M, Di Bona C, Canella A, Lucarelli E, Pellati A, D'Agostino A, Barbanti-Bròdano G, Tognon M (2013) Mesenchymal stem cells from patients to assay bone graft substitutes. J Cell Physiol 228(6):1229–1237

14.

Pneumaticos SG, Triantafyllopoulos GK, Chatziioannou S, Basdra EK, Papavassiliou AG (2011) Biomolecular strategies of bone augmentation in spinal surgery. Trends Mol Med 17(4):215–222

15.

Moens CB, Selleri L (2006) Hox cofactors in vertebrate development. Dev Biol 291(2):193–206

16.

Picchi J, Trombi L, Spugnesi L, Barachini S, Maroni G, Brodano GB, Boriani S, Valtieri M, Petrini M, Magli MC (2013) HOX and TALE signatures specify human stromal stem cell populations from different sources. J Cell Physiol 228(4):879–889

17.

Kim YJ, Bridwell KH, Lenke LG, Rhim S, Cheh G (2006) Pseudarthrosis in long adult spinal deformity instrumentation and fusion to the sacrum: prevalence and risk factor analysis of 144 cases. Spine 31(20):2329–2336

18.

Fernandez-Bances I, Perez-Basterrechea M, Perez-Lopez S, Nunez Batalla D, Fernandez Rodriguez MA, Alvarez-Viejo M, Ferrero-Gutierrez A, Menendez–Menendez Y, Garcia-Gala JM, Escudero D, Paz Aparicio J, Carnero Lopez S, Lopez Fernandez P, Gonzalez Suarez D, Otero Hernandez J (2013) Repair of long bone pseudoartrthrosis with autologous bone marrow mononuclear cells combined with allogenic bone graft. Cytotherapy; in press

19.

Neen D, Noyes D, Shaw M, Gwilym S, Fairlie N, Birch N (2006) Healos and bone marrow aspirate used for lumbar spine fusion: a case controlled study comparing healos with autograft. Spine (Phila Pa 1976) 31(18):E636–E640

20.

Gan Y, Dai K, Zhang P, Tang T, Zhu Z, Lu J (2008) The clinical use of enriched bone marrow stem cells combined with porous beta-tricalcium phosphate in posterior spinal fusion. Biomaterials 29(29):3973–3982

21.

Kerr EJ 3rd, Jawahar A, Wooten T, Kay S, Cavanaugh DA, Nunley PD (2011) The use of osteo-conductive stem-cells allograft in lumbar interbody fusion procedures: an alternative to recombinant human bone morphogenetic protein. J Surg Orthop Adv 20(3):193–197

22.

Ammerman JM, Libricz J, Ammerman MD (2013) The role of osteocel plus as a fusion substrate in minimally invasive instrumented transforaminal lumbar interbody fusion. Clin Neurol Neurosurg 115(7):991–994

23.

Shoj T, Ii M, Mifune Y, Matsumoto T, Kawamoto A, Kwon SM, Kuroda T, Kuroda R, Kurosaka M, Asahara T (2010) Local transplantation of human multipotent adipose-derived stem cells accelerates fracture healing via enhanced osteogenesis and angiogenesis. Lab Invest 90:637–649

24.

Sheyn D, Kallai I, Tawackoli W, Yakubovich DC, Oh A, Su S, Da X, Lavi A, Kimelman-Bleich N, Zilberman Y, Li N, Bae H, Gazit Z, Pelled G, Gazit D (2011) Gene modified adult stem cells regenerate vertebral bone defect in a rat model. Mol Pharm 8(5):1592–1601

25.

Lopez MJ, McIntosh KR, Spencer ND, Borneman JN, Horsewell R, Anderson P, Yu G, Gaschen L, Gimble JM (2009) Acceleration of spinal fusion using syngeneic and allogeneic adult adipose derived stem cells in a rat model. J Orthop Res 27(3):366–373
Acknowledgments
The authors thank Carlo Piovani for his technical assistance in providing bone marrow samples during surgery at Maggiore Hospital and Rizzoli Orthopedics Institute, Bologna, Italy.
Conflict of interest
None.
About this article
Cite this article
Barbanti Brodano, G., Terzi, S., Trombi, L. et al. Mesenchymal stem cells derived from vertebrae (vMSCs) show best biological properties. Eur Spine J 22, 979–984 (2013). https://doi.org/10.1007/s00586-013-3028-6
Received:

Revised:

Accepted:

Published:

Issue Date:
Keywords
Mesenchymal stem cells

Vertebra-derived bone marrow

In vitro growth

Differentiation

Spine fusion