Abstract
Purpose
The impact of percutaneous internal fixation as a supplement to percutaneous kyphoplasty (PKP) for the management of thoracolumbar burst fractures in elderly patients is unclear. We conducted a clinical controlled trial to investigate the effect and outcomes of this technique in such patients.
Methods
Forty-three patients over 65 years old with thoracolumbar burst fractures without nerve injuries were enrolled. They were randomly assigned to treatment with simple PKP (control group, n = 22) or percutaneous short-segment pedicle screw internal fixation with PKP (treatment group, n = 21). The patients were followed for at least 2 years postoperatively and were assessed with regard to clinical and radiological outcomes. Clinical outcomes were evaluated mainly with use of visual analog scale (VAS) for pain and the Oswestry Disability Index (ODI) questionnaire. Radiological outcomes were assessed mainly on the basis of Cobb kyphosis angle and loss of kyphosis correction.
Results
There were no significant differences between the two groups with regard to preoperative indices. The treatment group had better VAS scores and greater postoperative improvement on the ODI compared with the control group (P < 0.05). Postoperative kyphosis angle correction in the treatment group was superior to that in the control group, and loss of correction postoperatively was significantly less (P < 0.05). In the control group, two patients suffered refractures of the injured vertebra postoperatively and one had a fracture in the adjacent vertebra. No postoperative complications needing management were noted in either group.
Conclusions
Compared with simple PKP, percutaneous internal fixation with PKP is a valuable surgical option for the treatment of selected elderly patients with thoracolumbar burst fractures.
Access options
Buy single article
Instant access to the full article PDF.
USD 39.95
Price excludes VAT (USA)
Tax calculation will be finalised during checkout.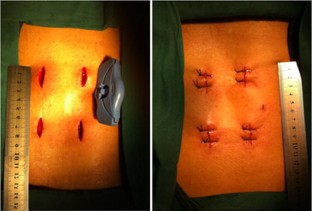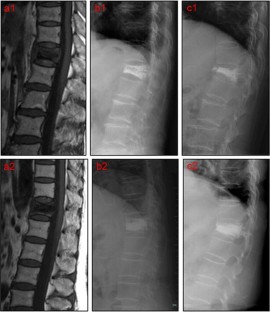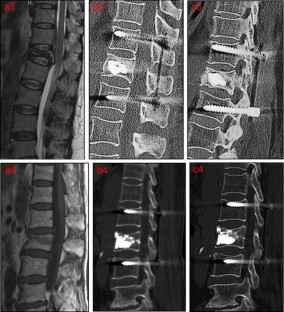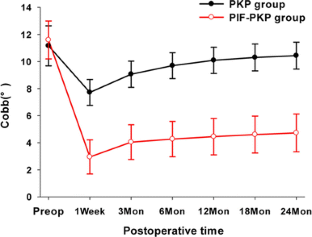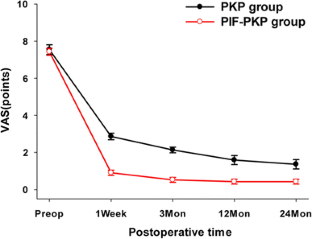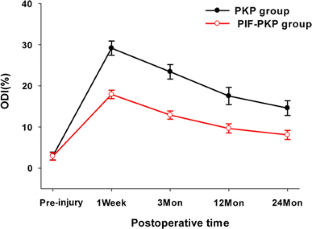 References
Baumann C, Fuchs H, Kiwit J et al (2007) Complications in percutaneous vertebroplasty associated with puncture or cement leakage. Cardiovasc Intervent Radiol 30(2):161–168

Patel AA, Vaccaro AR, Martyak GG et al (2007) Neurologic deficit following percutaneous vertebral stabilization. Spine 32(16):1728–1734

Rho YJ, Choe WJ, Chun YI (2012) Risk factors predicting the new symptomatic vertebral compression fractures after percutaneous vertebroplasty or kyphoplasty. Eur Spine J 21(5):905–911

Lin WC, Lee YC, Lee CH et al (2008) Refractures in cemented vertebrae after percutaneous vertebroplasty: a retrospective analysis. Eur Spine J 17(4):592–599

Knop C, Fabian HF, Bastian L et al (2001) Late results of thoracolumbar fractures after posterior instrumentation and transpedicular bone grafting. Spine 26(1):88–99

Sudo H, Ito M, Abumi K et al (2010) One-stage posterior instrumentation surgery for the treatment of osteoporotic vertebral collapse with neurological deficits. Eur Spine J 19(6):907–915

Ito M, Harada A, Nakano T et al (2010) Retrospective multicenter study of surgical treatments for osteoporotic vertebral fractures. J Orthop Sci 15(3):289–293

Marco RA, Meyer BC, Kushwaha VP (2010) Thoracolumbar burst fractures treated with posterior decompression and pedicle screw instrumentation supplemented with balloon-assisted vertebroplasty and calcium phosphate reconstruction. J Bone Joint Surg Am 92(Supplement 1 Part 1): 67–76

Fuentes S, Blondel B, Metellus P et al (2010) Percutaneous kyphoplasty and pedicle screw fixation for the management of thoraco-lumbar burst fractures. Eur Spine J 19(8):1281–1287

Bironneau A, Bouquet C, Millet-Barbe B et al (2011) Percutaneous internal fixation combined with kyphoplasty for neurologically intact thoracolumbar fractures: a prospective cohort study of 24 patients with one year of follow-up. Orthop Traumatol Surg Res 97(4):389–395

He D, Wu L, Chi Y, Zhong S (2011) Facet joint plus interspinous process graft fusion to prevent postoperative late correction loss in thoracolumbar fractures with disc damage: finite element analysis and small clinical trials. Clin Biomech 26(3):229–237

Carbognin G, Sandri A, Girardi V et al (2009) Treatment of type-A3 amyelic thoracolumbar fractures (burst fractures) with kyphoplasty: initial experience. Radio Med 114(1):133–140

Hartmann F, Gercek E, Leiner L, Rommens PM (2012) Kyphoplasty as an alternative treatment of traumatic thoracolumbar burst fractures magerl type A3. Injury 43(4):409–415

Gan M, Yang H, Zhou F et al (2010) Kyphoplasty for the treatment of painful osteoporotic thoracolumbar burst fractures. Orthopedics 33(2):88–92

Chin DK, Kim YS, Cho YE, Shin JJ (2006) Efficacy of postural reduction osteoporotic vertebral compression fractures followed by percutaneous vertebroplasty. Neurosurgery 58(4):695–700

Shin JJ, Chin DK, Yoon YS (2009) Percutaneous vertebroplasty for the treatment of osteoporotic burst fractures. Acta Neurochir 151(2):141–148

Gaitanis IN, Carandang G, Phillips FM et al (2005) Restoring geometric and loading alignment of the thoracic spine with a vertebral compression fracture: effects of balloon (bone tamp) inflation and spinal extension. Spine J 5(1):45–54

Mermelstein LE, McLain RF, Yerby SA (1998) Reinforcement of thoracolumbar burst fractures with calcium phosphate cement: a biomechanical study. Spine 23(6):664–670

Zhang L, Yang G, Wu L, Yu B (2010) The biomechanical effects of osteoporosis vertebral augmentation with cancellous bone granules or bone cement on treated and adjacent non-treated vertebral bodies: a finite element evaluation. Clin Biomech 25(2):166–172
Acknowledgments
This project is supported by the National Natural Science Foundation of China (30970702, 81271663), Zhejiang Science and Technology program foundation of China (2011C33026), and Zhejiang Wenzhou Medical College Scientific Development Foundation of China (QTJ06012).
Conflict of interest
None.
About this article
Cite this article
He, D., Wu, L., Sheng, X. et al. Internal fixation with percutaneous kyphoplasty compared with simple percutaneous kyphoplasty for thoracolumbar burst fractures in elderly patients: a prospective randomized controlled trial. Eur Spine J 22, 2256–2263 (2013). https://doi.org/10.1007/s00586-013-2972-5
Received:

Revised:

Accepted:

Published:

Issue Date:

DOI: https://doi.org/10.1007/s00586-013-2972-5
Keywords