Abstract
Purpose
The International Classification of Human Functioning Disability and Health (ICF) provides insight into functional health status in patients with whiplash-associated disorders (WAD). In the assessment of functional limitations in patients with WAD, there are several condition-specific questionnaires available. Estimation of the true relationship between the separate constructs of the ICF is only possible if the items of the salient questionnaires measure exactly the constructs of interest, while not simultaneously measuring other constructs of the model. This study aimed to develop a condition specific and clinically relevant and usable instrument for patients with WAD that measures activity limitations and participation restrictions, as defined by the ICF framework.
Methods
Item generation consisted of (1) a semi-structured interview which was conducted among 69 WAD patients; (2) a Delphi study involving 13 health professionals experienced in the assessment of patients with WAD; (3) a literature search for items from self-assessment questionnaires for neck pain.
Results
A 35-item condition-specific self-assessment questionnaire for patients with WAD was developed. This new questionnaire measures purely activity limitations and participation restrictions according to the ICF and is based on patients' opinions and expert opinions.
Conclusion
The whiplash activity and participation list tends to measure clinically relevant activity limitations and participation restrictions in WAD patients.
Access options
Buy single article
Instant access to the full article PDF.
US$ 39.95
Tax calculation will be finalised during checkout.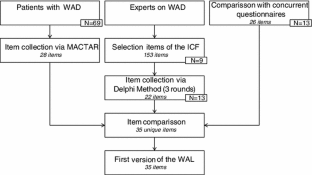 References
1.

Carroll LJ, Cassidy JD, Cote P (2006) Frequency, timing, and course of depressive symptomatology after whiplash. Spine 31(16):E551–E556

2.

Pinfold M et al (2004) Validity and internal consistency of a whiplash-specific disability measure. Spine (Phila Pa 1976) 29(3):263–268

3.

Lovell ME, Galasko CS (2002) Whiplash disorders—a review. Injury 33(2):97–101

4.

Sterling M (2006) Identifying those at risk of developing persistent pain following a motor vehicle collision. J Rheumatol 33(5):838–839

5.

Steiner WA et al (2002) Use of the ICF model as a clinical problem-solving tool in physical therapy and rehabilitation medicine. Phys Ther 82(11):1098–1107

6.

Pollard B, Johnston M, Dixon D (2007) Theoretical framework and methodological development of common subjective health outcome measures in osteoarthritis: a critical review. Health Qual Life Outcomes 5:14

7.

Nordin M et al (2008) Assessment of neck pain and its associated disorders: results of the Bone and Joint Decade 2000–2010 Task Force on Neck Pain and its Associated Disorders. Spine (Phila Pa 1976) 33(4 Suppl):S101–S122

8.

Pollard B et al (2009) Measuring the ICF components of impairment, activity limitation and participation restriction: an item analysis using classical test theory and item response theory. Health Qual Life Outcomes 7:41

9.

Williams NH, Wilkinson C, Russell IT (2001) Extending the Aberdeen Back Pain Scale to include the whole spine: a set of outcome measures for the neck, upper and lower back. Pain 94(3):261–274

10.

Bolton JE (2004) Sensitivity and specificity of outcome measures in patients with neck pain: detecting clinically significant improvement. Spine 29(21):2410–2417 (discussion 2418)

11.

BenDebba M et al (2002) Cervical spine outcomes questionnaire: its development and psychometric properties. Spine (Phila Pa 1976) 27(19):2116–2123 (discussion 2124)

12.

Fielding R, Li J (1997) A validation of the concept of current perceived health and the Current Perceived Health-42 (CPH-42) questionnaire. Qual Life Res 6(1):35–42

13.

Vernon H, Mior S (1991) The Neck Disability Index: a study of reliability and validity. J Manip Physiol Ther 14(7):409–415

14.

Gilson BS et al (1975) The sickness impact profile. Development of an outcome measure of health care. Am J Public Health 65(12):1304–1310

15.

Willis C et al (2004) Reproducibility and responsiveness of the Whiplash Disability Questionnaire. Pain 110(3):681–688

16.

Schmitt MA et al (2013) Content validity of the Dutch version of the Neck Bournemouth Questionnaire. Man Ther [Epub ahead of print]

17.

Verhoef J et al (2007) Effectiveness of the introduction of an International Classification of Functioning, Disability and Health-based rehabilitation tool in multidisciplinary team care in patients with rheumatoid arthritis. Arthritis Rheum 57(2):240–248

18.

Verhoeven AC, Boers M, van der Liden S (2000) Validity of the MACTAR questionnaire as a functional index in a rheumatoid arthritis clinical trial. The McMaster Toronto Arthritis. J Rheumatol 27(12):2801–2809

19.

Cieza A et al (2002) Linking health-status measurements to the international classification of functioning, disability and health. J Rehabil Med 34(5):205–210

20.

Elwyn G et al (2003) Developing a measure of patient access to primary care: the access response index (AROS). J Eval Clin Pract 9(1):33–37

21.

Sterling M, Kenardy J (2008) Physical and psychological aspects of whiplash: important considerations for primary care assessment. Man Ther 13(2):93–102

22.

Soderlund A, Lindberg P (1999) Long-term functional and psychological problems in whiplash associated disorders. Int J Rehabil Res 22(2):77–84

23.

Kaale BR et al (2005) Whiplash-associated disorders impairment rating: neck disability index score according to severity of MRI findings of ligaments and membranes in the upper cervical spine. J Neurotrauma 22(4):466–475

24.

Schmitt MA et al (2009) The Neck Bournemouth Questionnaire cross-cultural adaptation into Dutch and evaluation of its psychometric properties in a population with subacute and chronic whiplash associated disorders. Spine (Phila Pa 1976) 34(23):2551–2561

25.

Jordan A et al (1998) The Copenhagen Neck Functional Disability Scale: a study of reliability and validity. J Manip Physiol Ther 21(8):520–527
Conflict of interest
All authors state no conflict of interest.
Appendix
Appendix
See Table 4.
About this article
Cite this article
Schmitt, M.A., Stenneberg, M.S., Schrama, P.P.M. et al. Measurement of clinically relevant functional health perceptions in patients with whiplash-associated disorders: the development of the whiplash specific activity and participation list (WAL). Eur Spine J 22, 2097–2104 (2013). https://doi.org/10.1007/s00586-013-2831-4
Received:

Revised:

Accepted:

Published:

Issue Date:
Keywords
Whiplash injury

Questionnaire

Development

Activity and participation

ICF