Abstract
Purpose
The percutaneous insertion technique requires surgical skill and experience. However, there have been few clinical reports evaluating the accuracy of minimally invasive pedicle screw placement using the conventional fluoroscopy method. The purpose of this study was to evaluate the accuracy of percutaneous pedicle screw placement in the treatment of thoracic and lumbar spine fractures using two-plane conventional fluoroscopy.
Methods
A prospective clinical trial was performed. A total of 502 percutaneous pedicle screws in 111 patients, all inserted with the assistance of conventional fluoroscopy, were evaluated. The safety and accuracy of pedicle screw placement were based on the evaluation of postoperative axial 3-mm slice computed tomography scans using the scoring system described by Zdichavsky et al. [Eur J Trauma 30:234–240, 2004; Eur J Trauma 30:241–247, 2004].
Results
427/502 pedicle screws (85 %) were classified as good and excellent concerning the best possible screw length and 494/502 (98 %) were found to have good or excellent position. One screw had to be revised due to medial position with a neurological deficit.
Conclusions
This study demonstrates the feasibility of placing percutaneous posterior thoracolumbar pedicle screws with the assistance of conventional fluoroscopy. Minimally invasive transpedicular instrumentation is an accurate, reliable and safe method to treat a variety of spinal disorders, including thoracic and lumbar spine fractures.
This is a preview of subscription content, log in to check access.
Access options
Buy single article
Instant access to the full article PDF.
US$ 39.95
Price includes VAT for USA
Subscribe to journal
Immediate online access to all issues from 2019. Subscription will auto renew annually.
US$ 199
This is the net price. Taxes to be calculated in checkout.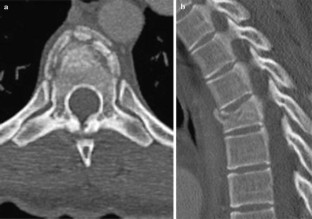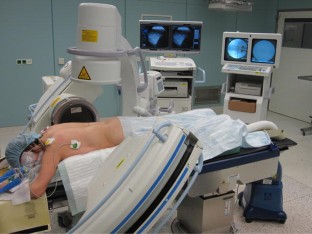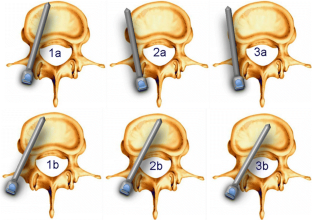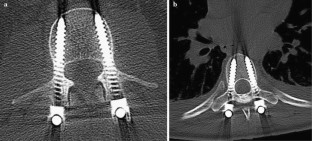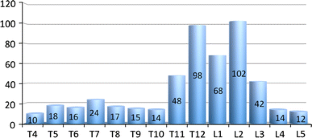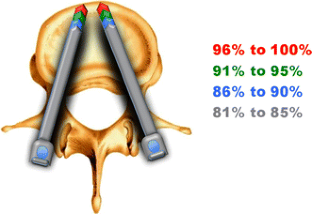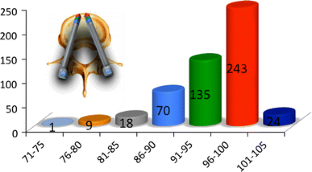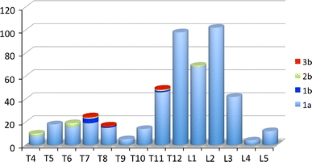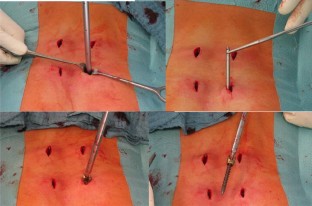 References
1.

Bednar DA, Raducan V (1996) External spinal skeletal fixation in the management of back pain. Clin Orthop 322:131–145

2.

Belmont PJ, Klemme WR, Dhawan A, Polly DW Jr (2001) In vivo accuracy of thoracic pedicle screws. Spine 26:2340–2346

3.

Blattert TR, Katscher S, Josten C (2011) Percutaneous techniques in the thoracic and lumbar spine. Unfallchirurg 114(1):17–25

4.

Esses SI, Botsford DJ, Kostuik JP (1989) The role of external spinal skeletal fixation in the assessment of low-back disorders. Spine 14:594–601

5.

Fan S, Hu Z, Zhao F, Zhao X, Huang Y, Fang X (2010) Multifidus muscle changes and clinical effects of one-level posterior lumbar interbody fusion: minimally invasive procedure versus conventional open approach. Eur Spine J 19(2):316–324

6.

Fan SW, Hu ZJ, Fang XQ, Zhao FD, Huang Y, Yu HJ (2010) Comparison of paraspinal muscle injury in one-level lumbar posterior inter-body fusion: modified minimally invasive and traditional open approaches. Orthop Surg 2(3):194–200

7.

Gertzbein SD, Robbins SE (1990) Accuracy of pedicular screw placement in vivo. Spine 15:11–14

8.

Grass R, Biewener A, Dickopf A (2006) Perkutane dorsale versus offene Instrumentation bei Fraktu-ren des thorakolumbalen Über-gangs: Eine vergleichende prospective Untersuchung. Unfallchirurg 109:297–305

9.

Hirano T, Hasegawa K, Takahashi HE, Uchiyama S, Hara T, Washio T, Sugiura T, Yokaichiya M, Ikeda M (1997) Structural characteristics of the pedicle and its role in screw stability. Spine 22:2504–2509

10.

Holly LT, Schwender JD, Rouben DP, Foley KT (2006) Minimally invasive transforaminal lumbar interbody fusion: indications, technique and complications. Neurosurg Focus 20:1–5

11.

Jeanneret B, Jovanovic M, Magerl F (1994) Percutaneous diagnostic stabilization for low back pain: correlation with results after fusion operations. Clin Orthop 304:130–138

12.

Liljenqvist UR, Halm HF, Link TM (1997) Pedicle screw instrumentation of the thoracic spine in idiopathic scoliosis. Spine 22:2239–2245

13.

Lyon DW, Hall DJ, Mulholland RC, Webb JK (1993) The role of external fixation as a predictor of fusion success. In: Ono K, Takemitsu Y, Yonenobu K (eds) Lumbar fusion and stabilization. Springer, Tokyo, pp 25–34

14.

Magerl F (1980) Verletzungen der Burst- und Lendenwirbelsäule. Langenbecks Arch Chir 352:428–433

15.

Magerl F (1984) Stabilization of the lower thoracic and lumbar spine with external skeletal fixation. Clin Orthop 189:125–141

16.

Magerl F, Aebi M, Gertzbein SD, Harms J, Nazarian S (1994) A comprehensive classification of thoracic and lumbar injuries. Eur Spine J 3(4):184–201

17.

Nakashima H, Sato K, Ando T, Inoh H, Nakamura H (2009) Comparison of the percutaneous screw placement precision of isocentric C-arm 3-dimensional fluoroscopy-navigated pedicle screw implantation and conventional fluoroscopy method with minimally invasive surgery. J Spinal Disord Tech 22(7):468–472

18.

Olerud S, Sjöström L, Karlström G, Hamberg M (1986) Spontaneous effect of increased stability of the lower lumbar spine in cases of severe chronic back pain: the answer of an external transpeduncular fixation test. Clin Orthop 203:67–74

19.

Park Y, Ha JW (2007) Comparison of one level posterior lumbar interbody fusion performed with a minimally invasive approach or a traditional open approach. Spine 32:537–543

20.

Polly DW Jr, Potter BK, Kuklo T, Young S, Johnson C, Klemme WR (2004) Volumetric spinal canal intrusion: a comparison between thoracic pedicle screws and thoracic hooks. Spine 29(1):63–69

21.

Prokop A, Löhlein F, Chmielnicki M, Volbracht J (2009) Minimally invasive percutaneous instrumentation for spine fractures. Unfallchirurg 112:621–628

22.

Rodriguez-Vela J, Lobo-Escolar A, Joven-Aliaga E, Herrera A, Vicente J, Sunen E, Loste A, Tabuenca A (2009) Perioperative and short-term advantages of mini-open approach for lumbar spinal fusion. Eur Spine J 18(8):1194–1201

23.

Soini J, Seitsalo S (1993) The external fixation test of the lumbar spine: 30 complications in 25 of 100 consecutive patients. Acta Orthop Scand 64:147–149

24.

Tiusanen H, Seitsalo S, Östermann K, Soini J (1996) The role of external transpedicular fixation in anterior interbody lumbar fusion. J Spinal Disord 9:433–438

25.

Weinstein JN, Rydevik BL, Rausching WR (1992) Anatomical and technical considerations of pedicle screw fixation. Clin Orthop 284:34–46

26.

Youkilis AS, Quint DJ, McGillicuddy JE, Papadopoulos SM (2001) Stereotactic navigation for placement of pedicle screws in the thoracic spine. Neurosurgery 48:771–779

27.

Zdichavsky M, Blauth M, Knop C, Graessner M, Herrmann H, Krettek C, Bastian L (2004) Accuracy of pedicle screw placement in thoracic spine fractures. Part I: inter- and intra-observer reliability of the scoring system. Eur J Trauma 30:234–240

28.

Zdichavsky M, Blauth M, Knop C, Lotz J, Krettek C, Bastian L (2004) Accuracy of pedicle screw placement in thoracic spine fractures. Part II: a retrospective analysis of 278 pedicle screws using computed tomographic scans. Eur J Trauma 30:241–247

29.

Zindrick MR, Wiltse LL, Widell EH, Thomas JC, Holland WR, Field BT, Spencer CW (1986) A biomechanical study of intrapeduncular screw fixation in the lumbosacral spine. Clin Orthop Relat Res 203:99–112
About this article
Cite this article
Heintel, T.M., Berglehner, A. & Meffert, R. Accuracy of percutaneous pedicle screws for thoracic and lumbar spine fractures: a prospective trial. Eur Spine J 22, 495–502 (2013). https://doi.org/10.1007/s00586-012-2476-8
Received:

Revised:

Accepted:

Published:

Issue Date:
Keywords
Thoracolumbar spine fractures

Pedicle screw

Percutaneous technique

Minimally invasive spine surgery

Transpedicular instrumentation