Abstract
Purpose
To evaluate fracture healing, functional outcomes, complications, and mortality associated with rigid cervical collars.
Methods
Thirty-four patients with <50% odontoid displacement were treated with a rigid cervical collar for 12 weeks (Average age = 84 years). Outcome scores were compared with a group of 40 age-matched control subjects (Average age 79.3).
Results
At average 14.9-month follow-up, only 6% demonstrated radiographic evidence of fracture healing and 70% had mobile odontoid nonunion. NDI scores indicated only mild disability, pain scores were low, and neither differed significantly from age-matched controls. Mobile odontoid nonunion was not associated with higher levels of disability or neck pain. Mortality rate was 11.8%. Treatment complications occurred in 6% of patients.
Conclusions
Odontoid nonunion and instability are high in geriatric patients treated with a rigid cervical collar. Fracture healing and stability did not correlate with improved outcomes. Outcomes did not differ significantly from age-matched cohorts.
This is a preview of subscription content,
to check access.
Access this article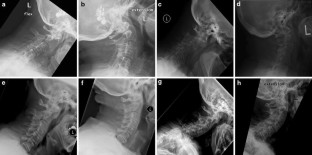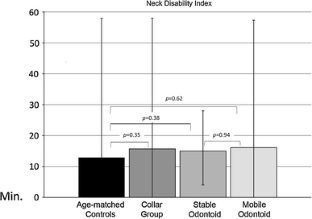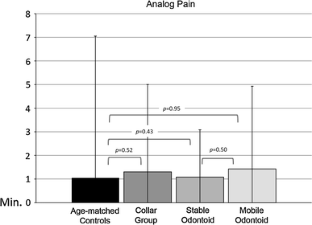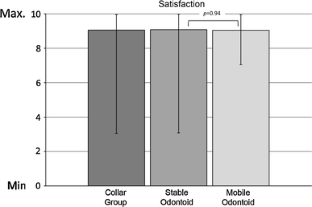 References
Schoenfeld AJ, Bono CM, Reichmann WM, Warholic N, Wood KB, Losina E, Katz JN, Harris MB (2011) Type II odontoid fractures of the cervical spine: do treatment type and medical co-morbidities affect mortality in elderly patients? Spine (Phila Pa 1976). doi:10.1097/BRS.0b013e3181e8e77c

Chaudhary A, Drew B, Orr RD, Farrokhyar F (2010) Management of type II odontoid fractures in the geriatric population: outcome of treatment in a rigid cervical orthosis. J Spinal Disord Tech 23:317–320. doi:10.1097/BSD.0b013e3181b11d9f

Frangen TM, Zilkens C, Muhr G, Schinkel C (2007) Odontoid fractures in the elderly: dorsal C1/C2 fusion is superior to halo-vest immobilization. J Trauma 63:83–89. doi:10.1097/TA.0b013e318060d2b9

Platzer P, Thalhammer G, Sarahrudi K, Kovar F, Vekszler G, Vecsei V, Gaebler C (2007) Nonoperative management of odontoid fractures using a halothoracic vest. Neurosurgery 61:522–529. doi:10.1227/01.NEU.0000290898.15567 discussion 529–530

Przybylski GJ, Harrop JS, Vaccaro AR (2000) Closed management of displaced type II odontoid fractures: more frequent respiratory compromise with posteriorly displaced fractures. Neurosurg Focus 8:e5 (pii 080605)

Smith HE, Kerr SM, Maltenfort M, Chaudhry S, Norton R, Albert TJ, Harrop J, Hilibrand AS, Anderson DG, Kopjar B, Brodke DS, Wang JC, Fehlings MG, Chapman JR, Patel A, Arnold PM, Vaccaro AR (2008) Early complications of surgical versus conservative treatment of isolated type II odontoid fractures in octogenarians: a retrospective cohort study. J Spinal Disord Tech 21:535–539. doi:10.1097/BSD.0b013e318163570b

Nagai T, Igase M, Kohara K, Miki T (2001) Non-operative management of dens fracture in an elderly patient with severe complications. Nippon Ronen Igakkai Zasshi 38:825–827

Kim DH, Vaccaro AR, Affonso J, Jenis L, Hilibrand AS, Albert TJ (2008) Early predictive value of supine and upright X-ray films of odontoid fractures treated with halo-vest immobilization. Spine J 8:612–618. doi:10.1016/j.spinee.2007.03.009

Kuntz Ct, Mirza SK, Jarell AD, Chapman JR, Shaffrey CI, Newell DW (2000) Type II odontoid fractures in the elderly: early failure of nonsurgical treatment. Neurosurg Focus 8:e7 (pii 080607)

Muller EJ, Schwinnen I, Fischer K, Wick M, Muhr G (2003) Non-rigid immobilisation of odontoid fractures. Eur Spine J 12:522–525. doi:10.1007/s00586-003-0531-1

Hanigan WC, Powell FC, Elwood PW, Henderson JP (1993) Odontoid fractures in elderly patients. J Neurosurg 78:32–35. doi:10.3171/jns.1993.78.1.0032

Pal D, Sell P, Grevitt M (2011) Type II odontoid fractures in the elderly: an evidence-based narrative review of management. Eur Spine J 20:195–204. doi:10.1007/s00586-010-1507-6

Apfelbaum RI, Lonser RR, Veres R, Casey A (2000) Direct anterior screw fixation for recent and remote odontoid fractures. J Neurosurg 93:227–236

Bednar DA, Parikh J, Hummel J (1995) Management of type II odontoid process fractures in geriatric patients; a prospective study of sequential cohorts with attention to survivorship. J Spinal Disord 8:166–169

Harrop JS, Przybylski GJ, Vaccaro AR, Yalamanchili K (2000) Efficacy of anterior odontoid screw fixation in elderly patients with type II odontoid fractures. Neurosurg Focus 8:e6 (pii 080606)

Sasso RC (2001) C2 dens fractures: treatment options. J Spinal Disord 14:455–463

Maiman DJ, Larson SJ (1982) Management of odontoid fractures. Neurosurgery 11:471–476

Omeis I, Duggal N, Rubano J, Cerabona F, Abrahams J, Fink M, Das K (2009) Surgical treatment of C2 fractures in the elderly: a multicenter retrospective analysis. J Spinal Disord Tech 22:91–95. doi:10.1097/BSD.0b013e3181723d1b

Sokolowski MJ, Jackson AP, Haak MH, Meyer PR Jr, Sokolowski MS (2007) Acute mortality and complications of cervical spine injuries in the elderly at a single tertiary care center. J Spinal Disord Tech 20:352–356. doi:10.1097/BSD.0b013e31802d0bc5

Tashjian RZ, Majercik S, Biffl WL, Palumbo MA, Cioffi WG (2006) Halo-vest immobilization increases early morbidity and mortality in elderly odontoid fractures. J Trauma 60:199–203. doi:10.1097/01.ta.0000197426.72261.17

Weller SJ, Malek AM, Rossitch E Jr (1997) Cervical spine fractures in the elderly. Surg Neurol 47:274–280 (pii S009030199600362X), (discussion 280–271)

Ryan MD, Taylor TK (1993) Odontoid fractures in the elderly. J Spinal Disord 6:397–401

Pepin JW, Bourne RB, Hawkins RJ (1985) Odontoid fractures, with special reference to the elderly patient. Clin Orthop Relat Res 193:178–183

Kaminski A, Gstrein A, Muhr G, Muller EJ (2008) Transarticular C1–C2 screw fixation: results of unstable odontoid fractures and pseudarthrosis in the elderly. Unfallchirurg 111:167–172. doi:10.1007/s00113-007-1383-7

Wisoff HS (1984) Fracture of the dens in the aged. Surg Neurol 22:547–555. doi:0090-3019(84)90430-0

Hart R, Saterbak A, Rapp T, Clark C (2000) Nonoperative management of dens fracture nonunion in elderly patients without myelopathy. Spine (Phila Pa 1976) 25:1339–1343

Crockard HA, Heilman AE, Stevens JM (1993) Progressive myelopathy secondary to odontoid fractures: clinical, radiological, and surgical features. J Neurosurg 78:579–586. doi:10.3171/jns.1993.78.4.0579

Reinhold M, Bellabarba C, Bransford R, Chapman J, Krengel W, Lee M, Wagner T (2011) Radiographic analysis of type II odontoid fractures in a geriatric patient population: description and pathomechanism of the "Geier"-deformity. Eur Spine J 20:1928–1939. doi:10.1007/s00586-011-1903-6

Malik SA, Murphy M, Connolly P, O'Byrne J (2008) Evaluation of morbidity, mortality and outcome following cervical spine injuries in elderly patients. Eur Spine J 17(4):585–591

Osti M, Philipp H, Meusburger B, Benedetto KP (2011) Analysis of failure following anterior screw fixation of type II odontoid fractures in geriatric patients. Eur Spine J 20:1915–1920. doi:10.1007/s00586-011-1890-7
Acknowledgments
The authors wish to thank Kimberly A. Napoli for assistance in preparing this manuscript.
Conflict of interest
None.
Additional information
University of Rochester Medical Center Institutional Review Board approval was obtained prior to initiation of this study.
About this article
Cite this article
Molinari, R.W., Khera, O.A., Gruhn, W.L. et al. Rigid cervical collar treatment for geriatric type II odontoid fractures. Eur Spine J 21, 855–862 (2012). https://doi.org/10.1007/s00586-011-2069-y
Received:

Revised:

Accepted:

Published:

Issue Date:

DOI: https://doi.org/10.1007/s00586-011-2069-y
Keywords