Abstract
The objective of the study was to identify the population of patients with neck pain who improved with home-based mechanical cervical traction (HMCT). A prospective cohort study was conducted in a physical therapy clinic at a local hospital. Patients with neck pain referred to the clinic for physical therapy were included in the study. A HMCT program was given to participants for 2 weeks. The patient's demographic data, Numerical Pain Scale (NPS) score, Neck Disability Index (NDI) and Fear-Avoidance Beliefs Questionnaire score were collected, and standard physical examination of the cervical spine was conducted before intervention. The NPS score, NDI and a global rating of perceived improvement were collected after the intervention was completed. A total of 103 patients participated in the study and 47 had a positive response to HMCT. A clinical prediction rule with four variables (Fear-Avoidance Beliefs Work Subscale score < 13, pre-intervention pain intensity ≥ 7/10, positive cervical distraction test and pain below shoulder) was identified. With satisfaction of at least three out of four variables (positive likelihood ratio = 4.77), the intervention's success rate increased from 45.6% to over 80%. It appears that patients with neck pain who are likely to respond to HMCT may be identified.
Access options
Buy single article
Instant access to the full article PDF.
US$ 39.95
Tax calculation will be finalised during checkout.
Subscribe to journal
Immediate online access to all issues from 2019. Subscription will auto renew annually.
US$ 119
Tax calculation will be finalised during checkout.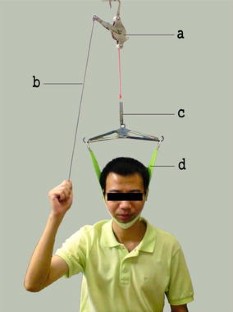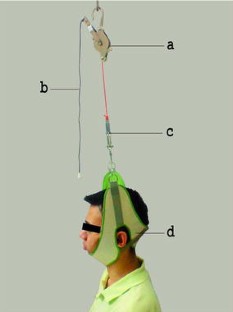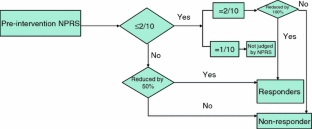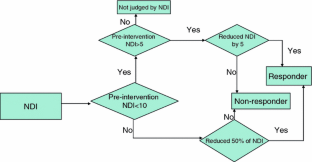 References
1.

Akinbo SR, Noronha CC, Okanlawon AO, Danesi MA (2006) Effects of different cervical traction weights on neck pain and mobility. Niger Postgrad Med J 13:230–235

2.

Borghout JJH, Koes B, Muris J, Metsemakers J, Bouter L (1999) The management of chronic neck pain in general practice. A retrospective study. Scand J Prim Health Care 17:215–220

3.

Borghouts JA, Koes BW, Bouter LM (1998) The clinical course and prognostic factors of non-specific neck pain: a systematic review. Pain 77:1–13

4.

Bronfort G, Evans R, Nelson B, Aker PD, Goldsmith CH, Vernon H (2001) A randomized clinical trial of exercise and spinal manipulation for patients with chronic neck pain. Spine 26:788–799

5.

Bronfort G, Haas M, Evans RL, Bouter LM (2004) Efficacy of spinal manipulation and mobilization for low back pain and neck pain: a systematic review and best evidence synthesis. Spine J 4:335–356

6.

Cassidy JD, Lopes AA, Yong-Hing K (1992) The immediate effect of manipulation versus mobilization on pain and range of motion in the cervical spine: a randomized controlled trial. J Manipulative Physiol Ther 15:570–575

7.

Childs JD, Cleland JA (2006) Development and application of clinical prediction rules to improve decision making in physical therapist practice. Phys Ther 86:122–131

8.

Childs JD, Fritz JM, Piva SR, Whitman JM (2004) Proposal of a classification system for patients with neck pain. J Orthop Sports Phys Ther 34:686–696

9.

Constantoyannis C, Konstantinou D, Kourtopoulos H, Papadakis N (2002) Intermittent cervical traction for cervical radiculopathy caused by large-volume herniated disks. J Manip Physiol Ther 25(3):188–192

10.

Côté P, Cassidy JD, Carroll LD (1998) The Saskatchewan health and back pain survey. The prevalence of neck pain and related disability in Saskatchewan adults. Spine 23:1689–1698

11.

Cromhez G, Vlaeyen JW, Heuts PH, Lysens R (1999) Pain-related fear is more disabling than fear itself: evidence on the role of pain-related fear in chronic back pain disability. Pain 80:329–339

12.

Crue BL, Todd EM (1965) The importance of flexion in cervical halter traction. Bull Los Angel Neurol Soc 30:95–98

13.

Elvey RL (1994) The investigation of arm pain: signs of adverse responses to the physical examination of the brachial plexus and related tissues. In: Boyling J, Palastanga N (eds) Grieve's modern manual therapy. Churchill Livingstone, New York

14.

Evans R, Bronfort G, Nelson B, Goldsmith CH (2002) Two-year follow-up of a randomized clinical trial of spinal manipulation and two types of exercise for patients with chronic neck pain. Spine 27:2383–2389

15.

Flynn TW, Whitman JM, Maggel J (2000) Orthopaedic manual physical therapy management of the cervical-thoracic spine and ribcage. Manipulations Inc, San Antonio, TX

16.

George SZ (2006) Fear: a factor to consider in musculoskeletal rehabilitation. J Orthop Sports Phys Ther 36:264–266

17.

George SZ, Fritz JM, Erhard RE (2001) A comparison of fear-avoidance beliefs in patients with lumbar spine pain and cervical spine pain. Spine 26:2139–2143

18.

Go AS (1998) Refining probability: an introduction of the use of diagnostic tests. In: Friedland DJ, Go AS, Davoren JB, Shlipakk MG, Bent SW, Snbak LL, Mendelson T (eds) Evidence-based medicine: a framework for clinical practice. Appleton and Large, Stamford, CT, pp 11–33

19.

Goldie I, Landquist A (1970) Evaluation of the effects of different forms of physiotherapy in cervical pain. Scand J Rehabil Med 2:117–121

20.

Gross AR, Kay T, Hondras M, Goldsmith CH, Haines T, Peloso P et al (2002) Manual therapy for mechanical neck disorders: a systematic review. Man Ther 7:131–149

21.

Hosmer D, Lemeshow S (1989) Applied logistic regression. Wiley, New York

22.

Hoving JL, Koes B, de Vet HC et al (2002) Manual therapy, physical therapy, or continued care by a general practitioner for patients with neck pain: a randomized, controlled trial. Ann Intern Med 136:713–722

23.

Hoving JL, O'Leary EF, Niere KR et al (2003) Validity of the neck disability index, Northwick Park neck pain questionnaire, and problem elicitation technique for measuring disability associated with whiplash-associated disorders. Pain 102:273–281

24.

Jaeschke R, Guyatt G, Sackett D (1994) Users' guides to the medical literature. III. How to use an article about a diagnostic test. A. Are the results of the study valid? JAMA 271:389–391

25.

Jordan A, Bendix T, Nielsen H, Hansen FR, Host D, Winkel A (1998) Intensive training, physiotherapy, or manipulation for patients with chronic neck pain: a prospective, single-blinded, randomized clinical trial. Spine 23:311–319

26.

Kendall FP, McCreary EK, Provance PG (1993) Muscles: testing and function. Applied kinesiology literature. Williams & Wilkins, Baltimore, MD

27.

Kjellman G, Skargren E, Oberg B (2002) Prognostic factors for perceived pain and function at one-year follow-up in primary care patients with neck pain. Disabil Rehabil 24:364–370

28.

Maitland G (2001) Vertebral manipulation. Butterworth-Heinemann, Oxford

29.

Maitland G, Hengeverld E, Banks K (2000) Maitland's vertebral manipulation. Butterworth-Heinemann, Oxford

30.

Makela M, Heliövaara M, Sievers K, Impivaara O, Knekt P, Aromaa A (1991) Prevalence determinants and consequences of chronic neck pain in Finland. Am J Epidemiol 134(11):1356–1367

31.

McGinn TG, Guyatt GH, Wyer PC, Naylor CD, Stiell I, Richardson WS (2000) Users' guides to the medical literature. XXII. How to use articles about clinical decision rules. Evidence-based medicine working group. JAMA 284:79–84

32.

McKenzie R (1990) Cervical and thoracic spine: mechanical diagnosis and therapy. Orthopaedic Physical Therapy Products, Minneapolis

33.

Nagelkerke N (1991) A note on a general definition of the coefficient of determination. Biometrika 78:691–692

34.

Persson LC, Lilja A (2001) Pain, coping, emotional state and physical function in patients with chronic radicular neck pain. A comparison between patients treated with surgery, physiotherapy or neck collar—a blinded, prospective randomized study. Disabil Rehabil 23:325–335

35.

Pikula JR (1999) The effect of spinal manipulative therapy (SMT) on pain reduction and range of motion in patients with acute unilateral neck pain: a pilot study. J Can Chiropr Assoc 43:111–119

36.

Pool JJ, Ostelo RW, Hoving JL, Bouter LM, de Vet HC (2007) Minimal clinical important change of the neck disability index and the numerical rating scale for patients with neck pain. Spine 32:3047–3051

37.

Riddle D, Stratford P (1998) Use of generic versus region-specific functional status measures on patients with cervical spine disorders. Phys Ther 78:951–963

38.

Rogers RG (1997) The effects of spinal manipulation on cervical kinesthesia in patients with chronic neck pain: a pilot study. J Manip Physiol Ther 20:80–85

39.

Skargren EI, Oberg BE (1998) Predictive factors for 1-year outcome of low back and neck pain in patients treated in primary care: comparison between the treatment strategies chiropractic and physiotherapy. Pain 77:201–207

40.

Swezey RL, Swezey AM, Warner K (1999) Efficacy of home cervical traction therapy. Am J Phys Med Rehabil 78:30–32

41.

van der Heijden GJ, Beurskens AJ, Koes BW, Assendelft WJ, de Vet HC, Bouter LM (1995) The efficacy of traction for back and neck pain: a systematic, blinded review of randomized clinical trial methods. Phys Ther 75:93–104

42.

Vernon H, Mior S (1991) The Neck Disability Index: a study of reliability and validity. J Manip Physiol Ther 14:409–415

43.

Vernon HT, Aker P, Burns S, Viljakaanen S, Short L (1990) Pressure pain threshold evaluation of the effect of spinal manipulation in the treatment of chronic neck pain: a pilot study. J Manip Physiol Ther 13:13–17

44.

Waddell G, Newton M, Henderson I, Somerville D, Main CJ (1993) A Fear-Avoidance Beliefs Questionnaire (FABQ) and the role of fear-avoidance beliefs in chronic lower back pain and disability. Pain 52:157–168

45.

Wainner RS, Fritz JM, Irrgang JJ, Boninger ML, Delitto A, Allison S (2003) Reliability and diagnostic accuracy of the clinical examination and patient self-report measures for cervical radiculopathy. Spine 28:52–62

46.

Wainner RS, Gill H (2000) Diagnosis and nonoperative management of cervical radiculopathy. J Orthop Sports Phys Ther 30:728–744

47.

Wlodyka-Demaille S, Poiraudeau S, Catanzariti JF et al (2002) French translation and validation of 3 functional disability scales for neck pain. Arch Phys Med Rehabil 83:376–382
Acknowledgments
The authors thank the NUHS Medical Publication Support Unit, Singapore, for assistance in the preparation of this manuscript. We would like to thank the department senior manager, Mr. Tan Hai Yang, the former manager, Mrs. Marguerita Dass, Ms. Sharon Lim and supervisor, Mrs. Ng Chai Ming, of the Rehabilitation Department of the hospital for providing us with clinical time and resources for the study. This study was supported by the Enabling Grant of the Singapore National Medical Research Council.
Conflict of interest
None.
About this article
Cite this article
Cai, C., Ming, G. & Ng, L.Y. Development of a clinical prediction rule to identify patients with neck pain who are likely to benefit from home-based mechanical cervical traction. Eur Spine J 20, 912–922 (2011). https://doi.org/10.1007/s00586-010-1673-6
Received:

Revised:

Accepted:

Published:

Issue Date:
Keywords
Neck pain

Cervical traction

Clinical prediction rule

Classification

Intervention success rate