Abstract
The purpose of this study is to assess the successful incorporation of cages in patients after cervical or lumbar intercorporal fusion with positron-emission tomography/computed tomography (PET/CT). Twenty patients (14 female and 6 male; mean age 58 years, age range 38–73 years) with 30 cervical (n = 13) or lumbar (n = 17) intercorporal fusions were prospectively enrolled in this study. Time interval between last intercorporal intervention and PET/CT ranged from 2 to 116 months (mean 63; median 77 months). IRB approval was obtained for all patients, and written informed consent was obtained from all patients. About 30 min prior to PET/CT scanning, 97–217 MBq (mean 161 MBq) 18F-fluoride were administered intravenously. Patients were imaged in supine position on a combined PET/CT system (Discovery RX/STE, 16/64 slice CT, GE Healthcare). 3D-PET emission data were acquired for 1.5 and 2 min/bed position, respectively, and reconstructed by a fully 3D iterative algorithm (VUE Point HD) using low-dose CT data for attenuation correction. A dedicated diagnostic thin-slice CT was optionally acquired covering the fused region. Areas of increased 18F-fluoride uptake around cages were determined by one double-board certified radiologist/nuclear physician and one board certified radiologist in consensus. In 12/20 (60%) patients, increased 18F-fluoride uptake around cages was observed. Of the 30 intercorporal fusions, 15 (50%) showed increased 18F-fluoride uptake. Median time between intervention and PET/CT examination in cages with increased uptake was 37 months (2–116 months), median time between intervention and PET/CT examination in those cages without increased uptake was 91 months (19–112 months), p (Wilcoxon) = 0.01 (one-sided). 14/29 (48%) cages with a time interval > 1 year between intervention and PET/CT scan showed an increased uptake. In conclusion, PET/CT frequently shows increased 18F-fluoride uptake in cervical and lumbar cages older than 1 year (up to almost 8 years in cervical cages and 10 years in lumbar cages) possibly indicating unsuccessful fusion due to increased stress/microinstability.
Access options
Buy single article
Instant access to the full article PDF.
US$ 39.95
Tax calculation will be finalised during checkout.
Subscribe to journal
Immediate online access to all issues from 2019. Subscription will auto renew annually.
US$ 119
Tax calculation will be finalised during checkout.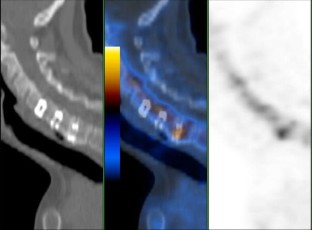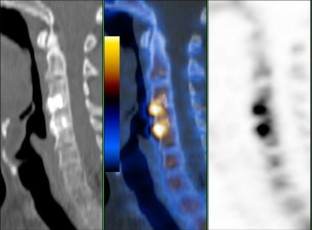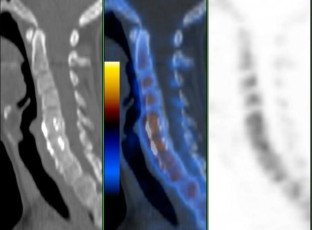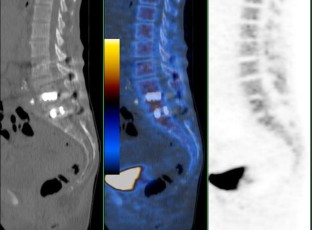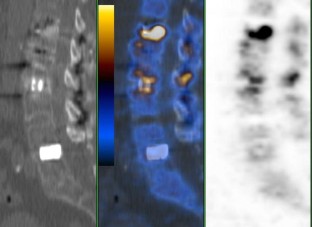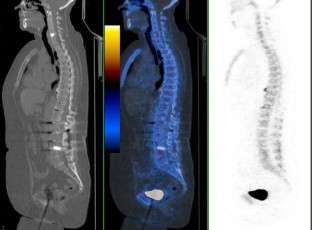 References
1.

Song KJ, Taghavi CE, Hsu MS, Lee KB, Kim GH, Song JH (2010) Plate augmentation in anterior cervical discectomy and fusion with cage for degenerative cervical spinal disorders. Eur Spine J. doi:10.1007/s00586-010-1283-3

2.

Carragee EJ, Hurwitz EL, Cheng I, Carroll LJ, Nordin M, Guzman J, Peloso P, Holm LW, Cote P, Hogg-Johnson S, van der Velde G, Cassidy JD, Haldeman S (2008) Treatment of neck pain: injections and surgical interventions: results of the Bone and Joint Decade 2000–2010 Task Force on Neck Pain and Its Associated Disorders. Spine (Philadelphia, PA, 1976) 33:S153–S169. doi:10.1097/BRS.0b013e31816445ea

3.

Hahnel H, Muschik M, Zippel H, Gutsche H (1991) Lumbar segmental spondylodesis—isolated ventral or combined dorsoventral? A comparison of results. Z Orthop Ihre Grenzgeb 129:197–203. doi:10.1055/s-2008-1040183

4.

Lied B, Roenning PA, Sundseth J, Helseth E (2010) Anterior cervical discectomy with fusion in patients with cervical disc degeneration: a prospective outcome study of 258 patients (181 fused with autologous bone graft and 77 fused with a PEEK cage). BMC Surg 10:10. doi:10.1186/1471-2482-10-10

5.

Lusins JO, Danielski EF, Goldsmith SJ (1989) Bone SPECT in patients with persistent back pain after lumbar spine surgery. J Nucl Med 30:490–496

6.

Even-Sapir E, Martin RH, Mitchell MJ, Iles SE, Barnes DC, Clark AJ (1994) Assessment of painful late effects of lumbar spinal fusion with SPECT. J Nucl Med 35:416–422

7.

Slizofski WJ, Collier BD, Flatley TJ, Carrera GF, Hellman RS, Isitman AT (1987) Painful pseudarthrosis following lumbar spinal fusion: detection by combined SPECT and planar bone scintigraphy. Skel Radiol 16:136–141

8.

Inamdar DN, Alagappan M, Shyam L, Devadoss S, Devadoss A (2006) Posterior lumbar interbody fusion versus intertransverse fusion in the treatment of lumbar spondylolisthesis. J Orthop Surg (Hong Kong) 14:21–26

9.

France JC, Yaszemski MJ, Lauerman WC, Cain JE, Glover JM, Lawson KJ, Coe JD, Topper SM (1999) A randomized prospective study of posterolateral lumbar fusion. Outcomes with and without pedicle screw instrumentation. Spine (Philadelphia, PA, 1976) 24:553–560

10.

Madan S, Boeree NR (2002) Outcome of posterior lumbar interbody fusion versus posterolateral fusion for spondylolytic spondylolisthesis. Spine (Philadelphia, PA, 1976) 27:1536–1542

11.

Gamie S, El-Maghraby T (2008) The role of PET/CT in evaluation of facet and disc abnormalities in patients with low back pain using (18)F-fluoride. Nucl Med Rev Cent East Eur 11:17–21

12.

Grant FD, Fahey FH, Packard AB, Davis RT, Alavi A, Treves ST (2008) Skeletal PET with 18F-fluoride: applying new technology to an old tracer. J Nucl Med 49:68–78. doi:10.2967/jnumed.106.037200

13.

Groves AM, Win T, Haim SB, Ell PJ (2007) Non-[18F]FDG PET in clinical oncology. Lancet Oncol 8:822–830. doi:10.1016/S1470-2045(07)70274-7

14.

Even-Sapir E, Mishani E, Flusser G, Metser U (2007) 18F-fluoride positron emission tomography and positron emission tomography/computed tomography. Semin Nucl Med 37:462–469. doi:10.1053/j.semnuclmed.2007.07.002

15.

Chafetz N, Cann CE, Morris JM, Steinbach LS, Goldberg HI, Ax L (1987) Pseudarthrosis following lumbar fusion: detection by direct coronal CT scanning. Radiology 162:803–805

16.

Buchowski JM, Liu G, Bunmaprasert T, Rose PS, Riew KD (2008) Anterior cervical fusion assessment: surgical exploration versus radiographic evaluation. Spine (Philadelphia, PA, 1976) 33:1185–1191. doi:10.1097/BRS.0b013e318171927c

17.

Carter JD, Swearingen AB, Chaput CD, Rahm MD (2009) Clinical and radiographic assessment of transforaminal lumbar interbody fusion using HEALOS collagen-hydroxyapatite sponge with autologous bone marrow aspirate. Spine J 9:434–438. doi:10.1016/j.spinee.2008.11.004

18.

Carreon LY, Glassman SD, Schwender JD, Subach BR, Gornet MF, Ohno S (2008) Reliability and accuracy of fine-cut computed tomography scans to determine the status of anterior interbody fusions with metallic cages. Spine J 8:998–1002. doi:10.1016/j.spinee.2007.12.004

19.

Schirrmeister H, Guhlmann A, Kotzerke J, Santjohanser C, Kuhn T, Kreienberg R, Messer P, Nussle K, Elsner K, Glatting G, Trager H, Neumaier B, Diederichs C, Reske SN (1999) Early detection and accurate description of extent of metastatic bone disease in breast cancer with fluoride ion and positron emission tomography. J Clin Oncol 17:2381–2389

20.

Schirrmeister H, Glatting G, Hetzel J, Nussle K, Arslandemir C, Buck AK, Dziuk K, Gabelmann A, Reske SN, Hetzel M (2001) Prospective evaluation of the clinical value of planar bone scans, SPECT, and (18)F-labeled NaF PET in newly diagnosed lung cancer. J Nucl Med 42:1800–1804

21.

Even-Sapir E, Metser U, Mishani E, Lievshitz G, Lerman H, Leibovitch I (2006) The detection of bone metastases in patients with high-risk prostate cancer: 99mTc-MDP planar bone scintigraphy, single- and multi-field-of-view SPECT, 18F-fluoride PET, and 18F-fluoride PET/CT. J Nucl Med 47:287–297

22.

Beheshti M, Vali R, Waldenberger P, Fitz F, Nader M, Loidl W, Broinger G, Stoiber F, Foglman I, Langsteger W (2008) Detection of bone metastases in patients with prostate cancer by 18F fluorocholine and 18F fluoride PET–CT: a comparative study. Eur J Nucl Med Mol Imag 35:1766–1774. doi:10.1007/s00259-008-0788-z

23.

Schirrmeister H, Guhlmann A, Elsner K, Kotzerke J, Glatting G, Rentschler M, Neumaier B, Trager H, Nussle K, Reske SN (1999) Sensitivity in detecting osseous lesions depends on anatomic localization: planar bone scintigraphy versus 18F PET. J Nucl Med 40:1623–1629

24.

Etminan M, Girardi FP, Khan SN, Cammisa FP Jr (2002) Revision strategies for lumbar pseudarthrosis. Orthop Clin North Am 33:381–392

25.

Park HW, Lee JK, Moon SJ, Seo SK, Lee JH, Kim SH (2009) The efficacy of the synthetic interbody cage and Grafton for anterior cervical fusion. Spine (Philadelphia, PA, 1976) 34:E591–E595. doi:10.1097/BRS.0b013e3181ab8b9a

26.

Shen HX, Buchowski JM, Yeom JS, Liu G, Lin N, Riew KD (2010) Pseudarthrosis in multilevel anterior cervical fusion with rhBMP-2 and allograft: analysis of one hundred twenty-seven cases with minimum two-year follow-up. Spine (Philadelphia, PA, 1976) 35:747–753. doi:10.1097/BRS.0b013e3181bc3420

27.

Niu CC, Liao JC, Chen WJ, Chen LH (2010) Outcomes of interbody fusion cages used in 1 and 2-levels anterior cervical discectomy and fusion: titanium cages versus polyetheretherketone (PEEK) cages. J Spinal Disord Technol. doi:10.1097/BSD.0b013e3181af3a84

28.

Magin MN, Delling G (2001) Improved lumbar vertebral interbody fusion using rhOP-1: a comparison of autogenous bone graft, bovine hydroxylapatite (Bio-Oss), and BMP-7 (rhOP-1) in sheep. Spine (Philadelphia, PA, 1976) 26:469–478

29.

Suchomel P, Barsa P, Buchvald P, Svobodnik A, Vanickova E (2004) Autologous versus allogenic bone grafts in instrumented anterior cervical discectomy and fusion: a prospective study with respect to bone union pattern. Eur Spine J 13:510–515. doi:10.1007/s00586-003-0667-z

30.

Berven S, Tay BK, Kleinstueck FS, Bradford DS (2001) Clinical applications of bone graft substitutes in spine surgery: consideration of mineralized and demineralized preparations and growth factor supplementation. Eur Spine J 10(Suppl 2):S169–S177. doi:10.1007/s005860100270

31.

Hoegerle S, Juengling F, Otte A, Altehoefer C, Moser EA, Nitzsche EU (1998) Combined FDG and [F-18]fluoride whole-body PET: a feasible two-in-one approach to cancer imaging? Radiology 209:253–258

32.

Stafford N (2008) Isotope shortage is limiting nuclear medicine across Europe. BMJ 337:a1575

33.

Perkins A, Hilson A, Hall J (2008) Global shortage of medical isotopes threatens nuclear medicine services. BMJ 337:a1577
Acknowledgments
We thank Sabine Knöfel for all technical support.
Conflict of interest
None of the authors has any potential conflict of interest .
About this article
Cite this article
Fischer, D.R., Zweifel, K., Treyer, V. et al. Assessment of successful incorporation of cages after cervical or lumbar intercorporal fusion with [(18)F]fluoride positron-emission tomography/computed tomography. Eur Spine J 20, 640–648 (2011). https://doi.org/10.1007/s00586-010-1643-z
Received:

Revised:

Accepted:

Published:

Issue Date:
Keywords
18F-fluoride PET/CT

Cage

18F-fluoride uptake

Spine surgery

Intercorporal fusion

Stress/microinstability

Cervical spine

Lumbar spine