Abstract
The study design described here is a posterior C1–C2 fusion technique composed of bilateral C1 hooks and C2 pedicle screws. In addition, the clinical results of using this method on 13 patients with C1–C2 instability are reported. The objectives are to introduce a new technique for posterior C1–C2 fusion and to evaluate the clinical outcome of using it to treat C1–C2 instability. From October 2006 to August 2008, 13 patients (9 men and 4 women) with C1–C2 instability were included in this study: 3 had acute odontoid fractures, 4 had obsolete odontoid fractures, 4 had os odontoideum and 2 had traumatic rupture of the transverse ligament. All patients underwent posterior atlantoaxial fixation with bilateral C1 hooks and C2 pedicle screws. The mean follow-up duration was 25 months (range 13–30 months). Each patient underwent a complete cervical radiograph series, including anterior–posterior, lateral, and flexion–extension views, and a computed tomographic scan. The clinical course was evaluated according to the Frankel grading system. No clinically manifested injury of the nerve structures or the vertebral artery was observed in any of these cases. Five patients with neurological symptoms showed significant improvement in neurological function postoperatively. Bony fusion and construction stability were observed in all 13 patients (100%) on their follow-up radiographs, and no instrument failure was observed. Bilateral C1 hooks combined with C2 pedicle screws can be used as an alternative treatment method for C1–C2 dislocation, especially in cases not suitable for the use of transarticular screws. The clinical follow-up shows that this technique is a safe and effective method of treatment.
Access options
Buy single article
Instant access to the full article PDF.
USD 39.95
Price excludes VAT (USA)
Tax calculation will be finalised during checkout.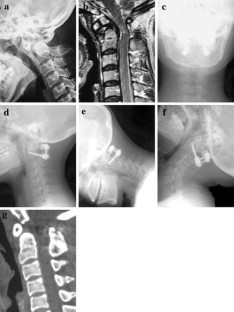 References
Ahmed R, Traynelis VC et al (2008) Fusions at the craniovertebral junction. Nerv Syst 24:1209–1224

Tan M, Wang H, Wang Y et al (2003) Morphometric evaluation of screw fixation in atlas via posterior arch and lateral mass. Spine 28:888–895

Ebraheim NA, Xu R, Ahmad M et al (1998) The quantitative anatomy of the vertebral artery groove of the atlas and its relation to the posterior atlantoaxial approach. Spine 23:320–323

Guo X, Ni B, Wang M et al (2009) Bilateral atlas laminar hook combined with transarticular screw fixation for an unstable bursting atlantal fracture. Arch Orthop Trauma Surg 129(9):1203–1209

Abumi K, Takada T, Shono Y et al (1999) Posterior occipitocervical reconstruction using cervical pedicle screws and plate-rod systems. Spine 24:1425–1434

Brooks AL, Jenkins EB (1978) Atlanto-axial arthrodesis by the wedge compression method. J Bone Jt Surg 60-A:279–284

Gallie WE (1939) Fractures and dislocations of the cervical spine. Am J Surg 46:495–499

Cybulski GR, Stone JL, Crowell RM, Rifai MH, Gandhi Y, Glick R (1988) Use of Halifax interlaminar clamps for posterior C1–C2 arthrodesis. Neurosurgery 22:429–431

Holness RO, Huestis WS, Howes WJ, Langille RA (1984) Posterior stabilization with an interlaminar clamp in cervical injuries: technical note and review of the long term experience with the method. Neurosurgery 14:318–322

Hanson PB, Montesano PX, Sharkey NA, Rauschning W (1991) Anatomic and biomechanical assessment of transarticular screw fixation for atlantoaxial instability. Spine 16:1141–1145

Goel A, Laheri V (1994) Plate and screw fixation for atlanto-axial subluxation. Acta Neurochir (Wien) 129(1–2):47–53

Harms J, Melcher RP (2001) Posterior C1–C2 fusion with polyaxial screw and rod fixation. Spine 26:2467–2471

Xiao ZM, Zhan XL, Gong DF et al (2008) C2 Pedicle Screw and Plate Combined with C1 titanium cable fixation for the treatment of alantoaxial instability not suitable for placement of C1 screw. J Spinal Disord Tech 21(9):514–517

Richter M, Schmidt R, Claes L et al (2002) Posterior atlantoaxial fixation biomechanical in vitro comparison of six different techniques. Spine 27:1724–1732
Acknowledgments
Supported by Science and Technology Commission of Shanghai Municipality (NO. 08411952400).
Additional information
Z. Zhu and B. Ni contributed equally to this article.
About this article
Cite this article
Ni, B., Zhu, Z., Zhou, F. et al. Bilateral C1 laminar hooks combined with C2 pedicle screws fixation for treatment of C1–C2 instability not suitable for placement of transarticular screws. Eur Spine J 19, 1378–1382 (2010). https://doi.org/10.1007/s00586-010-1365-2
Received:

Revised:

Accepted:

Published:

Issue Date:

DOI: https://doi.org/10.1007/s00586-010-1365-2
Keywords
Atlantoaxial

Instability

Internal fixators

Spinal fusion