Abstract
Whilst there are numerous studies examining aspects of sagittal plane motion in the lumbar spine, few consider coronal plane range of motion and there are no in vivo reports of nucleus pulposus (NP) displacement in lateral flexion. This study quantified in vivo NP deformation in response to side flexion in healthy volunteers. Concomitant lateral flexion and axial rotation range were also examined to evaluate the direction and extent of NP deformation. Axial T2- and coronal T1-weighted magnetic resonance images (MRI) were obtained from 21 subjects (mean age, 24.8 years) from L1 to S1 in the neutral and left laterally flexed position. Images were evaluated for intersegmental ranges of lateral flexion and axial rotation. A novel methodology derived linear pixel samples across the width of the disc from T2 images, from which the magnitude and direction of displacement of the NP was determined. This profiling technique represented the relative hydration pattern within the disc. The NP was displaced away from the direction of lateral flexion in 95/105 discs (p < 0.001). The extent of NP displacement was associated strongly with lateral flexion at L2–3 (p < 0.01). The greatest range of lateral flexion occurred at L2–3, L3–4 and L4–5. Small intersegmental ranges of axial rotation occurred at all levels, but were not associated with NP displacement. The direction of NP deformation was highly predictable in laterally flexed healthy lumbar spines; however, the magnitude of displacement was not consistent with the degree of intersegmental lateral flexion or rotation.
Access options
Buy single article
Instant access to the full article PDF.
USD 39.95
Price excludes VAT (USA)
Tax calculation will be finalised during checkout.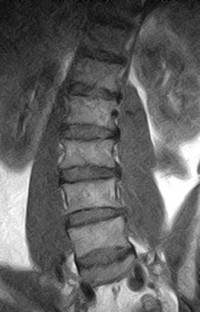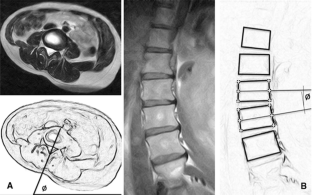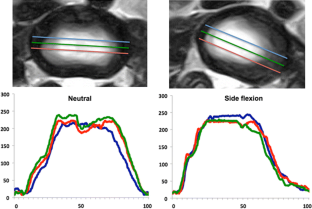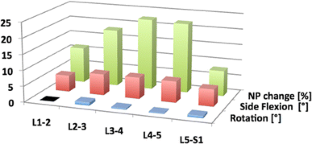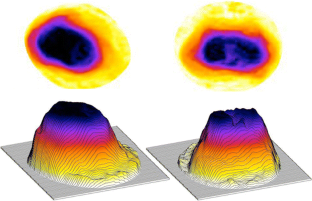 References
Adams M, Bogduk N, Burton K, Dolan P (2002) The biomechanics of back pain. Churchill Livingstone, London

Pearcy M, Portek I, Shepherd J (1984) Three-dimensional x-ray analysis of normal movement in the lumbar spine. Spine 9:294–297

Schuit D, Petersen C, Johnson R, Levine P, Knecht H, Goldberg D (1997) Validity and reliability of measures obtained from the OSI CA-6000 Spine Motion Analyzer for lumbar spinal motion. Man Ther 2:206–215

Kachingwe AF, Phillips BJ (2005) Inter- and intra-rater reliability of a back range of motion instrument. Arch Phys Med Rehabil 86:2347–2353

Burnett AF, Barrett CJ, Marshall RN, Elliott BC, Day RE (1998) Three-dimensional measurement of lumbar spine kinematics for fast bowlers in cricket. Clin Biomech 13:574–583

Pearcy M, Tibrewal S (1984) Axial rotation and lateral bending in the normal lumbar spine measured by three-dimensional radiography. Spine 9:582–587

Dvorak J, Panjabi MM, Chang DG, Theiler R, Grob D (1991) Functional radiographic diagnosis of the lumbar spine. Flexion-extension and lateral bending. Spine 16:562–571

Steffen T, Baramki H, Rubin R, Antoniou J, Aebi M (1998) Lumbar intradiscal pressure measured in the anterior and posterolateral annular regions during asymmetrical loading. Clin Biomech 13:495–505

Scannell JP, McGill SM (2009) Disc prolapse: evidence of reversal with repeated extension. Spine 34:344–350. doi:10.1097/BRS.0b013e31819712a6

White A, Panjabi M (1990) Clinical biomechanics of the Spine. Lippincott, Philadelphia

Scholten P, Veldhuizen A (1985) The influence of spine geometry on the coupling between lateral bending and axial rotation. Eng Med 14:167–171

Legaspi O, Edmond SL (2007) Does the evidence support the existence of lumbar spine coupled motion? A critical review of the literature. J Orthop Sports Phys Ther 37:169–178

Brault J, Driscoll D, Laakso L, Kappler R, Allin E, Glonek T (1997) Quantification of lumbar intradiscal deformation during flexion and extension by mathematical analysis of magnetic resonance imaging pixel intensity profiles. Spine 22:2066–2072

Edmondston S, Song S, Bricknell R, Davies P, Fersum K, Humphries P, Wickendon D, Singer K (2000) MRI evaluation of lumbar spine flexion and extension in asymptomatic individuals. Man Ther 5:158–164

Fazey P, Song S, Mønsas A, Johansson L, Haukalid T, Price R, Singer K (2006) An MRI investigation of intervertebral disc deformation in response to torsion. Clin Biomech 21:538–542

Fennell A, Jones A, Hukins D (1996) Migration of the nucleus pulposus within the intervertebral disc during flexion and extension of the spine. Spine 21:2753–2757

Périé D, Sales De Gauzy J, Curnier D, Hobatho M (2001) Intervertebral disc modeling using an MRI method: migration of the nucleus zone within scoliotic intervertebral discs. Magn Reson Imaging 19:1245–1248

Tsantrizos A, Ito K, Aebi M, Steffen T (2005) Internal strains in healthy and degenerated lumbar intervertebral discs. Spine 30:2129–2137

Adams M, McNally D, Chinn H, Dolan P (1994) Posture and the compressive strength of the lumbar spine. Clin Biomech 9:5–14

Grivas TB, Vasiliadis ES, Mihas C, Triantafyllopoulos G, Kaspiris A (2008) Trunk asymmetry in juveniles. Scoliosis 3:13. doi:10.1186/1748-7161-3-13

Haughton V (2006) Imaging intervertebral disc degeneration. J Bone Joint Surg Am 88(Suppl 2):15–20
Acknowledgments
The authors acknowledge Shouta Kaneko, OT, for technical assistance, Dr Yoshikazu Ikemoto, MD, PhD and Dr Yuki Sasaki, MD, orthopaedic surgeons, for their assistance in screening the volunteers and classifying their IVD health state.
About this article
Cite this article
Fazey, P.J., Takasaki, H. & Singer, K.P. Nucleus pulposus deformation in response to lumbar spine lateral flexion: an in vivo MRI investigation. Eur Spine J 19, 1115–1120 (2010). https://doi.org/10.1007/s00586-010-1339-4
Received:

Revised:

Accepted:

Published:

Issue Date:

DOI: https://doi.org/10.1007/s00586-010-1339-4
Keywords