Abstract
The correction of severe post-tubercular kyphosis (PTK) is complex and has the disadvantage of being multiple staged with a high morbidity. Here, we describe the procedure and results of closing–opening osteotomy for correction of PTK which shortens the posterior column and opens the anterior column appropriately to correct the deformity without altering the length of the spinal cord. Seventeen patients with PTK (10 males; 7 females) with an average age of 18.3 ± 10.6 years (range 4–40 years) formed the study group. There were ten thoracolumbar, one lumbar and six thoracic deformities. The number of vertebrae involved ranged from 2 to 5 (average 2.8). Preoperative kyphosis averaged 69.2° ± 25.1° (range 42°–104°) which included ten patients with deformity greater than 60°. The average vertebral body loss was 2.01 ± 0.79 (range 1.1–4.1). The neurological status was normal in 13 patients, Frankel's grade D in three patients and grade C in one. Posterior stabilization with pedicle screw instrumentation was followed by a preoperatively calculated wedge resection. Anterior column reconstruction was performed using rib grafts in four, tricortical iliac bone graft in five, cages in six, and bone chips alone and fibular graft in one patient each. Average operating time was 280 min (200–340 min) with an average blood loss of 820 ml (range 500–1,600 ml). The postoperative kyphosis averaged 32.4° ± 19.5° (range 8°–62°). The percentage correction of kyphosis achieved was 56.8 ± 14.6% (range 32–83%). No patient with normal preoperative neurological status showed deterioration in neurology after surgery. The last follow-up was at an average of 43 ± 4 months (range 32–64 months). The average loss of correction at the last follow-up was 5.4° (range 3°–9°). At the last follow-up, the mean preoperative pain visual analogue scale score decreased significantly from 9.2 (range 8–10 points) to 1.5 (range 1–2 points). There was also a significant decrease in mean preoperative Oswestry's Disability Index from 56.4 (range 46–68) to 10.6 (range 6–15). Complications were superficial wound infections in two, neurological deterioration in one, temporary jaundice in one and implant failure requiring revision in one. Single-stage closing–opening wedge osteotomy is an effective method to correct severe PTK. The procedure has the advantage of being a posterior only, single-stage correction, which allows for significant correction with minimal complications.
Access options
Buy single article
Instant access to the full article PDF.
US$ 39.95
Tax calculation will be finalised during checkout.
Subscribe to journal
Immediate online access to all issues from 2019. Subscription will auto renew annually.
US$ 119
Tax calculation will be finalised during checkout.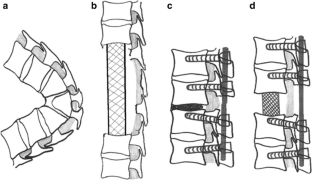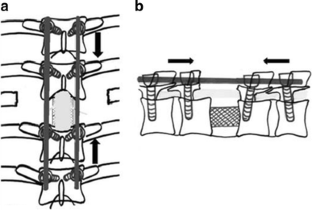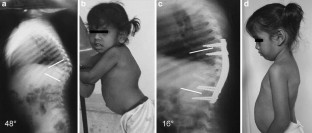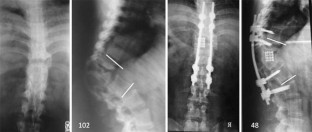 References
1.

Altman GT, Altman DT, Frankovitch KF (1996) Anterior and posterior fusion for children with tuberculosis of the spine. Clin Orthop 325:225–231

2.

Benli IT, Acaroglu E, Akalin S et al (2003) Anterior radical debridement and anterior instrumentation in tuberculosis spondylitis. Eur Spine J 12:224–234

3.

Bezer M, Kucukdurmaz F et al (2007) Transpedicular decancellation osteotomy in the treatment of posttuberculous kyphosis. J Spinal Disord Tech 20:209–215

4.

Bridwell KH, Kuklo T, Lewis SJ et al (2001) String test measurement to assess the effect of spinal deformity correction on spinal canal length. Spine 26:2013–2019

5.

Bridwell KH, Lewis SJ, Edwards C et al (2003) Complications and outcomes of pedicle subtraction osteotomies for fixed sagittal imbalance. Spine 28:2093–2101

6.

Capner N (1954) The evolution of lateral rachiotomy. J Bone Joint Surg Br 36B:173–179

7.

Chen WJ, Wu CC, Jung CH et al (2002) Combined anterior and posterior surgeries in the treatment of spinal tuberculous spondylitis. Clin Orthop 398:50–59

8.

Dalvie SS, Laheri VJ (2000) Closed-wedge spinal osteotomy for the correction of post-tubercular kyphosis in children. J Bone Joint Surg Br 82-B:283–284

9.

Domanic U, Talu U, Dikici F, Hamzaoglu A (2004) Surgical correction of kyphosis: posterior total wedge resection osteotomy in 32 patients. Acta Orthop Scand 75(4):449–455

10.

Eskola A, Santavirta S, Konttinen YT et al (1988) Cementless total replacement for old tuberculosis of the hip. J Bone Joint Surg Br 70-B:603–606

11.

Frankel HL, Hancock DO, Hyslop G et al (1969) The value of postural reduction in the initial management of closed injuries of the spine with paraplegia and tetraplegia: I. Paraplegia 7:179–192

12.

Gertzbein SD, Harris MB (1992) Wedge osteotomy for the correction of posttraumatic kyphosis. Spine 17:374–379

13.

Kalra KP, Dhar SB, Shetty G, Dhariwal Q (2006) Pedicle subtraction osteotomy for rigid post-tuberculous kyphosis. J Bone Joint Surg Br 88-B:925–927

14.

Kaneda K (1991) Anterior approach and Kaneda instrumentation for lesions of the thoracic and lumbar spine. In: Bridwell KH, DeWald RL (eds) The textbook of spinal surgery. JB Lippincott Company, Philadelphia, pp 959–990

15.

Kawahara N, Tomita K, Hisatoshi B et al (2001) Closing–opening wedge osteotomy to correct angular kyphotic deformity by a single posterior approach. Spine 26:391–402

16.

Yh Kim, Han DY, Park BM (1987) Total hip arthroplasty for tuberculous coxarthrosis. J Bone Joint Surg Am 69A:718–727

17.

Lonstein JE (1987) Cord compression. In: Bradford DS, Lonstein JE, Ogilvie JW et al (eds) Moe's textbook of scoliosis and other spinal deformities, 2nd edn. WB Saunders, Philadelphia, pp 540–547

18.

Louw JA (1990) Spinal tuberculosis with neurological deficit: treatment with anterior vascularised rib grafts, posterior osteotomies and fusion. J Bone Joint Surg Br 72:686–693

19.

McDonnell MF, Glassman SD et al (1996) Perioperative complications of anterior procedures on the spine. JBJS 78-A(6):839–847

20.

Medical Research Council (1998) A 15-year assessment of controlled trials of the management of tuberculosis of the spine in Korea and Hong Kong: thirteenth report. J Bone Joint Surg Br 80-B:456–462

21.

Moon MS, Lee MK (1971) The changes of the kyphosis of the tuberculous spine in children following ambulant treatment. Korean Orthop Assoc 6:203–208

22.

Moon MS, Woo YK, Lee KS et al (1995) Posterior instrumentation and anterior interbody fusion for tuberculous kyphosis of dorsal and lumbar spines. Spine 20:1910–1916

23.

Moon MS (1997) Tuberculosis of the spine, controversies and a new challenge. Spine 22:1791–1797

24.

Moon MS, Kim I, Woo YK, Park YO (1987) Conservative treatment of tuberculosis of the thoracic and lumbar spine in adults and children. Int Orthop 11:315–322

25.

Parathasarathy R, Sriram K, Satha T et al (1999) Short course chemotherapy for tuberculosis of the spine: a comparison between ambulant treatment and radical surgery—10 year report. J Bone Joint Surg 81B:464–471

26.

Rajasekaran S (2001) The natural history of childhood spinal tuberculosis: a 15-year prospective study. J Bone Joint Surg Br 83B:954–962

27.

Rajasekaran S (2002) The problem of deformity in spinal tuberculosis. Clin Orthop 398:85–92

28.

Rajasekaran S, Shanmugasundaram TK (1987) Prediction of the angle of gibbus deformity in tuberculosis of the spine. J Bone Joint Surg Am 69-A(4):503–509

29.

Rajasekaran S, Shanmugasundaram TK (2002) Spinal tuberculosis. In: Bulstrode C (ed) Oxford textbook of orthopedics and trauma, 1st edn. Oxford University Press, Oxford, pp 1545–1561

30.

Reyes-Sanchez A, Rosales LM, Miramontes VP et al (2002) Treatment of thoracolumbar fractures by vertebral shortening. Eur Spine J 11:8–12

31.

Satyasri S (1993) Global epidemiology of tuberculosis. In: Satyasri S (ed) Textbook of pulmonary and extra-pulmonary tuberculosis. Madras, pp 13–18

32.

Siata K, Hoshini Y, Kikkawa I et al (2000) Posterior spinal shortening for paraplegia after vertebral collapse caused by osteoporosis. Spine 25:2832–2835

33.

Se-II Suk, Kim JH, Lee SM et al (2003) Anterior-posterior surgery versus posterior closing wedge osteotomy in posttraumatic kyphosis with neurologic compromised osteoporotic fracture. Spine 28:2170–2175

34.

Se-II Suk, Kim JH, Kim WJ et al (2002) Posterior vertebra column resection for severe spinal deformities. Spine 27:2374–2382

35.

Sundarajan GD, Behera S, Ravi V et al (2003) The role of posterior stabilisation in the management of tuberculosis of the dorsal and lumbar spine. J Bone Joint Surg Br 85:100–106

36.

Tomita K, Kawahara N, Baba H et al (1990) Circumspinal decompression for thoracic myelopathy due to combined ossification of the posterior longitudinal ligament and ligamentum flavum. Spine 15:1114–1120

37.

Tuli SM (1995) Severe kyphotic deformity in tuberculosis of the spine. Int Orthop 19(5):327–331

38.

Tuli SM (1991) Tuberculosis of the skeletal system, 3rd edn. Jaypee Brothers, New Delhi

39.

Tuli SM (2002) General principles of osteoarticular tuberculosis. Clin Orthop 398:11–19

40.

vanRoyen BJ, Slot GH (1995) Closing wedge posterior osteotomy for ankylosing spondylitis: partial corpectomy and transpedicular fixation in 22 cases. J Bone Joint Surg Br 77B:117–121

41.

Watson JM (1993) Editorial: tuberculosis in Britain today. Br Med J 306:221–222

42.

Watts AHG, Lifeso RM (1996) Current concept review: tuberculosis of bone and joints. J Bone Joint Surg Am 78:288–298

43.

World Health Organisation Press Release (1996) WHO/22, March 1996

44.

Yau ACMC, Hsu LCS, O'Brien JP, Hodgson AR (1974) Tuberculosis kyphosis-correction with spinal osteotomy, halo-pelvic distraction and anterior and posterior fusion. J Bone Joint Surg Am 56A:1419–1434

45.

Yilmaz C, Selek HY, Gurkan I et al (1999) Anterior instrumentation for the treatment of spinal tuberculosis. J Bone Joint Surg Am 81A:1261–1267
About this article
Cite this article
Rajasekaran, S., Vijay, K. & Shetty, A.P. Single-stage closing–opening wedge osteotomy of spine to correct severe post-tubercular kyphotic deformities of the spine: a 3-year follow-up of 17 patients. Eur Spine J 19, 583–592 (2010). https://doi.org/10.1007/s00586-009-1234-z
Received:

Revised:

Accepted:

Published:

Issue Date:
Keywords
Tuberculosis

Kyphosis

Closing–opening wedge

Osteotomy