Abstract
To evaluate the impact of the longitudinal extension of intramedullary lesions on the neurological status and postoperative outcome. Forty-six patients operated in our Department between February 2004 and June 2007 have been included in this study. The patients were classified in two groups according to the longitudinal extension of the lesion over less than three vertebral segments (group A) and over exactly three or more vertebral segments (group B). The neurological status was assessed preoperatively, postoperatively and after 3 months and involved both the McCormick (McC) and Klekamp–Samii (KS) scales. The preoperative McC- and KS scores of the patients of group B were statistically significant lower (p < 0.038 and p < 0.027, respectively) than those of group A. Patients of both groups showed an initial postoperative clinical deterioration. The level of statistical significance was reached only in group B (group A McC p < 0.170, KS p < 0.105; group B McC p < 0.012, KS p < 0.020). The patients recovered well and no statistical difference was observed between the preoperative and the 3-month follow-up scores (group A McC p < 0.490, KS p < 0.705; group B McC p < 0.506, KS p < 0.709). Thus, patients with extended intramedullary lesions have a worse neurological status preoperatively, postoperatively and in the 3-month follow-up. The preoperative neurostatus is determinant for the outcome. Even in case of longitudinally extensive intramedullary lesions, early surgery is recommended since satisfactory results can be achieved.
This is a preview of subscription content, log in to check access.
Access options
Buy single article
Instant access to the full article PDF.
US$ 39.95
Price includes VAT for USA
Subscribe to journal
Immediate online access to all issues from 2019. Subscription will auto renew annually.
US$ 199
This is the net price. Taxes to be calculated in checkout.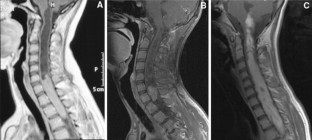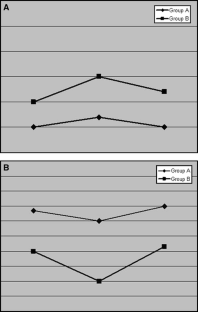 References
1.

Brotchi J, Dewitte O, Levivier M, Balériaux D, Vandesteene A, Raftopoulos C, Flament-Durand J, Noterman J (1991) A survey of 65 tumors within the spinal cord: surgical results and the importance of preoperative magnetic resonance imaging. Neurosurgery 29:651–656

2.

Constantini S, Miller DC, Allen JC, Rorke LB, Freed D, Epstein FJ (2000) Radical excision of intramedullary spinal cord tumors: surgical morbidity and long-term follow-up evaluation in 164 children and young adults. J Neurosurg 93:183–193

3.

Cooper PR, Epstein F (1985) Radical resection of intramedullary spinal cord tumors in adults. Recent experience in 29 patients. J Neurosurg 63:492–499

4.

Cristante L, Herrmann HD (1994) Surgical management of intramedullary spinal cord tumors: functional outcome and sources of morbidity. Neurosurgery 35:69–74

5.

Deletis V, Sala F (2008) Intraoperative neurophysiological monitoring of the spinal cord during spinal cord and spine surgery: a review focus on the corticospinal tracts. Clin Neurophysiol 119:248–264

6.

Epstein FJ, Farmer JP, Freed D (1992) Adult intramedullary astrocytomas of the spinal cord. J Neurosurg 77:355–359

7.

Guidetti B, Mercuri S, Vagnozzi R (1981) Long-term results of the surgical treatment of 129 intramedullary spinal gliomas. J Neurosurg 54:323–330

8.

Klekamp J, Samii M (1993) Introduction of a score system for the clinical evaluation of patients with spinal processes. Acta Neurochir 123:221–223

9.

Kothbauer K, Deletis V, Epstein FJ (1997) Intraoperative spinal cord monitoring for intramedullary surgery: an essential adjunct. Pediatr Neurosurg 26:247–254

10.

McCormick PC, Torres R, Post KD, Stein BM (1990) Intramedullary ependymoma of the spinal cord. J Neurosurg 72:523–532

11.

McGirt MJ, Chaichana KL, Atiba A, Attenello F, Woodworth GF, Jallo GI (2008) Neurological outcome after resection of intramedullary spinal cord tumors in children. Childs Nerv Syst 24:93–97

12.

Nakamura M, Ishii K, Watanabe K, Tsuji T, Takaishi H, Matsumoto M, Toyama Y, Chiba K (2008) Surgical treatment of intramedullary spinal cord tumors: prognosis and complications. Spinal Cord 46:282–286

13.

Raco A, Esposito V, Lenzi J, Piccirilli M, Delfini R, Cantore G (2005) Long-term follow-up of intramedullary spinal cord tumors: a series of 202 cases. Neurosurgery 56:972–981

14.

Sala F, Bricolo A, Faccioli F, Lanteri P, Gerosa M (2007) Surgery for intramedullary spinal cord tumors: the role of intraoperative (neurophysiological) monitoring. Eur Spine J 16:130–139

15.

Sala F, Palandri G, Basso E, Lanteri P, Deletis V, Faccioli F, Bricolo A (2006) Motor evoked potential monitoring improves outcome after surgery for intramedullary spinal cord tumors: a historical control study. Neurosurgery 58:1129–1143

16.

Samii M, Klekamp J (1994) Surgical results of 100 intramedullary tumors in relation to accompanying syringomyelia. Neurosurgery 35:865–873

17.

Sandalcioglu IE, Gasser T, Asgari S, Lazorisak A, Engelhorn T, Egelhof T, Stolke D, Wiedemayer H (2005) Functional outcome after surgical treatment of intramedullary spinal cord tumors: experience with 78 patients. Spinal Cord 43:34–41

18.

Tobias ME, McGirt MJ, Chaichana KL, Goldstein IM, Kothbauer KF, Epstein F, Jallo GI (2008) Surgical management of long intramedullary spinal cord tumors. Childs Nerv Syst 24:219–223
About this article
Cite this article
Ebner, F.H., Roser, F., Falk, M. et al. Management of intramedullary spinal cord lesions: interdependence of the longitudinal extension of the lesion and the functional outcome. Eur Spine J 19, 665–669 (2010). https://doi.org/10.1007/s00586-009-1232-1
Received:

Revised:

Accepted:

Published:

Issue Date:
Keywords
Spinal cord

Intramedullary lesion

Outcome