Abstract
Low back pain (LBP) is a chronic disorder which exerts a profound impact on various spheres of psychosocial functioning, including emotional distress, functional limitations and decrements in social contacts. The objective of this study was to investigate the associations between the indices of psychosocial functioning in patients with chronic LBP and a range of psychological factors. Specifically, the study aimed at exploring the relative participation of personality, social support, disease-related cognitive appraisals and coping styles in accounting for the differences in psychosocial functioning of patients with LBP. One-hundred-twenty patients with LBP took part in the study and completed a battery of psychological questionnaires: NEO–Five Factors Inventory, Ways of Coping Questionnaire, Disease-Related Social Support Scale, Disease-Related Appraisals Scale and Psychosocial Functioning Questionnaire (PFQ). The PFQ dimensions were used as dependent variables in a series of stepwise regression analysis models with the scores from other questionnaires entered as independent variables. A cognitive appraisal of the disease in terms of an obstacle was strongly related to all domains of functioning; however, other appraisals (threat, challenge, harm, profit and overall disease importance) were uniquely associated with particular domains of functioning. Deprivation of social support was a significant predictor of distress experienced in interpersonal context and of sense of being disabled. Among basic personality traits, agreeableness was negatively associated with distress in interpersonal context, and conscientiousness was positively related to acceptance of life with the disease. Problem-focus coping was linked to higher acceptance of life with the disease. Among sociodemographic variables, older age and lower educational level were related to greater subjective feelings of being disabled. Pain severity was found unrelated to any of psychosocial functioning domains. Different aspects of psychosocial functioning are best accounted for by diverse patterns of psychological factors, which suggests involvement of different psychological mechanisms in development of LBP-related disability.
This is a preview of subscription content, log in to check access.
Access options
Buy single article
Instant access to the full article PDF.
US$ 39.95
Price includes VAT for USA
Subscribe to journal
Immediate online access to all issues from 2019. Subscription will auto renew annually.
US$ 199
This is the net price. Taxes to be calculated in checkout.
References
1.

BenDebba M, Torgerson WS, Long DM (1997) Personality traits, pain duration and severity, functional impairment, and psychological distress in patients with persistent low back pain. Pain 72:115–125. doi:10.1016/S0304-3959(97)00020-1

2.

Burker EJ, Evon DM, Sedway JA, Egan T (2004) Appraisal and coping as predictors of psychological distress and self-reported physical disability before lung transplantation. Prog Transplant 14:222–232

3.

Costa PT, McCrae RR (1992) Four ways five factors are basic. Pers Individ Dif 13:653–665. doi:10.1016/0191-8869(92)90236-I

4.

Costa PT, Somerfield MR, McCrae RM (1996) Personality and coping: a reconceptualization. In: Zeidner M, Endler NS (eds) Handbook of coping: theory, research, applications. Wiley, New York, pp 44–61

5.

Folkman S, Lazarus RS, Dunkel-Schetter C, DeLongis A, Gruen RJ (1986) Dynamics of a stressful encounter: cognitive appraisal, coping and encounter outcomes. J Pers Soc Psychol 50:992–1003. doi:10.1037/0022-3514.50.5.992

6.

Folkman S, Lazarus RS, Gruen RJ, DeLongis A (1986) Appraisal, coping, health status, and psychological symptoms. J Pers Soc Psychol 50:571–579. doi:10.1037/0022-3514.50.3.571

7.

Gatchel RJ, Polatin PB, Mayer TG (1995) The dominant role of psychosocial risk factors in the development of chronic low back pain disability. Spine 20:2702–2709. doi:10.1097/00007632-199512150-00011

8.

Gesztelyi G, Bereczki D (2006) Determinants of disability in everyday activities differ in primary and cervicogenic headaches and in low back pain. Psychiatry Clin Neurosci 60:271–276. doi:10.1111/j.1440-1819.2006.01501.x

9.

Goubert L, Crombez G, Van Damme S (2004) The role of neuroticism, pain catastrophizing and pain-related fear in vigilance to pain: a structural equations approach. Pain 107:234–241. doi:10.1016/j.pain.2003.11.005

10.

Hagen EM, Svensen E, Eriksen HR, Ihlebaek CM, Ursin H (2006) Comorbid subjective health complaints in low back pain. Spine 31:1491–1495. doi:10.1097/01.brs.0000219947.71168.08

11.

Hewitt PL, Flett GL (1996) Personality traits and the coping process. In: Zeidner M, Endler NS (eds) Handbook of coping: theory, research, applications. Wiley, New York, pp 410–433

12.

Hope P (2002) Assessment and treatment of patients presenting with low back pain and accompanying psychological distress. An evidence-based approach. Physiotherapy 88:745–750. doi:10.1016/S0031-9406(05)60718-3

13.

Hope P, Forshaw M (1999) Assessment of psychological distress is important in patients presenting with low back pain. Physiotherapy 85:563–570. doi:10.1016/S0031-9406(05)61250-3

14.

Hoth KF, Christensen AJ, Ehlers SL, Raichle KA, Lawton WJ (2007) A longitudinal examination of social support, agreeableness and depressive symptoms in chronic kidney disease. J Behav Med 30:69–76. doi:10.1007/s10865-006-9083-2

15.

Indahl A (2004) Low back pain: diagnosis, treatment and prognosis. Scand J Rheumatol 33:199–209. doi:10.1080/03009740410006916

16.

Janowski K (2006) Osobowościowe uwarunkowania radzenia sobie ze stresem łuszczycy (Personality factors in coping with psoriasis-related stress). Polihymnia, Lublin

17.

Janowski K, Kuryłowicz J, Steuden S (2005) Psychosocial Functioning Questionnaire for patients with low back pain: development and psychometric properties. Arch Med Sci 1:157–162

18.

Jensen-Campbell LA, Gleason KA, Adams R, Malcolm KT (2003) Interpersonal conflict, agreeableness, and personality development. J Pers 71:1059–1085. doi:10.1111/1467-6494.7106007

19.

Keltikangas-Järvinen L (1986) Psychological meaning of illness and coping with disease. Psychother Psychosom 45:84–90

20.

Kiviruusu O, Huurre T, Aro H (2007) Psychosocial resources and depression among chronically ill young adults: are males more vulnerable? Soc Sci Med 65:173–186. doi:10.1016/j.socscimed.2007.02.030

21.

Klapow JC, Slater MA, Patterson TL, Atkinson JH, Weickgenant AL, Grant I, Garfin SR (1995) Psychosocial factors discriminate multidimensional clinical groups of chronic low back pain patients. Pain 62:349–355. doi:10.1016/0304-3959(94)00276-K

22.

Kothe R, Kohlmann T, Klink T, Ruther W, Klinger R (2007) Impact of low back pain on functional limitations, depressed mood and quality of life in patients with rheumatoid arthritis. Pain 127:103–108. doi:10.1016/j.pain.2006.08.011

23.

Kovacs FM, Fernández C, Cordero A, Muriel A, González-Luján L, Gil del Real MT, Spanish Back Pain Research Network (2006) Non-specific low back pain in primary care in the Spanish National Health Service: a prospective study on clinical outcomes and determinants of management. BMC Health Serv Res 6:57. doi:10.1186/1472-6963-6-57

24.

Kuryłowicz J (2006) Radzenie sobie z własną chorobą. Badania psychologiczne pacjentów z zespołem bólowym korzeniowym (Coping with the disease. A psychological study in patients with low back pain). Oficyna Wydawnicza Verba, Lublin

25.

Lazarus RS (1998) Coping from the perspective of personality. Z Differ Diagn Psychol 19:213–231

26.

Lazarus RS, Folkman S (1984) Stress, appraisal and coping. Springer, New York

27.

Manchikanti L, Pampati V, Beyer C, Damron K, Barnhill RC (2002) Evaluation of psychological status in chronic low back pain: comparison with general population. Pain Physician 5:149–155

28.

Manniche C, Asmussen K, Lauritsen B, Vinterberg H, Kreiner S, Jordan A (1994) Low back pain rating scale: validation of a tool for assessment of low back pain. Pain 57:317–326. doi:10.1016/0304-3959(94)90007-8

29.

McCrae RR (1984) Situational determinants of coping responses: loss, threat, and challenge. J Pers Soc Psychol 46:919–928. doi:10.1037/0022-3514.46.4.919

30.

McWilliams LA, Cox BJ, Enns MW (2003) Use of the coping inventory for stressful situations in a clinically depressed sample: factor structure, personality correlates, and prediction of distress. J Clin Psychol 59:423–437. doi:10.1002/jclp.10080

31.

Moran PJ, Christensen AJ, Lawton WJ (1997) Social support and conscientiousness in hemodialysis adherence. Ann Behav Med 19:333–338. doi:10.1007/BF02895150

32.

Oleś P (1995) Kryzys "połowy życia" u mężczyzn. Psychologiczne badania empiryczne (The 'mid-life' crisis in men. A psychological empirical study). RW KUL, Lublin

33.

Ostelo RW, de Vet HC (2005) Clinically important outcomes in low back pain. Best Pract Res Clin Rheumatol 19:593–607. doi:10.1016/j.berh.2005.03.003

34.

Pellino TA, Oberst MT (1992) Perception of control and appraisal of illness in chronic low back pain. Orthop Nurs 11:22–26. doi:10.1097/00006416-199201000-00009

35.

Peters ML, Vlaeyen JW, Weber WE (2005) The joint contribution of physical pathology, pain-related fear and catastrophizing to chronic back pain disability. Pain 113:45–50. doi:10.1016/j.pain.2004.09.033

36.

Rudy TE, Weiner DK, Lieber SJ, Slaboda J, Boston JR (2007) The impact of chronic low back pain on older adults: a comparative study of patients and controls. Pain 131:293–301. doi:10.1016/j.pain.2007.01.012

37.

Schüssler G (1992) Coping strategies and individual meanings of illness. Soc Sci Med 34:427–432. doi:10.1016/0277-9536(92)90303-8

38.

Strunin L, Boden LI (2004) Family consequences of chronic back pain. Soc Sci Med 58:1385–1393. doi:10.1016/S0277-9536(03)00333-2

39.

Trief PM, Carnrike CL Jr, Drudge O (1995) Chronic pain and depression: is social support relevant? Psychol Rep 76:227–236

40.

Waddell G (1984) Chronic low back pain, psychological distress, and illness behaviour. Spine 9:209–213. doi:10.1097/00007632-198403000-00013

41.

Weickgenant AL, Slater MA, Patterson TL, Atkinson JH, Grant I, Garfin SR (1993) Coping activities in chronic low back pain: relationship with depression. Pain 53:95–103. doi:10.1016/0304-3959(93)90061-S

42.

Wiebe JS, Christensen AJ (1996) Patient adherence in chronic illness: personality and coping in context. J Pers 64:815–835. doi:10.1111/j.1467-6494.1996.tb00945.x

43.

Woby SR, Watson PJ, Roach NK, Urmston M (2004) Adjustment to chronic low back pain—the relative influence of fear-avoidance beliefs, catastrophizing, and appraisals of control. Behav Res Ther 42:761–774. doi:10.1016/S0005-7967(03)00195-5
Acknowledgments
A part of this work was done when Dr K. Janowski was receiving a scholarship grant from Universitá Cattolica del Sacro Cuore, Milano, Italy.
Appendix
Appendix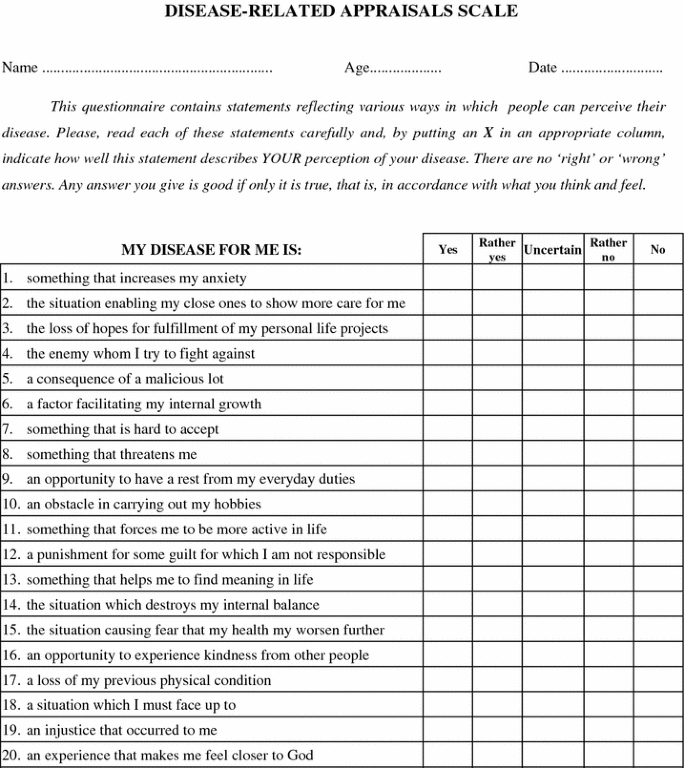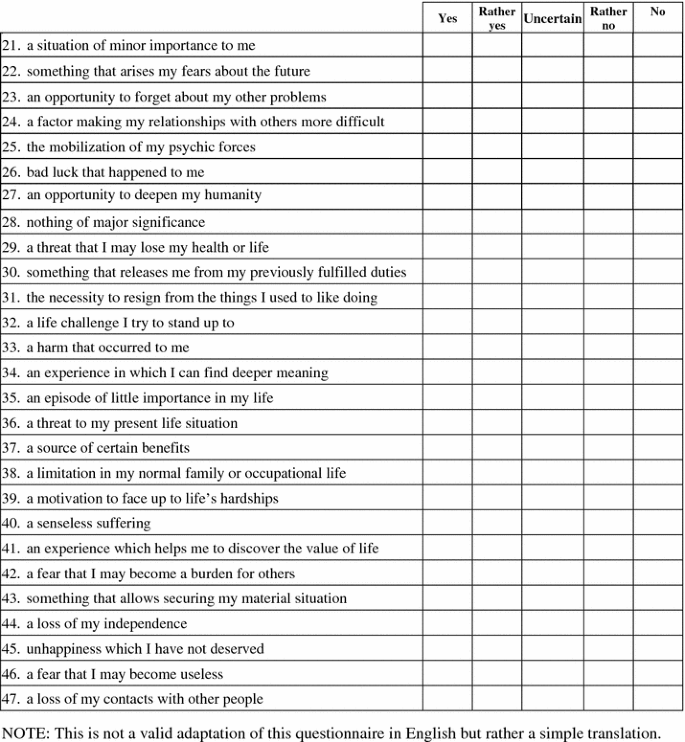 About this article
Cite this article
Janowski, K., Steuden, S. & Kuryłowicz, J. Factors accounting for psychosocial functioning in patients with low back pain. Eur Spine J 19, 613–623 (2010). https://doi.org/10.1007/s00586-009-1151-1
Received:

Revised:

Accepted:

Published:

Issue Date:
Keywords
Personality

Coping

Cognitive appraisal

Social support

Psychosocial functioning

Low back pain