Abstract
Although cervical anterior osteophytes accompanying diffuse idiopathic skeletal hyperostosis (DISH) are generally asymptomatic, large osteophytes sometimes cause swallowing disorders. Surgical resection of the osteophyte has been reported to be an effective treatment; however, little study has been given to the recurrences of osteophytes. A prospective study was performed for seven patients who underwent surgical resection of cervical anterior osteophytes for the treatment of recalcitrant dysphagia caused by osteophytes that accompanied DISH. The seven patients were six men and one woman ranging in age from 55 to 78 years (mean age = 65 years). After a mean postoperative follow-up period of 9 years (range: 6–13 years), surgical outcomes were evaluated by symptom severity and plain radiographs of the cervical spine. On all operated intervertebral segments, the effect of postoperative intervertebral mobility (range of movement >1 degree) on the incidence of recurrent osteophytic formation (width >2 mm) was analyzed by Fisher's exact test. Complete relief of the dysphagia was obtained within one month postoperatively in five patients, while it was delayed for 3 months in two patients. All of the patients developed recurrent cervical osteophytic formation, with an average increase rate of approximately 1 mm/year following surgical resection. Of the 20 operated intervertebral segments, the incidence of recurrent osteophytes was significantly higher (P = 0.0013) in the 16 segments with mobility than in the four segments without mobility. Five of the seven patients remained asymptomatic, although radiological recurrence of osteophytes was seen at the final follow-up. The two remaining patients complained of moderate dysphagia 10 and 11 years after surgery, respectively; one of these two required re-operation due to progressive dysphagia 11 years postoperatively. In patients with cervical DISH and dysphagia, surgical resection of osteophytes resulted in a high likelihood of the recurrence of osteophytes. Therefore, attending surgeons should continue to follow these patients postoperatively for more than 10 years in order to assess the regrowth of osteophytes that may contribute to recurrent symptoms.
Access options
Buy single article
Instant access to the full article PDF.
USD 39.95
Price excludes VAT (USA)
Tax calculation will be finalised during checkout.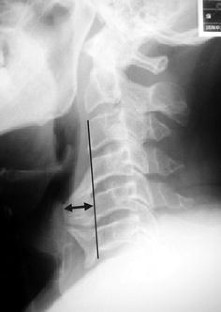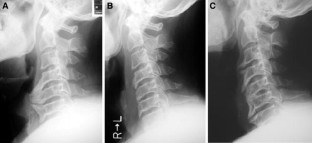 References
Akhtar S, O'flynn PE, Kelly A et al (2000) The management of dysphagia in skeletal hyperostosis. J Laryngol Otol 114:154–157

Forestier J, Rotes-Querol J (1950) Senile ankylosing hyperostosis of the spine. Ann Rheum Dis 9:321–330

Hirano H, Suzuki H, Sakakibara T et al (1982) Dysphagia due to hypertrophic cervical osteophytes. Clin Orthop 167:168–172

Karlins NL, Yagan R (1991) Dyspnea and hoarseness. A complication of diffuse idiopathic skeletal hyperostosis. Spine 16:235–237

Lambert JR, Tepperman PS, Jimenez J et al (1981) Cervical spine disease and dysphagia. Four new cases and a review of the literature. Am J Gastroenterol 76:35–40

Maiuri F, Stella L, Sardo L et al (2002) Dysphagia and dyspnea due to an anterior cervical osteophyte. Arch Orhtop Trauma Surg 122:245–247

McCafferty RR, Harrison MJ, Tamas LB et al (1995) Ossification of the anterior longitudinal ligament and Forestier's disease: an analysis of seven cases. J Neurosurg 83:13–17

Mosher HP (1926) Exostoses of the cervical vertebrae as a cause for difficulty in swallowing. Laryngoscope 36:181–182

Resnick D, Niwayama G (1976) Radiographic and pathologic features of spinal involvement in diffuse idiopathic skeletal hyperostosis (DISH). Radiology 119:559–568

Resnick D, Niwayama G (1988) Diffuse idiopathic skeletal hyperostosis (DISH): ankylosing hyperostosis of Forestier and Rotes-Querol. In: Resnick D, Niwayama G (eds) Diagnosis of bone and joint disorders. WB Saunders, Philadelphia, pp 1562–1602

Seidler TO, Pèrez Àlvarez JC, Wonneberger K et al (2009) Dysphagia caused by ventral osteophytes of the cervical spine: clinical and radiographic findings. Eur Arch Oto-Rhino-Laryngol 266:285–291

Strasser G, Schima W, Schober E et al (2000) Cervical osteophytes impinging on the pharynx: importance of size and concurrent disorders for development of aspiration. AJR 174:449–453

Stuart D (1989) Dysphagia due to cervical osteophytes. A description of five patients and a review of the literature. Int Orthop 13:95–99

Suzuki K, Ishida Y, Ohmori K (1991) Long term follow-up of diffuse idiopathic skeletal hyperostosis in the cervical spine. Analysis of progression of ossification. Neuroradiology 33:427–431

Umerah BC, Mukherjee BK, Ibekwe O (1981) Cervical spondylosis and dysphagia. J Laryngol Otol 95:1179–1183

Utsinger PD (1992) Diffuse idiopathic skeletal hyperostosis (DISH, ankylosing spinal hyperostosis). In: Moskowitz RW (ed) Osteoarthritis: diagnosis and medical/surgical management. WB Saunders, Philadelphia, pp 355–365

Vielpeau C, Joubert JM, Hulet C (1999) Naproxen in the prevention of heterotopic ossification after total hip replacement. Clin Orthop Relat Res 369:279–288

Weinshel SS, Maiman DJ, Mueller WM (1989) Dysphagia associated with cervical spine disorders: pathological relationship? J Spinal Disord 1:312–316
Acknowledgments
We thank Dr. Fuminari Kuze, Department of Otolaryngology, Gifu University School of Medicine, Gifu, Japan, for his contributions regarding the evaluation of swallowing disorders.
About this article
Cite this article
Miyamoto, K., Sugiyama, S., Hosoe, H. et al. Postsurgical recurrence of osteophytes causing dysphagia in patients with diffuse idiopathic skeletal hyperostosis. Eur Spine J 18, 1652–1658 (2009). https://doi.org/10.1007/s00586-009-1133-3
Received:

Revised:

Accepted:

Published:

Issue Date:

DOI: https://doi.org/10.1007/s00586-009-1133-3
Keywords
Dysphagia

Diffuse idiopathic skeletal hyperostosis

Cervical spine

Osteophyte

Recurrence