Abstract
Cervical nerve root compression caused by disco-osteophytic changes is classically operated by anterior transdiscal approach with disc replacement. If compression persists or recurs, reoperation via the same surgical route may be difficult, because of scar tissue and/or implants. An alternative approach may be necessary. We recommend the lateral cervical approach (retrojugular) as salvage operation in such cases. We report a patient with cervical nerve root compression operated by anterior transdiscal approach with plate and bone graft. As some compression persisted clinically and radiologically, the patient was re-operated via a lateral approach. The surgical access was free of scar tissue. The arthrodesis could be left intact and did not prevent effective nerve root decompression. The patient became asymptomatic. The lateral cervical approach (retrojugular) as reported here, is an excellent alternative pathway if reoperation after anterior transdiscal surgery with disc replacement becomes necessary.
Access options
Buy single article
Instant access to the full article PDF.
USD 39.95
Price excludes VAT (USA)
Tax calculation will be finalised during checkout.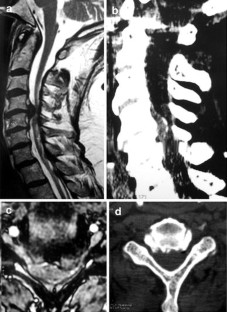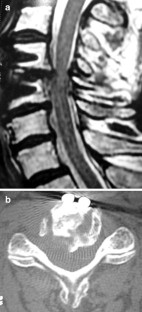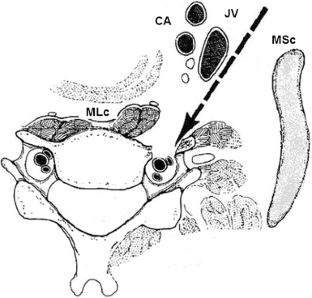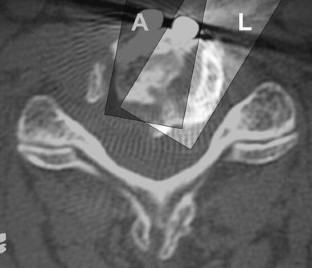 References
Bartels RH, Donk R, van Azn RD (2001) Height of cervical foramina after anterior discectomy and implantation of a carbon fiber cage. J Neurosurg 95:40–42

Bertalanffy H, Eggert HR (1989) Complications of anterior cervical discectomy without fusion in 450 consecutive patients. Acta Neurochir (Wien) 99:41–50. doi:10.1007/BF01407775

Bruneau M, Cornelius JF, George B (2006) Microsurgical cervical nerve root decompression by anterolateral approach. Neurosurgery 58:ONS108–ONS113 (discussion ONS108–113)

Cornelius JF, Bruneau M, George B (2007) Microsurgical cervical nerve root decompression via an anterolateral approach: clinical outcome of patients treated for spondylotic radiculopathy. Neurosurgery 61:972–980 (discussion 980)

Floyd T, Ohnmeiss D (2000) A meta-analysis of autograft versus allograft in anterior cervical fusion. Eur Spine J 9:398–403. doi:10.1007/s005860000160

Grieve JP, Kitchen ND, Moore AJ, Marsh HT (2000) Results of posterior cervical foraminotomy for treatment of cervical spondylitic radiculopathy. Br J Neurosurg 14:40–43. doi:10.1080/02688690042898

Henderson CM, Hennessy RG, Shuey HM Jr, Shackelford EG (1983) Posterior-lateral foraminotomy as an exclusive operative technique for cervical radiculopathy: a review of 846 consecutively operated cases. Neurosurgery 13:504–512. doi:10.1097/00006123-198311000-00004

Jodicke A, Daentzer D, Kastner S, Asamoto S, Boker DK (2003) Risk factors for outcome and complications of dorsal foraminotomy in cervical disc herniation. Surg Neurol 60:124–129. doi:10.1016/S0090-3019(03)00267-2 (discussion 129–130)

Johnson JP, Filler AG, McBride DQ, Batzdorf U (2000) Anterior cervical foraminotomy for unilateral radicular disease. Spine 25:905–909. doi:10.1097/00007632-200004150-00002

Kozak JA, Hanson GW, Rose JR, Trettin DM, Tullos HS (1989) Anterior discectomy, microscopic decompression, and fusion: a treatment for cervical spondylotic radiculopathy. J Spinal Disord 2:43–46. doi:10.1097/00002517-198903000-00006

Pracyk JB, Traynelis VC (2005) Treatment of the painful motion segment: cervical arthroplasty. Spine 30:S23–S32. doi:10.1097/01.brs.0000174507.45083.98
Conflict of interest statement
None of the authors has any potential conflict of interest.
About this article
Cite this article
Cornelius, J.F., George, B. Cervical nerve root decompression by lateral approach as salvage operation after failed anterior transdiscal surgery: technical case report. Eur Spine J 18 (Suppl 2), 272–275 (2009). https://doi.org/10.1007/s00586-009-1030-9
Received:

Revised:

Accepted:

Published:

Issue Date:

DOI: https://doi.org/10.1007/s00586-009-1030-9
Keywords