Abstract
The use of biological technologies for the treatment of degenerative spinal diseases has undergone rapid clinical and scientific development. BMP strategies have gained wide support for an inherent potential to improve the ossification process. It has been extensively studied in combination with various techniques for spinal stabilisation from both anterior and posterior approach. We studied the fusion process after implantation of rhBMP-2 in 17 patients with degenerative lumbar spine diseases in combination with dorsal fixation with pedicle screws and poly-ether-ether-ketone (PEEK) interbody cages. We used 12 mg rhBMP-2 carried by collagen sponge, 6 mg in every cage. Patient follow up consisted of pre-operative radiographic and clinical evaluation. Similar post-operative evaluations were performed at 3 and 6 months. Clinical assessment demonstrated clear improvement in all patients despite evidence of vertebral endplate osteoclastic activity in the 3-month radiographs. The 6-month radiograph, however, confirmed evidence of fusion, and no untoward results or outcomes were noted. While previous studies have shown exclusively positive results in both fusion rates and process, our study demonstrated an intermediate morphology at 3 months during the ossification process using Induct Os in combination with peek-cages using a PLIF-technique. The transient resorption of bone surrounding the peek cage did not result in subsidence, pain or complication, and fusion was reached in all cases within a 6-month-controlled evaluation. Although there was no negative influence on clinical outcome, the potential for osteoclastic or metabolic resorption bears watching during the post-surgical follow up.
This is a preview of subscription content, log in to check access.
Access options
Buy single article
Instant access to the full article PDF.
US$ 39.95
Price includes VAT for USA
Subscribe to journal
Immediate online access to all issues from 2019. Subscription will auto renew annually.
US$ 199
This is the net price. Taxes to be calculated in checkout.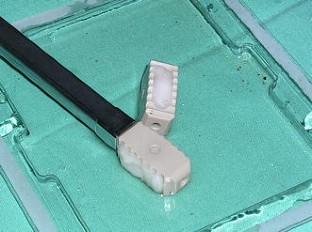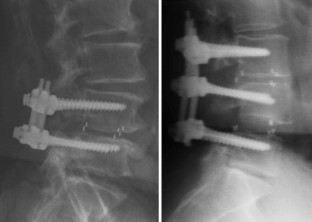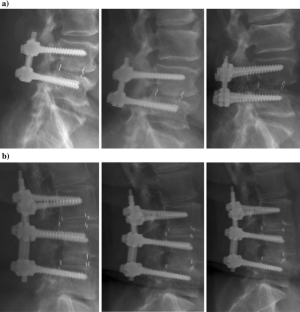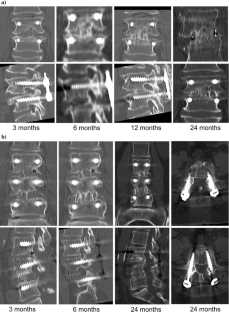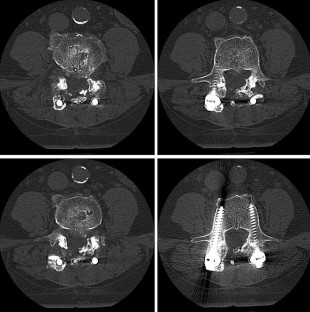 References
1.

Boden SD, Burkus JK, Toth JM, Badura JM, McKay WF (2005) Osteoclastic response to rhBMP-2/absorbable collagen sponges (ACS) in a cancellous bone environment. NASS IRN 2749(066)

2.

Boden SD, Kangckha PJ, Sandhu H, Heller JG (2002) Use of recombinant human bone morphogenetic protein-2 to achieve posterolateral lumbar spine fusion in humans: a prospective, randomized clinical pilot trial: 2002 Volvo Award in clinical studies. Spine 27:2662–2673. doi:10.1097/00007632-200212010-00005

3.

Burkus JK, Gornet MF, Dickman CA, Zdeblick TA (2002) Anterior lumbar interbody fusion using rhBMP-2 with tapered interbody cages. J Spinal Disord Tech 15:337–349

4.

Burkus JK, Heim SE, Gornet MF, Zdeblick TA (2003) Is INFUSE bone graft superior to autograft bone? An integrated analysis of clinical trials using the LT-CAGE lumbar tapered fusion device. J Spinal Disord Tech 16:113–122

5.

Burkus JK, Sandhu HS, Gornet MF (2006) Influence of rhBMP-2 on the healing patterns associated with allograft interbody constructs in comparison with autograft. Spine 31:775–781. doi:10.1097/01.brs.0000206357.88287.5a

6.

Cook DS, Rueger DC (2002) Preclinical models of recombinant BMP induced healing of orthopedic defects. In: Vukicevic S, Sampath KT (eds) Bone morphogenetic proteins from laboratory to clinical practice. Birkhauser Verlag, Basel, pp 121–145

7.

Haid RW, Branch CL, Alexander JT, Burkus JK (2004) Posterior lumbar interbody fusion using recombinant human bone morphogenetic protein type 2 with cylindrical interbody cages. Spine J 4:527–539. doi:10.1016/j.spinee.2004.03.025

8.

Janseen ME, Lam C, Beckham R (2001) Outcomes of allogenic cages in anterior and posterior lumbar interbody fusion. Eur Spine J 10(Suppl. 2):S158–S168. doi:10.1007/s005860100292

9.

Johnsson R, Stromqvist B, Aspenberg P (2002) Randomized radiostereometric study comparing osteogenic protein-1 (BMP-7) and autograft bone in human noninstrumented posterolateral lumbar fusion: 2002 Volvo Award in clinical studies. Spine 27:2654–2661. doi:10.1097/00007632-200212010-00004

10.

Lanman TH, Hopkins TJ (2004) Lumbar interbody fusion after treatment with recombinant human bone morphogenetic protein-2 added to 70:30 poly (L-lactide-co-D, L-lactide) bioresorbable implant. Neurosurg Focus 16:3–9

11.

Lawlis GF, Cuencas R, Selby D, McCoy CE (1989) The development of the Dallas Pain Questionnaire. An assessment of the impact of spinal pain on behaviour. Spine 14:511–516. doi:10.1097/00007632-198905000-00007

12.

Sandhu HS (2003) Bone morphogenetic proteins and spinal surgery. Spine 28(15 Suppl):S64–S73. doi:10.1097/00007632-200308011-00012

13.

Sasso RC, LeHuec JC, Shaffrey C (2005) Illiac crest bone graft donor site pain after anterior lumbar interbody fusion A prospective patient satisfaction outcome assessment. J Spinal Disord Tech 18(Suppl 1):S77–S81. doi:10.1097/01.bsd.0000112045.36255.83

14.

Vaccaro AR, Patel T, Fishgrund J, Anderson G, Truumees E, Herkowitz HN et al (2004) A pilot study evaluating the safety and efficacy of OP-1 putty (rhBMP-7) as a replacement for iliac crest autograft in posterolateral lumbar arthrodesis for degenerative spondylolosthesis. Spine 29:1885–1892. doi:10.1097/01.brs.0000137062.79201.98
About this article
Cite this article
Meisel, H.J., Schnöring, M., Hohaus, C. et al. Posterior lumbar interbody fusion using rhBMP-2. Eur Spine J 17, 1735–1744 (2008). https://doi.org/10.1007/s00586-008-0799-2
Received:

Revised:

Accepted:

Published:

Issue Date:
Keywords
Degenerative disc disease

Bone morphogenetic protein 2

Lumbar spine

Posterior lumbar interbody fusion

Osteoclastic activity