Abstract
This study is a retrospective multi-centre analysis of changes in spino-pelvic sagittal alignment after surgical correction of L5–S1 developmental spondylolisthesis. The purpose of this study was to determine how sagittal spino-pelvic alignment is affected by surgery, with the hypothesis that surgical correction at the lumbo-sacral level is associated with an improvement in the shape of the spine and in the orientation of the pelvis. Whether L5–S1 high grade spondylolisthesis should or should not be reduced remains a controversial subject. A popular method of treatment has been in situ fusion, but studies have reported a high rate of pseudarthrosis, slip progression and persistent cosmetic deformity. Spinal instrumentation with pedicle screws has generated a renewed interest for reduction, but the indications for this treatment and its effect on spino-pelvic alignment remain poorly defined. Recent evidence indicates that reduction might be indicated for subjects with an unbalanced (retroverted or vertical) pelvis. This is a retrospective multi-centre analysis of 73 subjects (mean age 18 ± 3 years) with developmental spondylolisthesis and an average follow-up of 1.9 years after reduction and posterior fusion with spinal instrumentation or cast immobilisation. Spinal and pelvic alignment were measured on standing lateral digitised X-rays using a computer software allowing a very high inter and intra observer reliability. Pelvic incidence was unaffected by surgery. The most important changes were noted for grade, L5 Incidence, lumbo-sacral-angle, and lumbar lordosis, which all decreased significantly towards normal adult values. At first evaluation, pelvic tilt, sacral slope and thoracic kyphosis appeared minimally affected by surgery. However, after classifying subjects into balanced and unbalanced pelvis, significant improvements were noted in pelvic alignment in both the sub-groups, with 40% of cases switching groups, the majority from an unbalanced to a balanced pelvis alignment. The direction and magnitude of these changes were significantly different by sub-group: sacral slope decreased in the balanced pelvis group but increased in the unbalanced group, while pelvic tilt values did the opposite. While pelvic shape is unaffected by attempts at surgical reduction, proper repositioning of L5 over S1 significantly improves pelvic balance and lumbar shape by decreasing the abnormally high lumbar lordosis and abnormal pelvic retroversion. These results emphasise the importance of sub-dividing subjects with high grade developmental spondylolisthesis into unbalanced and balanced pelvis groups, and further support the contention that reduction techniques might be considered for the unbalanced retroverted pelvis sub-group.
This is a preview of subscription content, log in to check access.
Access options
Buy single article
Instant access to the full article PDF.
US$ 39.95
Price includes VAT for USA
Subscribe to journal
Immediate online access to all issues from 2019. Subscription will auto renew annually.
US$ 199
This is the net price. Taxes to be calculated in checkout.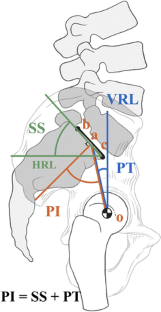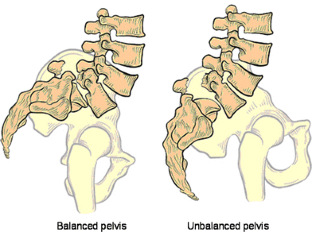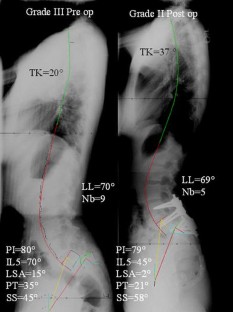 References
1.

Berthonnaud E, Labelle H, Roussouly P, Grimard G, Vaz G, Dimnet J (2005) A variability study of computerised sagittal spino-pelvic radiological measures of trunk balance. J Spinal Disord Tech 18(1):66–71

2.

Berthonnaud E, Roussouly P, Dimnet J (1998) The parameters describing the shape and the equilibrium of the set back pelvis and femurs in sagittal view. Innov Tech Biol Med 19(6):411–426

3.

Bradford DS, Gotfried Y (1987) Staged salvage reconstruction of grade IV and grade V spondylolisthesis. J Bone Joint Surg (A) 69:191–202

4.

Descamps H, Commare-Nordmann MC, Marty C et al (2001) Modification of pelvic angle during the human growth (in French). Biom Hum Anthropol 17:59–63

5.

Frennered AK, Danielson BI, Nachemson Al et al (1991) Midterm follow-up of young patients fused in situ for spondylolisthesis. Spine 16:409–416

6.

Hanson DS, Bridwell KH, Rhee J et al (2002) Correlation of pelvic incidence with low and high-grade isthmic spondylolisthesis. Spine 27(18):2026–2029

7.

Hresko MT, Labelle H, Roussouly P, Berthonnaud E (2007) Classification of high grade spondylolistheses based on pelvic version and spinal balance: possible rationale for reduction. Spine 32(20):2208–2213

8.

Labelle H, Roussouly P, Berthonnaud E, Dimnet J, O'Brien M (2005) The importance of spino-pelvic balance in L5–S1 developmental spondylolisthesis: a review of pertinent radiological measurements. Spine 30(6):S27–S34

9.

Labelle H, Roussouly P, Berthonnaud E, Transfeldt E, O'Brien M, Hresko T, Chopin D, Dimnet J (2004) Spondylolisthesis, pelvic incidence and sagittal spino-pelvic balance: a correlation study. Spine 29(18):2049–2054

10.

Lamberg T, Remes V, Helenius I, Schlenzka D, Seitsalo S, Poussa M (2007) Uninstrumented in situ fusion for high-grade childhood and adolescent isthmic spondylolisthesis: long-term outcome. J Bone Joint Surg (A) 89:512–518

11.

Legaye J, Duval-Beaupère G, Hecquet J et al (1998) Pelvic incidence: a fundamental pelvic parameter for the 3D regulation of spinal sagittal curves. Eur Spine J 7:99–103

12.

Mac-Thiong JM, Labelle H, Berthonnaud E, Betz RR, Roussouly P (2007) Sagittal spinopelvic balance in normal children and adolescents. Eur Spine J 16(2):227–234

13.

Mac-Thiong JM, Pinel-Giroux F-M, de Guise J, Labelle H (2007) Comparison between constrained and non-constrained Cobb techniques for the assessment of thoracic kyphosis and lumbar lordosis. Eur Spine J 16:1325–1331

14.

Mac-Thiong JM, Wang Z, de Guise J, Labelle H (2008). Postural model of sagittal spino-pelvic alignment and its relevance for lumbosacral developemental spondylolisthesis. Spine (accepted for publication)

15.

Marchetti PG, Bartolozzi P (1997) Classification of spondylolisthesis as a guideline for treatment. In: Bridwell KW, de Wald RI (eds) The textbook of spinal surgery, 2nd edn. Lippincott-Raven Publishers, Philadelphia, pp 1211–1254

16.

Marty C, Boisaubert B, Descamps H et al (2002) The sagittal anatomy of the sacrum among young adults, infants, and spondylolisthesis patients. Eur Spine J 11:119–125

17.

Mushik M, Zippel H, Perka C (1997) Surgical management of severe spondylolisthesis in children and adolescents. Spine 22:2036–2043

18.

Newman PH (1965) A clinical syndrome associated with severe lumbo-sacral subluxation. J Bone Joint Surg (B) 47:472–481

19.

O'Brien J, Mehdian H, Jaffray D (1994) Reduction of severe lumbo-sacral spondylolisthesis: a report of 22 cases with a ten year follow-up period. Clin Orthop Relat Res 300:64–69

20.

Pinel-Giroux F-M, Mac-Thiong J-M, de Guise JA, Berthonnaud E, Labelle H (2006) Computerised assessment of sagittal curvatures of the spine. comparison between cobb and tangent circles techniques. J Spinal Disord Tech 19:507–512

21.

Rajnics P, Templier A, Skalli W et al (2002) The association of sagittal spinal and pelvic parameters in asymptomatic persons and patients with isthmic spondylolisthesis. J Spinal Disord 15:24–30

22.

Schwab F, Farcy JP, Roye D (1997) The sagittal pelvic tilt index as a criterion in the evaluation of spondylolisthesis. Spine 22:1661–1667

23.

Vaz G, Roussouly P, Berthonnaud E et al (2002) Sagittal morphology and equilibrium of pelvis and spine. Eur Spine J 11:80–87

24.

Velikas EP, Blackburne JS (1981) Surgical treatment of spondylolisthesis in children and adolescents. J Bone Joint Surg (B) 63:67–70

25.

Wright JG, Bell D (1991) Lumbosacral joint angles in children. J Pediatr Orthop 11:748–51
Acknowledgments
The authors wish to thank Mike Shainline from PhDx for data analysis, and the following members of the Spinal Deformity Study Group for contributing cases to this study: Lawrence G. Lenke, Keith Bridwell, Tom Lowe, Courtney Brown, Peter Newton, Ensor Transfeldt.
Additional information
This research was assisted by support from the Spinal Deformity Study Group. This research was funded by an educational/research grant from Medtronic Sofamor Danek.
About this article
Cite this article
Labelle, H., Roussouly, P., Chopin, D. et al. Spino-pelvic alignment after surgical correction for developmental spondylolisthesis. Eur Spine J 17, 1170 (2008). https://doi.org/10.1007/s00586-008-0713-y
Received:

Revised:

Accepted:

Published:
Keywords
Spondylolisthesis

Surgery

Sagittal alignment

Posture