Abstract
With an official life time of over 5 years, Spine Tango can meanwhile be considered the first international spine registry. In this paper we present an overview of frequency statistics of Spine Tango for demonstrating the genesis of questionnaire development and the constantly increasing activity in the registry. Results from two exemplar studies serve for showing concepts of data analysis applied to a spine registry. Between 2002 and 2006, about 6,000 datasets were submitted by 25 centres. Descriptive analyses were performed for demographic, surgical and follow-up data of three generations of the Spine Tango surgery and follow-up forms. The two exemplar studies used multiple linear regression models to identify potential predictor variables for the occurrence of dura lesions in posterior spinal fusion, and to evaluate which covariates influenced the length of hospital stay. Over the study period there was a rise in median patient age from 52.3 to 58.6 years in the Spine Tango data pool and an increasing percentage of degenerative diseases as main pathology from 59.9 to 71.4%. Posterior decompression was the most frequent surgical measure. About one-third of all patients had documented follow-ups. The complication rate remained below 10%. The exemplar studies identified "centre of intervention" and "number of segments of fusion" as predictors of the occurrence of dura lesions in posterior spinal fusion surgery. Length of hospital stay among patients with posterior fusion was significantly influenced by "centre of intervention", "surgeon credentials", "number of segments of fusion", "age group" and "sex". Data analysis from Spine Tango is possible but complicated by the incompatibility of questionnaire generations 1 and 2 with the more recent generation 3. Although descriptive and also analytic studies at evidence level 2++ can be performed, findings cannot yet be generalised to any specific country or patient population. Current limitations of Spine Tango include the low number and short duration of follow-ups and the lack of sufficiently detailed patient data on subgroup levels. Although the number of participants is steadily growing, no country is yet represented with a sufficient number of hospitals. Nevertheless, the benefits of the project for the whole spine community become increasingly visible.
Access options
Buy single article
Instant access to the full article PDF.
US$ 39.95
Tax calculation will be finalised during checkout.
Subscribe to journal
Immediate online access to all issues from 2019. Subscription will auto renew annually.
US$ 119
Tax calculation will be finalised during checkout.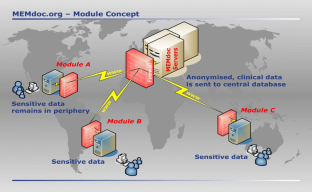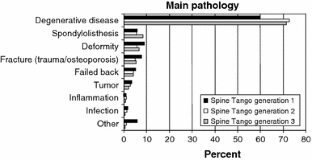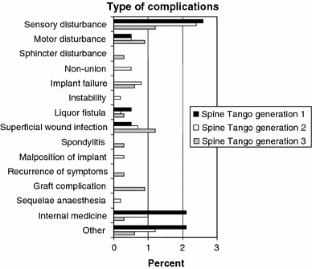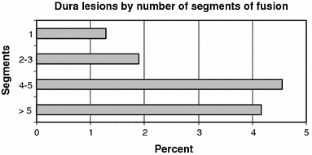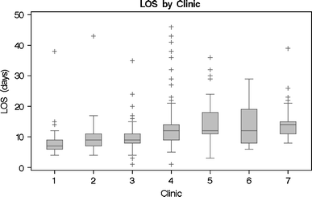 References
1.

Aebi M, Grob D (2004) SSE Spine Tango: a European Spine Registry promoted by the Spine Society of Europe (SSE). Eur Spine J 13:661–662. Epub 2004 Dec 22

2.

Audige L, Hanson B, Kopjar B (2006) Issues in the planning and conduct of non-randomised studies. Injury 37:340–348. Epub 2006 Feb 17

3.

Deyo RA, Battie M, Beurskens AJ, Bombardier C, Croft P, Koes B, Malmivaara A, Roland M, Von Korff M, Waddell G (1998) Outcome measures for low back pain research. A proposal for standardized use. Spine 23:2003–2013

4.

Fernandez-Fairen M, Sala P, Ramirez H, Gil J (2007) A prospective randomized study of unilateral versus bilateral instrumented posterolateral lumbar fusion in degenerative spondylolisthesis. Spine 32:395–401

5.

Fritzell P, Hagg O, Wessberg P, Nordwall A (2002) Chronic low back pain and fusion: a comparison of three surgical techniques: a prospective multicenter randomized study from the Swedish lumbar spine study group. Spine 27:1131–1141

6.

Fritzell P, Stromqvist B, Hagg O (2006) A practical approach to spine registers in Europe: the Swedish experience. Eur Spine J 15:S57–63. Epub 2005 Nov 23

7.

Humphreys SC, Hodges SD, Patwardhan AG, Eck JC, Murphy RB, Covington LA (2001) Comparison of posterior and transforaminal approaches to lumbar interbody fusion. Spine 26:567–571

8.

Isaacs RE, Podichetty VK, Santiago P, Sandhu FA, Spears J, Kelly K, Rice L, Fessler RG (2005) Minimally invasive microendoscopy-assisted transforaminal lumbar interbody fusion with instrumentation. J Neurosurg Spine 3:98–105

9.

Jones AA, Stambough JL, Balderston RA, Rothman RH, Booth RE Jr (1989) Long-term results of lumbar spine surgery complicated by unintended incidental durotomy. Spine 14:443–446

10.

Kilincer C, Steinmetz MP, Sohn MJ, Benzel EC, Bingaman W (2005) Effects of age on the perioperative characteristics and short-term outcome of posterior lumbar fusion surgery. J Neurosurg Spine 3:34–39

11.

Kuslich SD, Ulstrom CL, Griffith SL, Ahern JW, Dowdle JD (1998) The Bagby and Kuslich method of lumbar interbody fusion. History, techniques, and 2-year follow-up results of a United States prospective, multicenter trial. Spine 23:1267–1278; discussion 1279

12.

Mannion AF, Elfering A, Staerkle R, Junge A, Grob D, Semmer NK, Jacobshagen N, Dvorak J, Boos N (2005) Outcome assessment in low back pain: how low can you go? Eur Spine J 14:1014–1026. Epub 2005 Jun 14

13.

Park Y, Ha JW (2007) Comparison of one-level posterior lumbar interbody fusion performed with a minimally invasive approach or a traditional open approach. Spine 32:537–543

14.

Pradhan BB, Nassar JA, Delamarter RB, Wang JC (2002) Single-level lumbar spine fusion: a comparison of anterior and posterior approaches. J Spinal Disord Tech 15:355–361

15.

Ray CD (1997) Threaded titanium cages for lumbar interbody fusions. Spine 22:667–679; discussion 679–680

16.

Roeder C, El-Kerdi A, Grob D, Aebi M (2002) A European spine registry. Eur Spine J 11:303–307. Epub 2002 Jun 28

17.

Roeder C, El-Kerdi A, Eggli S, Aebi M (2004) A centralized total joint replacement registry using web-based technologies. J Bone Joint Surg Am 86-A:2077–2079; discussion 2079–2080

18.

Roeder C, Chavanne A, Mannion AF, Grob D, Aebi M (2005) SSE Spine Tango–content, workflow, set-up. http://www.eurospine.org-Spine Tango. Eur Spine J 14:920–924. Epub 2005 Oct 25

19.

Roeder C, Muller U, Aebi M (2006) The rationale for a spine registry. Eur Spine J 15 suppl 1:S52–S56

20.

Rothwell PM (2005) External validity of randomised controlled trials: "to whom do the results of this trial apply?" Lancet 365:82–93

21.

Scaduto AA, Gamradt SC, Yu WD, Huang J, Delamarter RB, Wang JC (2003) Perioperative complications of threaded cylindrical lumbar interbody fusion devices: anterior versus posterior approach. J Spinal Disord Tech 16:502–507

22.

Zheng F, Cammisa FP Jr, Sandhu HS, Girardi FP, Khan SN (2002) Factors predicting hospital stay, operative time, blood loss, and transfusion in patients undergoing revision posterior lumbar spine decompression, fusion, and segmental instrumentation. Spine 27:818–824
About this article
Cite this article
Melloh, M., Staub, L., Aghayev, E. et al. The international spine registry SPINE TANGO: status quo and first results. Eur Spine J 17, 1201 (2008). https://doi.org/10.1007/s00586-008-0665-2
Received:

Revised:

Accepted:

Published:
Keywords
Spine registry

Posterior spinal fusion

Dura lesion

Length of hospital stay

Predictors