Abstract
Adult scoliosis is defined as a spinal deformity in a skeletally mature patient with a Cobb angle of more than 10° in the coronal plain. Adult scoliosis can be separated into four major groups: Type 1: Primary degenerative scoliosis, mostly on the basis of a disc and/or facet joint arthritis, affecting those structures asymmetrically with predominantly back pain symptoms, often accompanied either by signs of spinal stenosis (central as well as lateral stenosis) or without. These curves are often classified as "de novo" scoliosis. Type 2: Idiopathic adolescent scoliosis of the thoracic and/or lumbar spine which progresses in adult life and is usually combined with secondary degeneration and/or imbalance. Some patients had either no surgical treatment or a surgical correction and fusion in adolescence in either the thoracic or thoracolumbar spine. Those patients may develop secondary degeneration and progression of the adjacent curve; in this case those curves belong to the type 3a.Type 3: Secondary adult curves: (a) In the context of an oblique pelvis, for instance, due to a leg length discrepancy or hip pathology or as a secondary curve in idiopathic, neuromuscular and congenital scoliosis, or asymmetrical anomalies at the lumbosacral junction; (b) In the context of a metabolic bone disease (mostly osteoporosis) combined with asymmetric arthritic disease and/or vertebral fractures. Sometimes it is difficult to decide, what exactly the primary cause of the curve was, once it has significantly progressed. However, once an asymmetric load or degeneration occurs, the pathomorphology and pathomechanism in adult scoliosis predominantly located in the lumbar or thoracolumbar spine is quite predictable. Asymmetric degeneration leads to increased asymmetric load and therefore to a progression of the degeneration and deformity, as either scoliosis and/or kyphosis. The progression of a curve is further supported by osteoporosis, particularly in post-menopausal female patients. The destruction of facet joints, joint capsules, discs and ligaments may create mono- or multisegmental instability and finally spinal stenosis. These patients present themselves predominantly with back pain, then leg pain and claudication symptoms, rarely with neurological deficit, and almost never with questions related to cosmetics. The diagnostic evaluation includes static and dynamic imaging, myelo-CT, as well as invasive diagnostic procedures like discograms, facet blocks, epidural and root blocks and immobilization tests. These tests may correlate with the clinical and the pathomorphological findings and may also offer the least invasive and most rational treatment for the patient. The treatment is then tailored to the specific symptomatology of the patient. Surgical management consists of either decompression, correction, stabilization and fusion procedures or a combination of all of these. Surgical procedure is usually complex and has to deal with a whole array of specific problems like the age and the general medical condition of the patient, the length of the fusion, the condition of the adjacent segments, the condition of the lumbosacral junction, osteoporosis and possibly previous scoliosis surgery, and last but not least, usually with a long history of chronified back pain and muscle imbalance which may be very difficult to be influenced. Although this surgery is demanding, the morbidity cannot be considered significantly higher than in other established orthopaedic procedures, like hip replacement, in the same age group of patients. Overall, a satisfactory outcome can be expected in well-differentiated indications and properly tailored surgical procedures, although until today prospective, controlled studies with outcome measures and pre- and post-operative patient's health status are lacking. As patients, who present themselves with significant clinical problems in the context of adult scoliosis, get older, minimal invasive procedures to address exactly the most relevant clinical problem may become more and more important, basically ignoring the overall deformity and degeneration of the spine.
This is a preview of subscription content, log in to check access.
Access options
Buy single article
Instant access to the full article PDF.
US$ 39.95
Price includes VAT for USA
Subscribe to journal
Immediate online access to all issues from 2019. Subscription will auto renew annually.
US$ 199
This is the net price. Taxes to be calculated in checkout.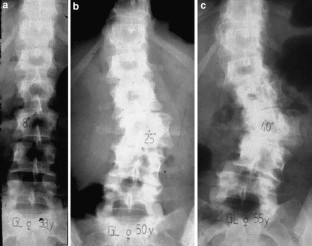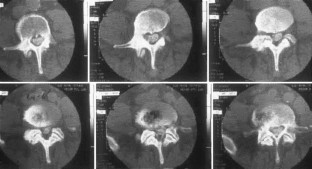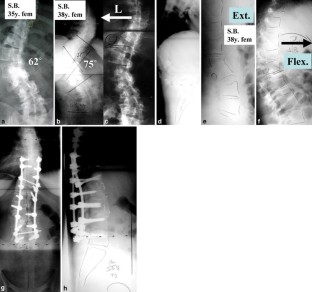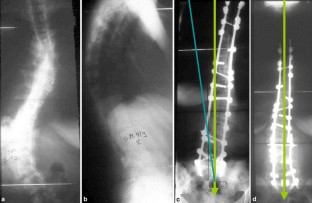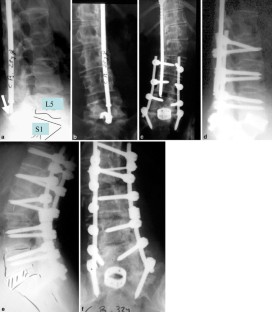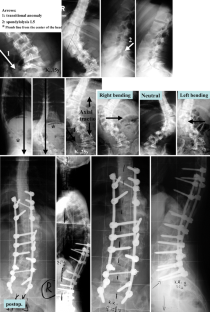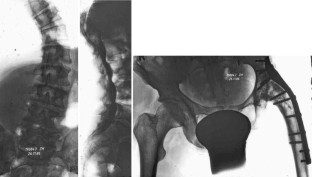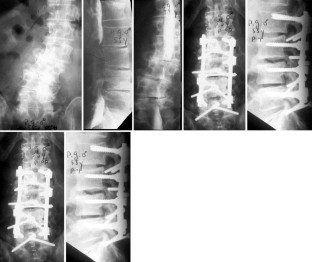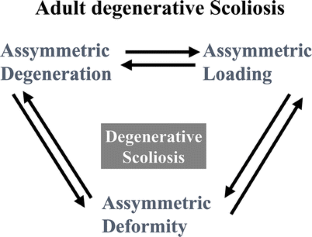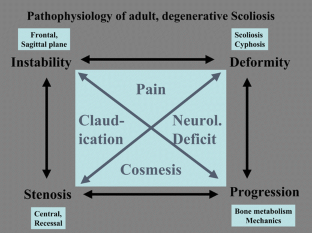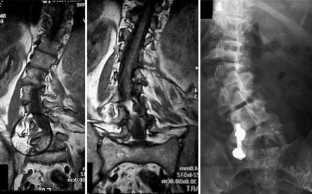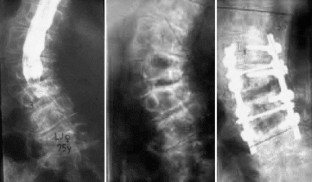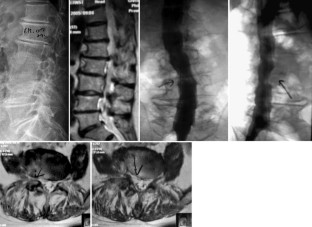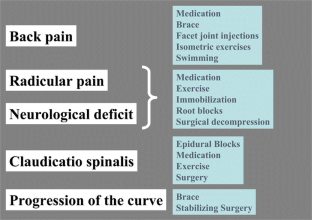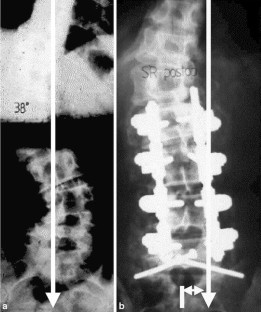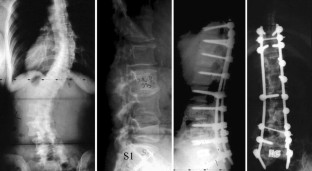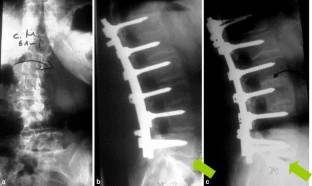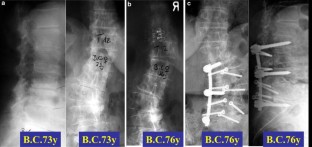 References
1.

Aebi M (1987) Adult scoliosis. Therapeutische Umschau 44:757–763

2.

Aebi M (1988) Correction of degenerative scoliosis of the lumbar spine. A preliminary report. Clin Orthop Relat Res: 80–86

3.

Albert TJ, Purtill J, Mesa J, McIntosh T, Balderston RA (1995) Study design: health outcome assessment before and after adult deformity surgery. A prospective study discussion p. 2005. Spine 20:2002–2004

4.

Ali RM, Boachie-Adjei O, Rawlins BA (2003) Functional and radiographic outcomes after surgery for adult scoliosis using third-generation instrumentation techniques. Spine 28(11):1163–1169

5.

Ascani E, Bartolozzi P, Logroscino CA, Marchetti PG, Ponte A, Savini R, Travaglini F, Binazzi R, Di Silvestre M (1986) Natural history of untreated idiopathic scoliosis after skeletal maturity. Spine 11(8):784–789

6.

Benner B, Ehni G (1979) Degenerative lumbar scoliosis. Spine 4:548

7.

Berven S (2003) Point of view. Spine 28(11):1169–1170

8.

Boachie-Adjei O, Gupta MC (1999) Adult scoliosis + deformity. AAOS Instructional Course Lectures 48(39):377–391

9.

Bradford DS (1988) Adult scoliosis. Current concepts of treatment. Clin Orthop Relat Res: 70–87

10.

Bradford DS, Tay BK, Hu SS (1999) Adult scoliosis: surgical indications, operative management, complications and outcome. Spine 24:2617–2629

11.

Briard JL, Jegou D, Cauchoix J (1979) Adult lumbar scoliosis. Spine 4:526–532

12.

Bridwell KH (1996) Where to stop the fusion distally in adult scoliosis: L4, L5, or the sacrum? Instr Course Lect 45:101–107

13.

Byrd JA, Scoles PV, Winter RB et al (1986) Adult idiopathic scoliosis treated by anterior and posterior spinal fusion. Orthop Trans 10:31–32

14.

Deviren V, Berven S, Kleinstueck F, Antinnes J, Smith JA, Hu SS (2002) Predictors of flexibility and pain patterns in thoracolumbar and lumbar idiopathic scoliosis. Spine 27(21):2346–2349

15.

Deyo RA, Cherkin DC, Loeser JD, Bigos SJ, Ciol MA (1992) Morbidity and mortality in association with operations on the lumbar spine. The influence of age, diagnosis, and procedure. J Bone Joint Surg Am 74(4):536–543

16.

Dick J, Boachie-Adjei O, Wilson M (1992) One-stage versus two-stage anterior and posterior spinal reconstruction in adults. Comparison of outcomes including nutritional status, complications rates, hospital costs, and other factors. Spine 17(8 Suppl):S310–S316

17.

Dickson JH, Mirkovic S, Noble PC, Nalty T, Erwin WD (1995) Results of operative treatment of idiopathic scoliosis in adults. J Bone Joint Surg Am 77(4):513–523

18.

Edwards CC, Bridwell KH, Patel A, Rinella AS, Jung Kim Y, Berra A, Della Rocca GJ, Lenke LG (2003) Thoracolumbar deformity arthrodesis to L5 in adults: the fate of the L5-S1 disc. Spine 28(18):2122–2131

19.

Epstein JA, Epstein BS, Jones MD (1979) Symptomatic lumbar scoliosis and degenerative changes in the elderly. Spine 4:542–547

20.

Fowles JV, Drummond DS, L'Ecuyer S, Roy L, Kassab MT (1978) Untreated scoliosis in the adult. Clin Orthop Relat Res Jul–Aug(134):212–217

21.

Frazier DD, Lipson SJ, Fossel AH, Katz JN (1997) Study design: associations between spinal deformity and outcomes after decompression for spinal stenosis. Spine 22:2025–2029

22.

Glassman SD, Bridwell K, Dimar JR, Horton W, Berven S, Schwab F (2005) The impact of positive sagittal balance in adult spinal deformity. Spine 30(18):2024–2029

23.

Grobler LJ, Moe JH, Winter RB et al. (1978) Loss of lumbar lordosis following surgical correction of thoracolumbar deformities. Orthop Trans 2(2):39

24.

Grubb SA, Lipscomb HJ (1992) Diagnostic findings in painful adult scoliosis. Spine 17(5):518–527

25.

Grubb SA, Lipscomb HJ, Coonrad RW (1988) Degenerative adult onset scoliosis. Spine 13:241–245

26.

Grubb SA, Lipscomb HJ, Suh PB (1994) Results of surgical treatment of painful adult scoliosis. Spine 19:1619–1627

27.

Guillaumat M (1993) Les scolioses lombaires de l'adulte. In: SOFCOT, Chirurgie du Rachis de l'Adulte. Paris: Expansion Scientifique Française: 199–222

28.

Hanley Jr EN (1996) Indications for fusion in the lumbar spine. Bull Hosp Joint Dis 55:154–157

29.

Healy J, Lane J (1985) Structural scoliosis in osteoporotic women. Clin Orthop 195:216

30.

Horton WC, Holt RT, Muldowny DS (1996) Controversy. Fusion of L5-S1 in adult scoliosis. Spine 21:2520–2522

31.

Jackson RP, Simmons EH, Stripinus D (1983) Incidence of severity of back pain in adult idiopathic scoliosis. Spine 8(7):749–756

32.

Johnson JR, Holt RT (1988) Combined use of anterior and posterior surgery for adult scoliosis. Orthop Clin North Am 19:361–370

33.

Korovessis P, Piperos G, Sidiropoulos P, Dimas A (1994) Adult idiopathic lumbar scoliosis. A formula for prediction of progression and review of the literature. Spine 19(17):1926–1932

34.

Kostuik JP (1979) Decision making in adult scoliosis. Spine 4(6):521–525

35.

Kostuik JP (1980) Recent advances in the treatment of painful adult scoliosis. Clin Orthop 147:238–252

36.

Kostuik JP, Bentivoglio J (1981) The incidence of low back pain in adult scoliosis. Spine 6(3):268–273

37.

Kostuik JP, Hall BB (1983) Spinal fusions to the sacrum in adults with scoliosis. Spine 8(5):489–500

38.

Kostuik JP, Israel J, Hall J (1973) Scoliosis surgery in adults. Clin Orthop 93:44

39.

Linville DA, Bridwell KH, Lenke LG, Vedantam R, Leicht P (1999) Complications in the adult spinal deformity patient having combined surgery. Does revision increase the risk? Spine 24(4):355–363

40.

Marchesi DG, Aebi M (1992) Pedicle fixation devices in the treatment of adult lumbar scoliosis. Spine 17:S304–S309

41.

Marchesi DG, Thalgott JS, Aebi M (1991) Application and results of the AO internal fixation system in nontraumatic indications. Spine 16:S162–S169

42.

McKinley LM, Gaines RW, Leatherman KD (1977) Adult scoliosis: recognition and treatment. J Ky Med Assoc 75:235–238

43.

Micheli L, Riseborough E, Hall J (1977) Scoliosis in the adult. Orthop Rev 6:27

44.

Nachemson A (1979) Adult scoliosis and back pain. Spine 4:512

45.

Nuber GW, Schafer MF (1986) Surgical management of adult scoliosis. Clin Orthop Relat Res: 228–237

46.

Ogilvie JW (1992) Adult scoliosis: evaluation and nonsurgical treatment. Instr Course Lect 41:251–255

47.

Pateder DB, Kostuik JP (2005) Lumbar nerve root palsy after adult spinal deformity surgery. Spine 30(14):1632–1636

48.

Ponseti IV (1968) The pathogenesis of adult scoliosis. In: Zorab PA (eds) Proceedings of second symposium on scoliosis causation. E & Livingstone, Edinburgh

49.

Reindl R, Steffen T, Cohen L, Aebi M (2003) Elective lumbar spinal decompression in the elderly: is it a high-risk operation? Can J Surg 46(1):43–46

50.

Rinella A, Bridwell K, Kim Y, Rudzki J, Edwards C, Roh M, Lenke L, Berra A (2004) Late complications of adult idiopathic scoliosis primary fusions to L4 and above: the effect of age and distal fusion level. Spine 29(3):318–325

51.

Robin G, Span Y, Steinberg R et al (1982) Scoliosis in the elderly: a follow-up study. Spine 7:355

52.

Sapkas G, Efstathiou P, Badekas AT, Antoniadis A, Kyratzoulis J, Meleteas E (1996) Radiological parameters associated with the evolution of degenerative scoliosis. Bull Hosp Joint Dis 55:40–45

53.

Scheier HJ (1991) Degenerative scoliosis. Aktuelle Probleme in Chirurgie und Orthopädie 41:73–74

54.

Schwab F, Dubey A, Pagala M, Gamez L, Farcy JP (2003) Adult scoliosis: a health assessment analysis by SF-36. Spine 28(6):602–606

55.

Schwab F, el-Fegoun AB, Gamez L, Goodman H, Farcy JP (2005) A lumbar classification of scoliosis in the adult patient: preliminary approach. Spine 30 (14):1670–1673

56.

Shapiro GS, Taira G, Boachie-Adjei (2003) Results of surgical treatment of adult idiopathic scoliosis with low back pain and spinal stenosis: a study of long-term clinical radiographic outcomes. Spine 28(4):358–363

57.

Simmons EH, Jackson RP (1979) The management of nerve root entrapment syndromes associated with the collapsing scoliosis of idiopathic lumbar and thoracolumbar curves. Spine 4:533–541

58.

Simmons EH, Tramwell TR (1983) Operative management of adult scoliosis. Surg Musculoskeletal Syst 4:427–496

59.

Simmons Jr ED, Kowalski JM, Simmons EH (1993) The results of surgical treatment for adult scoliosis. Spine 18:718–724

60.

Smith JA, Deviren V, Berven S, Bradford DS (2002) Does instrumented anterior scoliosis surgery lead to kyphosis, pseudarthrosis, or inadequate correction in adults? Spine 27(5):529–534

61.

Sponseller PD, Cohen MS, Nachemson AL, Hall JE, Wohl ME (1987) Results of surgical treatment of adults with idiopathic scoliosis. J Bone Joint Surg Am 69(5):667–675

62.

Stagnara P (1969) Scoliosis in adults. Surgical treatment of severe forms. Excerpta Med Found Int Cong 192

63.

Stagnara P, Fleury D, Fauchet R et al (1975) Scolioses majeures de l'adultes supérieures à 100–183 cas traités chirurgicalement. Rev Chir Orthop 61:101–122

64.

Swank S, Lonstein JE, Moe JH, Winter RB, Bradford DS (1981) Surgical treatment of adult scoliosis. A review of two hundred and twenty-two cases. J Bone Joint Surg 63-A:268–287

65.

Takahashi S, Delécrin J, Passuti N (2002) Surgical treatment of idiopathic scoliosis in adults: an age-related analysis of outcome. Spine 27(16):1742–1748

66.

Tribus CB (2003) Degenerative lumbar scoliosis: evaluation and management. J Am Acad Orthop Surg 11(3):174–183

67.

van Dam BE (1988) Nonoperative treatment of adult scoliosis. Orthop Clin North Am 19:347–351

68.

van Dam BE (1988) Operative treatment of adult scoliosis with posterior fusion and instrumentation. Orthop Clin North Am 19:353–359

69.

van Dam BE, Bradford DS, Lonstein JE, Moe JH, Ogilvie W, Winter RB (1987) Adult idiopathic scoliosis treated by posterior spinal fusion and Harrington instrumentation. Spine 12:32–36

70.

Velis KP, Healey JH, Schneider R (1988) Osteoporosis in unstable adult scoliosis. Clin Orthop Relat Res: 132–141

71.

Winter RB, Lonstein JE (1983) Adult scoliosis. AAOS Instruc Course Lect 32:170–191

72.

Winter R, Lonstein J (1983) Adult scoliosis. In: Evarts CMC (ed) Instructional course lectures. American Academy of Orthopaedic Surgeons, vol XXXII. CV Mosby, St. Louis

73.

Winter RB, Lonstein JE, Denis F (1988) Pain patterns in adult scoliosis. Orthop Clin North Am 19:339–345
About this article
Cite this article
Aebi, M. The adult scoliosis. Eur Spine J 14, 925–948 (2005). https://doi.org/10.1007/s00586-005-1053-9
Received:

Accepted:

Published:

Issue Date:
Keywords
Adult scoliosis

Degenerative scoliosis

Spinal stenosis

Adult deformity

Secondary scoliosis