Abstract
While Kyphoplasty is increasingly becoming a recognised minimally invasive treatment option for osteoporotic vertebral fractures and neoplastic vertebral collapse, the experience in the treatment of vertebrae of the mid (T5-8)- and high (T1-4) thoracic levels is limited. The slender pedicle morphology restricts the transpedicular approach at these levels, necessitating extrapedicular placement techniques. Fifty five vertebrae of 32 consecutive patients were treated with kyphoplasty at levels ranging from T2-T8 for vertebral fractures (27 patients) or osteolytic collapse (5 patients). All procedures were performed through the transcostovertebral approach under fluoroscopic guidance. The radioanatomical landmarks of this minimally invasive approach were consistently identified and strictly adhered to. One fracture required open instrumentation due to posterior column injury in addition to kyphoplasty. Identification of specific radioanatomical landmarks allowed precise tool introduction in all cases without intraspinal or paravertebral malplacement. Average operating time for patients with osteoporotic fractures was 30 min per level (range 13–60 min) and 52 min per level (range 35–95 min) in neoplastic cases. Biopsy yield in patients with known or suspected malignancies was 100%. Epidural cement leakage was detected in one patient with pedicular osteolysis. Perforation of the lateral vertebral cortex during balloon inflation occurred in another patient. Both intraoperative complications were without clinical significance. Kyphoplasty in mid- to -high thoracic levels is possible via the transcostovertebral route under fluoroscopic guidance. Strict adherence to a stepwise protocol of tool introduction following defined radioanatomical landmarks is mandatory for the safe completion of this minimally invasive technique.
This is a preview of subscription content, log in to check access.
Access options
Buy single article
Instant access to the full article PDF.
US$ 39.95
Price includes VAT for USA
Subscribe to journal
Immediate online access to all issues from 2019. Subscription will auto renew annually.
US$ 199
This is the net price. Taxes to be calculated in checkout.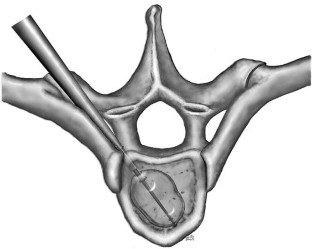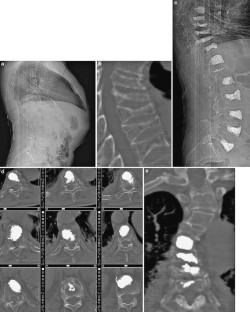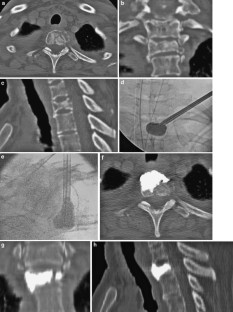 References
1.

Brugieres P, Gaston A, Heran F, Voisin MC, Marsault C (1990) Percutaneous biopsies of the thoracic spine under CT guidance: transcostovertebral approach. J Comput Assist Tomogr 14:446–448

2.

Davis JW, Grove JS, Wasnich RD, Ross PD (1999) Spatial relationships between prevalent and incident spine fractures. Bone 24:261–264

3.

Dufresne AC, Brunet E, Sola-Martinez MT, Rose M, Chiras J (1998) Vertébroplastie percutanée de la charnière cervico-dorsale par voie antérieure. J Neuroradiol 25:123–128

4.

Evans AJ, Jensen ME, Kip KE, DeNardo AJ, Lawler GJ, Negin GA, Remley KB, Boutin SM, Dunnagan SA (2003) Vertebral compression fractures: Pain reduction and improvement in functional mobility after percutaneous polymethylmethacrylate vertebroplasty—retrospective report of 245 cases. Radiology 226:366–372

5.

Fourney DR, Schomer DF, Nader R, Chlan-Fourney J, Suki D, Ahrar K, Rhines LD, Gokaslan ZL (2003) Percutaneous vertebroplasty and kyphoplasty for painful vertebral body fractures in cancer patients. J Neurosurg (Spine) 98:21–30

6.

Garfin SR, Hansen AY, Reiley MA (2001) Kyphoplasty and vertebroplasty for the treatment of painful osteoporotic compression fractures. Spine 26:1511–1515

7.

Heini P, Orler R (2004) Vertebroplastik bei hochgradiger Osteoporose. Orthopäde 33:22–29

8.

Lieberman IH, Dudeney S, Reinhardt MK, Bell G (2001) Initial outcome and efficacy of "kyphoplasty" in the treatment of painful osteoporotic vertebral compression fractures. Spine 26:1631–1638

9.

Lin DD, Gailloud P, Murphy KJ (2001) Percutaneous vertebroplasty in benign and malignant disease. Neurosurgery Quarterly 11:290–301

10.

Magerl F, Aebi M, Gertzbein SD, Harms J, Nazarian S (1994) A comprehensive classification of thoracic and lumbar injuries. Eur Spine J 3:184–201

11.

McLain RF, Ferrera L, Kabins M (2002) Pedicle morphology in the upper thoracic spine. Spine 27:2467–2471

12.

Philips FM, Erling H, Campbell-Hupp M, McNally T, Wetzel FT, Gupta P (2003) Early radiographic and clinical results of balloon kyphoplasty for the treatment of osteoporotic vertebral compression fractures. Spine 28:2260–2267

13.

Tan SH, Teo EC, Chua HC (2004) Quantitative three-dimensional anatomy of cervical, thoracic and lumbar vertebrae of Chinese Singaporeans. Eur Spine J 13:137–146

14.

Wong W, Reiley M, Garfin S (2000) Vertebroplasty/Kyphoplasty. J Women's Imaging 2:117–124

15.

Zindrick MR, Wiltse LL, Doornik A, Widell EH, Knight GW, Patwardhan AG, Thomas JC, Rothman SL, Fields BT (1987) Analysis of the morphometric characteristics of the thoracic and lumbar pedicles. Spine 12:160–166
About this article
Cite this article
Boszczyk, B.M., Bierschneider, M., Hauck, S. et al. Transcostovertebral kyphoplasty of the mid and high thoracic spine. Eur Spine J 14, 992–999 (2005). https://doi.org/10.1007/s00586-005-0943-1
Received:

Revised:

Accepted:

Published:

Issue Date:
Keywords
Kyphoplasty

Minimally invasive surgery

Thoracic spine

Vertebral compression fracture