Abstract
An interspinous process implant has been developed to treat patients suffering from neurogenic intermittent claudication secondary to lumbar spinal stenosis. As most patients who suffer from spinal stenosis are over the age of 50 and may have weaker bones, it is imperative to know how bone mineral density (BMD) correlates with lateral spinous process strength. The study was undertaken to characterize the lateral failure loads of the spinous process, correlate the failure loads to BMD, and compare the failure loads to the loads required to insert an interspinous process implant. Spinous process lateral failure loads were assessed, correlated to BMD, and compared to the loads required to insert an interspinous process implant. Mean spinous process failure loads were significantly greater than the lateral insertion load of the interspinous process implant. There was a significant relationship between the BMD and spinous process failure load. The technique used to insert the interspinous implant poses little risk to spinous process failure. There is ample margin of safety between the insertion loads and spinous process failure loads. The significant relationship between BMD and spinous process failure load suggests that patients with lower BMD must be approached with more caution during the implant insertion procedure.
This is a preview of subscription content,
to check access.
Access this article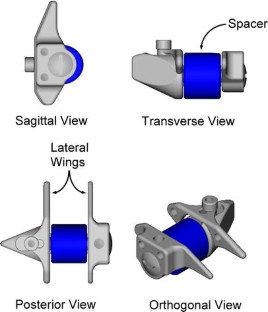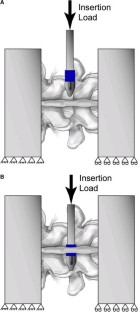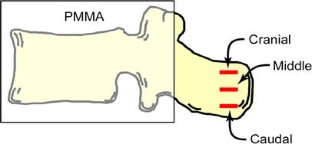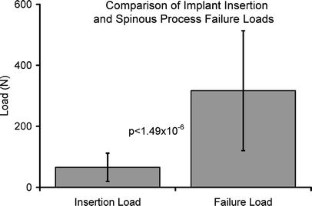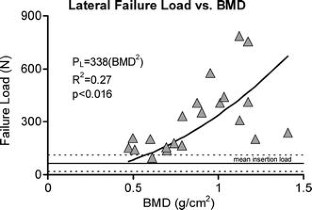 Similar content being viewed by others
References
Amundsen T, Weber H, Lilleas F, Nordal HJ, Abdelnoor M, Magnaes B (1995) Lumbar spinal stenosis. Clinical and radiologic features. Spine 20:1178–1186

Arbit E, Pannullo S (2001) Lumbar stenosis: a clinical review. Clin Orthop 384:137–143

Coe JD, Warden KE, Herzig MA, McAfee PC (1990) Influence of bone mineral density on the fixation of thoracolumbar implants A comparative study of transpedicular screws, laminar hooks, and spinous process wires. Spine 15:902–907

Drummond D, Guadagni J, Keene JS, Breed A, Narechania R (1984) Interspinous process segmental spinal instrumentation. J Pediatr Orthop 4:397–404

Gunzburg R, Szpalski M (2000) Lumbar spinal stenosis. Lippincott Williams & Wilkins, Philadelphia

Hall S, Bartleson JD, Onofrio BM, Baker HL Jr, Okazaki H, O'Duffy JD (1985) Lumbar spinal stenosis. Clinical features, diagnostic procedures, and results of surgical treatment in 68 patients. Ann Intern Med 103:271–275

Hansraj KK, Cammisa FP Jr, O'Leary PF, Crockett HC, Fras CI, Cohen MS, Dorey FJ (2001) Decompressive surgery for typical lumbar spinal stenosis. Clin Orthop 384:10–17

Hilibrand AS, Rand N (1999) Degenerative lumbar stenosis: diagnosis and management. J Am Acad Orthop Surg 7:239–249

Johnsson KE, Uden A, Rosen I (1991) The effect of decompression on the natural course of spinal stenosis. A comparison of surgically treated and untreated patients. Spine 16:615–619

Katz JN, Lipson SJ, Chang LC, Levine SA, Fossel AH, Liang MH (1996) Seven- to 10-year outcome of decompressive surgery for degenerative lumbar spinal stenosis. Spine 21:92–98

Katz JN, Lipson SJ, Larson MG, McInnes JM, Fossel AH, Liang MH (1991) The outcome of decompressive laminectomy for degenerative lumbar stenosis. J Bone Joint Surg Am 73:809–816

Parke WW, Watanabe R (1985) The intrinsic vasculature of the lumbosacral spinal nerve roots. Spine 10:508–515

Porter RW (1996) Spinal stenosis and neurogenic claudication. Spine 21:2046–2052

Scapinelli R (1989) Morphological and functional changes of the lumbar spinous processes in the elderly. Surg Radiol Anat 11:129–133

Simotas AC (2001) Nonoperative treatment for lumbar spinal stenosis. Clin Orthop 384:153–161

Spengler DM (1987) Degenerative stenosis of the lumbar spine. J Bone Joint Surg Am 69:305–308

Spengler DM (1991) Lumbar decompression for spinal stenosis: surgical indications and technique. In: Frymoyer JW (ed) The adult spine: principles and practice. Raven, New York, pp 1811–1819

Verbiest H (1954) A radicular syndrome from developmental narrowing of the lumbar vertebral canal. J Bone Joint Surg 36B:230–237

Verbiest H (1973) Chapter 16. Neurogenic intermittent claudication in cases with absolute and relative stenosis of the lumbar vertebral canal (ASLC and RSLC), in cases with narrow lumbar intervertebral foramina, and in cases with both entities. Clin Neurosurg 20:204–214

Wenger D, Miller S, Wilkerson J (1982) Evaluation of fixation sites for segmental instrumentation of the human vertebrae. Orthop Trans 6:23–24

Wren TA, Yerby SA, Beaupre GS, Carter DR (2000) Interpretation of calcaneus dual-energy X-ray absorptiometry measurements in the assessment of osteopenia and fracture risk. J Bone Miner Res 15:1573–1578

Yerby S, Lindsey D, Kreshak J (2001) Failure load of the lumbar spinous process. J Orthop Res 927
Acknowledgements
The authors would like to thank the VA Rehab R&D Center, Palo Alto, CA, USA and St. Francis Medical Technologies for their support.
About this article
Cite this article
Talwar, V., Lindsey, D.P., Fredrick, A. et al. Insertion loads of the X STOP interspinous process distraction system designed to treat neurogenic intermittent claudication. Eur Spine J 15, 908–912 (2006). https://doi.org/10.1007/s00586-005-0891-9
Received:

Revised:

Accepted:

Published:

Issue Date:

DOI: https://doi.org/10.1007/s00586-005-0891-9
Keywords