Abstract
Study Design: Three cases of osteoid osteomas of the spine, adjacent to neural elements, were treated with CT-guided thermal coagulation. Objective: To present an alternative method to conventional treatment of spinal osteoid osteoma. Summary of Background Data: Percutaneous CT-guided radiofrequency coagulation has been succesfully used for osteoid osteoma of the extremities. The conventional management of spinal osteoid osteoma is by surgical resection. Method: Three patients with osteoid osteoma of the spine, adjacent to neural structures, were treated by percutaneous radiofrequency ablation. The procedure was performed in the CT room under general anesthesia and CT guidance. The thermocoagulation electrode was heated at 90°C for 4 min. Results: Two patients left the hospital the same day; the third one was kept 24 h for observation. All of them had total pain relief within 48 h following the procedure. No complications were recorded. There was no evidence of recurrence after a mean follow-up period of 17 months. Conclusion: Osteoid osteoma of the spine, adjacent to neural structures, can effectively and safely be treated by minimally invasive percutaneous CT guided radiofrequency coagulation.
Access options
Buy single article
Instant access to the full article PDF.
USD 39.95
Price excludes VAT (USA)
Tax calculation will be finalised during checkout.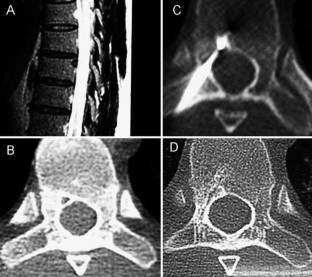 References
jonboCampanacci M (1999) Osteoid osteoma. In: Bone and soft tissue tumors. Piccin Nuova Libraria, Padova and Springer Verlag, Wien, New York pp391–414

Campanacci M, Mercuri M, Gasbarrini A, Campanacci L (1998) The value of imaging in the diagnosis and treatment of bone tumors. Eur J Radiol 27(Suppl 1): S116–22

Cove JA, Taminiau AH, Obermann WR, Vanderschueren GM (2000) Osteoid osteoma of the spine treated with percutaneous computed tomography-guided thermocoagulation. Spine 25:1283–6

Dupuy DE, Hong R, Oliver B, Goldberg SN (2000) Radiofrequency ablation of spinal tumors : temperature distribution in the spinal canal. Am J Roentgenol 175:1263–6

Fehring TK, Green NE (1984) Negative radionuclide scan in osteoid osteoma. A case report. Clin Orthop 185:245–9

Ghanem I, Collet LM, Kharrat K et al. (2003) Percutaneous radiofrequency coagulation of osteoid osteoma in children and adolescents. J Pediatr Orthop B 4:244–52

Greenspan A (1993) Benign bone-forming lesions: osteoma, osteoid osteoma, and osteoblastoma. Skeletal Radiol 22:485–500

Hadjipavlou AG, Lander PH, Marchesi D, Katonis PG, Gaitanis IN (2003) Minimallly invasive surgery for ablation of osteoid osteoma of the spine. Spine 28:472–7

Kroon HMJA (1994) Radiologic aspects of neoplasms and tumor-like lesions of bone. Karstens, The Netherlands, pp 25–49

Mirra JM, Gold RH, Picci P (1989) Osseous tumors of intramedullary origin. Lea & febiger, Beckenham, UK, pp 226–247

Osti OL, Sebben R (1998) High-frenquency radio-wave ablation of osteoid osteoma in the lumbar spine. Eur Spine J 7:422–5

Pinto GH, Taminiau AH, Vanderschueren GM et al. (2002) Technical considerations in CT-guided radiofrequency thermal ablation of osteoid osteoma:tricks of the trade. Am J Roentgenol 179:1633–42

Raskas DS, Graziano GP, Hensinger RN (1992) Osteoid osteoma and osteoblastoma of the spine. J Spinal Disord 5:204–11

Rosenthal DI, Hornicek FJ, Torriani M et al. (2003) Osteoid osteoma:percutaneous treatment with radiofrequency energy. Radiology 229:171–5

Tanburelli F, Bucca C, Caldarozzo L (1989) Negative results of the scintigraphic examination in osteoid osteoma. Arch Putti Chir Organi 37:193–8

Tillotson CI, Rosenberg AE, Rosenthal DI (1989) Controlled thermal injury of bone: report of a percutaneous technique using radiofrequency electrode and generator. Invest Radiol 24:888–92

Unni KK (ed) (2001) Osteoid osteoma. In: Dahlin's bone tumors. lippincott-Raven, Philadelphia, pp 121–130

Vanderschueren GM, Taminian AH, Obermann WR, Bloem JL (2002) Osteoid osteoma: clinical results with thermocoagulation. Radiology 224:82–86
About this article
Cite this article
Samaha, E.I., Ghanem, I.B., Moussa, R.F. et al. Percutaneous radiofrequency coagulation of osteoid osteoma of the "Neural Spinal Ring". Eur Spine J 14, 702–705 (2005). https://doi.org/10.1007/s00586-004-0865-3
Received:

Revised:

Accepted:

Published:

Issue Date:

DOI: https://doi.org/10.1007/s00586-004-0865-3
Keywords
Spinal osteoid osteoma

Percutaneous treatment

Radiofrequency coagulation