Abstract
Background
Minimally invasive augmentation techniques of vertebral bodies have been advocated to treat osteoporotic vertebral body compression fractures (VBCFs). Kyphoplasty is designed to address both fracture-related pain as well as kyphotic deformity usually associated with fracture. Previous studies have indicated the potential of this technique for reduction of vertebral body height, but there has been little investigation into whether this has a lasting effect. The current study reports on our experience and the one-year results in 27 kyphoplasty procedures (24 patients) for osteoporotic VBCFs.
Results
All but one patient experienced pain relief following the procedure (on VAS 1–10)—with a lasting effect over the follow-up period in 25 cases. An average vertebral kyphosis reduction of 47.7% was achieved with no loss of reduction after one year. The potential for reduction was statistically related to the pre-operative amount of kyphosis, the level treated, and the age of the fracture, but not to the age of the patient. During follow-up, one fracture adjacent to a treated level was observed. Pain relief was not related to the amount of reduction.
Conclusion
Kyphoplasty is an effective treatment of VBCFs in terms of pain relief and durable reduction of deformity. Whether spinal realignment results in an improved long-term clinical outcome remains to be investigated.
This is a preview of subscription content, log in to check access.
Access options
Buy single article
Instant access to the full article PDF.
US$ 39.95
Price includes VAT for USA
Subscribe to journal
Immediate online access to all issues from 2019. Subscription will auto renew annually.
US$ 199
This is the net price. Taxes to be calculated in checkout.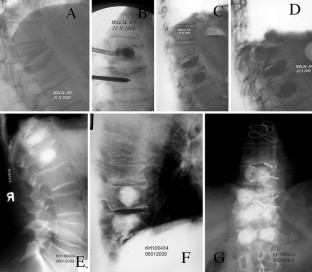 References
1.

Barr JD, Barr MS, Lemley TJ, McCann RM (2000) Percutaneous vertebroplasty for pain relief and spinal stabilisation. Spine 25:923–928

2.

Berlemann U, Ferguson SJ, Nolte LP, Heini PF (2002) Adjacent vertebral failure following vertebroplasty: a biomechanical investigation. J Bone Joint Surg Br 84:748–752

3.

Cook DJ, Guyatt GH, Adachi JD, Clifton J, Griffith LE, Epstein RS, Juniper EF (1993) Quality of life in women with vertebral fractures due to osteoporosis. Arthritis Rheum 36:750–756

4.

Cortet B, Cotton A, Boutry N, Flipo RM, Duquesnoy B, Chastanet P, Delcambre B (1999) Percutaneous vertebroplasty in the treatment of osteoporotic vertebral compression fractures: an open prospective study. J Rheumatol 26:2222–2228

5.

Einhorn TA (2000) Vertebroplasty: an opportunity to do something really good for patients. Spine 25:1051–1052

6.

Evans AJ, Jensen ME, Kip KE, DeNardo AJ, Lawler GJ, Negin GA, Remley KB, Boutin SM, Dunnagan SA (2003) Vertebral compression fractures: pain reduction and improvement in functional mobility after percutaneous polymethylmethacrylate vertebroplasty: retrospective report of 245 cases. Radiology 226:366–372

7.

Garfin SR, Yuan HA, Reiley MA (2001) Kyphoplasty and vertebroplasty for the treatment of painful osteoporotic compression fractures. Spine 26:1511–1515

8.

Grados F, Depriester C, Cayrolle G, Hardy N, Deramond H, Fardellone P (2000) Long-term observations of vertebral osteoporotic fractures treated by percutaneous vertebroplasty. Rheumatology 39:1410–1414

9.

Heini PF, Wälchli B, Berlemann U (2000) Percutaneous transpedicular vertebroplasty with PMMA—a prospective study for the treatment of osteoporotic compression fractures. Eur Spine J 9:445–450

10.

Jang JS, Lee SH, Jung SK (2002) Pulmonary embolism of polymethylmethacrylate after percutaneous vertebroplasty: a report of three cases. Spine 27:E416-418

11.

Kado DM, Browner WS, Palermo L, Nevitt MC, Genant HK, Cummings SR (1999) Vertebral fractures and mortality in older women. Arch Intern Med 159:1215–1220

12.

Ledlie JT, Renfro M (2003) Balloon kyphoplasty: one-year outcomes in vertebral body height restoration, chronic pain, and activity levels. J Neurosurg (Spine 1) 98:36–42

13.

Lee BJ, Lee SR, Yoo TY (2002) Paraplegia as a complication of percutaneous vertebroplasty with polymethylmethacrylate. Spine 27:E419–422

14.

Lieberman IH, Dudeney S, Reinhardt MK, Bell G (2001) Initial outcome and efficacy of "kyphoplasty" in the treatment of painful osteoporotic vertebral compression fractures. Spine 26:1631–1638

15.

Padovani B, Kasriel O, Brunner P, Peretti-Viton P (1999) Pulmonary embolism caused by acrylic cement: a rare complication of percutaneous vertebroplasty. AJNR Am J Neuroradiol 20:375–377

16.

Perez-Higueras A, Alvarez L, Rossi RE, Quinones D, Al-Assir I (2002) Percutaneous vertebroplasty: long-term clinical and radiological outcome. Neuroradiology 44:950–954

17.

Phillips FM, Wetzel FT, Lieberman I, Campbell-Hupp M (2002) An in vivo comparison of the potential for extravertebral cement leak after vertebroplasty and kyphoplasty. Spine 27:2173–2179

18.

Ross PD (1997) Clinical consequences of vertebral fractures. Am J Med 103:30S–42S

19.

Schlaich C, Minne HW, Bruckner T, Wagner G, Gebest HJ, Grunze M, Ziegler R, Leidig-Bruckner G (1998) Reduced pulmonary function in patients with spinal osteoporotic fractures. Osteoporos Int 8:261–267

20.

Silverman SL (1992) The clinical consequence of vertebral compression fractures. Bone 13: S27–31

21.

Truumees E (2001) Osteoporosis. Spine 26:930–932

22.

Uppin AA, Hirsch JA, Centenera LV, Pfiefer BA, Pazianos AG, Choi IS (2003) Occurrence of new vertebral body fractures after percutaneous vertebroplasty in patients with osteoporosis. Radiology 226:119–124

23.

Watts NB, Harris ST, Genant HK (2001) Treatment of painful osteoporotic vertebral fractures with percutaneous vertebroplasty or kyphoplasty. Osteoporos Int 12:429–437

24.

Wittenberg RH, Shea M, Swartz DE, Lee KS, White III AA, Hayes WC (1991) Importance of bone mineral density in instrumented spine fusions. Spine 16:647–652
Acknowledgements
The authors would like to thank Stephen Ferguson (M.E. Mueller Institute for Biomechanics, Bern, Switzerland) for his statistical analysis of the data
About this article
Cite this article
Berlemann, U., Franz, T., Orler, R. et al. Kyphoplasty for treatment of osteoporotic vertebral fractures: a prospective non-randomized study. Eur Spine J 13, 496–501 (2004). https://doi.org/10.1007/s00586-004-0691-7
Received:

Revised:

Accepted:

Published:

Issue Date:
Keywords
Spine

Osteoporosis

Kyphoplasty

PMMA