Abstract
Minimally invasive techniques for spinal surgery are becoming more widespread as improved technologies are developed. Stabilization plays an important role in fracture treatment, but appropriate instrumentation systems for endoscopic circumstances are lacking. Therefore a new thoracoscopically implantable stabilization system for thoracolumbar fracture treatment was developed and its biomechanical in vitro properties were compared. In a biomechanical in vitro study, burst fracture stabilization was simulated and anterior short fixation devices were tested under load with pure moments to evaluate the biomechanical stabilizing characteristics of the new system in comparison with a currently available system. With interbody graft and fixation the new system demonstrated higher stabilizing effects in flexion/extension and lateral bending and restored axial stability beyond the intact spine, as well as having comparable or improved effects compared with the current system. Because of this biomechanical characterization a clinical trial is warranted; the usefulness of the new system has already been demonstrated in 45 patients in our department and more than 300 cases in a multicenter study which is currently under way.
Access options
Buy single article
Instant access to the full article PDF.
USD 39.95
Price excludes VAT (USA)
Tax calculation will be finalised during checkout.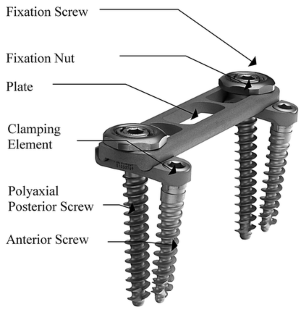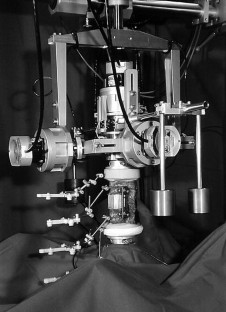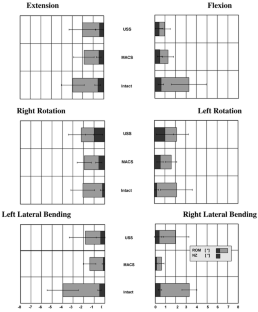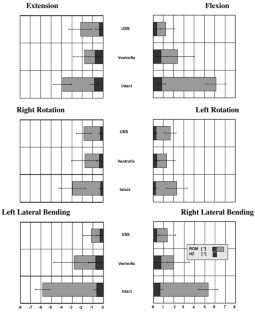 References
An HS, Lim TH, You JW, Hong JH, Eck J, McGrady L (1995) Biomechanical evaluation of anterior thoracolumbar spinal instrumentation. Spine 20:1979–1983

Beisse R, Potulski M, Temme C, Buhren V (1998) [Endoscopically controlled division of the diaphragm. A minimally invasive approach to ventral management of thoracolumbar fractures of the spine]. Unfallchirurgie 101:619–627

Buff HU (1997) [Thoracoscopic operations of the spine]. Ther Umsch 54:529–532

Bühren V, Beisse R, Potulski M (1997) [Minimally invasive ventral spondylodesis in injuries to the thoracic and lumbar spine]. Chirurgie 68:1076–1084

Castro WH, Halm H, Jerosch J, Malms J, Steinbeck J, Blasius S (1996) Accuracy of pedicle screw placement in lumbar vertebrae. Spine 21:1320–1324

Connolly PJ, Clem MF, Kolata R, Ordway N, Zheng Y, Yuan H (1996) Video-assisted thoracic corpectomy and spinal reconstruction: a biomechanical analysis of open versus endoscopic technique. J Spinal Disord 9:453–459

Cunningham BW, Kotani Y, McNulty PS, Cappuccino A, Kanayama M, Fedder IL, McAfee PC (1998) Video-assisted thoracoscopic surgery versus open thoracotomy for anterior thoracic spinal fusion. A comparative radiographic, biomechanical, and histologic analysis in a sheep model. Spine 23:1333–1340

Dickman CA, Rosenthal D, Karahalios DG, Paramore CG, Mican CA, Apostolides PJ, Lorenz R, Sonntag VK (1996) Thoracic vertebrectomy and reconstruction using a microsurgical thoracoscopic approach. Neurosurgery 38:279–293

Gurr KR, McAfee PC, Shih CM (1988) Biomechanical analysis of anterior and posterior instrumentation systems after corpectomy: A calf spine model. J Bone Joint Surg Am 70:1182–1191

Hashimoto T, Kaneda K, Abumi K (1988) Relationship between traumatic spinal canal stenosis and neurologic deficits in thoracolumbar burst fractures. Spine 13:1268–1272

Hertlein H, Hartl WH, Dienemann H, Schurmann M, Lob G (1995) Thoracoscopic repair of thoracic spine trauma. Eur Spine J 4:302–307

Hitchon PGV, Rogge T, Grosland N, Torner J (1999) Biomechanical studies on two anterior thoracolumbar implants in cadaveric spines. Spine 24:213–218

Hitchon PWGV, Rogge TN, Torner JC, Dooris AP, Drake JS, Yang SJ, Totoribe BS, Totoribe K (2000) In vitro biomechanical analysis of three anterior thoracolumbar implants. J Neurosurg (Spine 2) 93:252–258

Huang TJ, Hsu RW, Liu HP, Hsu KY, Liao YS, Shih HN, Chen YJ (1997) Video-assisted thoracoscopic treatment of spinal lesions in the thoracolumbar junction. Surg Endosc 11:1189–1193

Huang TJ, Hsu RW, Liu HP, Liao YS, Hsu KY, Shih HN (1998) Analysis of techniques for video-assisted thoracoscopic internal fixation of the spine. Arch Orthop Trauma Surg 117:92–95

Huang TJ, Hsu RW, Liu HP, Liao YS, Shih HN (1997) Technique of video-assisted thoracoscopic surgery for the spine: new approach. World J Surg 21:358–362

Huntington CF, Murrell WD, Betz RR, Cole BA, Clements DH 3rd, Balsara RK (1998) Comparison of thoracoscopic and open thoracic discectomy in a live ovine model for anterior spinal fusion. Spine 23:1699–1702

Kaneda K, Abumi K, Fujiya M (1984) Burst fractures with neurologic deficits of the thoracolumbar-lumbar spine. Results of anterior decompression and stabilization with anterior instrumentation. Spine 9:788–795

Kotani YCB, Parker L, Kanayama M, McAfee P (1999) Static and Fatique Biomechanical Properties of anterior thoracolumbar instrumentation systems using a synthetic model. Spine 14:1406–1413

Lim TH, An HS, Evanich C, Hasanoglu KY, McGrady L, Wilson CR (1995) Strength of anterior vertebral screw fixation in relationship to bone mineral density. J Spinal Disord 8:121–125

Lim TH, An HS, Hong JH, Ahn JY, You JW, Eck J, McGrady LM (1997) Biomechanical evaluation of anterior and posterior fixations in an unstable calf spine model. Spine 22:261–266

McAfee PC, Regan JR, Fedder IL, Mack MJ, Geis WP (1995) Anterior thoracic corpectomy for spinal cord decompression performed endoscopically. Surg Laparosc Endosc 5:339–348

Panjabi MM (1988) Biomechanical evaluation of spinal fixation devices. I. A conceptual framework. Spine 13:1129–1134

Panjabi MM (1992) The stabilizing system of the spine. I. Function, dysfunction, adaptation, and enhancement. J Spinal Disord 5:383–389, discussion 397

Panjabi MM (1992) The stabilizing system of the spine. II. Neutral zone and instability hypothesis. J Spinal Disord 5:390–396, discussion 397

Panjabi MM (1991) [Three-dimensional testing of the stability of spinal implants]. Orthopade 20:106–111

Regan JJ, Ben-Yishay A, Mack MJ (1998) Video-assisted thoracoscopic excision of herniated thoracic disc: description of technique and preliminary experience in the first 29 cases. J Spinal Disord 11:183–191

Regan JJ, Guyer RD (1997) Endoscopic techniques in spinal surgery. Clin Orthop 122–139

Regan JJ, Mack MJ, Picetti GD 3rd (1995) A technical report on video-assisted thoracoscopy in thoracic spinal surgery. Preliminary description. Spine 20:831–837

Rosenthal D, Dickman CA (1998) Thoracoscopic microsurgical excision of herniated thoracic discs. J Neurosurg 89:224–235

Schultheiss M, Kinzl L, Claes L, Wilke H-J, Hartwig E (2003) Minimally invasive ventral spondylodesis for thoracolumbar fracture treatment: surgical technique and first clinical outcome. Eur Spine J, in press

Shono Y, McAfee PC, Cunningham BW (1994) Experimental study of thoracolumbar burst fractures. A radiographic and biomechanical analysis of anterior and posterior instrumentation systems. Spine 19:1711–1722

Wilke H-J, Schultheiss M, Arand M, Claes L (1998) Stabilisationsverfahren der thorakolumbalen Wirbelsäule- Biomechanische Grundlagen der Implantatverankerung und -beurteilung. Themenheft Osteosynthese International 6:129–138

Wilke HJ, Claes L, Schmitt H, Wolf S (1994) A universal spine tester for in vitro experiments with muscle force simulation. Eur Spine J 3:91–97

Wilke HJ, Wenger K, Claes L (1998) Testing criteria for spinal implants: recommendations for the standardization of in vitro stability testing of spinal implants. Eur Spine J 7:148–154

Zdeblick TA, Shirado O, McAfee PC, deGroot H, Warden KE (1991) Anterior spinal fixation after lumbar corpectomy. A study in dogs [published erratum appears in J Bone Joint Surg Am 1991;73:952]. J Bone Joint Surg Am 73:527–534

Zdeblick TA, Warden KE, Zou D, McAfee PC, Abitbol JJ (1993) Anterior spinal fixators. A biomechanical in vitro study. Spine 18:513–517
About this article
Cite this article
Schultheiss, M., Hartwig, E., Kinzl, L. et al. Thoracolumbar fracture stabilization: comparative biomechanical evaluation of a new video-assisted implantable system. Eur Spine J 13, 93–100 (2004). https://doi.org/10.1007/s00586-003-0640-x
Received:

Revised:

Accepted:

Published:

Issue Date:

DOI: https://doi.org/10.1007/s00586-003-0640-x
Keywords
Biomechanics

Thoracolumbar burst fractures

Spinal stabilization

Spinal decompression]