Abstract
In a 63-year-old, 165-cm-tall woman with a history of repeated tick bites, dilative cardiomyopathy, osteoporosis, progressive head ptosis with neck stiffness and cervical pain developed. The family history was positive for thyroid dysfunction and neuromuscular disorders. Neurological examination revealed prominent forward head drop, weak anteflexion and retroflexion, nuchal rigidity, weakness of the shoulder girdle, cogwheel rigidity, and tetraspasticity. The lactate stress test was abnormal. Electromyograms of various muscles were myogenic. Muscle biopsy showed non-specific myogenic abnormalities and generally weak staining for cytochrome oxydase. Mitochondriopathy with multi-organ involvement was suspected. The response to anti-Parkinson medication was poor. In conclusion, dropped head syndrome (DHS) may be due to multi-organ mitochondriopathy, manifesting as Parkinsonism, tetraspasticity, dilative cardiomyopathy, osteoporosis, short stature, and myopathy. Anti-Parkinson medication is of limited effect.
This is a preview of subscription content, log in to check access.
Access options
Buy single article
Instant access to the full article PDF.
US$ 39.95
Price includes VAT for USA
Subscribe to journal
Immediate online access to all issues from 2019. Subscription will auto renew annually.
US$ 199
This is the net price. Taxes to be calculated in checkout.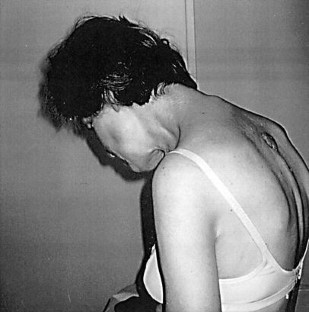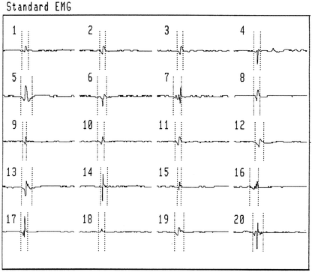 References
1.

Alnaqueeb MA, Al Zaid NS, Goldspink G (1984) Connective tissue changes and physical properties of developing and aging skeletal muscle. J Anat 139:677–689

2.

Askmark H, Eeg-Olofsson K, Johansson A, Nilsson P, Olsson Y, Aquilonius S (2001) Parkinsonism and neck extensor myopathy: a new syndrome or coincidental findings? Arch Neurol 58:232–237

3.

Askmark H, Olsson Y, Rossitti S (2000) Treatable dropped head syndrome in hypothyroidism. Neurology 26:896–897

4.

Bahnhof R (1999) The dropped head syndrome: rehabilitation of cervical focal myositis. Disabil Rehabil 21:563–565

5.

Baquis GD, Moral L, Sorrell M, Springfield MA (1997) Neck extensor myopathy: a mitochondrial disease. Neurology 48:A443

6.

Berenbaum F, Rajzbaum G, Bonnichon P, Amor B (1993) Une hyperparathyroidie revelee par une chute de la tete. Rev Rheum Ed Fr 60:467–469

7.

Biran I, Cohen O, Diment J, Peyser A, Bahnhof R, Steiner I (1999) Focal, steroid responsive myositis causing dropped head syndrome. Muscle Nerve 22:769–771

8.

Bleck TP (1993) Dropped head syndrome. Neurology 43:846

9.

Borit A, Rubinstein LJ, Urich H (1975) The strionigratal degenerations: putaminal pigments and nosology. Brain 98:101–112

10.

Brumback RA, Borge AF, Leech RW (1980) Postpoliomyelitis amyotrophy with rod (nemaline) bodies in skeletal muscle. Trans Am Neurol Assoc 105:430–431

11.

Engel WK (1977) Rod (nemaline) disease. In: Goldensohn ES, Appel SH (eds) Scientific approaches to neurology. Lea & Febiger, Philadelphia, pp 1668–1669

12.

Evidente VGH, Cook A (1997) Floppy head syndrome. An expanding clinicopathological spectrum. Neurology 48:A445

13.

Finsterer J, Milvay E (2002) Lactate stress testing in 155 patients with respiratory chain disorders. Can J Neurol Sci 29:49–53

14.

Finsterer J (2002) Parkinson syndrome as a manifestation of mitochondriopathy. Acta Neurol Scand 105:384–389

15.

Goh KJ, Wong KT, Tan CT (2000) Myopathic dropped head syndrome: a syndrome of mixed aetiology. J Clin Neurosci 7:334–336

16.

Hoffman D, Gutman L (1994) The dropped head syndrome with chronic inflammatory demyelinating polyneuropathy. Muscle Nerve 17:808–810

17.

Horiuchi M, Uehara K, Komo T, Sugihara H, Takahashi Y (2001) A case of elderly onset Parkinson's disease complicated by dropped head syndrome. Nippon Ronen Igakkai Zasshi 38:693–695

18.

Hund E, Heckl R, Goebel HH, Meinck HM (1995) Inclusion body myositis presenting with isolated erector spinae paresis. Neurology 45:993–994

19.

Jaster JH, Bertorini TE, Swims MP, Dohan FC Jr, Menke PG, Becske T, Monkemuller KE (1997) Dropped head syndromes. Neurology 48:551–552

20.

Jaster JH, Bertorini TE, Swims MP, Dohan FC Jr, Menke PG, Becske T, Monkemuller KE (1996) Cervical kyphosis after resolution of myopathic head drop. Spine 21:2023–2025

21.

Jorens PG, Eychen MP, Parizel GA, Martin JJ (1989) Antecollis in parkinsonism. Lancet 1:1320–1321

22.

Karpati G, Carpenter S, Engel AG et al. (1975) The syndrome of systemic carnitine deficiency: clinical, morphologic, biochemical, and pathophysiologic features. Neurology 25:16–24

23.

Katz JS, Wolfe GI, Burns DK, Bryan WW, Fleckenstein JL, Barohn RJ (1996) Isolated neck extensor myopathy: a common cause of dropped head syndrome. Neurology 46:917–921

24.

Khella S, Frederic M (1993) Dropped head syndrome. Neurology 43:846

25.

Lange DJ, Fetell MR, Lovelace RE, Rowland LP (1986) The floppy head syndrome. Ann Neurol 20:133

26.

Langston W (1936) Orthostatic hypotension: report of a case. Ann Int Med 10:688–695

27.

Lava NS, Factor SA (2001) Focal myopathy as a cause of anterocollis in Parkinsonism. Mov Disord 16:754–756

28.

Lerman VJ (1993) Dropped head syndrome. Neurology 43:846

29.

Lomen-Hoerth C, Simmons ML, Dearmond SJ, Layzer RB (1999) Adult-onset nemaline myopathy: another cause of dropped head. Muscle Nerve 22:1146–1150

30.

Luque FA, Rosenkilde C, Valsamis M, Danon MJ (1994) Inclusion body myositis (IBM) presenting as the "dropped head syndrome" (DHS). Brain Pathol 4:568

31.

Oerlemans WG, de Visser M (1998) Dropped head syndrome and bent spine syndrome: two separate clinical entities or different manifestations of axial myopathy? J Neurol Neurosurg Psychiatry 65:258–259

32.

Oishi K, Shigeto H, Maruyama K, Oya Y, Ogawa M, Nonaka I, Kawai I (2000) Overloading the extensor muscles is an aggravating factor to induce further neck drop in isolated neck extensor myopathy. Rinsho Shinkeigaku 40:933–936

33.

Okamiya S, Ito H, Saito T, Kowa H, Torii J (1997) A case of isolated neck extensor myopathy with parkinsonism. Rinsho Shinkeigaku 37:393–396

34.

Padberg GW, Lunt PW, Koch M, Fardeau M (1991) Diagnostic criteria for facioscapulohumeral muscular dystrophy. Neuromusc Disord 1:231–234

35.

Palmucci L, Doriguzzi C, Mongini T, Chiado-Piat L (1993) Adult onset nemaline myopathy: a distinct nosologic entity. Clin Neuropathol 12:153–155

36.

Petiot P, Vial C, de Saint Victor JF, Charles N, Carrier H, Depierre P, Bady B (1997) Dropped head syndrome: diagnostic discussion apropos of 3 cases. Rev Neurol 153:251–255

37.

Quinn N (1993) Parkinsonism and dystonia, pseudoparkinsonism and pseudodystonia. Adv Neurol 60:540–543

38.

Quinn N (1989) Disproportionate antecollis in multiple system atrophy. Lancet 1:844

39.

Riggs JE, Bodensteiner JB, Schochet SS Jr (1994) The dropped head sign: an unusual presentation of congenital myopathy. J Child Neurol 9:330–331

40.

Rose MR, Levin KH, Griggs RC (1999) The dropped head plus syndrome: quantitation of response to corticosteroids. Muscle Nerve 22:115–118

41.

Suarez GA, Kelly JJ Jr (1992) The dropped head syndrome. Neurology 42:1625–1627

42.

Swash M (1998) Dropped-head and bent-spine syndromes: axial myopathies? Lancet 352:758

43.

Trend PJ, Wiles CM, Spencer GT, Morgan-Hughes JA, Lake BD, Patrick AD (1985) Acid maltase deficiency in adults. Brain 108:845–848

44.

Umapathi T, Chaudhry V, Cornblath D, Drachman D, Griffin J, Kuncl R (2002) Head drop and camptocormia. J Neurol Neurosurg Psychiatr 73:1–7

45.

Waclawik AJ, Lotz PB, Salamat SM, Beinlich BR, Brooks BR (1997) Myopathic dropped head syndrome: an expanding clinicopathological spectrum. Neurology 48:A445

46.

Yoshiyama Y, Takama J, Hattori T (1999) The dropped head sign in Parkinsonism. J Neurol Sci 167:22–25
About this article
Cite this article
Finsterer, J. Dropped head syndrome in mitochondriopathy. Eur Spine J 13, 652–656 (2004). https://doi.org/10.1007/s00586-003-0630-z
Received:

Revised:

Accepted:

Published:

Issue Date:
Keywords
Mitochondriopathy

Neck muscles

Myopathy

Anterocollis