Abstract
A previously undescribed method for posterior fusion of the sacroiliac joint (SIJ) utilizing the Cloward instrumentation is presented, suitable for cases with chronic pain and intact ligamental structures of the SIJ. The advantages of the method in comparison with other described options include minimal disturbance of the periarticular structures, avoidance of introduction of metalwork and preservation of the iliac crest contour. This technique has been used in five cases with follow-up longer than 2 years (mean 29 months, range 25–41 months). In all cases there was resolution of their painful symtomatology.
This is a preview of subscription content, log in to check access.
Access options
Buy single article
Instant access to the full article PDF.
US$ 39.95
Tax calculation will be finalised during checkout.
Subscribe to journal
Immediate online access to all issues from 2019. Subscription will auto renew annually.
US$ 119
Tax calculation will be finalised during checkout.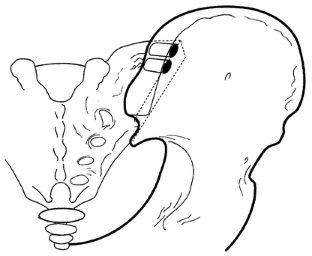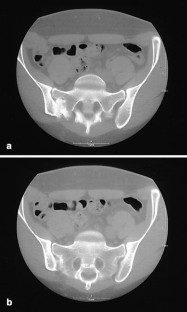 References
1.

Albert M, Miller M, MacNaughton et al. (1993) Posterior pelvic fixation using a transiliac 4.5 mm reconstruction plate: a clinical and biomechanical study. J Orthop Trauma 7:226–232

2.

Balanger TA, Dall BE (2001) Sacroiliac arthrodesis using a posterior fascial splitting approach and pedicle screw instrumentation: a new technique. J Spinal Disord 14:118–124

3.

Cecil M, Rollins J, Ebraheim N et al. (1996) Projection of the S2 pedicle onto the posterolateral surface of the ilium. A technique for lag screw fixation of sacral fractures or sacroiliac joint dislocations. Spine 21:875–878

4.

Dabezies E, Millet C, Murphy C et al. (1989) Stabilization of sacroiliac joint disruption with threaded compression rods. Clin Orthop 246:165–171

5.

Dalstra M, Huiskes R (1995) Load transfer across the pelvic bone. J Biomech 28:715–724

6.

Duwellius P, Van-Allen M, Bray T et al. (1992) Computed tomography-guided fixation of unstable posterior ring disruptions. J Orthop Trauma 6:420–426

7.

Ebraheim N, Coombs R, Jackson W et al. (1994) Percutaneous computed tomography-guided stabilization of posterior pelvic fractures. Clin Orthop 307:222–228

8.

Ebraheim N, Coombs R, Rusin J et al. (1992) Percutaneous CT-guided stabilization of complex sacroiliac joint disruption with threaded compression bars. Orthopaedics 15:1427–1430

9.

Fortin JD, Kissling RO, O'Connor BL, Vilensky JA (1999) Sacroiliac innervation and pain. Am J Orthop 28:687–690

10.

Kellam J, McMurty R, Paley D, Tile M (1987) The unstable pelvic fracture. Orthop Clin North Am 18:25–41

11.

Leighton R, Waddell J (1986) Techniques for reduction and posterior fixation through the anterior approach. Clin Orthop 329:115–120

12.

Magee DJ (1987) Pelvic joints. In: Magee DJ (ed) Orthopaedic physical assessment, 2nd edn. Saunders, Philadelphia, pp 308–332

13.

Marcus R, Hansen S (1984) Bilateral fracture-dislocation of the sacrum. J Bone Joint Surg [Am] 66:1297–1299

14.

Matta J, Saucedo T (1989) Internal fixation of pelvic ring fractures. Clin Orthop 242:83–97

15.

Mears D, Capito C, Deleeuw H (1988) Posterior pelvic disruption managed by the use of the double cobra plate. Instr Course Lect 37:143–150

16.

Rand J (1985) Anterior sacro-iliac arthrodesis for post-traumatic sacro-iliac arthritis. J Bone J Surg [Am] 67:157–159

17.

Routt M, Simonian P (1996) Internal fixation of pelvic ring disruptions. Injury 27 (Suppl 2):B20–B30

18.

Routt M, Kregor P, Simonian P et al. (1995) Early results of percutaneous iliosacral screws placed with the patient in the supine position. J Orthop Trauma 9:207–214

19.

Routt M, Simonian P, Inaba J (1994) Iliosacral screw fixation of the disrupted sacroiliac joint. Tech Orthop 9:300–314

20.

Routt M, Simonian P, Mills W (1997) Iliosacral screw fixation: early complications of the percutaneous technique. J Orthop Trauma 11:584–589

21.

Simpson L, Waddell J, Leighton R et al. (1987) anterior approach and stabilization of the disrupted sacroiliac joint. J Trauma 27:1332–1339

22.

Waisbrod H, Krainick JU, Gerbershagen HU (1987) Sacroiliac joint arthrodesis for chronic lower back pain. Arch Orthop Trauma Surg 106:238–230
About this article
Cite this article
Giannikas, K.A., Khan, A.M., Karski, M.T. et al. Sacroiliac joint fusion for chronic pain: a simple technique avoiding the use of metalwork. Eur Spine J 13, 253–256 (2004). https://doi.org/10.1007/s00586-003-0620-1
Received:

Revised:

Accepted:

Published:

Issue Date:
Keywords
Sacroiliac joint

Fusion

Chronic pain