Abstract
Vertebral fractures are the hallmark of osteoporosis, and occur with a higher incidence earlier in life than any other type of osteoporotic fractures. It has been shown that both symptomatic and asymptomatic vertebral fractures are associated with increased morbidity and mortality. Morbidity associated with these fractures includes decreased physical function and social isolation, which have a significant impact on the patient's overall quality of life. Since the majority of vertebral fractures do not come to clinical attention, radiographic diagnosis is considered to be the best way to identify and confirm the presence of osteoporotic vertebral fractures in clinical practice. Traditionally, conventional lateral radiographs of the thoracolumbar spine have been visually evaluated by radiologists or clinicians to identify vertebral fractures. The two most widely used methods to determine the severity of such fractures in clinical research are the semiquantitative assessment of vertebral deformities, which is based on visual evaluation, and the quantitative approach, which is based on different morphometric criteria. In our practice for osteoporosis evaluation we use the Genant semiquantitative approach: an accurate and reproducible method tested and applied in many clinical studies. The newest generation of fan-beam DXA systems delivering "high-resolution" lateral spine images offers a potential practical alternative to radiographs for clinical vertebral fracture analysis. The advantages of using DXA over conventional radiographic devices are its minimal radiation exposure and high-speed image acquisition. It also allows combined evaluation of vertebral fracture status and bone mass density, which could become a standard for patient evaluation in osteoporosis. The disadvantage of DXA use is that upper thoracic vertebrae cannot be evaluated in a substantial number of patients due to poor imaging quality. We truly believe that the that there is a major role for radiologists and clinicians alike to carefully assess and diagnose vertebral fractures using standardized grading schemes such as the one outlined in this review. Quantitative morphometry is useful in the context of epidemiological studies and clinical drug trials; however, the studies would be flawed if quantitative morphometry were to be performed in isolation without additional adjudication by a trained and highly experienced radiologist or clinician.
Access options
Buy single article
Instant access to the full article PDF.
US$ 39.95
Tax calculation will be finalised during checkout.
Subscribe to journal
Immediate online access to all issues from 2019. Subscription will auto renew annually.
US$ 119
Tax calculation will be finalised during checkout.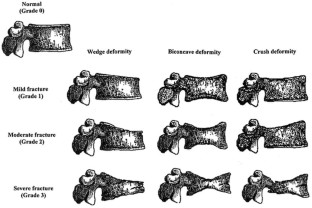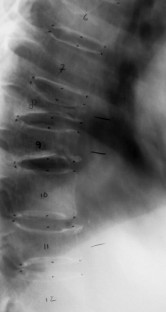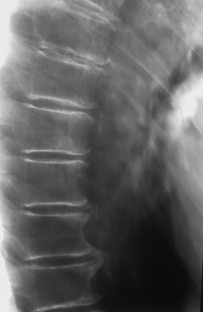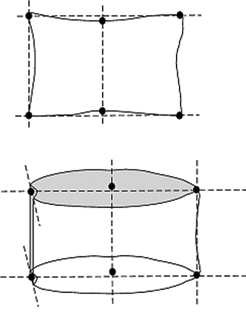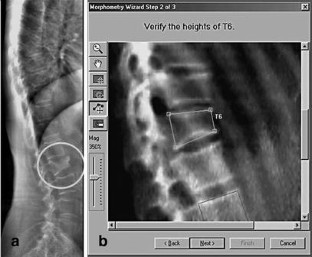 References
1.

Black D, Palermo L, Nevitt MC, Genant HK, Epstein R, San Valentin R, Cummings SR, and the Study of Osteoporotic Fractures Research Group (1995) Comparison of methods for defining prevalent vertebral deformities: the study of osteoporotic fractures. J Bone Miner Res 10:890–902

2.

Black DM, Arden NK, Palermo L, Pearson J, Cummings SR (1999) Prevalent vertebral deformities predict hip fractures and new vertebral deformities but not wrist fractures. Study of Osteoporotic Fractures Research Group. J Bone Miner Res 14:821–828

3.

Black DM, Cummings SR, Stone K, Hudes E, Palermo L, Steiger P (1991) A new approach to defining normal vertebral dimensions. J Bone Miner Res 6:883–892

4.

Blake GM, Rea JA, Fogelman I (1997) Vertebral morphometry studies using dual-energy X-ray absorptiometry. Semin Nucl Med 27:276–290

5.

Davis JW, Grove JS, Wasnich RD, Ross PD (1999) Spatial relationships between prevalent and incident spine fractures. Bone 24:261–264

6.

Delmas PD, Watts N, Eastell R, von Ingersleben G, van de Langerijt L, Cahall DL (2001) Underdiagnosis of vertebral fractures is a worldwide problem: The IMPACT Study. J Bone Miner Res 16 Suppl. 1:S139

7.

Ensrud KE, Nevitt MC, Palermo L, Cauley JA, Griffith JM, Genant HK, Black DM (1999) What proportion of incident morphometric vertebral fractures are clinically diagnosed and vice versa? J Bone Miner Res 14:S138

8.

Ensrud KE, Thompson DE, Cauley JA, Nevitt MC, Kado DM, Hochberg MC, Santora AC 2nd, Black DM (2000) Prevalent vertebral deformities predict mortality and hospitalization in older women with low bone mass. Fracture Intervention Trial Research Group. J Am Geriatr Soc 48:241–249

9.

Ettinger B, Black DM, Nevitt MC, Rundle AC, Cauley JA, Cummings SR, Genant HK (1992) Contribution of vertebral deformities to chronic back pain and disability. The Study of Osteoporotic Fractures Research Group. J Bone Miner Res 7:449–456

10.

Ettinger B, Cooper C (1995) Clinical assessment of osteoporotic vertebral fractures. In: Genant HK, Jergas M, van Kuijk C (ed) Vertebral fracture in osteoporosis. Radiology Research and Education Foundation, San Francisco, pp 15–20

11.

Ferrar L, Jiang G, Eastell R, Peel NF (2003) Visual identification of vertebral fractures in osteoporosis using morphometric X-ray absorptiometry. J Bone Miner Res 18:933–938

12.

Genant HK, Jergas M (2003) Assessment of prevalent and incident vertebral fractures in osteoporosis research. Osteoporos Int 14 Suppl 3:S43–S55

13.

Genant HK, Jergas M, Palermo L, Nevitt MC, Valentin RS, Black D, Cummings SR (1996) Comparison of semiquantitative visual and quantitative morphometric assessment of prevalent and incident vertebral fractures in osteoporosis. The Study of Osteoporotic Fractures Research Group. J Bone Miner Res 11:984–996

14.

Genant HK, van Kuijk C, Jergas M (1995) Vertebral fracture in osteoporosis. Radiology Research and Education Foundation, San Francisco

15.

Genant HK, Wu CY, van Kuijk C, Nevitt MC (1993) Vertebral fracture assessment using a semiquantitative technique. J Bone Miner Res 8:1137–1148

16.

Gold DT (2001) The nonskeletal consequences of osteoporotic fractures. Psychologic and social outcomes. Rheum Dis Clin North Am 27:255–262

17.

Grados F, Roux C, de Vernejoul MC, Utard G, Sebert JL, Fardellone P (2001) Comparison of four morphometric definitions and a semiquantitative consensus reading for assessing prevalent vertebral fractures. Osteoporos Int 12:716–722

18.

Guermazi A, Mohr A, Grigorian M, Taouli B, Genant HK (2002) Identification of vertebral fractures in osteoporosis. Semin Musculoskelet Radiol 6:241–252

19.

Hans D, Baiada A, Dubouef F, Vignot E, Bochu M, Meunier P. Expert-XL (1996) Clinical evaluation of a new morphometric technique on 21 patients with vertebral fracture. Osteoporos Int 6:79

20.

Heuck AF, Block J, Glueer CC, Steiger P, Genant HK (1989) Mild versus definite osteoporosis: comparison of bone densitometry techniques using different statistical models. J Bone Miner Res 4:891–900

21.

Jergas M, Lang TF, Fuerst T (1995) Morphometric X-ray absorptiometry. In: Genant HK, Jergas M, van Kuijk C (ed) Vertebral fracture in osteoporosis. Radiology Research and Education Foundation Publishers, San Francisco, pp 331–348

22.

Kado DM, Duong T, Stone KL, Ensrud KE, Nevitt MC, Greendale GA, Cummings SR (2003) Incident vertebral fractures and mortality in older women: a prospective study. Osteoporos Int 14:589–594

23.

Kanis JA, Delmas P, Burckhardt P, Cooper C, Torgerson D (1997) Guidelines for diagnosis and management of osteoporosis. The European Foundation for Osteoporosis and Bone Disease. Osteoporos Int 7:390–406

24.

Katragadda CS, Fogel SR, Cohen G, Wagner LK, Morgan C 3rd, Handel SF, Amtey SR, Lester RG (1979) Digital radiography using a computed tomographic instrument. Radiology 133:83–87

25.

Kiel D (1995) Assessing vertebral fractures. National Osteoporosis Foundation Working Group on Vertebral Fractures. J Bone Miner Res 10:518–523

26.

Kleerekoper M, Nelson DA (1992) Vertebral fracture or vertebral deformity. Calcif Tissue Int 50:5–6

27.

Kotowicz MA, Melton LJ 3rd, Cooper C, Atkinson EJ, O'Fallon WM, Riggs BL (1994) Risk of hip fracture in women with vertebral fracture. J Bone Miner Res 9:599–605

28.

Lang T, Takada M, Gee R, Wu C, Li J, Hayashi-Clark C, Schoen S, March V, Genant HK (1997) A preliminary evaluation of the lunar expert-XL for bone densitometry and vertebral morphometry. J Bone Miner Res 12:136–143

29.

Leidig-Bruckner G, Genant HK, Minne HW, Storm T, Thamsborg G, Bruckner T, Sauer P, Schilling T, Soerensen OH, Ziegler R (1994) Comparison of a semiquantitative and a quantitative method for assessing vertebral fractures in osteoporosis. Osteoporos Int 4:154–161

30.

McCloskey EV, Spector TD, Eyres KS, Fern ED, O'Rourke N, Vasikaran S, Kanis JA (1993) The assessment of vertebral deformity: a method for use in population studies and clinical trials. Osteoporos Int 3:138–147

31.

Melton LJ III, Kan SH, Frye MA, Wahner HW, O'Fallon WM, Riggs BL (1989) Epidemiology of vertebral fractures in women. Am J Epidemiol 129:1000–1011

32.

Melton LJ 3rd, Atkinson EJ, Cooper C, O'Fallon WM, Riggs BL (1999) Vertebral fractures predict subsequent fractures. Osteoporos Int 10:214–221

33.

Meunier P (1968) La dynamique du remaniement osseux humain, etudiee par lecture quantitative de la biopsie osseuse. Lyon

34.

Meunier PJ, Delmas PD, Eastell R, McClung MR, Papapoulos S, Rizzoli R, Seeman E, Wasnich RD (1999) Diagnosis and management of osteoporosis in postmenopausal women: clinical guidelines. International Committee for Osteoporosis Clinical Guidelines. Clin Ther 21:1025–44. Review

35.

Nevitt MC, Ettinger B, Black DM, Stone K, Jamal SA, Ensrud K, Segal M, Genant HK, Cummings SR (1998) The association of radiographically detected vertebral fractures with back pain and function: a prospective study Ann Intern Med 128:793–800

36.

Nevitt MC, Ross PD, Palermo L, Musliner T, Genant HK, Thompson DE (1999) Association of prevalent vertebral fractures, bone density, and alendronate treatment with incident vertebral fractures: effect of number and spinal location of fractures. The Fracture Intervention Trial Research Group. Bone 25:613–619

37.

Rea JA, Li J, Blake GM, Steiger P, Genant HK, Fogelman I (2000) Visual assessment of vertebral deformity by X-ray absorptiometry: a highly predictive method to exclude vertebral deformity. Osteoporos Int 11:660–668

38.

Rea JA, Steiger P, Blake GM, Fogelman I (1998) Optimizing data acquisition and analysis of morphometric X-ray absorptiometry. Osteoporos Int 8:177–183

39.

Ross PD, Davis JW, Epstein RS, Wasnich RD (1991) Pre-existing fractures and bone mass predict vertebral fracture incidence in women. Ann Intern Med 114:919–923

40.

Ross PD, Davis JW, Epstein RS, Wasnich RD (1992) Ability of vertebral dimensions from a single radiograph to identify fractures. Calcif Tissue Int 51:95–99

41.

Ross PD, Genant HK, Davis JW, Miller PD, Wasnich RD (1993) Predicting vertebral fracture incidence from prevalent fractures and bone density among non-black, osteoporotic women. Osteoporos Int 3:120–126

42.

Ross PD, Yhee YK, He YF, Davis JW, Kamimoto C, Epstein RS et al (1993) A new method for vertebral fracture diagnosis. J Bone Miner Res 8:167–174

43.

Sener RN, Ripeckyj GT, Otto PM, Rauch RA, Jinkins JR (1993) Recognition of abnormalities on computed scout images in CT examinations of the head and spine. Neuroradiology 35:229–231

44.

Smith RW, Eyler WR, Mellinger RC (1960) On the incidence of osteoporosis. Ann Intern Med 52:773–781

45.

Spector TD, McCloskey EV, Doyle DV, Kanis JA (1993) Prevalence of vertebral fracture in women and the relationship with bone density and symptoms: the Chingford Study. J Bone Miner Res 8:817–822

46.

Steiger P, Cummings SR, Genant HK, Weiss H (1994) Morphometric X-ray absorptiometry of the spine: correlation in vivo with morphometric radiography. Study of Osteoporotic Fractures Research Group. Osteoporos Int 4:238–244

47.

Storm T, Thamsborg G, Steiniche T, Genant HK, Sørenson OH (1990) Effect of intermittent cyclical etidronate therapy on bone mass and fracture rate in women with postmenopausal osteoporosis. N Engl J Med 322:1265–1271

48.

Takada M, Wu CY, Lang TF, Genant HK (1998) Vertebral fracture assessment using the lateral scoutview of computed tomography in comparison with radiographs. Osteoporos Int 8:197–203

49.

Van Kuijk C, Genant HK (1995) Radiology in osteoporosis. In: Riggs BL, Melton LJ (eds) Osteoporosis. Raven, New York

50.

Watts NB, Harris ST, Genant HK, Wasnich RD, Miller PD, Jackson RD, Licata AA, Ross P, Woodson GCI, Yanover MJ, Mysiw J, Kohse L, Rao MB, Steiger P, Richmond B, Chesnut CHI (1990) Intermittent cyclical etidronate treatment of postmenopausal osteoporosis. N Engl J Med 323:73–79

51.

World Health Organization (1994) Assessment of fracture risk and its application to screening for postmenopausal osteoporosis. Report of a WHO study group. WHO technical report series, Geneva, pp 843:1–129

52.

Wu CY, Li J, Jergas M, Genant HK (1994) Semiquantitative and quantitative assessment of incident fractures: comparison of methods. J Bone Miner Res 9:S157
About this article
Cite this article
Grigoryan, M., Guermazi, A., Roemer, F.W. et al. Recognizing and reporting osteoporotic vertebral fractures. Eur Spine J 12, S104–S112 (2003). https://doi.org/10.1007/s00586-003-0613-0
Received:

Accepted:

Published:

Issue Date:
Keywords
Osteoporosis

Vertebral fractures

Semiquantitative assessment

Bone mineral density

Quantitative morphometry