Abstract
Hormonal disorders, oxidative stress, and inflammation in ovarian tissue cause ovulation failure in women with polycystic ovary syndrome. Considering the antioxidant properties of gallic acid (GA), the aim of this study was to investigate the effect of GA on pro-inflammatory cytokines, antioxidant enzyme activity, and DNA oxidative damage of ovarian tissue in a rat model of estradiol-induced polycystic ovary (PCO). In this experimental study, 32 female Wistar rats were divided into four groups. These included control (saline solution, orally), PCO+saline (estradiol valerate + saline solution, orally), PCO+GA50, and PCO+GA100 (estradiol valerate +50 and 100 mg/kg gallic acid, orally), respectively. The PCO model was induced by a single intramuscular injection of estradiol valerate (EV, 4 mg/kg). Twenty-four days after PCO modeling, tissue concentration of tumor necrosis factor alpha (TNF-α), interleukin-1β (IL-1β), and interleukin-6 (IL-6) and also the activity level of superoxide dismutase (SOD), catalase (CAT), glutathione peroxidase (GPX), malondialdehyde (MDA), and 8-oxo-2′-deoxyguanosine (8-OHdG) in ovarian tissue were measured through ELISA technique. Compared with the PCO+saline, in the GA-treated group, the concentration of TNF-α, IL-1β, and IL-6 in a dose-dependent manner significantly decreased (p > 0.05). In addition, the activity level of SOD, CAT, and GPX enzymes significantly increased (p < 0.05), while the amount of MDA and 8-OHdG significantly decreased (p > 0.05) in a dose-dependent manner. GA is an anti-inflammatory and an antioxidant polyphenol which reduces the concentration of inflammatory cytokines, oxidative stress, lipid peroxidation, and DNA oxidative damage of ovarian tissue in a rat's model of PCO.
Access options
Buy single article
Instant access to the full article PDF.
USD 39.95
Price includes VAT (USA)
Tax calculation will be finalised during checkout.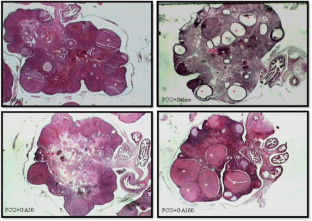 References
Alchami A, O'Donovan O, Davies M (2015) PCOS: diagnosis and management of related infertility. Obstet Gynaecol Reprod Med 25(10):279–282

Boots CE, Jungheim ES (2015) Inflammation and human ovarian follicular dynamics. Semin Reprod Med 33(4):270–275

Ciaraldi TP, Aroda V, Mudaliar SR, Henry RR (2013) Inflammatory cytokines and chemokines, skeletal muscle and polycystic ovary syndrome: effects of pioglitazone and metformin treatment. Metabolism 62(11):1587–1596

Cohen G, Riahi Y, Sunda V, Deplano S, Chatgilialoglu C, Ferreri C, Kaiser N, Sasson S (2013) Signaling properties of 4-hydroxyalkenals formed by lipid peroxidation in diabetes. Free RadicBiol Med 65:978–987

Dikmen A, Ergenoglu AM, Yeniel AO, Dilsiz OY, Ercan G, Yilmaz H (2012) Evaluation of glycemic and oxidative/antioxidative status in the estradiol valerate-induced PCOS model of rats. Eur J Obstet Gynecol Reprod Biol 160(1):55–59

Farbood Y, Sarkaki A, Hashemi S, Mansouri MT, Dianat M (2013) The effects of gallic acid on pain and memory following transient global ischemia/reperfusion in wistar rats. Avicenna J Phytomed 3(4):329–340

Furat Rencber S, Kurnaz Ozbek S, Eraldemır C, Sezer Z, Kum T, Ceylan S, Guzel E (2018) Effect of resveratrol and metformin on ovarian reserve and ultrastructure in PCOS: an experimental study. J Ovarian Res 11(1):55

Ghowsi M, Khazali H, Sisakhtnezhad S (2018) Evaluation of TNF-α and IL-6 mRNAs expressions in visceral and subcutaneous adipose tissues of polycystic ovarian rats and effects of resveratrol. Iran J Basic Med Sci 21(2):165–174

Goodarzi MO, Carmina E, Azziz R (2015) DHEA, DHEAS and PCOS. J Steroid Biochem Mol Biol 145:213–225

Hsu W, Chang S, Lin L, Li C, Richardson C, Lin C et al (2015) Limonium sinense and gallic acid suppress hepatitis C virus infection by blocking early viral entry. Antivir Res 118:139–147

Jelodar G, Masoomi S, Rahmanifar F (2018) Hydroalcoholic extract of flaxseed improves polycystic ovary syndrome in a rat model. Iran J Basic Med Sci 21(6):645–650

Joham AE, Palomba S, Hart R (2016) Polycystic ovary syndrome, obesity, and pregnancy. Semin Reprod Med 34(2):93–101

Kroes BH, van den Berg AJ, Quarles van Ufford HC, van Dijk H, Labadie RP (1992) Anti-inflammatory activity of gallic acid. Planta Med 58:499–504

Li B, Weng Q, Liu Z, Shen M, Zhang J, Wu W, Liu H (2017) Selection of antioxidants against ovarian oxidative stress in mouse model. J Biochem Mol Toxicol 31(12):e21997

Lu J, Wang Z, Cao J, Chen Y, Dong Y (2018) A novel and compact review on the role of oxidative stress in female reproduction. Reprod Biol Endocrinol 16(1):80

Matsuzaki T, Tungalagsuvd A, Iwasa T, Munkhzaya M, Yanagihara R, Tokui T, Yano K, Mayila Y, Kato T, Kuwahara A, Matsui S, Irahara M (2017) Kisspeptin mRNA expression is increased in the posterior hypothalamus in the rat model of polycystic ovary syndrome. Endocr J 64(1):7–14

Naderpoor N, Shorakae S, de Courten B, Misso ML, Moran LJ, Teede HJ (2016) Metformin and lifestyle modification in polycystic ovary syndrome: systematic review and meta-analysis. Hum Reprod Update 21(5):560–557

Palomo J, Dietrich D, Martin P, Palmer G, Gabay C (2015) The interleukin (IL)-1 cytokine family - balance between agonists and antagonists in inflammatory diseases. Cytokine 76(1):25–37

Pandurangan AK, Mohebali N, Esa NM, Looi CY, Ismail S, Saadatdoust Z (2015) Gallic acid suppresses inflammation in dextran sodium sulfate-induced colitis in mice: possible mechanisms. Int Immunopharmacol 28(2):1034–1043

Priscilla DH, Prince PS (2009) Cardioprotective effect of gallic acid on cardiac troponin-T, cardiac marker enzymes, lipid peroxidation products and antioxidants in experimentally induced myocardial infarction in Wistar rats. Chem Biol Interact 179(2–3):118–124

Roidoung S, Dolan KD, Siddiq M (2016) Gallic acid as a protective antioxidant against anthocyanin degradation and color loss in vitamin-C fortified cranberry juice. Food Chem 210:422–427

Santbrink EJP, Fauser BCJM (2006) Ovulation induction in normo-gonadotropic anovulation (PCOS). Best Pract Res Clin Endocrinol Metab 20(2):261–270

Setyaningsih Y, Husodo AH, Astuti I (2015) Detection of urinary 8-hydroxydeoxyguanosine (8-OHdG) levels as a biomarker of oxidative DNA damage among home industry workers exposed to chromium. Procedia Environ Sci 23:290–296

Shi Y, Kong X, Yin H, Zhang W, Wang W (2018) Effect of hawthorn leaf flavonoids in dehydroepiandrosterone-induced polycystic ovary syndrome in rats. Pathobiology 7:1–9

Walters KA, Allan CM, Handelsman DJ (2012) Rodent models for human polycystic ovary syndrome. Biol Reprod 86(5):1–12

Wang Y, Zhu W (2012) Evaluation of adiponectin, resistin, IL-6, TNF-α in obese and non-obese women with polycystic ovary syndrome. Reprod Contracept 23(4):237–244

Yao X, Huang J, Zhong H, Shen N, Faggioni R, Fung M, Yao Y (2014) Targeting interleukin-6 in inflammatory autoimmune diseases and cancers. Pharmacol Ther 141(2):125–139

Yao Y, Wu M, Huang Y, Li C, Pan X, Zhu W, Huang Y (2017) Appropriately raising fermentation temperature beneficial to the increase of antioxidant activity and gallic acid content in Eurotium cristatum-fermented loose tea. LWT Food Sci Technol 82:248–254

Yigitturk G, Acara AC, Erbas O, Oltulu F, Yavasoglu NUK, Uysal A, Yavasoglu A (2017) The antioxidant role of agomelatine and gallic acid on oxidative stress in STZ induced type I diabetic rat testes. Biomed Pharmacother 87:240–246

Yoshino M, Haneda M, Naruse M, Htay HH, Iwata S, Tsubouchi R, Murakami K (2002) Prooxidant action of gallic acid compounds: copper-dependent strand breaks and the formation of 8-hydroxy-2′-deoxyguanosine in DNA. Toxicol in Vitro 16(6):705–709

Zuo T, Zhu M, Xu W (2016) Roles of oxidative stress in polycystic ovary syndrome and cancers. Oxidative Med Cell Longev 2016:8589318
Ethics declarations
Conflict of interest
The authors declare that they have no conflict of interest.
Ethical approval
All applicable international, national, and institutional guidelines for the care and use of animals were followed.
Additional information
Publisher's note
Springer Nature remains neutral with regard to jurisdictional claims in published maps and institutional affiliations.
About this article
Cite this article
Mazloom, B.F., Edalatmanesh, M.A. & Hosseini, S.E. Gallic acid reduces inflammatory cytokines and markers of oxidative damage in a rat model of estradiol-induced polycystic ovary. Comp Clin Pathol 28, 1281–1286 (2019). https://doi.org/10.1007/s00580-019-02920-3
Received:

Accepted:

Published:

Issue Date:
Keywords
Polycystic ovary syndrome

Gallic acid

Inflammatory cytokine

Oxidative stress

Rat