Abstract
The study was conducted to assess the effect of zinc on erythrocyte osmotic fragility and hemogram of rats following chronic oral exposure to glyphosate-based herbicide (BUSHFIRE®) at daily doses of 14.4–750 mg/kg of glyphosate. The erythrocyte osmotic fragility, estimated as percentage hemolysis in hypotonic saline, was significantly (p < 0.05) increased in glyphosate-exposed groups at 0.5–0.9% NaCl concentrations, and the fragility was ameliorated in the groups with zinc pretreatments only at 0.5% NaCl. The toxicity did not have any significant effect on the packed cell volume and other erythrocyte parameters. There was significant (p < 0.05) decrease in total white blood cell and lymphocyte counts in glyphosate-exposed groups, which was absent in zinc-pretreated groups. In conclusion, increased erythrocyte osmotic fragility induced by glyphosate could be prevented following zinc pretreatment, but the altered leukogram caused by the toxic action was not fully ameliorated in the pretreated group.
This is a preview of subscription content, log in to check access.
Access options
Buy single article
Instant access to the full article PDF.
US$ 39.95
Price includes VAT for USA
Subscribe to journal
Immediate online access to all issues from 2019. Subscription will auto renew annually.
US$ 99
This is the net price. Taxes to be calculated in checkout.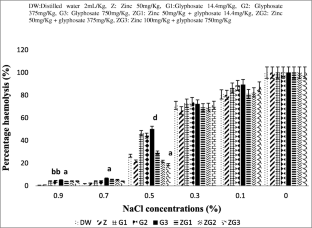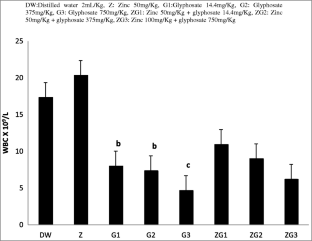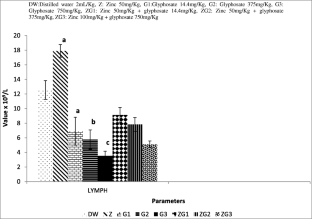 References
Ambali, S. F., Abubakar, A. T., Shittu, M., Yaqub, S.L. Anafi, S.B. and Abdullahi,A. (2010). Chlorpyrifos-induced alteration of haematological parameters in Wistar rats : ameliorative effects of zinc. Res J Environ Toxicol, 4: 55–66

Beuret CJ, Zirulnik F, Giménez MS (2004) Effects of the herbicide glyphosate on liver lipoperoxidation in pregnant rats and their fetuses. Reprod Toxicol 19(4):501–504

Daruich J, Zirulnik F, Gimenez MS (2001) Effect of the herbicide glyphosate on enzymatic activity in pregnant rats and their fetuses. Environ Res 85:226–231

Goel A, Danni V, Dhawan DK (2006) Role of zinc in mitigating toxic effects of chlorpyrifos on haematological alterations and electron microscopic observations in rat blood. Biometals 19(15):483–492

Organization for Economic Cooperation and Development (2009). Chronic toxicity studies- duration of study. OECD Guideline for Testing Chemicals, 452

Olorunsogo O, Bababunmi E, Bassir O (1979) Effect of glyphosate on rat liver mitochondria in vivo. Bull Environ Toxicol 2:257–264

Oyewale JO (1993) Effect of the storage of blood on the osmotic fragility of mammalian erythrocytes. J Vet Med 40:258–264

Parrat MO, Richard MJ, Beani JC, Favier A (1997) Involvement of zinc in intracellular oxidant/antioxidant balance. Biol Trace Elem Res 60:187–204

Prasad AS, Kucuk O (2002) Zinc in cancer prevention. Cancer Metastasis Rev 21:291–295

Sahin A, Kucuk O (2003) Zinc supplementation alleviates heat stress in laying Japanese quail. J Nutr 133:2808–2811

Schronbrunn E, Eschenburg S, Schuttleworth WA, Schloss JV, Amrhein N, Evans JNS, Kabsch W (2001) Interaction of the herbicide glyphosate with its target enzyme 5-enolpyruvylshikimate 3-phosphate synthase in atomic detail. Proc Natl Acad Sci USA 98:1376–1380

Teruel M, Garcia V, Catalano R (2009) Effects of albendazole sulphoxide on embryonic, foetal and placental parameters in Wistar rats. Int J Morphol 27(4):1147–1153

Tizhe EV, Ibrahim NDG, Fatihu MY, Igbokwe IO, George BDJ, Ambali SF, Shallangwa JM (2013) Haematological changes induced by subchronic glyphosate exposure: ameliorative effect of zinc in Wistar rats. Sokoto J Vet Sci 11(2):28–35

Tizhe EV, Ibrahim NDG, Fatihu MY, Igbokwe IO, George BDJ, Ambali SF, Shallangwa JM (2014) Influence of zinc supplementation on histopathological changes in the stomach, liver, kidney, brain, pancreas and spleen during subchronic exposure of Wistar wats to glyphosate. Comp Clin Pathol 23:1535–1543

Williams GM, Kroes R, Munro IC (2000) Safety evaluation and risk assessment of the herbicide Roundup® and its active ingredient, glyphosate, for human. Regul Toxicol Pharmacol 31:117–165
Acknowledgements
We hereby acknowledge the contribution of Dr. Uchendu Chidiebere, Department of Veterinary Pharmacology, Physiology and Biochemistry, University of Jos who helped us with the data analysis.
Ethics declarations
This work was carried out after approval was obtained from the ethical committee on the care and use of animals in research of Ahmadu Bello University, Zaria, Nigeria.
Conflict of interest
The authors declare that they have no conflict of interest.
Additional information
Publisher's note
Springer Nature remains neutral with regard to jurisdictional claims in published maps and institutional affiliations.
About this article
Cite this article
Tizhe, E.V., Ibrahim, N.D., Fatihu, M.Y. et al. Effect of zinc on erythrocyte osmotic fragility and hemogram following chronic exposure to glyphosate-based herbicide in Wistar rats. Comp Clin Pathol 28, 1275–1279 (2019). https://doi.org/10.1007/s00580-019-02917-y
Received:

Accepted:

Published:

Issue Date:
Keywords
Glyphosate

Zinc

Erythrocyte osmotic fragility

Leukogram

Toxicity