Abstract
Antidiabetic effects of methanol and ethyl acetate extracts of roots of Aristolochia ringens (Vahl) were comparatively assessed in streptozotocin (STZ)-induced rats. Pulverized root of A. ringens was soaked with methanol, filtered, and concentrated to dryness. The resulting residue was subsequently dissolved in ethyl acetate, filtered, and concentrated to dryness to obtain ethyl acetate extract. Methanol and ethyl acetate extracts of A. ringens root yielded 20.50 g (10.25%) and 16.4 g (8.2%) respectively. Both extracts (150 mg/kg bw) and metformin (14.2 mg/kg bw) used as reference were administered orally to STZ-induced diabetic rats for 7 days. Fasting blood glucose (FBG) level was monitored and percentage reduction in glycemia computed. Hepatic concentrations of glucose and glycogen as well as alpha amylase and glucose-6-phosphate dehydrogenase activities were also evaluated. FBG level persisted in animals that were diabetic but not treated (323.20 ± 1.01 mg/dL), whereas FBG levels in treated rats following administration of metformin, ethyl acetate, and methanol extracts for 7 days were 148.55 ± 1.62, 129.08 ± 2.52, and 181.21 ± 0.44 mg/dL, resulting in percentage reduction of 80.93%, 85.44%, and 69.10% in glycemia respectively. Ethyl acetate extracts from A. ringens root caused higher reduction in hepatic glucose concentration with concomitant increase in glycogen level when compared to the methanol extract. The root extracts also stimulated the activity of glucose-6-phosphate dehydrogenase while inhibiting the activity of α-amylase in the liver of the treated groups compared to the untreated groups. Findings from this study revealed that ethyl acetate extract of Aristolochia ringens displayed strong antidiabetic potential than the methanol extract of the same plant.
This is a preview of subscription content, log in to check access.
Access options
Buy single article
Instant access to the full article PDF.
US$ 39.95
Price includes VAT for USA
Subscribe to journal
Immediate online access to all issues from 2019. Subscription will auto renew annually.
US$ 99
This is the net price. Taxes to be calculated in checkout.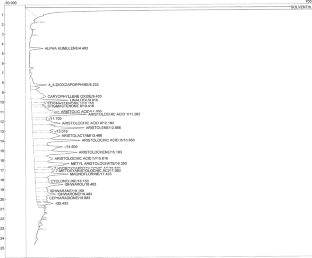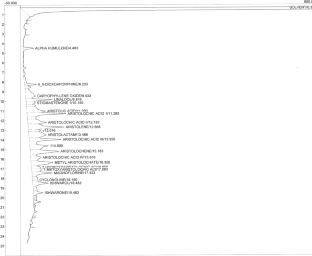 References
Adeyemi OO, Aigbe FR, Badru OA (2012) The antidiarrhoeal activity of the aqueous root extract of Aristolochia ringens (Vahl.) Aristolochiaceae. Nigerian Q J Hospital Med 22(1):29–33

American Diabetes Association (2014) Diagnosis and classification of diabetes mellitus. Diabetes Care 37(1):81–90

Bailey CJ, Day C (1989) Traditional plant medicines as treatments for diabetes. Diabetes Care 112(8):553–564

Barham D, Trinder P (1972) An improved colour reagent for the determination of blood glucose by the oxidase system. Analyst 97(1151):142–145

Beck-Nielsen H, Hother-Nielsen O, Staehr P (2002) Is hepatic glucose production increased in type 2 diabetes mellitus? Curr Diab Rep 2(3):231–236

Consoli A (1992) Role of liver in pathophysiology of NIDDM. Diabetes Care 5(3):430–441

Cooke DW, Plotnick L (2008) Type 1 diabetes mellitus in pediatrics. Pediatr Rev 29(11):374–384

Dineshkumar B, Mitra A, Mahadevappa M (2010) Antidiabetic and hypolipidemic effects of mahanimbine (carbazole alkaloid) from Murraya koenigii (rutaceae) leaves. Int J Phytomed 1:2(1)

Fabricant DS, Farnsworth NR (2001) The value of plants used in traditional medicine for drug discovery. Environ Health Perspect 109(Suppl 1):69

Fowler MJ (2007) Diabetes treatment, part 2: oral agents for glycemic management. Clin Diab 25(4):131–134

Lohr GW, Waller HD (1974) Glucose–6–phosphate dehydrogenase, 3rd edn. Method of Enzymatic Analysis, VarlagChemie, Wehnheim

Lowry OH, Rosebrough NJ, Farr AL, Randall RJ (1951) Protein measurement with the Folin phenol reagent. J Biol Chem 193(1):265–275

McCue P, Vattem D, Shetty K (2004) Inhibitory effect of clonal oregano extracts against porcine pancreatic amylase in vitro. Asia Pac J Clin Nutr 13(4):401–408

Nayak BS, Marshall JR, Isitor G, Adogwa A (2010) Hypoglycemic and hepatoprotective activity of fermented fruit juice of Morinda citrifolia (Noni) in diabetic rats. Evid Based Complement Alternat Med 2011:5

Olabanji SO, Omobuwajo OR, Ceccato D, Adebajo AC, Buoso MC, Moschini G (2008) Accelerator-based analytical technique in the study of some antidiabetic medicinal plants of Nigeria. Nucl Instr Meth Phys Res 266:2387–2390

Panneerselvam RS, Govindaswamy S (2002) Effect of sodium molybdate on carbohydrate metabolizing enzymes in alloxan-induced diabetic rats. J Nutr Biochem 13(1):21–26

Passonneau JV, Lauderdale VR (1974) A comparison of three methods of glycogen measurement in tissues. Anal Biochem 60(2):405–412

Patel MB, Mishra S (2011) Hypoglycemic activity of alkaloidal fraction of Tinospora cordifolia. Phytomedicine 18(12):1045–1052

Pepato MT, Mori DM, Baviera AM, Harami JB, Vendramini RC, Brunetti IL (2005) Fruit of the jambolan tree (Eugenia jambolana Lam.) and experimental diabetes. J Ethnopharmacol 96(1):43–48

Pirart J (1978) Diabetes mellitus and its degenerative complications: a prospective study of 4,400 patients observed between 1947 and 1973. Diabetes Care 1(3):168–188

Reaven GM (1988) Role of insulin resistance in human disease. Diabetes 37(12):1595–1607

Saxena A, Vikram NK (2004) Role of selected Indian plants in management of type 2 diabetes: a review. J Altern Complement Med 10(2):369–378

Shi Y, Hu FB (2014) The global implications of diabetes and cancer. Lancet 383(9933):1947–1948

Sulyman AO, Akolade JO, Sabiu SA, Aladodo RA, Muritala HF (2016) Antidiabetic potentials of ethanolic extract of Aristolochia ringens (Vahl.) roots. J Ethnopharmacol 182:122–128

Thomas D, Cherest H, Surdin-Kerjan Y (1991) Identification of the structural gene for glucose-6-phosphate dehydrogenase in yeast. Inactivation leads to a nutritional requirement for organic sulfur. EMBO J 10(3):547–553

Udenta EA, Obizoba IC, Oguntibeju OO (2014) Antidiabetic effects of Nigerian indigenous plant foods/diet. Antioxidant-antidiabetic and human health. In Tech, Croatia, pp 59–93

Williams JR (2008) The Declaration of Helsinki and public health. Bull World Health Organ 86(8):650–652

World Health Organization (2014) Global health estimates: deaths by cause, age, sex & country, 2000–2012. World Health Organization

World Health Organization (2016) Global report on diabetes. World Health Organization

Xiao Y, Xue X, Wu YF, Xin GZ, Qian Y, Xie TP, Gong LK, Ren J (2009) β-Naphthoflavone protects mice from aristolochic acid-I-induced acute kidney injury in a CYP1A dependent mechanism. Acta Pharmacol Sin 30(11):1559–1565
Acknowledgements
We acknowledge the technologists, Department of Biochemistry, Kwara State University, Malete, for providing an enabling environment to carry out this research.
Ethics declarations
The study was approved by the Departmental Independent Ethical Committee of Kwara State University, Malete, Nigeria.
Conflict of interest
The authors declare that they have no conflict of interest.
Ethical approval
The principles of laboratory animal care (NIH Publication No. 85-23, 1996) was strictly followed in handling the animals.
Additional information
Publisher's note
Springer Nature remains neutral with regard to jurisdictional claims in published maps and institutional affiliations.
About this article
Cite this article
Sulyman, A.O., Akolade, J.O., Sabiu, S. et al. Antidiabetic efficacies of methanolic and ethyl acetate extracts of Aristolochia ringens (Vahl) roots: in vivo comparative studies. Comp Clin Pathol 28, 1267–1274 (2019). https://doi.org/10.1007/s00580-019-02912-3
Received:

Accepted:

Published:

Issue Date:
Keywords
Aristolochia ringens

Antidiabetic activity

Diabetes

Glucose metabolism