Abstract
Colon cancer is the third most common human malignancy and a main cause of death worldwide. The current study was carried out to investigate the effects of cannabidiol, a cannabinoid, on angiogenesis and cell death in mice with experimental colon cancer induced by injection of CT26 cell line. Fifty male BALB/c mice were assigned randomly to five study groups, including: (1) negative control, (2) cancer control, (3) cancer vehicle control, (3) cancer treatment (1 mg/kg cannabidiol), and (5) cancer treatment (5 mg/kg cannabidiol). Treatment responses were evaluated based on histopathological examination, the expression of vascular endothelial growth factor (VEGF) gene, measurement of interleukins (ILs 6 and 8), oxidative stress parameters (glutathione peroxidase, glutathione reductase, superoxide dismutase serum activities, total antioxidant capacity, and malondialdehyde levels). In the present study, CBD reduced VEGF gene expression, decreased serum levels of IL6, IL8, and malondialdehyde, and increased antioxidant enzyme activity in mice with colon cancer. Moreover, cannabidiol induced apoptosis and reduced cellular pleomorphism. Cannabidiol can be potentially considered as an anti-colon cancer medicine as it exerts an inhibitory effect on angiogenesis, tumor growth, and metastasis through reducing VEGF gene expression, decreasing cytokines, and increasing antioxidant enzyme activities.
Access options
Buy single article
Instant access to the full article PDF.
USD 39.95
Price excludes VAT (USA)
Tax calculation will be finalised during checkout.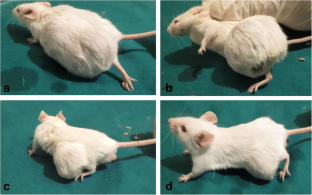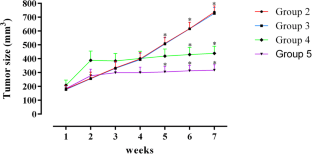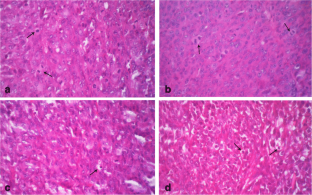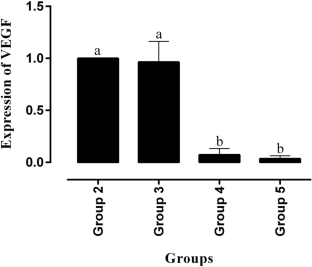 References
Ashokkumar P, Sudhandiran G (2008) Protective role of luteolin on the status of lipid peroxidation and antioxidant defense against azoxymethane-induced experimental colon carcinogenesis. Biomed Pharmacother 62:590–597

Aviello G, Romano B, Borrelli F, Capasso R, Gallo L, Piscitelli F, Di Marzo V, Izzo AA (2012) Chemopreventive effect of the non-psychotropic phytocannabinoid cannabidiol on experimental colon cancer. J Mol Med 90:925–934

Badjatia N, Satyam A, Singh P, Seth A, Sharma A (2010) Altered antioxidant status and lipid peroxidation in Indian patients with urothelial bladder carcinoma. Urol Oncol: seminars and original investigations. Elsevier, pp 360–367

Blázquez C, González-Feria L, Álvarez L, Haro A, Casanova ML, Guzmán M (2004) Cannabinoids inhibit the vascular endothelial growth factor pathway in gliomas. Cancer Res 64:5617–5623

Carlberg I, Mannervik B (1985) Glutathione reductase. Methods Enzymol 113:484–490

Croix B, Rago C, Velculescu V, Traverso G, Romans KE, Montgomery E, Lal A, Riggins GJ, Lengauer C, Vogelstein B, Kinzler KW (2000) Genes expressed in human tumor endothelium. Science 289:1197–1202

de Andrés PJ, Illera JC, Cáceres S, Díez L, Pérez-Alenza MD, Pena L (2013) Increased levels of interleukins 8 and 10 as findings of canine inflammatory mammary cancer. Vet Immunol Immunopathol 152:245–251

Folkman J (1972) Anti-angiogenesis: new concept for therapy of solid tumors. Ann Surg 175:409–416

Franceschi S, Wild CP (2013) Meeting the global demands of epidemiologic transition–the indispensable role of cancer prevention. Mol Oncol 7:1–13

Freimuth N, Ramer R, Hinz B (2010) Antitumorigenic effects of cannabinoids beyond apoptosis. J Pharmacol Exp Ther 332:336–344

Gallily R, Even-Chen T, Katzavian G, Lehmann D, Dagan A, Mechoulam R (2003) γ-Irradiation enhances apoptosis induced by cannabidiol, a non-psychotropic cannabinoid, in cultured HL-60 myeloblastic leukemia cells. Leuk Lymphoma 44:1767–1773

Greenhough A, Patsos HA, Williams AC, Paraskeva C (2007) The cannabinoid δ9-tetrahydrocannabinol inhibits RAS-MAPK and PI3K-AKT survival signalling and induces BAD-mediated apoptosis in colorectal cancer cells. Int J Cancer 121:2172–2180

Grivennikov S, Karin E, Terzic J, Mucida D, Yu GY, Vallabhapurapu S, Scheller J, Rose-John S, Cheroutre H, Eckmann L (2009) IL-6 and Stat3 are required for survival of intestinal epithelial cells and development of colitis-associated cancer. Cancer Cell 15:103–113

Gurudath S, Naik RM, Ganapathy K, Guruprasad Y, Sujatha D, Pai A (2012) Superoxide dismutase and glutathione peroxidase in oral submucous fibrosis, oral leukoplakia, and oral cancer: a comparative study. J Orofac Sci 4:114

Hosseini-Zijoud SM, Ebadi SA, Goodarzi MT, Hedayati M, Abbasalipourkabir R, Mahjoob MP, Poorolajal J, Zicker F, Sheikh N (2016) Lipid peroxidation and antioxidant status in patients with medullary thyroid carcinoma: a case-control study. J Clin Diagn Res 10:BC04

Knüpfer H, Preiss R (2010) Serum interleukin-6 levels in colorectal cancer patients—a summary of published results. Int J Color Dis 25:135–140

Lokeshkumar B, Sathishkumar V, Nandakumar N, Rengarajan T, Madankumar A, Balasubramanian MP (2015) Anti-oxidative effect of Myrtenal in prevention and treatment of Colon Cancer induced by 1, 2-dimethyl hydrazine (DMH) in experimental animals. Biomol Ther 23:471–478

Lukhele ST, Motadi LR (2016) Cannabidiol rather than Cannabis sativa extracts inhibit cell growth and induce apoptosis in cervical cancer cells. BMC Complement Altern Med 16:335

Lurje G, Zhang W, Schultheis A, Yang D, Groshen S, Hendifar A, Husain H, Gordon M, Nagashima F, Chang H (2008) Polymorphisms in VEGF and IL-8 predict tumor recurrence in stage III colon cancer. Ann Oncol 19:1734–1741

Lykkesfeldt J (2001) Determination of malondialdehyde as dithiobarbituric acid adduct in biological samples by HPLC with fluorescence detection: comparison with ultraviolet-visible spectrophotometry. Clin Chem 47:1725–1727

Manju V, Sailaja JK, Nalini N (2002) Circulating lipid peroxidation and antioxidant status in cervical cancer patients: a case-control study. Clin Biochem 35:621–625

Mantovani A (2007) Cancer: an infernal triangle. Nature 448:547–548

Marcu JP, Christian RT, Lau D, Zielinski AJ, Horowitz MP, Lee J, Pakdel A, Allison J, Limbad C, Moore DH, Yount GL, Desprez PY, McAllister SD (2010) Cannabidiol enhances the inhibitory effects of Δ9-tetrahydrocannabinol on human glioblastoma cell proliferation and survival. Mol Cancer Ther 9:180–189

McAllister SD, Christian RT, Horowitz MP, Garcia A, Desprez P-Y (2007) Cannabidiol as a novel inhibitor of Id-1 gene expression in aggressive breast cancer cells. Mol Cancer Ther 6:2921–2927

Newman DJ, Cragg GM (2007) Natural products as sources of new drugs over the last 25 years⊥. J Nat Prod 70:461–477

Noonan DM, Sogno I, Albini A (2011) Plants and plant-derived products as cancer chemopreventive agents. In: Bagetta G, Cosentino M, Corasaniti MT, Sakurada S (eds) Herbal medicines: development and validation of plant-derived medicines for human health. CRC Press Inc, Boca Raton, pp 285–306

Ortega A, García-Hernández V, Ruiz-García E, Meneses-García A, Herrera-Gómez A, Aguilar-Ponce J, Montes-Servín E, Prospero-García O, Del Angel S (2016) Comparing the effects of endogenous and synthetic cannabinoid receptor agonists on survival of gastric cancer cells. Life Sci 165:56–62

Pan H, Mukhopadhyay P, Rajesh M, Patel V, Mukhopadhyay B, Gao B, Haskó G, Pacher P (2009) Cannabidiol attenuates cisplatin-induced nephrotoxicity by decreasing oxidative/Nitrosative stress, inflammation, and cell death. J Pharmacol Exp Ther 328:708–714

Rabquer BJ, Tsou PS, Hou Y, Thirunavukkarasu E, Haines GK, Impens AJ, Phillips K, Kahaleh B, Seibold JR, Koch AE (2011) Dysregulated expression of MIG/CXCL9, IP-10/CXCL10 and CXCL16 and their receptors in systemic sclerosis. Arthritis Res Ther 13:R18

Rajesh M, Mukhopadhyay P, Bátkai S, Patel V, Saito K, Matsumoto S, Kashiwaya Y, Horváth B, Mukhopadhyay B, Becker L (2010) Cannabidiol attenuates cardiac dysfunction, oxidative stress, fibrosis, and inflammatory and cell death signaling pathways in diabetic cardiomyopathy. J Am Coll Cardiol 56:2115–2125

Ramer R, Merkord J, Rohde H, Hinz B (2010) Cannabidiol inhibits cancer cell invasion via upregulation of tissue inhibitor of matrix metalloproteinases-1. Biochem Pharmacol 79:955–966

Ray G, Batra S, Shukla NK, Deo S, Raina V, Ashok S, Husain SA (2000) Lipid peroxidation, free radical production and antioxidant status in breast cancer. Breast Cancer Res Treat 59:163–170

Ribatti D, Vacca A, Presta M (2000) The discovery of angiogenic factors: a historical review. Gen Pharmacol 35:227–231

Scott KA, Dalgleish AG, Liu WM (2014) The combination of cannabidiol and Δ9-tetrahydrocannabinol enhances the anticancer effects of radiation in an orthotopic murine glioma model. Mol Cancer Ther 13:2955–2967

Sergio R, Hernández L, Gallegos M (2015) Cannabinoids in Neuroinflammation, oxidative stress and neuro excitotoxicity. Pharm Anal Acta 6:2

Shahi PK, Pineda IF (2008) Tumoral angiogenesis: review of the literature. Cancer Investig 26:104–108

Sharma M, Hudson JB, Adomat H, Guns E, Cox ME (2014) In vitro anticancer activity of plant-derived cannabidiol on prostate cancer cell lines. Pharmacol Pharm 5:806–820

Siegel R, Ma J, Zou Z, Jemal A (2014) Cancer statistics. CA Cancer J Clin 64:9–29

Takeda S, Okajima S, Miyoshi H, Yoshida K, Okamoto Y, Okada T, Amamoto T, Watanabe K, Omiecinski CJ, Aramaki H (2012) Cannabidiolic acid, a major cannabinoid in fiber-type cannabis, is an inhibitor of MDA-MB-231 breast cancer cell migration. Toxicol Lett 214:314–319

Van der Poel HG (2007) Molecular markers in the diagnosis of prostate cancer. Crit Rev Oncol Hematol 61:104–139
Funding
The authors would like to thank the Research Council of Shiraz University and School of Veterinary Medicine, Shiraz University for their financial and technical support of this study (Grant No. 71-GR-VT-5).
Ethics declarations
Animal ethics
The current experimental study was done based on the ethical and technical regulations of the state internal ethics committee of Shiraz University, Shiraz, Iran. Furthermore, the advices by European Council Directive (86/609/EC) of November 24, 1986, on animal rights for scientific purposes, were considered.
Conflict of interest
The authors declare that they have no conflict of interests.
Ethical approval
All applicable international, national, and/or institutional guidelines for the care and use of animals were followed.
About this article
Cite this article
Honarmand, M., Namazi, F., Mohammadi, A. et al. Can cannabidiol inhibit angiogenesis in colon cancer?. Comp Clin Pathol 28, 165–172 (2019). https://doi.org/10.1007/s00580-018-2810-6
Received:

Accepted:

Published:

Issue Date:

DOI: https://doi.org/10.1007/s00580-018-2810-6
Keywords