Abstract
This study investigated and compared the effect of natural phenolic compound (eugenol) and synthetic phenolic compounds [butylated hydroxylanisole (BHA) and butylated hydroxyl toluene (BHT)] on some crucial enzymes (angiotensin-1-converting enzyme (ACE) and arginase) linked to erectile dysfunction (ED) in vitro. Furthermore, the effects of the compounds were assessed on several antioxidant parameters including DPPH (1,1-diphenyl-2-picrylhydrazyl) and ABTS (2,2-azino-bis (3-ethylbenzthiazoline-6-sulphonic acid) free radical scavenging ability, ferric reducing power, and Fe2+ chelating ability. Ten millimolar each of the phenolic compounds was prepared in a mixture of ethanol and water (1:1 v/v), and their interactions with ACE and arginase was assessed. Furthermore, ferric-reducing antioxidant property (FRAP), Fe2+-chelating ability, DPPH, and ABTS radicals scavenging abilities were determined. The results revealed that eugenol, BHT, and BHA inhibited ACE and arginase activities in dose-dependent manner. However, eugenol showed the highest inhibitory effect on both enzymes. In addition, eugenol significantly (p < 0.05) had higher FRAP, ABTS scavenging, and Fe2+ chelating abilities when compared with the synthetic compounds (BHT and BHA). The strong inhibitory effects and antioxidative properties of eugenol suggest eugenol as a promising natural phenolic compound could be employed as an alternative food additive and erectogenic agent in ED management/treatment.
Access options
Buy single article
Instant access to the full article PDF.
US$ 39.95
Tax calculation will be finalised during checkout.
Subscribe to journal
Immediate online access to all issues from 2019. Subscription will auto renew annually.
US$ 79
Tax calculation will be finalised during checkout.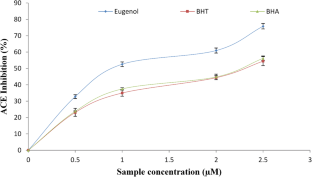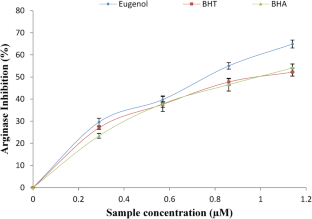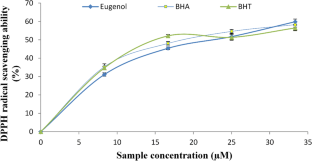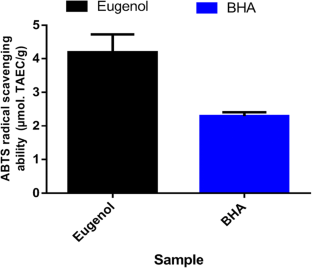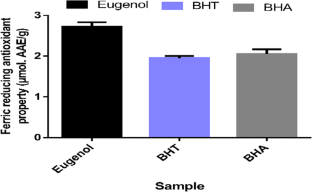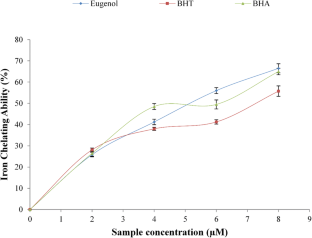 References
Adefegha SA, Oboh G, Adefegha OM, Henle T (2016) Alligator pepper/grain of paradise (Aframomum melegueta) modulates angiotensin-I-converting enzyme activity, lipid profile and oxidative imbalances in a rat model of hypercholesterolemia. Pathophysiology 23:191–202

Adefegha SA, Oboh G, Okeke BM, Oyeleye SI (2017) Comparative effects of alkaloid extracts from Aframomum melegueta (alligator pepper) and Aframomum danielli (bastered melegueta) on enzymes relevant to erectile dysfunction. J Dietary Suppl 14(5):542–552

Akomolafe SF, Oboh G, Oyeleye SI, Boligon AA (2016) Aqueous extract from Ficus capensis leaves inhibits key enzymes linked to erectile dysfunction and prevent oxidative stress in rats' penile tissue. NFS J 4:15–21

Althof SE (2002) Quality of life and erectile dysfunction. Urol 59:803–810

Andersson KE (2011) Mechanisms of penile erection and basis for pharmacological treatment of erectile dysfunction. Pharmacol Rev 63(4):811–859

Aytaç IA, McKinlay JB, Krane RJ (2002) The likely worldwide increase in erectile dysfunction between 1995 and 2025 and some possible policy consequences. BJU Inter 84(1):50–56

Barschak AG, Stefanello FM., Lencina CL, De Simone F, Filho, WJC (2013) Pharmacological application of antiradical compound properties. BioMed Res Inter. Volume 2013, Article ID 989604, 1 page

Boucher JL, Moali C, Tenu JP (1999) Nitric oxide biosynthesis, nitric oxide synthase inhibitors and arginase competition for L-arginine utilization. Cell Mol Life Sci 55:1015–1028

Cushman DW, Cheung HS (1971) Spectrophotometric assay and properties of the angiotensin I-converting enzyme of rabbit lung. Biochem Pharmacol 20:1637–1648

David CW (2005) Arginase: structure, mechanism, and physiological role in male and female sexual arousal. Acct Chem Res 38:191–201

De Mendonca RR, Korkes F, Zambon JP (2012) Erectile dysfunction etiological factors, erectile dysfunction—disease-associated mechanisms and novel insights into therapy, In: K. Nunes (Ed.), InTech, pp 23-34

Dean RC, Lue TF (2005) Physiology of penile erection and pathophysiology of erectile dysfunction. Urol Clin N Am 32:379–395

Farrugia DL, Shoemake CM, Attard E, Azzopardi LM, Mifsud SJ (2013) Investigative study on the angiotensin converting enzyme (ACE) inhibiting properties of the terpenoid extract of Crataegus monogyna using in silico models. J Pharmacog Phytother 5:34–37

Ferreira A, Proença C, Serralheiro MLM, Araújo MEM (2006) The in vitro screening for acetylcholinesterase inhibition and antioxidant activity of medicinal plants from Portugal. J Ethnopharmacol 108(1):31–37

Fisherman FW, Cohen G (1973) Chemical intolerance to butylated hydroxyanisole (BHA) and butylated hydroxytoluene and (BHT) and vascular response as an indicator and monitor of drug intolerance. Ann Allergy 31:126–133

Fogari R, Zoppi A, Preti P, Fogari E, Malamani G, Mugellini A (2001) Differential effects of inhibition and angiotensin II antagonism on fibrinolysis and insulin sensitivity in hypertensive postmenopausal women. Am J Hypertens 14:921–926

Ghasemzadeh A, Ghasemzadeh N (2011) Flavonoids and phenolic acids: role and biochemical activity in plants and human. J Med Plants Res 5(31):6697–6703

Gyamfi MA, Yonamine M, Aniya Y (1993) Free-radical scavenging action of medicinal herbs from Ghana: Thonningia sanguinea on experimentally-induced liver injuries. Gen Pharmacol 32:661–667

Hossain M, Brunton N, Barry-Ryan C, Martin-Diana A, Wilkinson M (2008) Antioxidant activity of spice extracts and phenolics in comparison to synthetic antioxidants. Rasayan J Chem 1(4):751–756

Hu C, Zhang Y, Kitts DD (2000) Evaluation of antioxidant and pro-oxidant activities of bamboo Phyllostachy niger var. Henonis leaf extract in vitro. J Agric Food Chem 48:3170–3176

Iwalewa EO, Adewumi CO, Omisore NOA, Adebanji OA, Adigun A, Olowoyo OG (2004) Pro and antioxidant effects and cytoprotective potentials of nine edible vegetables in southwest Nigeria. J Medicinal Food 8(4):539–544

Je JY, Park PJ, Kim EK, Ahn CB (2009) Antioxidant and angiotensin I converting enzyme inhibitory activity of Bambusae caulis in Liquamen. Food Chem 113:932–935

Kahl R, Kappis H (1993) Toxicology of the synthetic antioxidants BHA and BHT in comparison with the natural antioxidant E. Z Lebensum Unters Forsch 196(4):329–338

Kaysen GA, Strecker HJ (1973) Purification and properties of arginase of rat kidney. Biochem J 133:779–788

Khan MA, Thompson CS, Mumtaz FH, Mikhailidis DP, Morgan RJ, Bruckdorfer RK, Naseem KM (2001) The effect of nitric oxide and peroxynitrite on rabbit cavernosal smooth muscle relaxation. World J Urol 19:220–224

McKinlay JB (2000) The worldwide prevalence and epidemiology of erectile dysfunction. International J Impotence Res 12(4):6–11

Minotti G, Aust SD (1987) An investigation into the mechanism of citrate-Fe 21 dependent lipid peroxidation. Free Rad Biol Med 3:379–387

Moreira AVB, Mancini-Filho J (2004) Influence of spices phenolic compounds on lipoperoxidation and lipid profile of rat's tissues. Rev Nutr 17:411–424

Morris SM Jr (2009) Recent advances in arginine metabolism: roles and regulation of the arginases. Br J Pharmacol 157:922–930

Mukai K, Fukuda D, Tajima K, Ishizu K (1988) A kinetic study of reactions of tocopherols with a substituted phenoxyl radicals. J Org Chem 53:430–432

Nenadis N, Boyle S, Bakalbassis EG, Tsimidou M (2003) An experimental approach to structure-activity relationships of caffeic and dihydrocaffeic acids and related monophenols. JAOCS 80:451–458

Oboh G, Rocha JBT (2007) Polyphenols in red pepper [Capsicum annuum var. aviculare (Tepin)] and their protective effect on some pro-oxidant induced lipid peroxidation in brain and liver. Eur Food Res Technol 225:239–247

Oboh G, Ademiluyi AO, Oyeleye SI, Olasehinde TA, Boligon AA (2017) Modulation of some markers of erectile dysfunction and malonaldehyde levels in isolated rat penile tissue with unripe and ripe plantain peels: identification of the constituents of the plants using HPLC. Pharm Biol 55(1):1920–1926

Oyaizu M (1986) Studies on products of browning reaction: antioxidative activity of products of browning reaction prepared from glucosamine. Jpn J Nutr 44:307–315

Pop A, Kiss B, Loghin F (2013) Endocrine disrupting effects of butylated hydroxyanisole (BHA - E320). Clujul Med 86(1):16–20

Puntel RL, Nogueira CW, Rocha JBT (2005) Krebs cycle intermediates modulate thiobarbituric acid reactive species (TBARS) production in rat brain in-vitro. Neurochem Res 30:225–235

Re R, Pellegrini N, Proteggente A, Pannala A, Yang M, Rice-Evans C (1999) Antioxidant activity applying an improved ABTS radical cation decolorisation assay. Free Rad Biol Med 26:1231–1237

Stephan DW (2008) "Frustrated Lewis pairs": a concept for new reactivity and catalysis. Org Biomol Chem 6:1535–1539

Teixeira CE, Moreno RA, Ferreira U, Rodrigues Netto N Jr, Fregonesi A, Antunes E, De Nucci G (1998) Pharmacological characterization of kinin-induced relaxation of human corpus cavernosum. Br J Urol 81(3):432–436

Thakur K, Pitre KS (2009) Anti-inflammatory activity of extracted eugenol from Ocimum sanctum L. leaves. Rasayan J Chem 2(2):472–474

Tiku AB, Abraham SK, Kale RK (2004) Eugenol as an in vivo radioprotective agent. J Radiat Res 45:435–440

Umamaheswari M, Mathew PA, Kuppusamy A, Thirumalaiswamy S, Varadharajan S, Puliyath J, Arumugam M (2012) In vitro angiotensin converting enzyme inhibitory and antioxidant activities of seed extract of Apium graveolens Linn. Ann Biol Res 3(3):1274–1282

Zar JH (1984) Biostatistical analysis. Prentice-Hall; Germany, Upper Saddle River
Funding
The research was not funded by any grant received by the authors.
Ethics declarations
Conflict of interest
The authors declare that there is no conflict of interest.
Ethical approval
The authors ensured compliance with all applicable international, national, and institutional guidelines for care and use of animals.
About this article
Cite this article
Adefegha, S.A., Okeke, B.M. & Oboh, G. Comparative study on the interaction of eugenol, Butylated hydroxylanisole, and Butylated hydroxyl toluene with some crucial enzymes linked to erectile dysfunction. Comp Clin Pathol 27, 1699–1706 (2018). https://doi.org/10.1007/s00580-018-2796-0
Received:

Accepted:

Published:

Issue Date:
Keywords
Eugenol

BHT

BHA

Antioxidant

Enzymes

ED