Abstract
In spite of all the evolutions in medicine, tuberculosis (TB) continues to be a terrifying contagious disease. In addition, the rise of multidrug-resistant TB (MDR-TB) is considered as a thorny problem that has greatly hindered the efforts of TB control. The classical drug susceptibility testing (DST) is the reference technique, but it takes many weeks for the identification of TB and MDR-TB. On the other hand, GeneXpert Mycobacterium tuberculosis (MTB)/rifampicin (RIF) has dramatically shortened the identification of both MTB and RIF resistance from weeks to only 2 h leading to a great breakthrough in the modern medicine. The aim of this study is to assess the use of GeneXpert assay for accelerating the diagnosis of MDR-TB in comparison to phenotypic DST by MGIT960 as the reference method. A total of 81 confirmed TB cases by both MGIT960 culture and GeneXpert were included in the current study. All sputum samples were processed for the detection of MDR-TB by both GeneXpert MTB/RIF assay and classical first-line DST method on MGIT960. Among studied TB cases, one rifampicin (RIF) monoresistance (1.2%), two isoniazid (INH) monoresistance (2.4%), and four (4.9%) MDR-TB (resistance to both RIF and INH) were identified by phenotypic methods. A significant statistical difference was found between RIF monoresistance and MDR-TB (P value < 0.01). GeneXpert identified six RIF-resistant cases, of which five cases were proven to be resistant to RIF by phenotypic DST using MGIT960. Furthermore, out of these five RIF-resistant cases, four cases were also resistant to INH, i.e., MDR-TB cases. The discrepancy between GeneXpert MTB/RIF and traditional DST for the detection of RIF resistance is not significant (P > 0.05). The sensitivity, specificity, negative, and positive predictive value of GeneXpert assay for identification of rifampicin resistance compared to DST as a reference method were 100, 98.7, 100, and 83.3%, respectively. It was concluded that the results of GeneXpert MTB/RIF and the standard phenotypic DST on MGIT960 for detection of RIF resistance were nearly the same regarding the sensitivity and specificity. Moreover, GeneXpert MTB/RIF was superior to DST on MGIT960 owing to its ability to dramatically shorten the period of MDR-TB diagnosis from weeks to only 2 h with fewer biohazard risks. Resistance to RIF could be used as a good foreteller for MDR-TB as most of RIF resistance are accompanied with isoniazid resistance.
Access options
Buy single article
Instant access to the full article PDF.
US$ 39.95
Tax calculation will be finalised during checkout.
Subscribe to journal
Immediate online access to all issues from 2019. Subscription will auto renew annually.
US$ 79
Tax calculation will be finalised during checkout.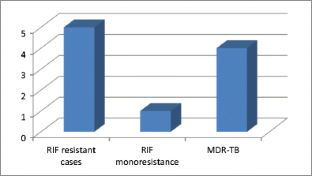 References
Abdelaal A, Abd El-Ghaffar H, Zaghloul MH, El Mashad N, Badran E, Fathy A (2009) Genotypic detection of rifampicin and isoniazid resistant Mycobacterium tuberculosis strains by DNA sequencing: a randomized trial. Ann Clin Microbiol Antimicrob 8(1):4. https://doi.org/10.1186/1476-0711-8-4

Ahmad S, Mokaddas E, Al-Mutairi N, Eldeen SH, Mohammadi S (2016) Discordance across phenotypic and molecular methods for drug susceptibility testing of drug-resistant Mycobacterium tuberculosis isolates in a low TB incidence country. PLoS One 11(4):0153563. https://doi.org/10.1371/journal.pone.0153563

Ana LO, Javier Moises RG, María del Carmen LM, Pablo ML, Antonio SM, Fernando C, Jose GF, Miguel ML, Jose María NM (2016) Preliminary evaluation of a new kit for differentiation of Mycobacterium tuberculosis complex species using Speed-Oligo MTBC. J Med Microbiol 65:910–914

Areeshi MY, Bisht SC, Mandal RK, Haque S (2014) Prevalence of drug resistance in clinical isolates of tuberculosis from GCC: a literature review from January 2002 to March 2013. J Infect Dev Ctries 8(9):1137–1147. https://doi.org/10.3855/jidc.4053

Aziz MA, Wright A, Laszlo A, De Muynck A, Portaels F, Van Deun A (2006) Epidemiology of antituberculosis drug resistance (the global project on anti-tuberculosis drug resistance surveillance): an updated analysis. Lancet 368(9553):2142–2154. https://doi.org/10.1016/S0140-6736(06)69863-2

Boehme CC, Nabeta P, Hillemann D, Nicol MP, Shenai S, Krapp F (2010) Rapid molecular detection of tuberculosis and rifampin resistance. N Engl J Med 363(11):1005–1015. https://doi.org/10.1056/NEJMoa0907847

Elhassan MM, Hemeg HA, Elmekki MA, Turkistani KA, Abdul-Aziz AA (2017) Burden of multidrug resistant Mycobacterium tuberculosis among new cases in Al-Madinah Al-Monawarah, Saudi Arabia. Infect Disord Drug Targets 17(1):14–23. https://doi.org/10.2174/1871526517666161116104242

Espasa M, Salvadó E, Vicente G, Tudó GV, Alcaide F, Coll P, Martin-Casabona N, Torra M, Fontanals D, González-Martín J (2012) Evaluation of the VersaTREK system compared to the Bactec MGIT 960 system for first-line drug susceptibility testing of Mycobacterium tuberculosis. J Clin Microbiol 50(2):488–491. https://doi.org/10.1128/JCM.06432-11

Green E, Obi CL, Nchabeleng M, de Villiers BE, Sein PP, Letsoalo T, Hoosen AA, Bessong PO, Ndip RN (2010) Drug-susceptibility patterns of Mycobacterium tuberculosis in Mpumalanga Province, South Africa: possible guiding design of retreatment regimen. J Health Popul Nutr 28(1):7–13

Guenaoui K, Harir N, Ouardi A, Zeggai S, Sellam F, Bekri F, Cherif Touil S (2016) Use of GeneXpert Mycobacterium tuberculosis/rifampicin for rapid detection of rifampicin resistant Mycobacterium tuberculosis strains of clinically suspected multi-drug resistance tuberculosis cases. Ann Transl Med 4(9):168. https://doi.org/10.21037/atm.2016.05.09

Helb D, Jones M, Story E, Boehme C, Wallace E, Ho K, Kop JA, Owens MR, Rodgers R, Banada P, Safi H, Blakemore R, Lan NTN, Jones-López EC, Levi M, Burday M, Ayakaka I, Mugerwa RD, McMillan B, Winn-Deen E, Christel L, Dailey P, Perkins MD, Persing DH, Alland D (2010) Rapid detection of Mycobacterium tuberculosis and rifampin resistance by use of on demand, near-patient technology. J Clin Microbiol 48(1):229–237. https://doi.org/10.1128/JCM.01463-09

Jahan H, Jhora ST, Zakir HH, Abdullah Yusuf MA, Ahmed I, Farzana A, Parveen R (2016) Diagnostic evaluation of GeneXpert MTB/RIF assay for the detection of rifampicin resistant Mycobacterium tuberculosis among pulmonary tuberculosis patients in Bangladesh. J Tuberc Res 4(01):55–60. https://doi.org/10.4236/jtr.2016.41007

Jing H, Lu Z, Deng Y, Gao D, Li L, Graviss EA, Xin M (2017) Original article evaluation of Xpert MTB/RIF in detection of pulmonary and extrapulmonary tuberculosis cases in China. Int J Clin Exp Pathol 10(4):4847–4851

Lawn SD, Nicol MP (2011) Xpert® MTB/RIF assay: development, evaluation and implementation of a new rapid molecular diagnostic for tuberculosis and rifampicin resistance. Future Microbiol 6(9):1067–1082. https://doi.org/10.2217/fmb.11.84

Lawson L, Habib AG, Okobi MI, Idiong D, Olajide I, Emenyonu N, Onuoha N, Cuevas LE, Ogiri SO (2010) Pilot study on multidrug resistant tuberculosis in Nigeria. Ann Afr Med 9(3):184–187. https://doi.org/10.4103/1596-3519.68355

Lombardi G, Di Gregori V, Girometti N, Tadolini M, Bisognin F, Dal Monte P (2017) Diagnosis of smear-negative tuberculosis is greatly improved by Xpert MTB/RIF.PLoS One 12(4):e0176186. https://doi.org/10.1371/journal.pone.0176186

Mdivani N, Zangaladze E, Volkova N, Kourbatova E, Jibuti T, Shubladze A (2008) High prevalence of multidrug-resistant tuberculosis in Georgia. Int J Infect Dis 12(6):635–644. https://doi.org/10.1016/j.ijid.2008.03.012

Montoro E, Lemus D, Echemedía M, Aemas L, González-Ochoa E, Llanes MJ (2006) Drug-resistant tuberculosis in Cuba. Results of the three global projects. Tuberculosis 86(3-4):319–323. https://doi.org/10.1016/j.tube.2006.01.013

Nakwon K, Choi SM, Lee J, Park YS, Chang-Hoon L, Sang-Min L, Chul-Gyu Y, Kim YW, Han SK, Yim JJ (2013) Diagnostic accuracy and turnaround time of the Xpert MTB/RIF assay in routine clinical practice. PLoS One 28(10):e77456

Narute S, Salgia K, Singhal P, Kalley V (2015) Comparative study of GeneXpert MTB/RIF, smear microscopy and TB MGIT culture in diagnosis of tuberculosis in India. Eur Respir J 46:PA1533. https://doi.org/10.1183/13993003

Nawar NN, Gad WH, Ansary M, Wassef MA(1999) Evaluation of utility of molecular techniques for diagnosing multidrug resistant tuberculosis. In M.D. thesis in Clinical Pathology, Faculty of Medicine, Cairo University

Nicola MZ, Sanghyuk SS, Kefentse AT, Keletso M, Ronald N, Mark N, Ronald GC, Jeffrey DK, Chawangwa M (2014) Mixed Mycobacterium tuberculosis complex infections and false negative results for rifampin resistance by GeneXpert MTB/RIF are associated with poor clinical outcomes. J Clin Microbiol 52(7):2422–2429

Ocheretina O, Escuyer VE, Mabou MM, Mardi GR, Collins S, Vilbrun SC (2014) Correlation between genotypic and phenotypic testing for resistance to rifampin in Mycobacterium tuberculosis clinical isolates in Haiti: investigation of cases with discrepant susceptibility results. PLoS One 9(3):1–7. https://doi.org/10.1371/journal.pone.0090569

Pandey P, Dutt Pant N, Rijal KR, Shrestha B, Kattel S, Banjara MR, Maharjan B, Rajendra KC (2017) Diagnostic accuracy of GeneXpert MTB/RIF assay in comparison to conventional drug susceptibility testing method for the diagnosis of multidrug-resistant tuberculosis. PLoS One 12(1):e0169798. https://doi.org/10.1371/journal.Pone.0169798

Saeed M, Iram S, Hussain S, Ahmed A, Akbar M, Aslam M (2017) GeneXpert: a new tool for the rapid detection of rifampicin resistance in mycobacterium tuberculosis. J Pak Med Assoc 67(2):270–274

Springer B, Lucke K, Calligaris-Maibach R, Ritter C, Bottger EC (2009) Quantitative drug susceptibility testing of Mycobacterium tuberculosis by use of MGIT 960 and epiCenter instrumentation. J Clin Microbiol 47(6):1773–1780. https://doi.org/10.1128/JCM.02501-08

Steingart KR, Schiller I, Horne DJ, Pai M, Boehme CC, Nandini Dendukuri N (2014) Xpert® MTB/RIF assay for pulmonary tuberculosis and rifampicin resistance in adults. Cochrane Database Syst Rev 21(1):1–166

Tang T, Fang L, Xiaoling L, Qingdong H (2017) Evaluation of GeneXpert MTB/RIF for detecting Mycobacterium tuberculosis in a hospital in China. J Int Med Res 45(2):816–822. https://doi.org/10.1177/0300060517698618

World Health Organization (2016) Global tuberculosis report. Geneva. www.who.int/TB

Zetola NM, Shin SS, Kefentse A, Tumedi KA, Moeti K, Ncube R, Nicol M, Collman RG, Klausner JD, Modongo C (2014) Mixed Mycobacterium tuberculosis complex infections and false-negative results for rifampin resistance by GeneXpert MTB/RIF are associated with poor clinical outcomes. J Clin Microbiol 52(7):2422–2429. https://doi.org/10.1128/JCM.02489-13
Funding
This study was funded by self-financial support.
Ethics declarations
Informed consent was obtained from all patients involved in this study. The study was approved by Ethical Committee of King Khalid Hospital.
Conflict of interest
The authors declared that they have no conflict of interest.
About this article
Cite this article
Rakha, E.B., Elshahawy, H. Dramatic shortening of the diagnosis of multidrug-resistant tuberculosis by the detection of rifampicin resistance using a genotypic method: GeneXpert MTB/RIF assay. Comp Clin Pathol 27, 583–588 (2018). https://doi.org/10.1007/s00580-017-2631-z
Received:

Accepted:

Published:

Issue Date:
Keywords
Multidrug-resistant TB

GeneXpert MTB/RIF

MGIT960

Drug susceptibility testing