Abstract
The study aimed to examine the effect of turmeric (Curcuma longa) powder supplemented diets on semen and blood characteristics of rabbits. A total of 27, 9-month-old New Zealand white male rabbits were assigned randomly into 3 groups with 3 replicates of 3 rabbits. Each group was assigned to one of the experimental diet containing turmeric powder at 0 (control), 2 and 4 g/kg feed for 84 days in a completely randomized design. Blood and semen samples for analysis were obtained from each replicate and data obtained analysed statistically. Results revealed that there are significant (p < 0.05) variation in feed conversion ratio (FCR) and daily weight gain (DWG) among the groups. Turmeric powder (TP) supplementation at 2 and 4 g/kg feed increased (p < 0.05) the number of abnormal sperm on both treatments when compared with the control. The concentrations of seminal potassium, sodium, chloride, and aspartate aminotransferase (AST) were increased (p < 0.05) by TP supplementation at 4 g/kg feed group. Seminal alanine aminotransferase (ALT) level was reduced (p < 0.05) by TP at 2 g/kg feed while alkaline phosphatase (ALP) was reduced (p < 0.05) by TP in both treatment groups compared to control. Serum sodium value was significantly increased (p < 0.05) at 4 g/kg feed while AST level was reduced (p < 0.05) by TP supplementation at 2 g/kg feed compared to control. There was significant (p < 0.01) regression effect on serum chloride value of rabbits fed diets supplemented with turmeric powder. The results indicated that turmeric powder had mild contraceptive effect in male rabbits without deleterious effect on blood characteristics.
Access options
Buy single article
Instant access to the full article PDF.
US$ 39.95
Tax calculation will be finalised during checkout.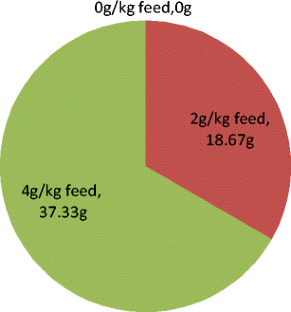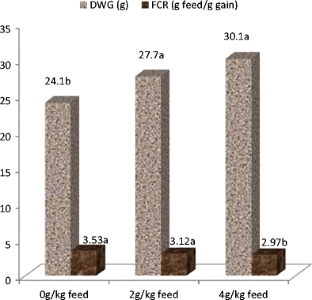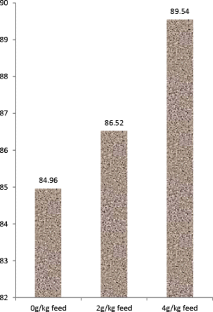 References
Barfield JP, Yeung CH, Cooper TG (2005) Characterization of potassium channels involved in volume regulation of human spermatozoa. Mol Human Reprod 11:891–897

Cheesbrough M (2000) District laboratory practice in tropical countries. Part 2. Cambridge University Press, Cambridge

Gundogan M (2006) Some reproductive parameters and seminal plasma constituents in relation to season in Akkaraman and Awassi Rams. Turkish J Vet Anim Sci 30:95–100

Hajirezaee S, Mojazi AB, Mirvaghefi AR (2009) Effect of stripping frequency on semen quality of endangered Caspian brown trout, Salmo trutta Caspius. Amer J Anim Vet Sci 4:65–71

Ikpeama A, Onwuka GI, Nwankwo C (2014) Nutritional composition of turmeric and its antimicrobial properties. Int J Sci and Eng Res 5:1085–1089

Kulkarni SK, Dhir A (2010) An overview of curcumin in neurological disorders. Indian J Pharm Sci 72:149–154

Louay L (2014) Medicinal and pharmacological properties of turmeric (Curcuma longa): a review. Int J Pharm Biomed Sci 5:17–23

Marin GJ, Mahan DC, Chung YK, Pate JL, Pope WF (1997) Effects of dietary selenium and vitamin E on boar performance and tissue responses, semen quality and subsequent fertilization rates in mature gilts. J Anim Sci 75:2994–3003

Marti E, Marti JI, Muiño-Blanco T, Cebrián-Préz JA (2008) Effect of the cryopreservation process on the activity and immunolocalization of antioxidant enzymes in ram spermatozoa. J Androl 29:459–467

Odoemelam VU, Nwaogu KO, Ukachukwu SN, Etuk EB, Etuk IF, Aladi NO, Ogbuewu IP (2013) Growth response, carcass quality and organoleptic assessment of broiler chickens fed Ocimum gratissimum L. supplemented diets. Int J Agric and Rural Dev 16:1521–1528

Ogbuewu IP (2008) Physiological responses of rabbits to neem (Azadirachta indica A. Juss) leaf meal. MSc. Thesis, Federal University of Technology Owerri

Ogbuewu IP, Okoli IC, Iloeje MU (2009) Semen quality characteristics, reaction time, testis weight and seminiferous tubule diameter of buck rabbits fed neem leaf meal based diets. Iranian J Reprod Med 7:23–28

Ogbuewu IP, Iwuji TC, Etuk IF, Ezeokeke CT, Okoli IC, Iloeje MU (2014) Responses of pubertal rabbits to dietary supplementation of ginger rhizome powder. Nig J Anim Prod 41:53–60

Shankar A, Shankar A, Shankar A (2013) Ayurveda a boon for epileptics. J Homeop Ayurv Med 2:134

Yoshimura K, Waki H, Ohashi S (1976) Ion-exchanger colorimetry-I Microdetermination of chromium, iron, copper and cobalt in water. Talanta 6:449–454
Ethics declarations
Conflict of interest
The authors declare that they have no conflict of interest.
Ethical approval
This study followed the guidelines for the care and use of laboratory animal models of the Federal University of Technology Owerri, Nigeria.
About this article
Cite this article
Ogbuewu, I.P., Okehi, M.C. & Jiwuba, P.C. Effect of phytobiotic (turmeric) supplementation on semen and blood characteristics of rabbits. Comp Clin Pathol 26, 817–822 (2017). https://doi.org/10.1007/s00580-017-2452-0
Received:

Accepted:

Published:

Issue Date:
Keywords
Rabbits

Turmeric powder

Blood chemistry

Semen quality